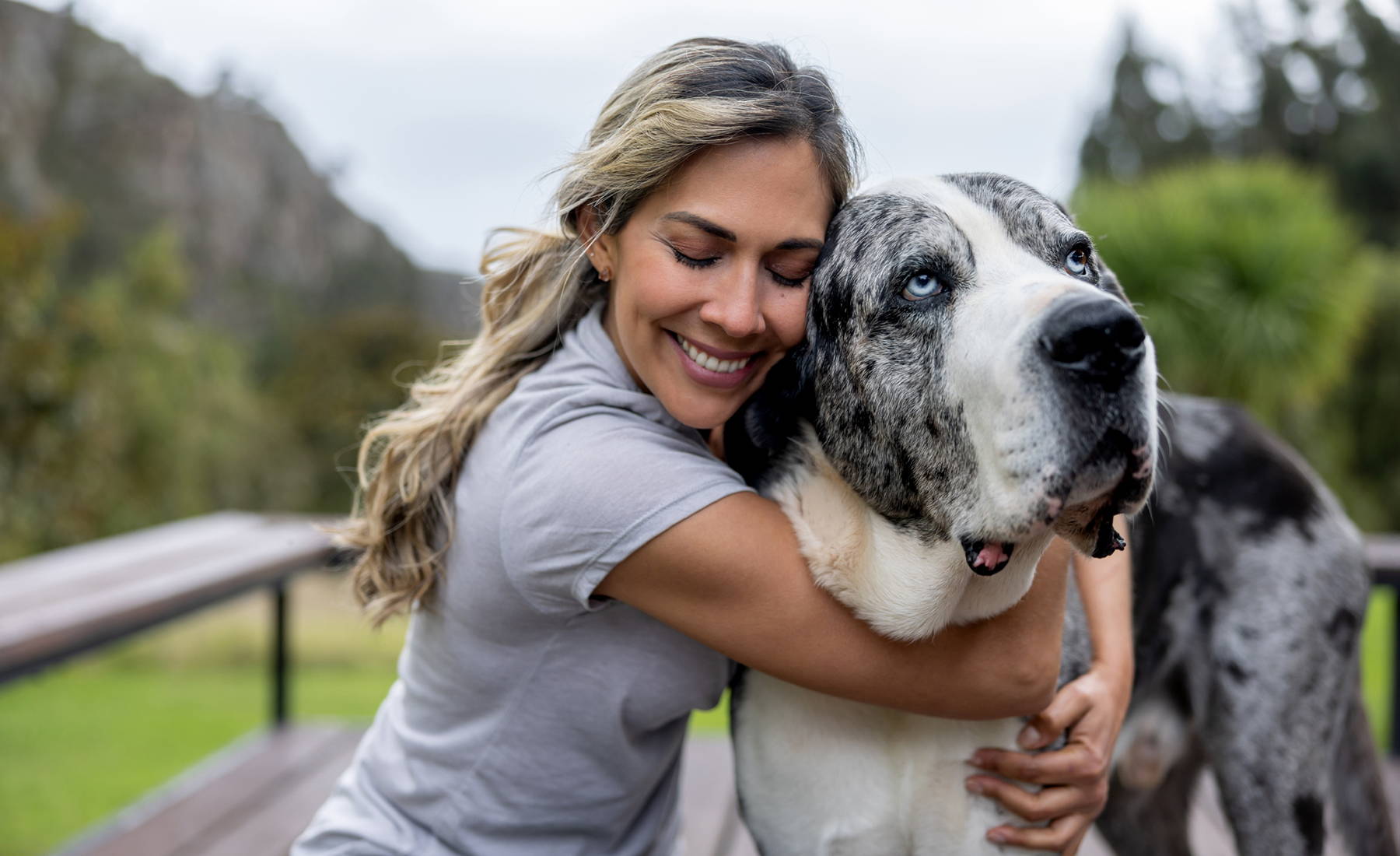 To many people, there is no difference between losing a member of their family and losing their beloved furry pet - because they're just as much a family member. Following the death of a pet, people can be left stumped with what to do, wondering if a memorial is something people even do. The truth is that organizing a pet memorial is becoming quite prominent in America. They help grieving pet owners accept their pet's unfortunate fate and encourage closure.
Online pet memorials have been gaining traction because they are easy to create and can last forever, thanks to modern technology. The beauty of having one is that it allows pet owners to honor their pets while inviting their family and friends who live out of town to do so with them. It adds a nice sentimental touch to say goodbye to your beloved pet.
Whether you're unsure how to memorialize your pet or are interested in creating an online pet memorial but don't know where to start, we created a guide to help you create one. Continue reading below for tips and to hear our thoughts on some of the more popular memorial tools.
What Is An Online Pet Memorial?
​​Simply put, an online pet memorial is the same as a standard online memorial, the difference being that it is designed for the loss of a beloved pet. Essentially, it is a landing page dedicated solely to the memory of your pet, and you can invite loved ones to visit and pay their virtual condolences.
The creator of the page, who is likely the owner of the deceased pet, uses the page to honor the pet's memory and legacy by writing a eulogy that describes their fondest and most cherished memories. There is typically enough space to add photos and leave a prayer for friends and family to enjoy. Visitors will be encouraged to leave their condolences or even talk about their fondest memory of the pet.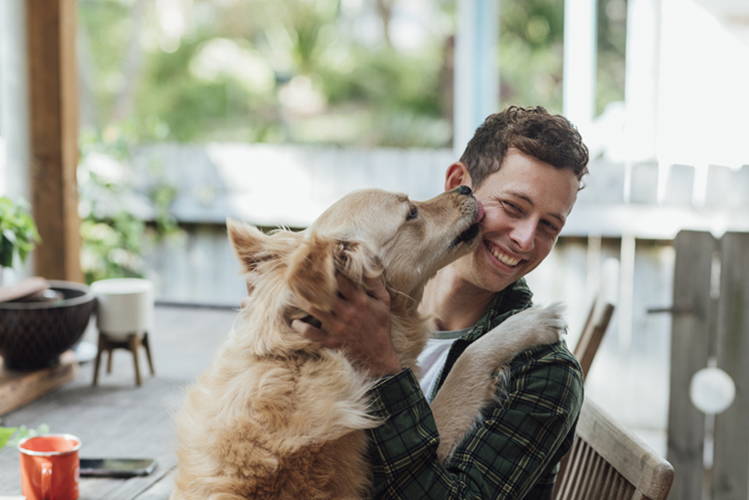 The creator of the page, who is likely the owner of the deceased pet, uses the page to honor the pet's memory and legacy by writing a eulogy that describes their fondest and most cherished memories. There is typically enough space to add photos and leave a prayer for friends and family to enjoy. Visitors will be encouraged to leave their condolences or even talk about their fondest memory of the pet.
Pet owners will have access to this page forever and can even print the comments if they would like a physical copy of all the loving and warm memories left by friends and family. There are many different resources for creating a personalized online pet memorial which will go into further detail below.
Why Would You Want To Create An Online Pet Memorial?
People create an online pet memorial as a way of honoring their companion that has passed and to help them grieve their loss. The only difference between this and an in-person pet memorial is that an online memorial is virtual and can last as long as you like. When a beloved pet is lost, the grief can seem unbearable so finding a way to say goodbye and secure your fondest memories is an excellent way to feel better about the loss. Moreover, if you have a family pet that touched many hearts, including your extended family and friends, setting up an online memorial is a great way to allow them to say their goodbyes, too.
In addition, here are some specific reasons why someone who just lost their companion would choose to create an online pet memorial.
A SPECIAL PLACE FOR MEMORY SHARING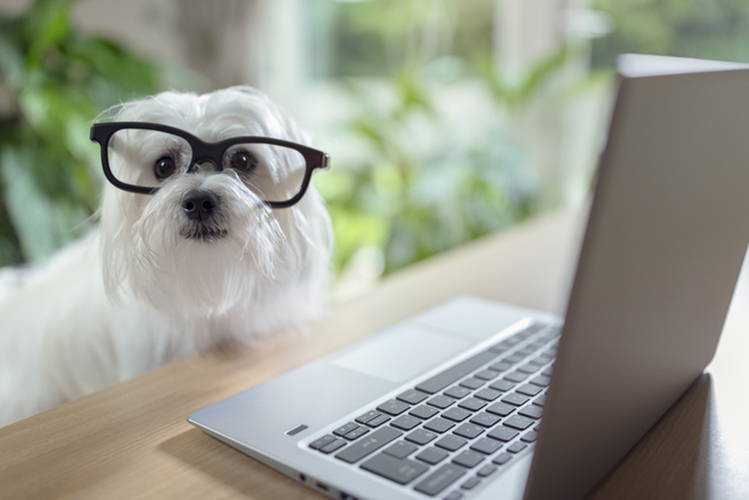 They say that memories last forever, but the truth is, memories fade, become grainy, and can even disappear over time. As much as we would love to keep our fondest memories at the forefront of our thoughts, they will eventually be but small glimpses from the past. As such, many pet owners seek ways to preserve their pets' memories, and an online pet memorial is one of the best ways to secure them.
TO DECLARE THE LOSS OF YOUR PET WITH FAMILY & FRIENDS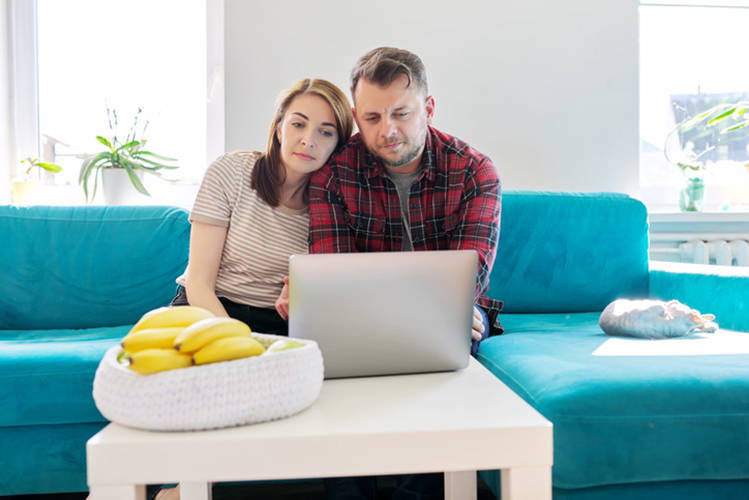 When we lose a pet so dear to our hearts, it can be difficult to process the heartbreaking news, let alone remember to contact friends and family to inform them of the news. A solution to this is to create an online pet memorial. You can send an email invite to your email list to tell everyone close to your pet of the news.
Something to remember is that since many people don't share their personal emails, sending email invites might become a challenge. A workaround to this issue would be to create a pet memorial on a popular social media platform such as Facebook and Instagram because almost everyone has an account on one of both. You can create a page dedicated to your pet's memory and create a customized list of your friends to send a follow request. This is a sure way to guarantee no one is missed, and you might even get more people to respond to your request on a platform they're familiar with.
ALLOW OUT OF TOWN FRIENDS & FAMILY TO LEAVE THEIR HEARTFELT CONDOLENCES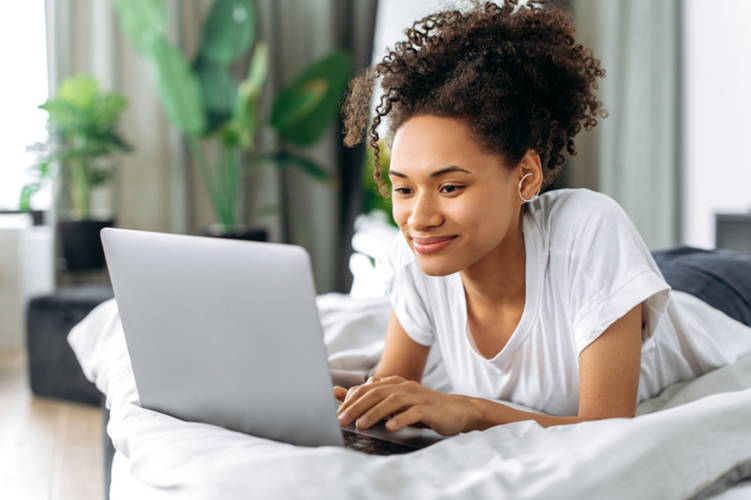 Not many people are lucky to say all their closest friends and family live in driving proximity. In fact, in this day in age, it's more common to live across the city and state lines from loved ones than it is to live close by, unfortunately. In situations like this, creating an online pet memorial is a great way to invite your loved ones who couldn't make it to an in-person pet memorial.
HELP WITH THE GRIEVING PROCESS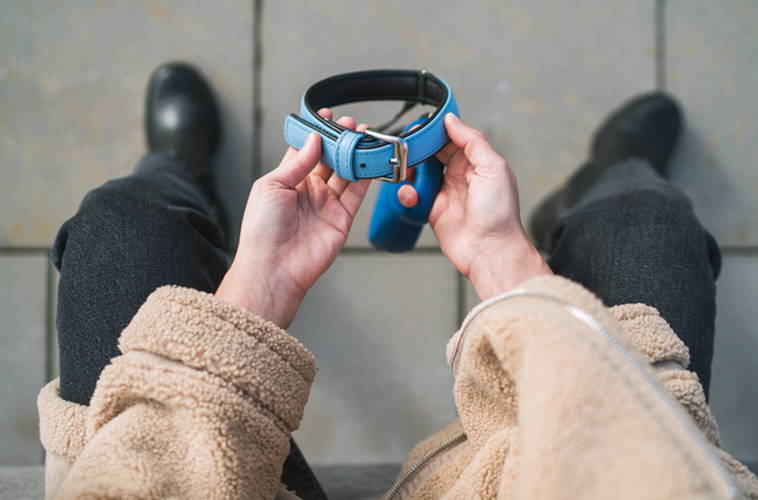 Sometimes the best way to move forward in the grieving process is to create tangible memories that last forever and that we can look back on. An online pet memorial as a digital footprint representing our beloved pets in their best times. No matter how much time has passed, there will always be a spot to reference back to for a dose of cute and heartfelt memories.
Grieving looks different for everyone, and the time it takes to move on completely differs. But if there is an outlet to say your final goodbyes, the grieving process can be much more bearable and easier to get through.
Keep in mind that everyone processes death differently, and oftentimes, children don't understand the full scope of it. If you have children who were close to your pet and are struggling to get through their grief, we think this article could help you guide them.
A THERAPEUTIC WORK OF ART
Engaging in art is scientifically proven to be therapeutic in dealing with the loss of a loved one, including pets. But not everyone is artistic or enjoys creating art pieces. In this case, creating an online pet memorial, which doesn't require creative skills, can be an excellent and effective alternative.
Suppose you create a new Facebook page to memorialize your beloved family dog; you might find comfort in typing your fondest and funniest memories and uploading your favorite photos of them. It's a great way to take your mind off the emotional anguish by remembering only positive memories.
KEEP YOUR PET'S MEMORY ALIVE
While death is an inevitable part of life, it's something that never gets easy and is always difficult to accept. For some, it's challenging to go back to life as usual without their loved ones, and they find it easier to keep their memory alive. A particularly great way to do this is by creating an online pet memorial and posting regular content as you would if your pet were alive.
What Types Of Content Would You Put On Your Online Memorial?
Your pet memorial belongs to you, so you can post whatever type of content that brings you joy. Remember, it is about honoring your beloved pet, so whatever upholds their memory, you should post it. If you're struggling with ideas on what to post, here are a few ideas to get you started.
Photo, videos, music and a memorial slide show

Poems, sayings that represent your love for your pet, prayers, etc. as well as funny and memorable stories about your pet

If you rescued your pet you can add the story of what brought you both together. Include your pet's information such as name, birth and death date and their nickname.
6 Steps On How To Create An Online Pet Memorial
The hardest part of creating an online pet memorial is accepting it is for your pet. As helpful as memorials are, no one wants to be tasked with creating one for someone or something they lost. Aside from that, you will be happy to know it is relatively straightforward, particularly because you have so many options to choose from in terms of the digital platforms to choose from and the details you can include. We created a step-by-step guide to help you through the process from start to finish.
STEP 1: GATHER ALL YOUR DIGITAL MATERIALS

Consider this the brainstorming step. Before you make your final decision on how it will look and which platform you will use, you need to piece together all the details. This is where you decide everything from the layout to the theme and how much information to include.
The first thing we recommend you do is to consider the theme. Some pet owners prefer to keep their memories positive, so they choose a fun theme. Others may struggle to see the positive in such a difficult time in their life; therefore, they may prefer a more melancholy theme that represents their current feelings.
Choosing the theme before anything else is important because it will help guide you with what type of content to include in the memorial.
Despite your chosen theme, you can add as much or as little content as you like. Some people don't want to miss anything, so they fill it with as much as they can, while others like to keep it simple with a few of their fondest memories. Here are a few ideas to get you started:
Details about your pet include name, date of birth/death, breed, where it was born, and name of the owner.

Imagery including photos and videos (this is where you get to choose your favorite memories of your believed pet)

A poem or letter you wrote that reminds represents your love for your pet

A prayer for their eternal wellbeing as they cross over

Write a synopsis of your life together. You can include your fondest memories and what they meant to you.

Include details about people whose hearts they touched. This can include family, friends, workers at doggy daycare and groomers, and other furry friends.
Our list is not exhaustive, so if there is anything else you would like to add that we did not include, go ahead and add it. The best thing about online pet memorials is that you are in charge of designing them however you prefer.
STEP 2: FIND AN ONLINE MEMORIAL TOOL

Online pet memorials have grown in popularity over the last while, and the online market has seen an influx of websites offering memorial tools for grieving owners. This has made it so much easier because there are countless options to choose from with varying themes, designs, layouts, and price points. Whatever style you're going for and despite your budget, we're confident you will find a tool that accommodates your specific requirements. See below for a detailed list of our top online pet memorial tool recommendations.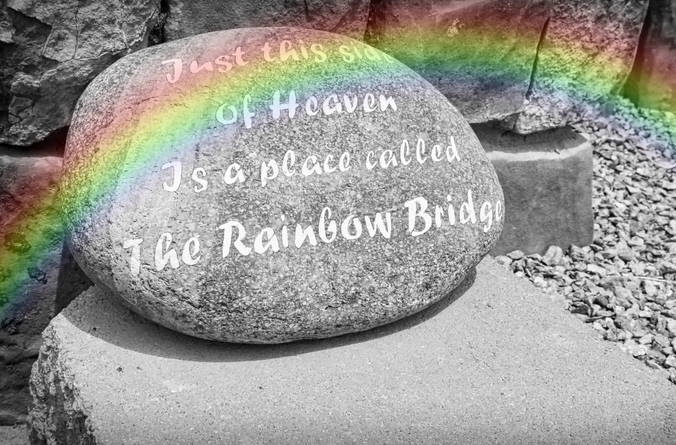 Rainbow bridge is a virtual memorial home infused with a grief support community. We chose this as one of our top picks because of its many options for grieving pet owners. It includes a gifts of sympathy store for your friends and family to purchase a gift to send you their condolences.
There is an excellent grief support center that provides you with endless resources to help you see the light at the end of the tunnel with other grieving pet owners. Lastly, their new beginnings section is a resource for information on how to give your surviving pets the best possible life.
---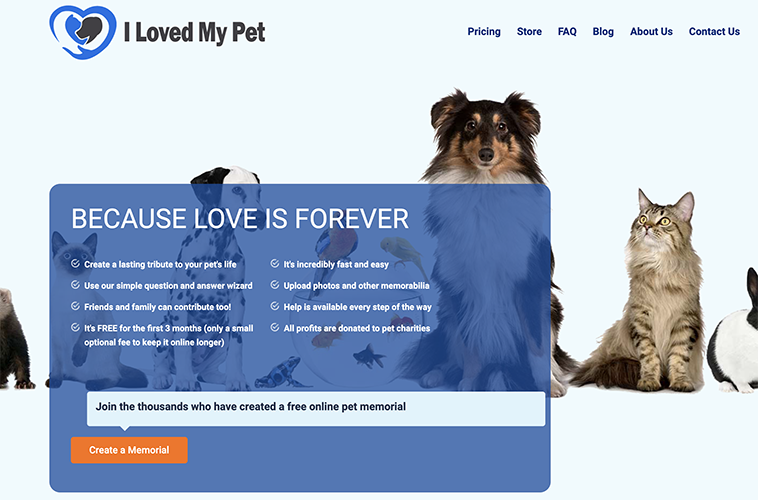 I loved my pet is another website that provides the user with a designated webpage to host their pet's digital memorial. They offer a free basic service for the first three months but can be extended indefinitely for a fee. The prices range from $11.00 / year to a maximum of $373.00 / eternity.
The website includes a blog with resourceful articles to help you get through the loss of your pet and how to take care of current ones. Regarding the setup for your online memorial, the steps are also straightforward, and you can include as much or as little detail as you wish.
---
Facebook is a great tool to create a DIY pet memorial page. It has an advantage over the previous tools we mentioned because it is globally known and trusted. Another benefit of using this social media platform is that it's free, and you have complete control over the design, layout, and theme.
---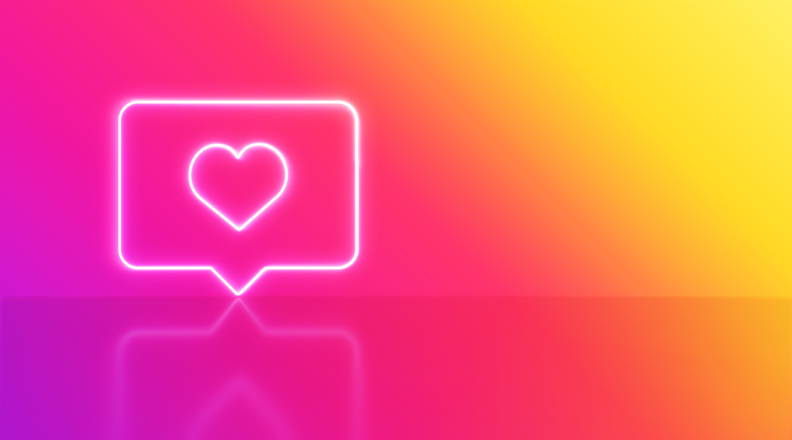 Instagram is another completely free social media tool that many people prefer to use. The drawbacks to this tool are that it doesn't provide you with online resources, a community of other grieving pet owners, or an online store for your friends and family to purchase a gift to send you their condolences.
There are many online tools to choose from, all of which offer many benefits and maybe a few drawbacks depending on your preferences. Something to keep in mind is that just because there is a fee, it doesn't necessarily mean it is better.
STEP 3: SIGN UP & START CREATING YOUR PAGE

Once you've decided on your online tool of choice, the next step is to sign up for an account and enter all the necessary details. Remember that some online memorial websites require a fee upfront to be paid. Once the fee has been covered, you can proceed with the signup portion. All pertinent information will be the same across the board and creating a comprehensive portfolio of your deceased pet is required. Below is a sample of what you should be prepared to fill out.
Details about your pet, including name, date of birth/death, breed, where it was born, and name of the owner.

If your pet was rescued, where did you rescue it from and when?

How old was your pet when you adopted it?

What was your pet's breed (if known)?

Add relevant details about your pet, including favorite human food, treats, favorite thing to do, etc.

You will need to write a synopsis of your pet, so be prepared to consider how you want it to be remembered so you can add these details.

What are your fondest memories of your pet?
Depending on the website, you will be asked to write a relatively long biography of your pet before submitting the information section. We recommend you write it however you want to remember your pet which will likely include all your favorite memories. The biography will be visible for all your guests to read, so take your time with it and make sure it includes everything you want them to know about your pet and the strong relationship you shared.
STEP 4: UPLOAD PHOTOS & VIDEOS

Like all online profiles, you will be given the option to upload images and short videos, depending on the tool you use. Once you've entered all the relevant details, you will be prompted to upload a profile photo of your pet. You can choose your favorite photo, as it will essentially be the focal point of the memorial.
In addition to this, you may be asked to upload additional photos and short video clips which will be scattered throughout the memorial page. They will be visible for visitors to see and watch. Just Over the Rainbow Bridge is an interactive website, so you will have the option to create a slideshow of photos and choose different songs.
All platforms have their respective setup format, and you can have a look prior to making your decision, especially if you prefer images to be a big part of the memorial page. The last thing you want is to pay for an online tool and find out after that they only allow a certain amount of imagery.
STEP 5: PREVIEW & FINALIZE

While you are free to make changes to your page once the memorial has been published, we encourage you to review it before submitting it to go live. The reason is that you are likely grieving when you create your online pet memorial; therefore, you might miss important details because of the stress.
Take a little time to reread it all and review all the images to ensure you're completely satisfied with everything you entered and uploaded. You can even have another family member who was close to your pet review it, as they might surprise you with details or photos you forgot.
STEP 6: SHARE YOUR ONLINE PET MEMORIAL

Once you've completed every section and all required details have been added, you will be given the option to share your memorial page. You can share your page on your other social media platforms by clicking a 'share' button and completing the integration. If this isn't an option, you will be given a URL or Memorial ID #, which you can send to your family and friends with whom you wish to share your unfortunate news.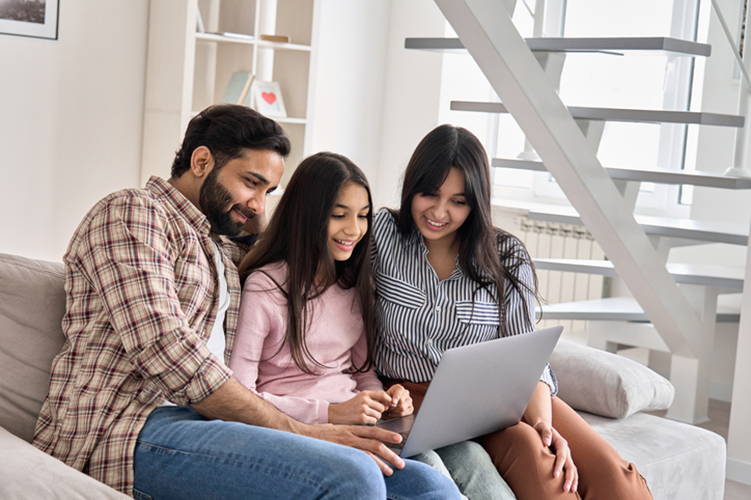 Keep in mind that since memorials are private in nature, you will always be given the option to keep your page private. In this case, the only people who would have access are the people you invited via a link or ID#, or by adding their names to the guest list. The process varies based on the tool.
When your guests visit your page, they will have options to show their condolences. At the very least, they will have the option to leave a comment and words of kindness for you to read. Depending on the website hosting your page, they may have options for your visitors to purchase a gift certificate for you, a memorial gift such as pet memorial jewelry, or even a poem to be sent to you. Online pet memorials have become innovative in how they resemble a real-life funeral with options to express condolences, be it through words or tangible gifts.
This sums up our 6-step guide on how to create an online pet memorial from start to finish. As you can see, the process is rather seamless and straightforward, with the only difficult part being getting through the difficult emotions you will likely be feeling. But despite how difficult it is, remember that the purpose of the memorial is the share your love for your pet with everyone you know and to keep their memory alive.
Other Unique Ways To Honor Your Pet's Memory
There are so many unique ways to remember your pet following its death, and what you choose is essentially up to your preference. Some prefer to memorialize their pet privately by telling only a few close family members. In contrast, others prefer to make it public, so everyone who knows their pet can express their wishes. If creating an online pet memorial is not how you want to say goodbye, that is not a problem. There are many more ways to go about it, all of which are equally perfect. Below is a list of ideas to help you make your decision.
ORGANIZE AN IN PERSON COMMEMORATION

When we're hit with the tragic loss of our beloved furry friend, sometimes the best medicine to overcome the associated grief is getting together with the people we love to help raise our spirits. That is the exact purpose of an in-person commemoration.
Commemoration doesn't need to be a memorial service. In fact, you can invite your closest friends and family for a barbeque or a weekend gathering to talk about their favorite memories of your pet. Exchange stories and reminisce about the good times everyone shared with your pet and how they will be missed. This is an excellent way to keep their memory alive.
Tattoos are a creative way to express your love and memory for the things and people you love. When someone's pet dies whom they were very close to, getting a tattoo in their memory is a great way to honor them. If you find a talented tattoo artist who specializes in pet portraits, you could get your favorite image of them tattooed on you. If you want something a little more subtle, getting actual paw prints tattooed is a popular choice. This is the one sure way to permanently honor the memory of your deceased pet.
THROW AN ANNUAL CELEBRATION

We celebrate the birthdays of our deceased family members or friends, so why not our pets? Doing this is a great way to get together with family and friends and spend the day dedicated to stories about your pet. You can go through photos and funny videos and laugh about their quirky personality traits. You can go a little further by telling your guests to bring their pets and share with them your furry friend's favorite treat or food.
If you want to keep your pet with you physically and can't bare the thought of them being done forever, you should consider purchasing pet cremation jewelry.
Jewelers can create unique jewelry designed to fit a small amount of cremains from your deceased companion, a pinch of burial soil, or a lock of their fur. The jewelry is a keepsake meant to be worn or carried regularly everywhere you go. The great thing about cremation jewelry is they are great conversation starters, so you will have the opportunity to talk about your pet to as many people as you want. If this is something that appeals to you but you don't know what style to choose, here are many beautiful options with something that will certainly catch your eye.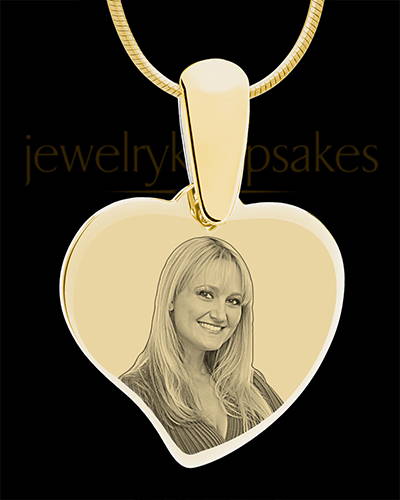 Similar to pet cremation jewelry, photo engraved pet keepsakes are meant to honor your pet. You can choose from many different keepsake options so long as it has a section that can be dedicated to printing a photo. Here is a list of the more common items you will find in a memorial jewelry shop.
Necklaces

Rearview mirror pendants

Wallet cards

Money clips

Keychains
If you're interested in an item that is not jewelry related, here are more popular options.
Clothing (t-shirt, sweater, etc.)

Acrylic keepsake

Bookmark

Lighter

Garden flag (this would be a lovely idea if your pet loved to lay in your outdoor garden)
There are endless options when it comes to having your pet's photo engraved on an item to honor a pet. If you would like to view some beautiful options, here are popular photo engraved keepsake options.
Jewelry made from your pet's ashes refers to any type of jewelry or keepsake item that infuses the animal's ashes into them. This can be done in many ways, and it all comes down to your preference.
A more recent option that is growing in popularity is having the ashes recycled into a synthetic diamond. The process is so precise that the synthetic diamond is indistinguishable from a natural diamond. Other popular options include the pendants and rings.
If you're someone who is afraid to lose your pet's ashes but want still want to keep them with you, converting them into a special piece of jewelry would be an excellent choice. Just like traditional jewelry, you will have many style options, such as a cross, flower, butterfly, animal paw print, and much more. If you're looking for inspiration, here any many unique options.
Photo Engraved Memorial Blanket
A photo engraved blanket is another popular option that grieving pet owners are purchasing to honor their memory. A blanket is always a safe choice because you will never stop using it and who doesn't want a giant photo of their furry friend plastered on their blanket while they're relaxing?
A shadow box is an enclosed glass-front display box with a hollow inside used to store an object or objects that hold personal significance. Many pet owners will purchase one, have their pet's photo engraved onto the glass front, and keep sentimental items from their pet stored inside. It can be used as a decorative item in your home, which will surely spark conversations about your beloved pet.
You can get your pet's photo printed onto almost all ornaments these days. Many people choose to have their pet's photo engraved on a Christmas ornament as a way of honoring them during the holidays they used to spend together. Etsy is a great resource if you're unsure of where to get it done.
If you think that pet memorial jewelry is the most appealing option to honor your pet but are unsure of which option to choose, we have an excellent article that will help you make a sound decision.
Online Pet Memorial Frequently Asked Questions
How long does it take to set up an online pet memorial page?

You can set up an online pet memorial in as little as a few minutes. The only thing required from you is to have your pet's details ready (name, date of birth & death, breed, a brief description of them, and images)
How much does it cost to set up an online pet memorial page?

Prices vary depending on which online tool you use. Some offer a few months for free and then charge a monthly fee. In contrast, others charge a monthly fee instantly upon creating the memorial page. Alternatively, you can create a free Facebook or Instagram page and invite your friends and family to join.
Can you create more than one memorial page for your deceased pet?

You can create as many memorial pages for your pet as you wish. If you intend on inviting family and friends to pay their condolences, however, we recommend you create only one, so you don't create confusion.
What if I don't have a computer to create an online pet memorial page but I want to do one?

You can ask one of your friends or family members to create one for you. The process is straightforward, so you will only need to give them your pet's information and your basic details. Alternatively, you can organize an in-person memorial.
Can I close my online pet memorial at any time?

Yes, you are not obligated to keep your memorial activated. In fact, many online platforms that host your page will give you the option to pay monthly, and if you cancel your membership, they will go ahead and cancel it by the end of the month.

What if I want to edit details after my memorial has been published?

When you create and pay for an online pet memorial, you are the administrator, meaning you have full access to make changes as you wish.
If I lost two pets, can I create one memorial for both?

Unfortunately, most hosting websites will only allow for one pet per memorial. If you really want to have one memorial for both pets, you have the option to use Facebook or Instagram, as you have complete control over the details allowed on the page.
Can you do an online memorial page for your pet lizard that died?

Of course. If it was your pet, you could create an online memorial for them. There are no limits to what companion can have an online pet memorial.
Sharing Your Pet Memories Online
An online pet memorial is a beautiful way to remember your pets for many years after their passing. Having access to such versatile and innovative technology makes it so much easier to invite family and friends both near and far to join you in commemorating your pet. As we displayed above, creating your own pet memorial is straightforward and quick once you've gathered all the details you would like to include.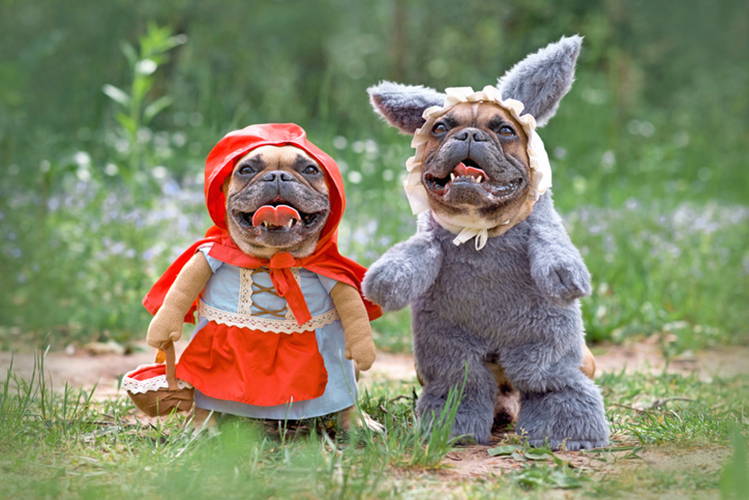 Pet memorials can be created for all types of animals, be it a dog, cat, hamster, horse, chicken, or rabbit. If the animal was your pet, it deserves a memorial to be honored by you. If you are still struggling to deal with the loss of your pet after creating their memorial, you might find this article useful.
September 30, 2022 by Jeri K. Augustus