Finding the right locket for ashes to remember your loved one can be challenging with the large variety of different styles available as well as a number of different price points. Whether choosing a keepsake for just yourself or selecting several pieces for a large group of people, costs can add up very quickly if you aren't aware of added extras, personalizations, etc. We've helped take some of the guess work out of choosing keepsakes on a budget and have some suggestions that will help you not only choose the best keepsakes for you or your group but also keep you on track with your spending budget.
Shopping for keepsakes by budget
Our selection of keepsakes is ideal for every budget. Whether trying to keep it under $50 or the sky is the limit, the variety is great with literally hundreds of keepsakes to select from.
Under $40
We carry a great selection of keepsakes that are available for less than $40. Photo engraved keepsakes are a customer favorite and can engraved with any photo of personal choosing. The resulting image is black and white grayscale and is an exact replica of the photo. The pendants not only honor those that have passed but are a great way to celebrate those that are still living.
Glass pendants are another option for those that have a smaller budget but still want a beautiful way to remember a loved one. The pendants are available in a wide selection of beautiful jewel tones and soft pastels and the themes vary from hearts to crosses to cylinders and more. The glass lockets offer great versatility in that they can be worn on the included 20" chain, displayed from the rearview mirror of your vehicle or even hung on a window in your home.
Under $40.00 Example
$29.95 - Silver Plated Memories Heart-Shaped Photo Engraved Pendant
$0.00 - 20" Free Matching Chain
$0.00 - No Engraving
$7.99 - Standard shipping in the continental U.S.
$37.94 - Total Cost
Under $75
There are several great options for those looking to spend a little extra. Stainless steel pendants are not only a bold statement of devotion and dedication to a loved one but also a durable resting place for a pinch of cremated ashes. The pendants come in different shapes that are appealing to men and women alike and the bail at the top unscrews to make for easy loading of the memorial.There are several great options for those looking to spend a little extra. Stainless steel pendants are not only a bold statement of devotion and dedication to a loved one but also a durable resting place for a pinch of cremated ashes. The pendants come in different shapes that are appealing to men and women alike and the bail at the top unscrews to make for easy loading of the memorial.
You can add a little color to your memories with one of our Millefiori Italian art glass keepsakes. The pendants are crafted of brass and have a rhodium plating that adds shine and durability to the keepsake. The pendants have been accented with Millefiori Italian art glass and the unique technique in creating the glass means that no two are alike. These one of kind pendants are a great gift idea for young adults or as a grieving gift for a friend or family member.
Under $75.00 Example
$39.95 - Silver Fly Away Butterfly Cremation Pendant
$15.99 - 18" Premium Chain
$0.00 - No Engraving
$14.99 - 2nd Day Air in the continental US
$70.94 - Total Cost
Under $100
Choose from a number of different styles for those looking to spend around $100. We've got heart keepsakes in sterling silver with or without precious gemstones that are an affordable way to keep the memories of a loved one close. Letter keepsakes in silver rhodium plated or black rhodium plated are priced at just under $100. Cylinders, crosses or even sports themed pendants are great ideas for men and give them an understated or private way to memorialize a loved one.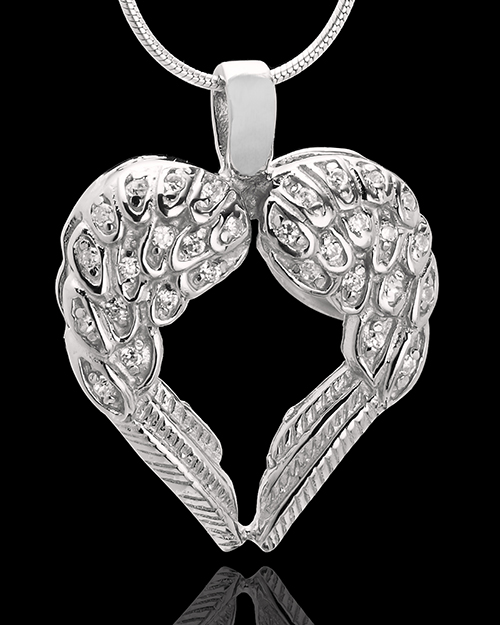 Under $100.00 Example
$89.95 - Winged Memories Sterling Silver Heart Cremation Pendant
$0.00 - 20" Free Matching Chain
$0.00 - No Engraving
$7.99 - Standard shipping in the continental US
$97.94 - Total Cost
Under $200
For those that have a budget of $200, consider 14k gold plated or rose gold. From bejeweled flowers to designer pendants and ornate crosses, there is much to choose from and the options are endless. Cremation rings and bracelets in sizes for men and women are a great alternative for those looking for something a little different and the rings and bracelets are available in different materials and finishes. And, with a higher budget, you can allow for extras such as chain upgrades and personalized engraved text.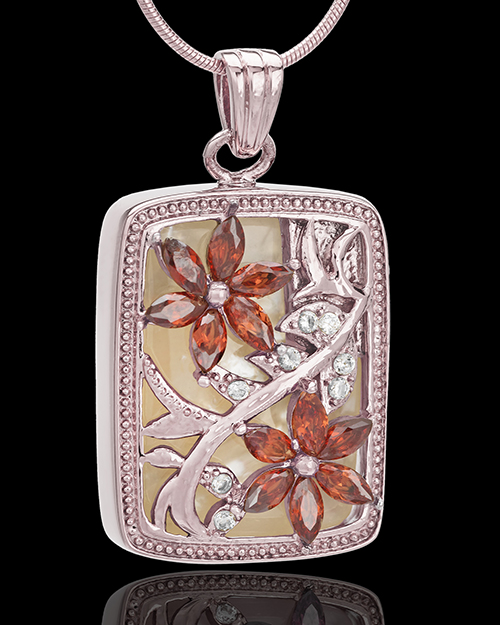 Under $200.00 Example
$109.95 - Rose Gold Spring Garden Keepsake Jewelry
$22.99 - 22" Premium Chain
$19.99 - Engraved text
$24.99 - Overnight shipping in continental US
$175.92 - Total Cost
Over $200
This is our best of the best selection. You can select from a range of 14k gold and 14k white gold pendants and rings that will hold a memorial to a loved one and the pieces are individually made. We also offer custom pendants and rings in 14k gold and our jeweler can create a unique keepsake with your exact specifications. The process of custom cremation jewelry takes approximately 3-4 weeks from start to finish.
How to save when purchasing One Keepsake.
When selecting just one keepsake and having a budget to work around, knowing where to start and how to narrow down your choices can be a challenge. With some well thought out planning and a little shopping savvy, you will be able to choose a keepsake that not only fits your memories but also doesn't strain your wallet.
Tip #1 - Using the links provided above, pick a budget and stick to it.
---
If you know that your top dollar amount is $50, than commit to sticking to that amount. We've made it easy to find the pendants and keepsakes available in four different budget amounts up above (under $40, under $75, under $100, under $200, over $200). Although it can be tempting, consider not browsing through other categories that don't fit into your budget - stick with what is available in your price range.
In addition, sometimes it is worth a call to one of our service representatives to ask about upcoming promotions and sales.
---
Tip #2 - Keep it simple and wait on the extras.
---
All of our cremation pendants include a beautiful 20" matching chain. The chain is plated with the same metal or a contrasting finish that matches the pendant and it is included at no additional charge. Upgrading your chain and adding engraved text are great extras to take advantage of but in no ways necessary. You can always choose an upgraded chain down the road or add engraved text later in time.
---
Tip #3 - Take a look at our sale items.
---
We have a number of beautiful keepsakes that are available at temporarily reduced sale prices and help you get a little extra bang for your buck. The sale items change all the time and give you the opportunity to get a higher priced keepsake that normally might be out of your price range. You can visit the sales page here.
---
Tip #4 - Take advantage of the free shipping promotional code.
---
We have a variety of shipping options and our promos page offers discounts not only on multiple keepsakes but also on shipping. Whether you're saving $8 or $30, why spend it if you have the opportunity to save it! Visit our Coupons and Discounts page for more information.
How to save on Multiple Keepsakes
When purchasing multiple pendants, being aware of your budget is key. We've got some tips and hints on how to help not only keep the costs down but also help each person get a keepsake they love.
Tip #5 - Choose the same pendant for each person.
---
The easiest way is to keep it simple and choose the exact same pendant for each person you are purchasing for. Initial keepsakes, a symbol of their passion or hobby they enjoyed such as golf clubs or a motorcycle, a simple cylinder or heart are great options and allow for all to share in remembering a loved one. It also keeps the ordering process simple and trouble free, alleviating stress during an emotional time.
Adding engraved text to the pendants is an option to consider as well. When buying all the same keepsakes, allowing for each recipient to choose their own engraved text for their keepsake makes it more personal and individualized to that person
---
Tip #6 - Budget the same amount for each person.
---
Another option is to allow each person a dollar amount. Whether's it's $50 or $100 or somewhere in between, this gives each person the opportunity to remember their loved one their way. This is a good idea for larger families that are ordering for a variety of ages as what appeals to a teen may not appeal to an adult in their 30's. Additionally, it lets everyone honor the unique relationship that they shared with the deceased.
Some things to remember when budgeting per person:
Engraving:Adding personalized text is a great way to further personalize a pendant or keepsake. Choose a short phrase, a few letters or even a verse depending on the selected keepsake and we offer both script and block font. Note this does cost extra and will increase the overall cost of the cremation jewelry.
Premium chains: We offer a beautiful selection of premium chains that are a stronger more beautiful version of our included chain. Available in rhodium plated, black rhodium plated, rose gold plated and gold plated, the chains are available in several different lengths and have a lobster claw clasp. The chains cost anywhere from $18.95 to $30.95 and the cost is added to the base price of the selected keepsake.
Shipping: How quickly is the cremation jewelry needed? Where are you shipping to? Are you shipping to multiple destinations? We ship worldwide including but not limited to Canada, the UK, Australia and more. We offer both overnight and two day air with most destinations and you can learn more about shipping times and costs by going here http://www.jewelrykeepsakes.com/Shipping-Informat... Be aware of the extra costs associated with shipping. Especially when shipping internationally or to multiple destinations, the shipping charges add up quickly and will have a significant impact on the bottom line.
---
Tip #7 - Use Coupon Codes
---
We love discount codes and we've got some to share! Buy 5 or more keepsakes and enter SAVE10 and checkout to receive a 10% savings. Order 8 or more keepsakes and enter SAVE15 at checkout and we will give you 15% off your order. And for our customers that are placing large orders, don't hesitate to give us a call and see if we can help you any more with pricing.
Check out our coupons and discounts page and our sale page! We change it up and try to offer new codes and new savings for our customers. Visit the page to find out our current specials. Also, we are constantly changing up our sale items and these provide a great opportunity to get our regularly priced keepsakes at a considerable discount.
---
Tip #8 - Shipping
Ship all of your pendants to the same location. Not only does this save you significantly on the overall shipping costs but we also provide tracking for every order. It makes it easy and trouble free to track your keepsake with one click of the mouse.
As a courtesy to our customers we include several extras AT NO ADDITIONAL CHARGE with our keepsakes. Each keepsake (where applicable) includes a free matching 20" chain and comes in a velvet jeweler's gift box that is placed in a lovely presentation box. Additionally, keepsake purchases include a screwdriver and printed and emailed instructions on how to fill the keepsake. We offer low cost 2 day and overnight shipping and have an information center designed to answer any questions you might have.