Posted by H. Schumaker on Apr 17, 2018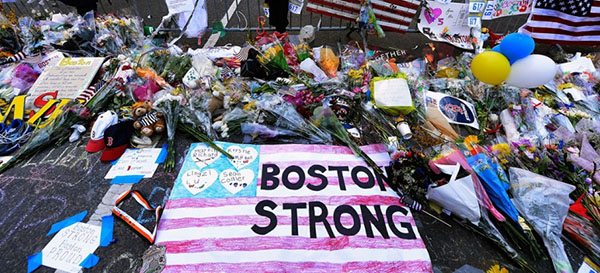 So yesterday, April 16, 2018, was an average day for most. A Monday. A back to the grind day. Taxes were due, it marks the downhill stretch of what has been a very cold and unspringlike month for those of us on the east coast. A Monday just like a lot of other Mondays that are on our calendars. Not the case in Massachusetts. Yesterday, April 16, 2018, marked the 122nd running of the Boston Marathon.
A couple of numbers about the day for those of us that are numbers oriented. There were 29,978 registered runners. 26,948 runners started the race and 25,746 runners finished the 2018 Boston Marathon. 9,500 people volunteered. There were 94 countries represented yesterday and 50 United States were represented by anywhere from 20 runners from Wyoming to 5006 from Massachusetts. Runners aged 80 or older - that number is 19. Runners dealt with wind gusts over 25 mph and rain, sleet and temps in the 30's. And 28,200 - well, that was the number of bananas available for the runners. These numbers alone make the Boston Marathon remarkable in and of itself. But then you watch the stories, you hear the why's, you see the incredible heart and determination and spirit of community - it goes from remarkable to awe inspiring.
Boston Marathon Facts
I didn't know all the details about the how and the why with the marathon so bear with me while I share what I learned. The first Boston Marathon was in 1897. The distance was 24.5 miles and there were a whopping 15 runners that ran. The Boston Marathon is one of six World Marathon Major races and is the world's oldest annual marathon. It is held annually on the third Monday in April and starts in Hopkinton, MA and finishes in Boston, MA.
The Boston Marathon is one that is recognized around the world and due to events that happened five years ago, the Boston Marathon took on added meaning. On April 15, 2013 two brothers triggered homemade bombs near the finish line of the marathon and when those bombs detonated, three people were killed and more than 265 were injured. And that community spirit of the marathon, that was felt for days, weeks, months and years to come with the rallying cry of "Boston Strong."
Boston Survivors
I thought it would be cool to catch us all up on where some of the survivors are. How they are doing. How they have taken a moment of circumstance, being in the wrong place at the wrong time, rallied their personal troops and risen from the ashes. The stories - they are humbling. Read on.
Rescued by Tragedy
Watching the marathon at the finish line, Jessica Kensky and Patrick Downes were newlyweds. And that day, they lost three legs. The couple went on to complete the Boston Marathon in 2014 using arm-powered bicycles called handcycles. In 2016, Patrick completed the marathon on a prosthetic running blade and was in fact the first victim to complete the marathon on foot after the attacks on April 15, 2013. The fact that after such a horrific loss that they could come back and complete the marathon - remarkable for sure.
The couple has released a children's book Rescue & Jessica: A Life Changing Friendship. The book highlights the bond between a girl with two prosthetic legs and her service dog, Rescue. Rescue, whom is in fact Jessica and Patrick's support dog. The book aims at teaching others about people with disabilities and the couple has found that children are understanding, inquisitive and at times amazed by their prosthetics and their physical differences. The couple does not dwell on what they lost that day. Instead they have gratitude for what they have found. Awe inspiring to put it mildly.
First Respond "I Do"
Boston firefighter Mike Materia was one of three that rushed to the side of Roseann Sdoia at the 2013 Boston Marathon. Mike stayed with Roseann as she was rushed to the hospital, holding her hand and staying by her side. Roseann lost most of her right leg that day and Mike has continued to stay by her side throughout her recovery - first as a friend and now as her husband. The first responder and the survivor exchanged "I do's" this past summer and are celebrating not only six months of marriage but also Mike that ran his first Boston Marathon yesterday, raising money for the Ed Walsh Foundation. Ed Walsh was a firefighter that lost his life in a 9 alarm fire back in 2014. The Foundation gives back to other families in the Greater Boston area. A remarkable story.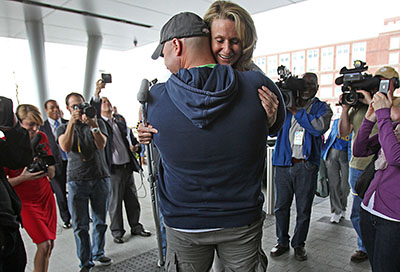 Roseann has published a book, does peer mentoring and public speaking. Additionally, she "pays it forward" by visiting and assisting other amputees. Her outlook on simply living life and enjoying life is a lesson that I know many of us can take from. And the fact that she does not feel sorry for herself but instead considers that she has been very fortunate - that certainly inspires awe in my heart.
Surviving and Thriving
Rebekah Gregory and her five year old son, Noah, and Rebekah's boyfriend were standing near the finish line on April 15 watching for Rebekah's boyfriend's mom. She suffered significant damage to her left leg from bomb shrapnel but initially was able to not lose the limb. She married her boyfriend only to have the marriage end around the same time she had her left leg amputated below the knee after 65 procedures over 18 months did not help the chronic pain. She was also told that due to the internal damage that she suffered from the shrapnel on April 15, 2013 she would not be able to have any more children. It is remarkable that she survived so much heartache and loss.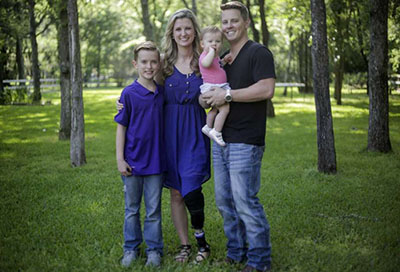 And to say she thrived - that's an understatement. Rebekah moved to Houston Texas and reconnected with her college sweetheart who is now her husband and started over. She established Rebekah's Angels Foundation with focuses on helping children with post-traumatic stress disorder. In April of 2015, Rebekah returned to Boston and ran the last 3.2 miles of the marathon - a celebration of the 3.2 months in which she'd learn to run again. She wrote a book. And, this young woman whom was told she would probably not be able to have another child, she gave birth to a daughter. Astonishing. Amazing. Awe Inspiring.
Stories of Today
As I was watching the coverage of the Boston Marathon yesterday they did spotlights on local stories. And, again, I was so inspired and humbled by the human spirit.
Touched by Mary
Mary Shertenlieb is the other half to Rich Shertenlieb. I'm talking the Sports Hub's Toucher and Rich's Rich Shertenlieb. Listeners to the Sports Hub (my Rob is one of them) know that Mary was diagnosed five years ago with leukemia. She has battled with the support of her husband, her sons and friends and family and is currently in remission. She ran yesterday for Dana Farber and has collected over $30,000 in donations. Quite a feat in and of itself - all of it. But it gets better.
At about 15 and a half miles in, around 4 pm, Mary had to pause. Uncontrollable shivering, purple lips and a compromised immune system gave her doctor reason to instruct her to stop running in the rain. So she paused but did not stop. She started up again last night at 8:30 pm, her husband by her side, dry clothes on her body - ready to finish what she started. Because despite the crowds long gone, the news coverage no longer, Mary had a race to run.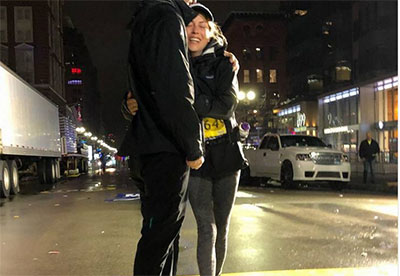 Mary and Rich continued along the marathon path being bolstered on by thousands on social media and their commitment to one another, a cause that hit close to home. Heartbreak Hill in Newton at 9:45 pm, Cleveland Circle at 11 pm, Kenmore Square and the Citgo sign at 11:58 pm. At 12:18 am on Tuesday April 17, 2018, Mary completed the 122nd Boston Marathon with her husband by her side. #strongistheonlychoiceyouhave
The Hundred Club
Most people haven't run one marathon, much less more than one. For Stuart Colb of Green Bay, WI, yesterday was his 100th marathon. Yes, you read that right. His 100th. Surrounded by his friends and family, Stuart finished the marathon under some of the toughest conditions yet with a smile on his face and tears in his eyes, saying "It was probably a personal worst time and personal worst weather, but it was fun." #100runsstrong
Friends and Competitors
Desiree Linden was the winner of the women's race for the Boston Marathon yesterday. Wow, right? She finished in 2:39:53 and under some of the toughest conditions in the history of the Boston Marathon. She was the first American to win in over 33 years. To finish and finish first, that accomplishment is something to be proud of. But that really isn't the story for me.
One of her fellow American competitors and a friend, Shalane Flanagan, head to use the porta potty shortly into the race. Because that's what the Boston Marathon is for the elite runners - a RACE. Linden didn't forge ahead, take advantage of those 13 seconds Flanagan was not running. No. She slowed up and waited for her friend. Helped her to catch the lead pack. Early on, Linden didn't even feel like she was going to make the finish line and she had told Flanagan that if there was anything she could do to help her, she would. In helping her competitor, her friend - she got her legs back and went on to win the Boston Marathon. #stronghertogether
My World and the Boston Marathon
It's funny. I'm a small town girl from Montana and my only connection with the Boston Marathon was a friend's dad whom qualified back when we were in grade school and I remember Michele talking about coming out to Boston. And how I was like ehhh. Whatever. Just a long boring race. Why would you ever want to run for four hours. Pass.
And then you live through the bombing. My husband was called in with the rest of the team that afternoon. I remember him flying out of here, saying there was a bomb detonated at the finish line of the marathon. Riveted to the television, we watched the devastation, the heartache, the incredible first responders, bystanders and runners that were instantly joined in a common goal - saving lives and getting people to safety. You follow the stories, you hear them, you read about them. How people survived. How they rallied around what they found, not what they lost. Books written that are changing lives, new lives born, families created, everlasting bonds formed. People rescued. Individuals thriving. How that fateful day did NOT seal their fate but gave them a blank slate from which to start anew. How they will forever be tied to the Boston Marathon. Forever be Boston Strong.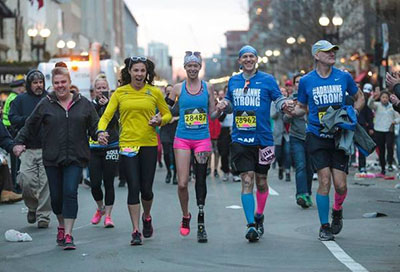 I watched yesterday, the stories, the coverage, the awe inspiring moments. And I thought for the first time ever - why not me? Why. Not. Me. I was a runner for years. To do it and do it once - why not on my life resume? To feel the energy, to maybe do it with my Lex, to honor the struggle, the joy, the good days and bad days, the journey. Maybe I'll inspire one other person. Maybe it will take on new meaning to my husband, my children that sometimes you have to do those things that you think you cannot do. And to come full circle. I know I'm Montana Strong - maybe it's time for me to show I'm Boston Strong too.
We are all inspiring in our own right. We all have those things inside us that we think we cannot do, accomplish, succeed at. We can. When you want something bad enough, when it means enough, you can get the job done. Be your own hero. Stop and pause and then get back on track. Grab a friend and be stronger together.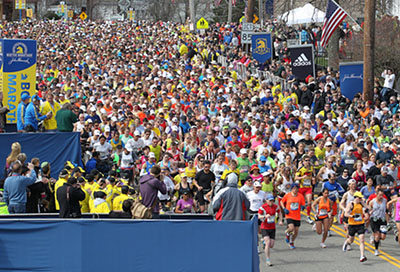 I can't wait to see where the journey takes me. Whether it's April 15, 2019 for the Boston Marathon or a different marathon, I'm committed. All in. Ready to see just what kind of miles this old girl has left in her. It may not be pretty but it will be mine. #schumakerstrong