Posted by H. Schumaker on Dec 05, 2018
Angie and Hallie Take on Montana 2018
Happy December, peepers! Hard to believe that this month is already nearing the end of week 1 of the merriest time of the year, right? Trees are decorated to the nines, that wretched little Elf is wreaking havoc in homes across the world, Hanukah is in full swing and the Family Channel is bringing a little bit of Griswold cheer to tv's everywhere. It really is a magical time of year in my opinion and I love so much about it.
It is also a time when many families are planning holiday travel. Those super fun jam packed family vacations, visits home, treks across state lines to share in the spirit of the holidays. And, as luck would have it, I just got back from my annual holiday travel! I go back to my stomping grounds once a year for a weekend and visit family, attend our company Christmas party and it's always a whirlwind. And having done so for several years I have gained a lot of knowledge about holiday travel and some do's and don'ts, some tips, tricks and hints that might help make the travel a little less chaotic and a tad more enjoyable.
So to my traveling companion extraordinaire and one of my best girls, we definitely made some memories. There is no one that I would have rather gone on this trip with and in honor of taking on Montana together in 2018, this one is for you!
15 Tips for Holiday Travel
This is not a do or die list and I guarantee you there are things that may or may not be for everyone. That being said, there is some information of real value here so take from it what you will.
1. Have someone you love drive you to the airport and pick you up.
If you can, have someone that you love drive you to the airport and pick you up upon your return. Not only does it set the tone right for when you take off for your destination but there really is nothing like coming home and seeing the face of someone you love.
We were lucky in that my Rob was kind enough to take the time off of work and drive us in. We hit a little snag when he saw our quart sized bag of Tito's nips as he thought we should get a coffee and a book and be boring. A little Christmas serenade of Mr. Heat Miser snapped him out of his grump and he sent us off with a hug and a smile. And we had a bestie grab us on our return and seeing that beautiful smile was a gift after a long return trip back to the East coast.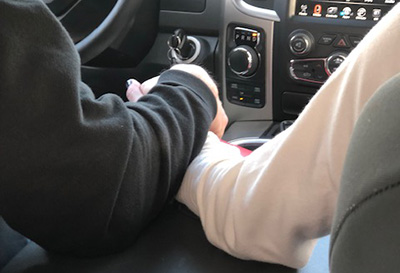 2. Wear cute shoes and appropriate socks.
There is a lot to be said for cute shoes when you are traveling. I think they make or break an outfit and orthopedic walking shoes are NOT cute - I don't care how comfortable they are. There is a middle ground and having on a nice pair of shoes puts a little bounce in your step. That being said, make sure that your socks are appropriate for the shoes.
I wore the cutest pair of new Sorels for our cross-country travel. Super cute combined with super comfy equals winning, right? Well, only if you don't wear ankle athletic socks with said boots. Stood up on the second flight and couldn't even walk due to the half dollar sized blisters on the back of each heel. Said blisters meant I walked to baggage in stocking feet and hobbled around for the next three days with band-aids on band-aids on my ankles. Don't be like Hallie.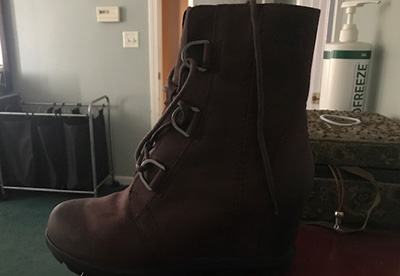 3. Be kind to the crew.
Be kind to the crew of the plane. A smile, a thank you, a how are you goes a long way. Their days are long, they have to deal with people cramming too much luggage into too small of a space, so on and so forth. A little bit of nice goes a long way.
We met the cutest little crew member when we went to test out the plane. She even asked if she could be in the pic with us and we readily obliged.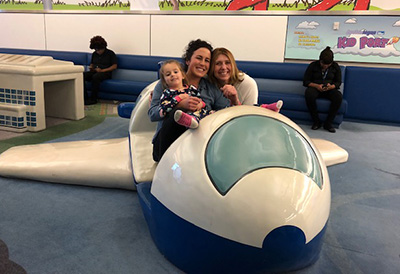 4. Make friends with your seat mates.
Oh this is a big one. If you are in a row with others you don't know, make friends. Especially when it's a long flight. Not only does it help to make the flight not seem so long but you might be lucky enough to share some laughs and make a new acquaintance.
Suffice to say we hit the jackpot with our seat mate. The three of us shared a lot of laughs, some cards, a few peanuts and some Tito's. We even shared a selfie!
5. Chew gum and have a drink.
You're sitting on a stale airplane. Full of strangers. And I swear that 85% of them are coughing. A piece or two of gum freshens the breath but also can serve as a meal if you forget to eat before you get on the plane and unplugs your ears. And a drink or two…alcohol kills germs. Enough said.
A pack of gum. Drinks. Check and check.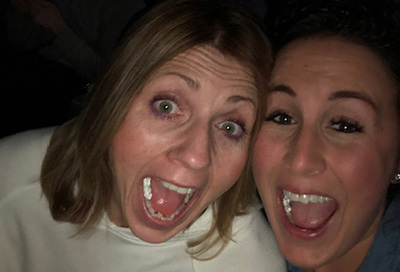 6. Look for secrets in the peanuts.
Now I did not know this. When you open up a peanut and do so correctly you will find Santa. The proof is in the picture.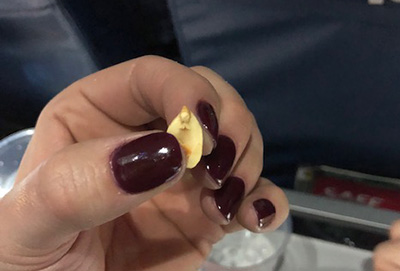 7. Eat a hearty breakfast.
Start off each and every day when traveling with a hearty breakfast. Not only does it sustain you and give you some fuel to forge through the day ahead but there is something about bacon that starts your day off on the right foot.
We were starving when we woke up Friday morning. Legit starving. And given that we woke up at 4:00 am due to the time change, by the time 7:00 am hit we were debating the nutritional value of toothpaste. We hit up one of my most favorite diners and had a breakfast fit for queens. Might've washed it down with a Bloody Caesar - royalty being the theme for the day. Was a game changer for us.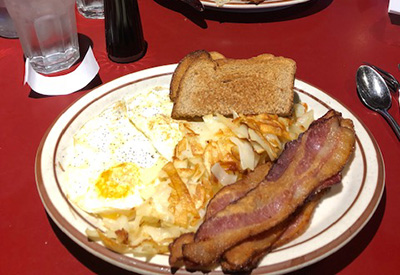 8. Take lots and lots and lots and lots of pictures.
I don't care how silly you think this is, do it. Take pictures upon pictures upon pictures of your time away. Because there will come a time where those memories of the time that you spent will start to fade a little. And those pictures will suddenly become deposits in your memory bank, instances that you can pull up, that will inspire a smile, a tear, a story to recant at the dinner table. Take those pictures.
We obviously excel at this. But it was so great to not just look back now over those pictures but to share our travels with others, let others be a part of our weekend. I'll treasure each one that we took and the memory that we made.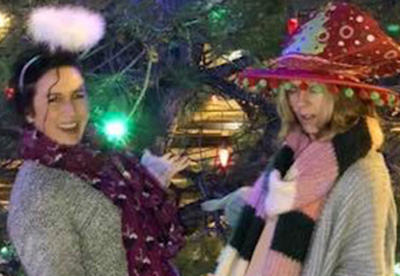 9. Take in the beauty of your surroundings.
It is so important that no matter where your travels take you that you take a moment to just appreciate the beauty of your surroundings. Doesn't matter if it's your cup of tea or not - to someone it is home. And it is worth appreciating and taking in.
There really is no place in the world like Montana. And no matter how many times I witness it, no matter that I lived there for 20 years of my life, the beauty of the state still gets me every time.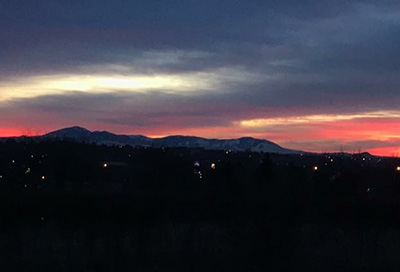 10. Spend some time with the locals.
Share some laughter, some hello's, some pats with the locals. Doesn't mean you need to exchange cell phone numbers or add water become besties but we all walk this walk together. A little bit of humanity is a good thing to share.
The 'locals' we spent the most time with happened to have four legs and lots of fur. We did give them lots of time and attention however and enjoyed the 'flavor' they brought to our time there.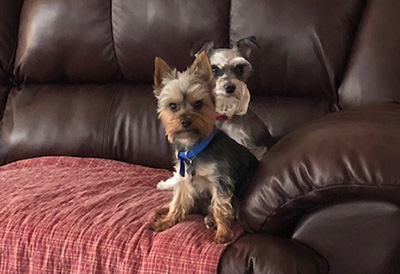 11. Embrace your silly.
Life is serious enough and when you're traveling for the holidays, the stress and the chaos can double that seriousness. Embrace your silly. It doesn't have to be 'perfect' to still be great and sometimes adding a little bit of silly brings you back to the importance of why you went all that way to begin with.
We got the chance to spend vast amounts of time with my niece and my nephews. And to say that I was silly - understatement. I bring silly to a new level at the ripe old age of 47. And that silliness brought a lightheartedness that was very much needed.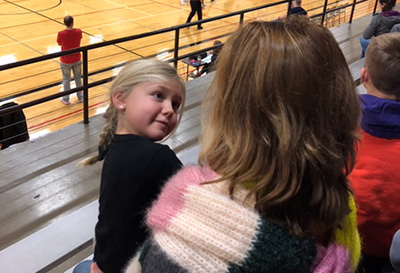 12. Be generous with your hugs and kisses.
Life is short. Finite. We often hold ourselves back from being affectionate, saying "I love you", sharing hugs and kisses for a variety of reasons. Maybe you're not a touchy-feely type, maybe you don't want to be too much, etc. Say it. Give a hug, a kiss on the cheek. Don't hold back. You never know when that time will be your last.
I am a touchy feely in your face type of girl. If I love you - I'll tell you. I'll hug you, squeeze you and give you a kiss on the cheek. I want the people in my life to know how much they matter.
13. Try something new.
I think whenever you are traveling anywhere you should always try to try something new. A new food, a new experience, a new something. Embrace one of the local flavors. You made the effort to get there - make the effort to take in some part of their 'culture'.
We ended our night on Saturday, our last night in Montana, at a local establishment with a super creative name. The City Bar. And at the City they have a particular drink this time of year called the Tom and Jerry. Probably about a million calories, it's served hot with a foamy whipped thing on the top and a dash of nutmeg. And it is delicious. I hadn't had one in years and my best girl had never had one. Was thoroughly enjoyed by both of us and the perfect end to the night and the weekend.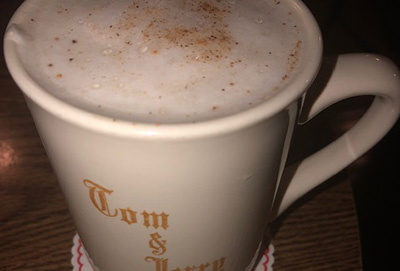 14. Don't forget to call home.
When you leave to go on your holiday travels there is typically someone at home that you leave behind. Whether it's a bestie, a dog watcher, a loved one, whomever - there is someone there that is keeping the home fires burning in some way, shape or form. Give them a call. Check in. Let them know that just because you're gone doesn't mean they are forgotten.
We called three times. No one answered but call we did.
15. Make the most of time with family.
The holidays to me are all about family. And I don't care if you're traveling with your family, visiting family or having a family Christmas with good friends, family is family in my eyes. And that time is a blessing, moments and opportunities that you can't get back. Make the absolute most out of that time.
My brother is probably one of the best people I know. A friend unlike any other and the time I get to spend with him is a gift. The weekend with him and his wife, their children - I cherish each and every moment we spent together.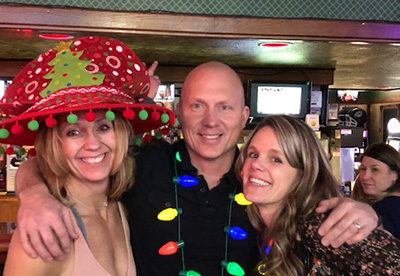 And my mom. I love her so much. This weekend with her was one that was desperately needed - not just for her but for me as well. And although it was heartbreaking to leave her on Sunday morning, I think our individual burdens are a little bit lighter from sharing the time together.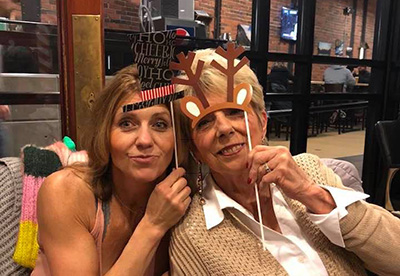 Authors Note
I love my family. Anyone that has read a single word I've written knows that they are without question my purpose. And bringing others into their life is not something that I do. Sharing them is not commonplace. So when I do, when I bring someone 'home' - it's special. Important to me. And it means that someone is special, important to me.
As we roll into the holidays, I want to share with you something that my traveling companion shared with me. A conversation that she shared with a woman in her life about how short life really is. And how if you love someone then you should tell them. Often. Repeatedly. Because there will come a day when that opportunity will have passed. And given some circumstances in my life and that of my family - let's just say it resonated.
Find your joy this holiday season. Whether it is listening to holiday music with a cup of tea and a little tucked in close, strolling through the mall holding the hand of your spouse and picking out ornaments for the kids, being in the company of friends where the laughter is flowing faster than the drinks - whatever it is that lights you up from the inside, that makes you feel grateful for that moment - embrace it. Wrap yourself up in it like a favorite blanket and savor that feeling.
And say I love you. 100 times a day. To the people that you love. And if you haven't said it lately to someone that needs to hear it - do it. Now. Send a text, make a phone call, put down your phone and say it face to face. It's a gift not just to the recipient but to yourself as well.
And to my girl - thank you for the memories this past weekend. For being there and understanding. For the belly laughs, for letting me cry, for keeping me sane and bringing a little bit of crazy.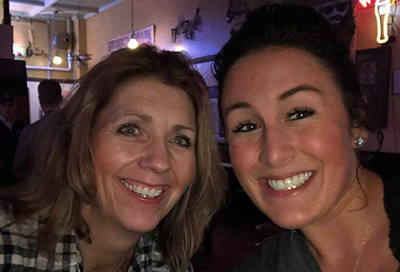 And Ang - I love you too.