Posted by H. Schumaker on Aug 18, 2017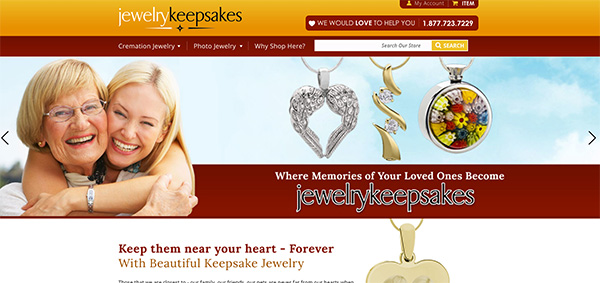 Let me start by saying welcome to the new and vastly improved Jewelry Keepsakes! All of our customers have been instrumental in helping us get to here and we can't thank you enough for your patronage, your support and your feedback. Without you - well there wouldn't be an 'us'.
The Jewelry Keepsakes Family
Jewelry Keepsakes came to be in the early 2000's and was born out of the desire to help families that have lost a family member. The concept, the importance, the necessity of family is one that firmly grounds our company as well as our lives. We believe that family encompasses all those that touch your heart - whether it's actual blood relations or close friend or your pets - and that finding a way to feel close to that family member can help get one through the days, weeks and months ahead.
Because we've been there. We've lost. Mothers, fathers, children. Pets. Good friends. And maybe, just maybe, if we can help ease some of that grief, even if for just a moment, we'd be honored to do just that.
But it gets even better! We have other hats that we wear outside of just the 'family' hat. We are parents, grandparents, friends, pet owners. And through the evolution of our Jewelry Keepsakes 'family' we created products that would help people celebrate their children, their pets, their loved ones, a special moment captured by photo. What started as just photo engraved pendants has exploded into several different styles that have a broad appeal, superior workmanship and they are SO AFFORDABLE! More about that later but let's suffice to say - a whole lot of awesome is going on here.
What Has Changed
Some things have changed and some things we kept the same. Here's a quick run down of what we are doing differently.
Quicker website.
Our site speed has improved significantly. This means that you can look through the products, put the items in your cart and check out quickly and efficiently. No lagging, no yelling at the computer to hurry up. Fast is where it's at!
Optimized for mobile.
We get that many of us do a lot more shopping on the go. Including the staff here at the office. The website has been optimized to make mobile shopping a snap. See the same pictures and information on your mobile device that you see on your computer. No matter where you are, all of our products are easily accessible through your tablet, smartphone, etc.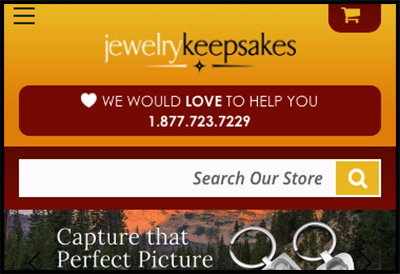 Easy to navigate mobile shopping
Secure payment processing.
Not that it wasn't secure before but it is that much more so now. We have taken extra measures so that you know your personal and payment information is safe and secure.
A new blog!
Communication is key and we've created a fabulous new blog (hint hint - that's what you're reading) to connect with our customers. Real stories, real information, a few laughs and a few tears all thrown together in one fabulous place. That connection with our customers is so important because it's one of the tangibles we value the most as individuals and as a company - that the relationships with the people we love matter and how we honor those relationships matters.
Improved engraving selection.
We have made it a snap for customers that are looking to add engraved text to their keepsake. Customer have to now choose that they would like to add engraved text before text is allowed to be entered in the designated box. This streamlines the ordering process and helps to eliminate errors. In turn, it will also help to streamline order processing. Faster processing means your package is out the door and on it's way to you faster!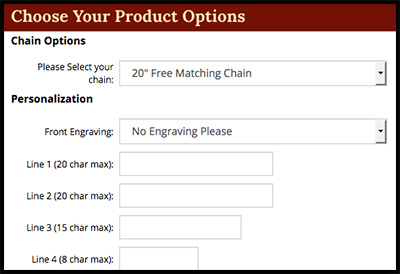 Old Engraving Selection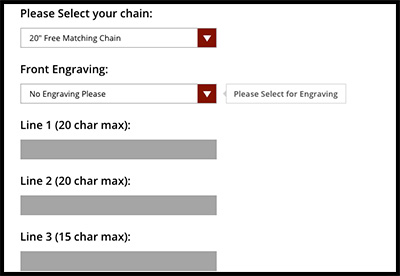 New Engraving Selection
Better tracking capabilities.
You spoke and we listened! With this new platform you will get up to date tracking information so that you don't have to wonder where the heck is my package! If you're happy, we're happy!
12 categories of photo engraved keepsakes.
You read that right - 12! Because we can now handle a bigger product base we have taken our photo engraved keepsakes and created tons of new styles. So many styles in fact that the keepsakes now went from 2 categories into 12 categories. Money clips for men, beautiful pendants in shapes and styles you asked for, the addition of birthstone pendants and so many others. We are so excited about these new keepsakes and can't wait to share them with all of you!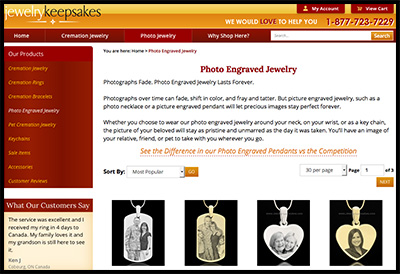 Old Photo Engraved - Pendants Only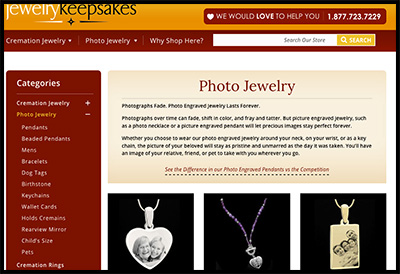 New Photo Engraved - 12 New Categories!
What Hasn't Changed
We love change. We are a versatile, cutting edge, let's bring about change kinda company. But some things - well, if they aren't broke why fix them? Here's what we did not change.
Customer service.
Hands down, our customer service team is the best of the best! We have always promised to provide the most compassionate and caring customer service available and that will not change now or ever. Our customer service reps will go above and beyond to make sure that your questions are answered, your needs are met and that you are getting the quality of service and product that you are deserving of.
Affordable prices.
We get inflation and everything from the cost of homes to the cost of food is on the rise. Our prices are NOT. You are already grieving a loss in your life - you shouldn't have to worry about how you are going to afford a personal way to remember someone you loved. Not only do we keep our prices competitive but we also offer a variety of discounts and coupons that pass on the savings to our customers.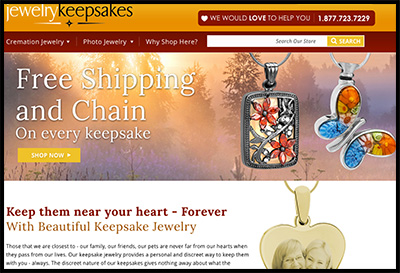 Safe shopping.
Our site is safe to shop day or night and your personal information is kept just that - personal! Our network is secure, all credit card info is encrypted and transmitted via SSL Secure Socket Layers and your payment information is kept safe by authorize.net, our payment service provider. Your only concern when you shop at Jewelry Keepsakes is how am I only going to choose one keepsake?
Up to date information center.
Again, you spoke and we heard you. We are continually updating our information center with real time articles that gives you real info that you can use. The information provided is not only of interest and varied on a wide range of topics but it is relevant to today's questions and concerns surrounding loss .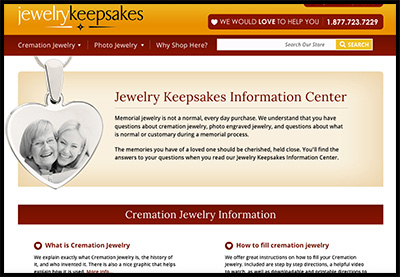 Take a look around the new site and let us know what you think! Your feedback continues to be crucial for our success in providing our customers with ways in which they can honor and remember their loved ones as well as celebrate those that are still with them. Have suggestions? Recommendations? Looking for a product that we don't have? Give us a call, shoot us an email, LET US KNOW! We are all ears!
Thanks again for stopping by and we look forward to sharing the journey with you!