Posted by H. Schumaker on Jan 24, 2018
All you need is LOVE
The dreary doldrums of January are finally making there way out - me so happy! And I love that as we leave the gray days of the first month of the year we leap into a month of hearts, Valentines, chocolates and all that good stuff. A month of L-O-V-E. Not just a Hallmark holiday, I think Valentine's Day is a perfect opportunity to focus on the stuff that makes the world go round, our hearts feel full, really the foundation from which our lives are built. You got it, peepers. Loving me some LOVE!
So what is love? How do you put words to what it is? I think one of the best ways to describe that hubba bubba of emotion is to revert back to 1 Corinthians 13:4-7. The New International Version states "Love is patient, love is kind. It does not envy, it does not boast, it is not proud. It does not dishonor others, it is not self-seeking, it is not easily angered, it keeps no record of wrongs. Love does not delight in evil but rejoices with the truth. It always protects, always trusts, always hopes, always perseveres." Wowie! Love is a beast, totes someone I want in my corner! With a little help from my friends, I broke it down to show how in our day to day lives, that truly is the message of love that is delivered.
Patient and Kind
Y'all, love is all about patience and kindness. Life is hard, full of challenges. Facts. Our schedules are jam packed with too many activities, we have social media, computers and smart phones to hide behind and do our 'verbal' dirty work, we have a loss of accountability across the board. And I guarantee you that when you take a step back, exercise some patience and some kindness, are extended the gift of patience and kindness - it is day altering. Life changing. We've all been recipients and we've all been gifters of the same. And it is one of the easiest and simplest forms of love.
Proof is in the Pudding
I asked or had others ask some of our youngest little planet walkers how they would describe love. First and second graders primarily and read what they had to say/write verbatim when they were asked " What is Love?"
"What the heck…It has 4 letters and 1 syllable."
"Love is hugs and kissiz."
"Love is harts and lips."
"That you're nice to each other and you're friendly."
"Love is 100000000000 hugs and snuggels"
"Love is Peapole likin ech othar."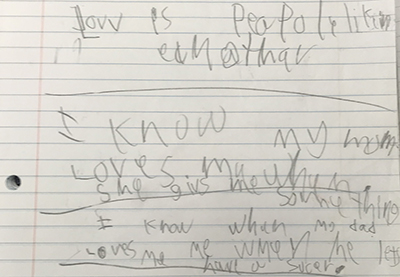 And there were a couple of these…
"Love is cinis." "Love is cinise." and "Love is kindniss" Three unique spellings of the word yet all relaying the same message. Love is kind.
A common theme. Uncomplicated really. Patient enough to stop and give a hug and kiss. Show kindness, however you spell it in your world. Like each other. Be nice. Love. 4 letters. 1 syllable.
Truth and Joy
The next part of our 1 Corinthians love description I lumped into one category because that's what they boil down to in my opinion. Envy, boast, pride, dishonor, self-seeking, easily angered, evil - yuck! That is a lot of negative emotions and love is NOT negative. Love is sacrifice and selflessness. About finding the joy, living the joy, spreading the joy. Authentically. Truthfully. It's not about keeping score on who is the better friend, who does the dishes more often (although at times with three children that does have it's value), whom wronged you. Love does not delight in the bad but rejoices in the good. In the end, love prevails.
Pudding. Proof.
Again, I relied on the words of others to help prove my point. And what better way to show that this truly is how love is, how this common thread crosses over from generation to generation despite the changing of times, what more authentic way to show that the proof is in the pudding than by asking someone who's been around a lot longer than I have. Ann, whom is a beautiful 72 year old woman, had this to say about love.
"I never sign a card with 'All My Love'. I love more than one person. I love places I have been. I love foods that I have tried and items I own. Love is the feeling of happiness I get from caring for someone or for sharing time with them. Love is the jolt I feel when I travel and I open my mind to the beauty around me. Love is the connection I have developed for family heirlooms and for items given to me by friends. Love brings a smile to my heart."
That, my friends, well that is truth. Authentic. Nothing boastful or self-seeking or negative. But lots of joy.
Protect, Persevere, Hope
The last part of the 1 Corinthians is probably my favorite and the one that I most identify with. Love protects. It trusts. Love has hope and perseveres always. Bring it back to the basics and look at those that you love. You would protect them at all costs. You persevere, move forward, have hope on a day to day basis, no matter what is thrown at you, trusting in your love. I look at the people that have loved ones that serve, families where life has thrown them a life changing curve ball, prayers that go unanswered, bad things that happen to good people. And at the end of the day, I guarantee you that many of them will say they simply moved forward with hope. Persevered through the storm and that love got them through. Powerful stuff.
Trolls and Puddin
I love to love and anyone that knows me knows that. And I've been blessed to have a lot of love in my life. I try to walk the walk and talk the talk and although at times I fail, I would like to think that I know a thing or two about love and that the people in my life know they are loved.
I asked my oldest troll what her thoughts were on love. How she would define love. She's almost 19, out on her own, an adult. And what she sent me - it was a gift. It shows me that where she hasn't been raised in a perfect household, she has been raised to know what love is. And that is the greatest gift we could ever give our trio of troll babies.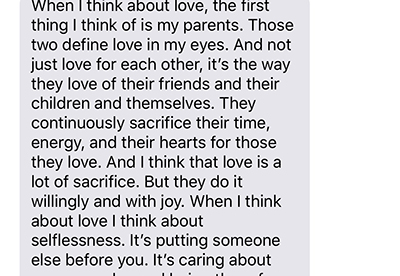 As we wave bye-bye to January and head into the month of love, think about what love means to you. Are you walking the walk and talking the talk? Showing those around you they are loved? Being patient and kind? Throw away your scorecard, live and love authentically. Protect what is yours. Push forward through the darker days. Begin and end each day with gratitude and joy. Have hope.
Love. Four letters. One syllable. It really is that simple.