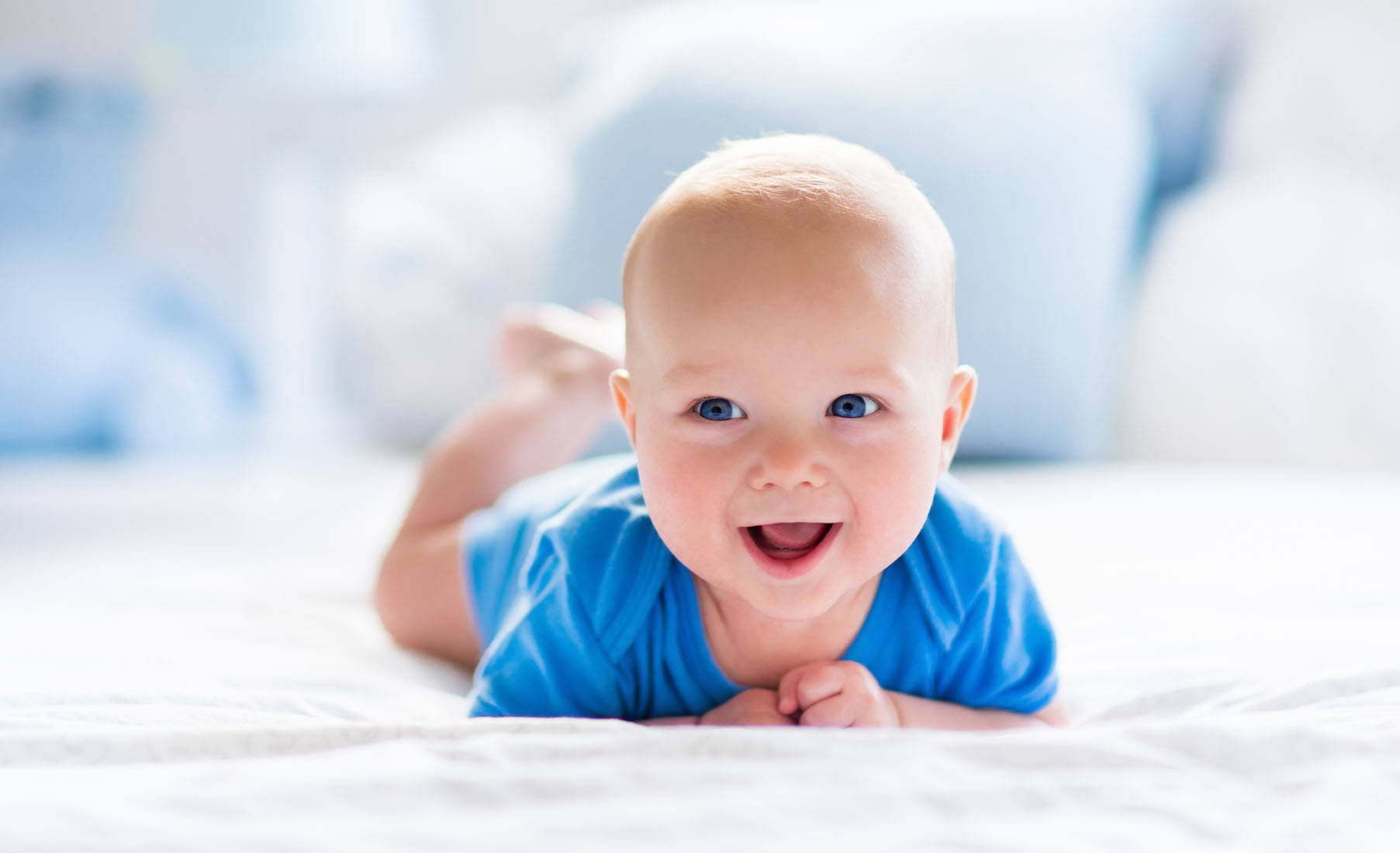 Celebrating A New Life With Family & Friends
One of the very first things you want to do as a new parent is to revel in the immense joy that you feel every time you hold, see, and touch your newborn baby. Celebrating your tiny little miracle is a momentous occasion, something that you are going to want to share with the world, whether that be through adorable photos you snap when they sleep or through milestones they achieve as they get older.
If you are looking for a unique and special way to commemorate the birth of your baby or want to provide a way in which close family and friends can share in your happiness, consider baby photo jewelry. It is a great way to capture those early, early newborn moments that you have with your child. Plus, with the amount of photographs you are likely to take, there will be plenty of options to choose from for that perfectly etched pendant or keychain.
Read on to find out more about baby picture jewelry, including what it is, why it makes a great gift, who may love one, and how you can personalize your very own.
What Is Baby Photo Jewelry?
Put simply, baby photo jewelry is any accessory, such as a pendant or bracelet, that has a spot where you can place a custom photograph or etched engraving of your newborn baby, toddler, or child.
However, to new parents, family members, and friends, newborn photo jewelry is so much more than just a photograph and the accompanying pendant, bracelet, or keychain.
Each piece of jewelry represents a precious memory or moment in time that can be looked back on and remembered, honored, and loved. It can represent an entire lifetime of a child, the specific moment they were born, or even an exact milestone moment in their life.
When this image or memory is combined with complimenting jewelry and detailed words of love, encouragement, or kindness, the entire piece can hold deep, sentimental value to the wearer.
This new baby jewelry for mom or dad is a fantastic way to commemorate and celebrate the new life of a baby girl or boy, with the advantage of being portable.
You can wear it and take it with you regardless of where you go, rather than letting the photograph sit on a shelf at home. It can also make a great gift to those in special familial roles who are either really close to the family and the child or who may not see the child as much as they'd like.
10 Reasons Why Baby Photo Jewelry Makes A Great Gift
When it comes to giving gifts that hold sentimental value, there are very few that can surpass the celebration of love that a family has for a child. In honoring this bond that exists between a mother, father, aunt, uncle, brother, sister, grandparents, or godparents and the child, you not only commemorate the relationships between them but also the respect, joy, pride, hope, and love that exists.
You share in the memory that the photo jewelry captures and all of the hopes and dreams that are held therein. Beyond this, baby photo jewelry makes a great gift to anyone in the family because it is a unique, affordable way to celebrate family ties.
1. Affordable & Sentimental
Photo engraved jewelry, whether it is a baby photo pendant (necklace), baby photo keychain, or even a footprint jewelry piece, is an affordable way to provide a sentimental and highly personalized gift.
Most newborn photo jewelry pieces are priced in or around the $50 mark and can be completely customized with the chain size, engraving, text style, and may even have a spot for a birthstone or two.
With the financial investment being reasonably priced or budget-friendly in some cases, the emotional value the recipient receives far outweighs the end price point.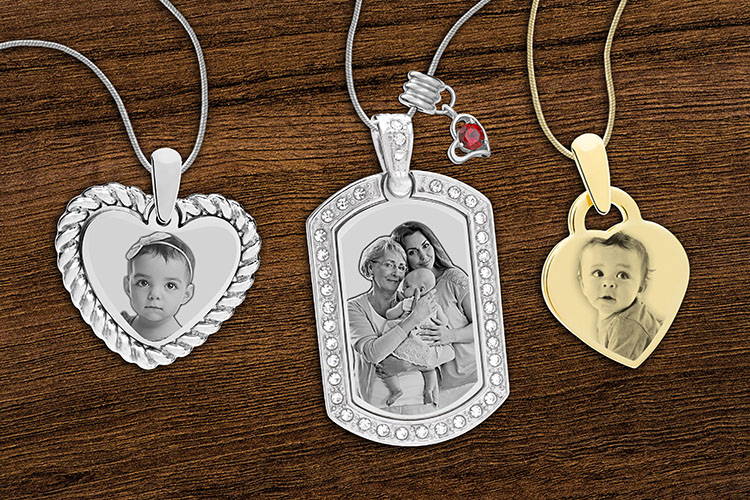 If you are looking to purchase gifts for new parents or want to send a close friend or family member a picture of the newborn, baby photo jewelry works really well because it comes with everything you need to gift it.
You don't have to worry about buying a separate chain and adding it in as each pendant or necklace comes with a matching 20" chain and gift wrapping is free. All child photo engraved jewelry is shipped in a velvet gift box which is then placed in a high quality presentation box, ensuring that the pendant sits on top.
This type of gift works great if you want to send something unique to a close friend or family member who lives in another region.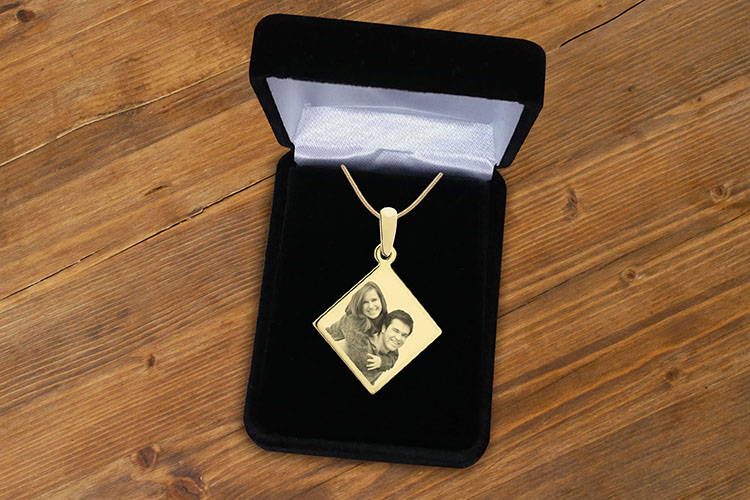 While baby due dates are approximate and known ahead of time, sometimes they can come a little early and surprise you!
If you are looking to celebrate the new bundle of joy and want a sentimental gift that can be procured in a timely manner, then newborn photo jewelry can work really well for this purpose.
This is because photo jewelry of this nature can be shipped within 24-hours of purchase (in most cases) with a 2-3 day turnaround on orders with standard shipping.
A custom etched engraving of a newborn's handprint or footprint or that of their first photograph can be a great way to show your friendship and joy to the parents. It is also ideal jewelry for a new mom from her husband.
If you are the parent of the newborn, this type of gift is a great way to thank those who helped you prepare for the baby.
Baby photo pendants, keychains, or wallet cards show that you have put thought, effort, and energy into honoring your relationships with your family and close friends.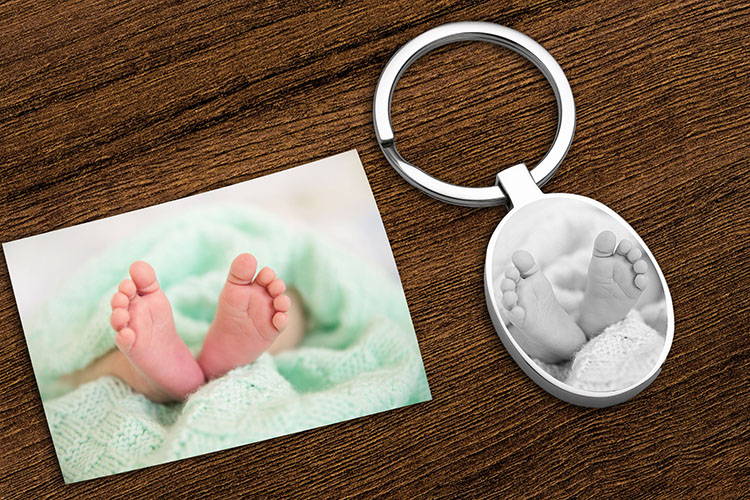 Photo engraved jewelry is completely unique to you or to the individual receiving the gift. Not only do you choose which photograph is used, but you also choose how it is personalized.
This includes the font style used, the quote/phrases used, and what elements you want included with the actual jewelry piece. Perhaps you want a birthstone included or a longer chain with a unique type of clasp.
You make it your own and it ends up being a special piece of art that holds a special memory of the newborn baby.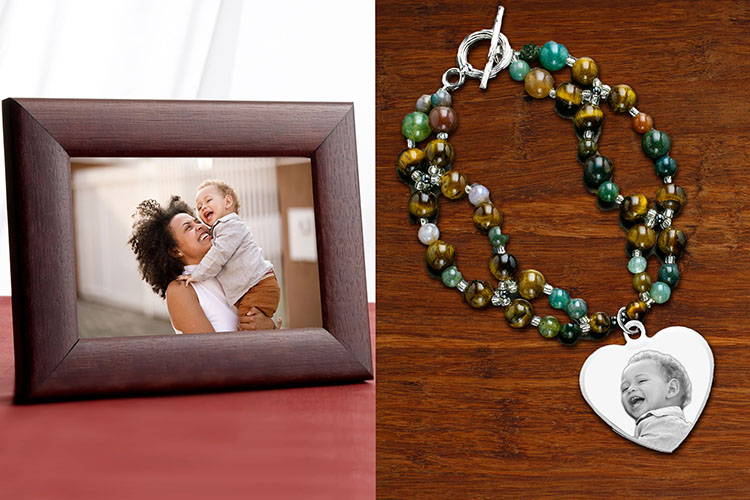 Newborn photo jewelry can be easily identified. One of the downsides of regular jewelry is that if it goes missing, is lost, or is stolen, it is hard to get back because it is hard to distinguish your special piece from others.
However, a baby photo pendant or baby photo keychain is much more likely to be noticed or found belonging to you because it is customized. Of course, this isn't a failsafe measure but it does provide some sense of protection.
Photo engraved jewelry helps you build a connection or forge a bond both with your newborn but also with the individual who gifted the jewelry piece.
It serves as a tangible monument to the relationships you have with these people, binds you to them, and helps you celebrate your mutual relationship.
This personalized jewelry for mom and for dad is a great way to give them a lasting memory of their infant.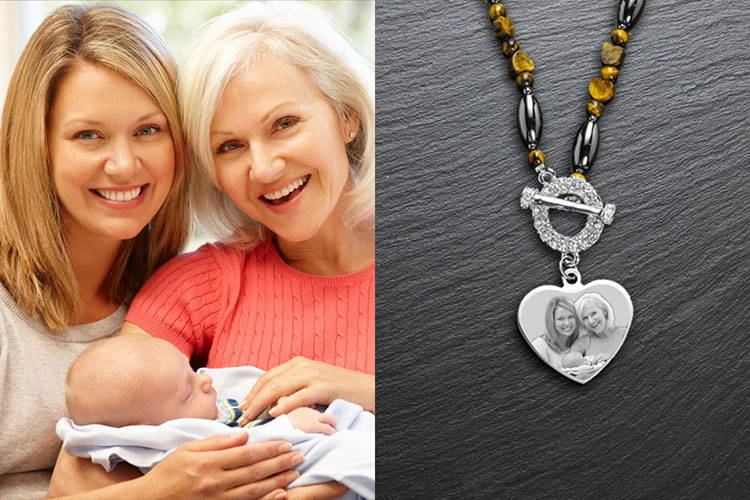 Binding a baby's photograph, handprint, or footprint to a piece of jewelry can cement the memory you are celebrating. Select as first time mom jewelry, a first son or daughter or a long awaited grandchild.
As we move through our lives, certain memories can fade a little bit over time so that the memories aren't as vivid as we'd like them to be. This is why photo albums and videos are popular.
Using photography for those special moments and etching them into jewelry is a fantastic way to make it easier to remember.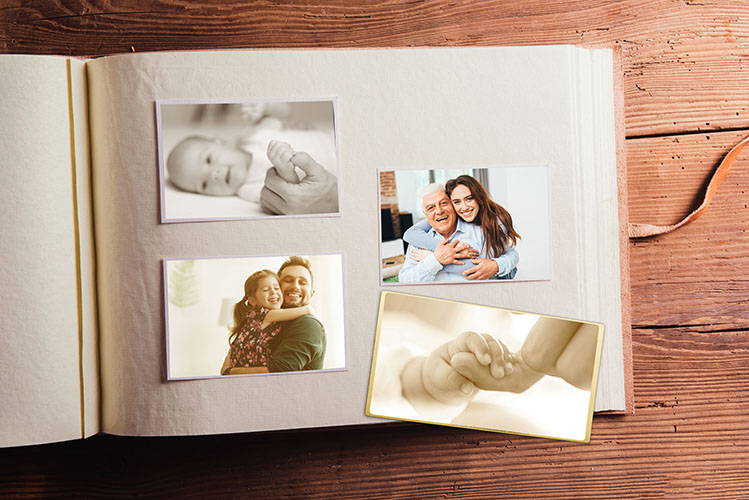 There are a lot of individuals who like to keep entire photo albums of their newborn babies on their smartphones. While it makes sense, considering our phones go everywhere with us, if something goes wrong with a backup, the phone gets stolen or broken, or a cloud save fails, then you might lose all of the photos you have.
If you know someone who does this with their photographs, getting them a physical object with their newborn photo on it, gives them something to hold close in the event that something like this happens. It brings peace of mind.
Baby picture jewelry can be given to the child when they are older. Even if the child is older and may not want to wear the jewelry, it can be hung up in a special place.
If you have chosen to purchase a baby photo pendant or even a wallet card, these can be given to the child on their graduation day or during a special anniversary. This can be a great way to turn another milestone in their life into a sentimental occasion that looks back at where they began in life.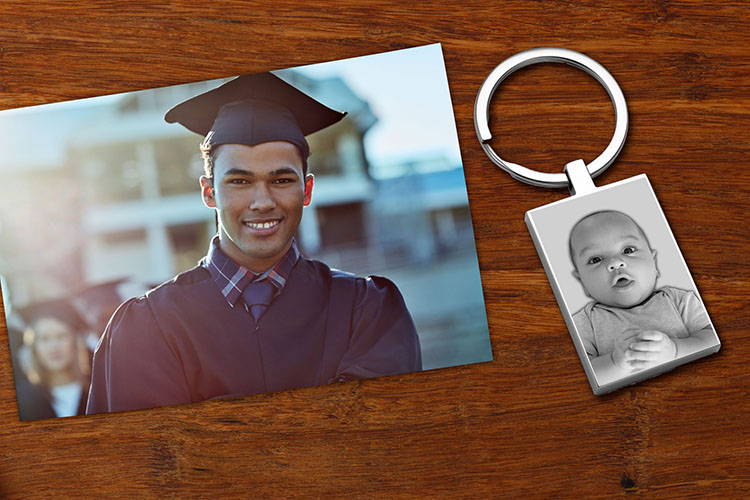 Whom Is Baby Photo Jewelry Appropriate For?
While baby photo jewelry is typically a gift that new parents would receive as a special token and celebration of their newborn, the photo engraved jewelry can actually work really well across all types of people and roles.
For instance, adoptive parents may want to receive colored photo jewelry to help them feel close to their new child or grandparents may like it to help them remember what their grandchild looked like on the day they were born.
Whether you are a new mom, dad, adoptive parent, grandparent, sibling, or family friend, baby photo jewelry makes for an appropriate gifts for new parents, anyone who is expecting a new child, or anyone close to someone that is expecting or has recently birthed a newborn.
With this said, let's go through those who are most likely to appreciate and enjoy newborn photo jewelry and take a look at jewelry examples that fit each role.
PHOTO ENGRAVED JEWELRY FOR MOM
When it comes to a new mom, nothing suits her better than a piece of jewelry that allows her to celebrate the love that she has for her newborn child. Opening up a new mom's necklace with a baby's name and photo engraved is sure to have her beaming!
A great pendant option for new mothers that is similar to this is the Stainless Steel Memories Heart-Shaped Photo Engraved Pendant, as it gives her a way to celebrate her tiny bundle of joy while keeping him/her close to her heart.
This particular pendant comes with a high-definition permanent engraving with no distracting background and an elongated drop bail for an elegant and feminine style. The heart is hypoallergenic steel and comes with a 20" matching snake chain.
This pendant is great if you want a choice between engraving text on the front or on the back of the heart. It makes the perfect gift for mothers because of its love theme, elegant style, and simple yet gorgeous design.
---
PHOTO ENGRAVED JEWELRY FOR DAD
For a lot of men, the day their little baby girl or baby boy is born is one of their happiest moments. With so much joy, emotion, and hope for the future of their little child, it is no wonder that they want to hold the moment close to their hearts forever.
The Photo Engraved Stainless Steel Dog Tag Pendant With Chain makes a great gift for men (or women) who prefer jewelry that is a little more traditionally masculine.
This particular stainless steel pendant comes with a free 20" matching chain but for men who like it to be a little longer, it can be customized with a 22", 24", and 30" upgraded chain as well.
The pendant comes with 6-lines of engraving text that can be in a script or block font or you can opt out of text personalization altogether. It also comes with the option to add on a birthstone.
It's a great way to celebrate Dad and his love for his children and family and create a personal memento he will treasure.
---
PHOTO ENGRAVED JEWELRY FOR GRANDMOTHERS
When it comes to grandmothers, they can be a bit tricky to buy for because most grandma's tend to already have a lot of unique jewelry pieces.
If you are looking to add to her collection but want something that is completely unique and will stand out amongst the other family heirlooms that she has, consider getting a newborn photo jewelry pendant with a beaded chain.
Beaded chains are not as common as other types of chains, they can be customized in color and the pendant will connect with the chain in a unique way depending on what type of chain you get.
For instance, the Luna Necklace with Orange Beads and a Picture Heart features an elongated heart pendant with burnt orange beading as the chain. It comes with 4-lines of engraved text, 2-font options, and comes with clasp that is jeweled. The pendant is stainless steel and the beading consists of orange, amber, silver, and gold strands.
A perfect gift that will stand out amongst the unique ones she already has.
---
PHOTO ENGRAVED JEWELRY FOR GRANDFATHERS
When it comes to grandfathers, baby photo jewelry might seem like it doesn't quite fit. Grandpa's tend to not wear a lot of pedants, bracelets, or keychains, so picking out a suitable gift that still remains unique might seem difficult.
This is where a money clip may be appropriate, as it provides your grandfather with a beautiful way to celebrate, remember, or honor your newborn baby without actually having to wear the piece.
The Gold on Silver Photo Engraved Money Clip is the perfect gift for any grandfather that loves both silver and gold or two-tone effects. It is constructed out of stainless steel but the body of the money clip is in silver plating and the face of the clip where the photo is engraved is in gold plating.
This type of gift also works really well if you don't want any text personalization and would prefer to just go with a photograph.
---
PHOTO ENGRAVED JEWELRY FOR OLDER SIBLINGS
When it comes to older siblings, you cannot go wrong with a sterling silver photo bracelet.
Bracelets are fantastic gifts to give to older siblings because they can be matched to certain outfits, dressed up or down, and fit a wide variety of wrist sizes. Plus, they can be worn underneath clothing if one feels like wearing the piece but does not necessarily want to show it off or make conversation about it.
A great example of a sterling silver photo bracelet that works well for older siblings is the Luxury Photo Round Engraved Bracelet, which comes with 2-font style options, and 3-lines of engraving on the backside of the heart pendant. The round shape makes it ideal for both older sisters as well as older brothers.
The pendant itself is stainless steel and has a slightly brushed finish with a shiny back to it.
---
PHOTO ENGRAVED JEWELRY FOR YOUNGER SIBLINGS
For those who are looking to get a baby photo pendant for a younger sibling who may not want anything too fancy or may not be able to wear something with a birthstone, jewels, or other flashier components, then a simple small heart pendant may work.
This type of pendant necklace works really well because it can be dressed up or down, does not have any delicate components to it, and can be adjusted to fit with a smaller chain size.
A great example of this is the Photo Engraved Small Heart Pendant in Stainless Steel. It comes with a smaller heart pendant for the photo engraving, can be fitted with an 18" chain (comes with a free 20" though), and has up to 3-lines for text personalization. You can add a birthstone on if it is for a younger sibling that is older in age.
The pendant is stainless steel so it is perfect for anyone who needs a hypoallergenic pendant and it works really well for those who prefer smaller sized jewelry.
---
PHOTO ENGRAVED JEWELRY FOR AUNTS
Our aunts tend to be very wise, very vibrant, and the people we go to when we want advice but not judgement. They are full of life experience, laughter, and lessons that make us come away with insight.
A fantastic gift option for a pendant that fits well with an aunt is the Full Color Side Heart Photo Engraved Pendant. The chain size can be customized to fit 18", 20", 22", 24", and 30" and the text personalization is up to 3 lines on the back. You can also add in a birthstone for a little extra sparkle.
The photograph is done in full-color with a white textured background, making it vibrant against the stainless steel square pendant.
This particular pendant works really well for anyone who likes to "feel" close to the person in the image, as the textured background gives the recipient a connection point to the individual in the photograph that you can touch and feel with your fingertips.
---
PHOTO ENGRAVED JEWELRY FOR UNCLES
For those who want to send photo engraved jewelry to an uncle but are finding that a pendant, keychain, or money clip is not quite what you need, then consider getting a wallet card for them. It's a sentimental gift that can be carried with them in their wallet, is laser engraved with a custom image, and it is incredibly lightweight so it is easy to carry around.
While it is still a sentimental gift because of the image choice, it's not as 'lovey-dovey" as other jewelry options and works really well for uncles who enjoy showing off their wallet photos.
A great example of this type of gift is the Silver Delight Wallet Card, which comes with 6-lines of text personalization (engraving), engraving ideas, the option to engrave on the back and the option to place up to 200 characters on the right side of the card.
The Silver Delight Wallet Card is stainless steel so it will live up to the wear of a wallet. It is lightweight at 1.4 ounces, and fits into almost all wallet and billfold sizes.
---
PHOTO ENGRAVED JEWELRY FOR FRIENDS
If you are looking to get your close friends a newborn photo jewelry piece but don't want to go with an overlay sentimental heart-shape pendant, opting for a round reflection pendant may be perfect. It is classy, can be dressed up, and it fits really well in other spots not on the body like the rearview mirror of a car or sitting on a hook in an office space or locker.
These types of rounded pendants are typically matched with a very thin, small chain, so that the pendant is more pronounced.
If your friend(s) likes elegance but simplicity, then the rounded pendant will be the perfect gift since it is almost always paired with a sleeker and slimmer profile. A great example of this is the Stainless Round Reflection Photo Engraved Pendant which comes with 3-lines of text personalization, engraving ideas, and an elongated bail.
The pendant also comes with a clear filament with two magnetized ends and is made out of stainless steel.
---
PHOTO ENGRAVED JEWELRY FOR EXTENDED FAMILY
For extended family members that you may not know well enough to understand their jewelry preferences, a baby photo keychain may be more appropriate. These are simple but elegant, rounded keychains that can come with some personalization options with regards to the amount of engraved text you can place on and what type of photograph is used (full color or black and white).
They are quite affordable, so they can be bought for more than one person at a time, which works well if you have a large extended family. The Photo Engraved Stainless Steel Round Keychain is a great gift example as it comes with 2-font options, 4-lines of text personalization, engraving on the back of the keychain, and is made out of stainless steel so it comes with a gorgeous shine.
It measures about an inch in diameter, so it works well for men, women, children, or young adults and is a great portable gift for those who like to store keychains on keyrings, backpacks, or purses.
It also works really well for those who are always traveling and need a portable reminder of your beautiful newborn child.
Personalizing Baby Photo Jewelry
When it comes to personalizing baby photo jewelry, there are several different options you can choose from to make the jewelry reflective of the baby as well as the recipient. Not only are you celebrating your child but you are also creating a lasting way to capture and display a moment captured in time.
There are three main factors to consider when personalizing baby picture jewelry: the photo itself, the color of the engraved image and text engraving. Let's take a look at how each plays an important role in creating a special one-of-a-kind celebration of your child.
SELECTING THE BEST PICTURE FOR BABY PHOTO ENGRAVED JEWELRY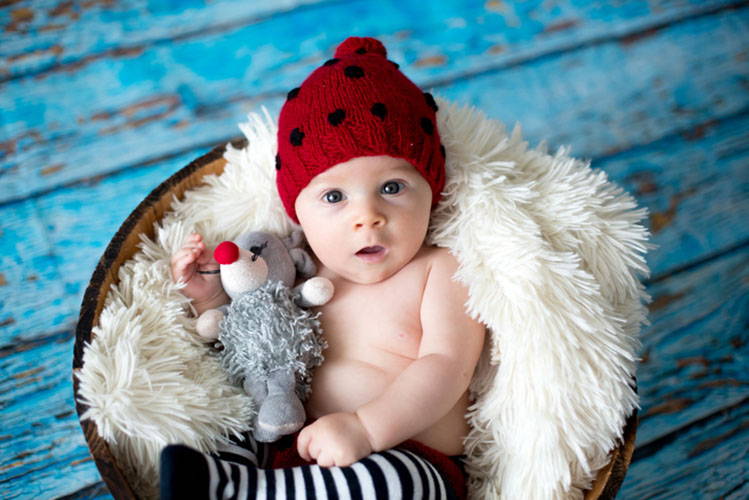 When it comes to personalizing your engraved photo jewelry, you may want to set aside quite a bit of time to go through all of your photographs. As parents, we understand just how many pictures parents take of their babies, especially during those first few weeks when you are basking in their little smiles, hilarious facial expressions, and adorable outfits.
We have some hints and tips that will help you narrow down which image you use and ensures that the quality of the pendant, keychain, or wallet card comes out the way you would like it to.
The image that you choose should have your newborn as the center focal point. If you are getting your newborn's footprint/handprint engraved on photo jewelry, then make sure that this image is taken of the bottom of their foot or hand (palm).

If you choose a photo where the newborn and the parents or other family members/friends are in the picture, then make sure that the baby is still the center focal point.
The photograph that you choose should hold some sentiment to either the newborn parents or to the individual you are gifting the photo engraved jewelry too.

This could be of when the newborn was first born or when he/she was first held.
The image that you choose should be of high-quality. A lot of individuals choose to have a professional image created specifically for their

baby photo jewelry

.

This ensures that the photo isn't hazy, blurry, or pixelated.

The picture should be in focus and have a high contrast to it.

If you have found the perfect image but it has a blemish or issue with a small portion of it, this can digitally fixed and removed. Just simply provide the instructions to do so during the upload process when making your order.

If there is more than one individual in your photograph, reiterate to us who you want the focus to be on. Our engravers can crop out backgrounds, individuals or even merge multiple photographs.
CHOOSING THE COLOR OF BABY PICTURE ENGRAVED KEEPSAKES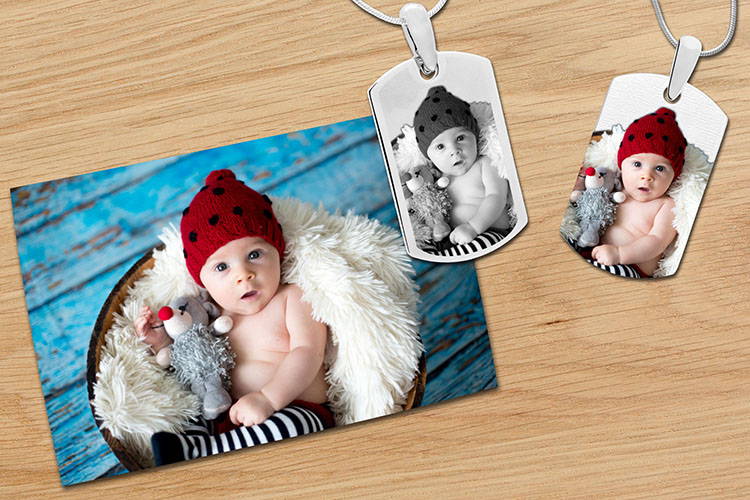 Baby photo engraved jewelry can be selected in black and white grayscale or in full color. Both options are a great way to have a lasting reminder of a special milestone or favorite picture.
Here are some things to consider when deciding on full color versus black and white grayscale:
Regular photo engraved baby jewelry is slightly less expensive than full color baby photo engraved jewelry. If you are on a tight budget, than black and white grayscale engraving is the better option. Additionally, adding engraving or upgrading chains can also add to the bottom line so if that is something you are considering, regular photo engraved pendants allow for a few extras without overextending the budget.
If you have a particularly vibrant and bright photo, you may want to lean towards full color photo engraved jewelry. The image is printed on a white background and this allows photos to really pop and be the star of the show.
For families choosing several photo engraved pendants, black and white grayscale is a terrific option. There is a wide assortment to select from including pendants, bracelets and keychains. This means everyone in the family can get exactly what they want.
Both color options pack a punch when it comes to emotional value as the engraved images are an exact replica of the photo you submit. The only difference is that full color photo engraved baby jewelry has a textured background. This allows the recipient to run their fingertips over the image and actually 'feel' the photo. This increases the emotional nature of the jewelry.
PERSONALIZING BABY PHOTO JEWELRY WITH ENGRAVED TEXT
Another way that you can truly make your baby picture jewelry unique is with custom engraved text. Here are some suggestions and tips on personalizing the text of your baby photo jewelry. Depending on which baby photo jewelry you choose, you can add 1-4 lines of engraved text.
If you want to place a verse on the engraved photo jewelry, consider using a favorite quote or phrase from a book or poem.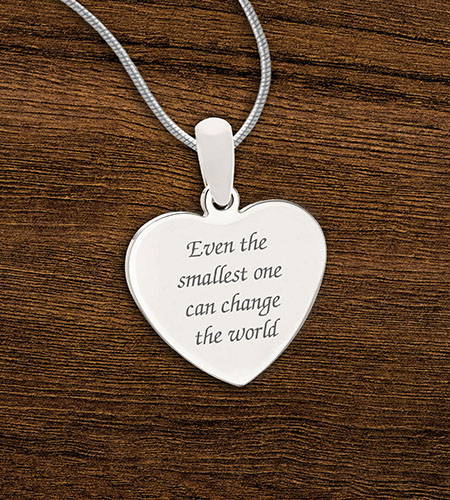 When gifting this item to another adult in the family (or friend) such as a grandparent, godparent, sibling, or parent, you can choose something that honors the relationship or a particular quote from a book they gifted to the child.
For a parent, you may want to choose something that describes the joy they feel when they look at their newborn or the hope they feel about their future.

For a sibling, you may want to describe the special bond that sisters or brothers feel with one another. Perhaps it is sisterly love or playful rivalry between brothers.

For an aunt or uncle, a phrase that describes the power of their love because they choose to be in the child's life. Maybe they will be the cool aunt or uncle that listens without judgement or reprisal and provides a trusting and entertaining relationship for the child.

For grandparents, a phrase or poem that talks about the encouraging self-worth, respect, or wisdom to overcome life's challenges may be appropriate.
---
Consider placing the baby's birthday on the back of the jewelry piece. This is a fantastic way to commemorate the day they were born, regardless of who the pendant or keychain is for.
Adding names and a date of birth ups the emotional ante of this personalized jewelry for mom and dad!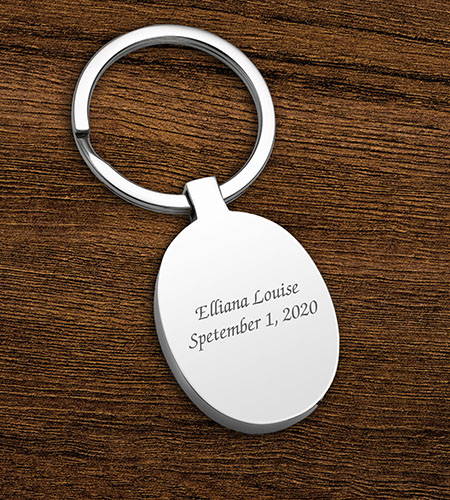 ---
If the jewelry piece will eventually be given to the baby, consider placing a "parents promise" to the child.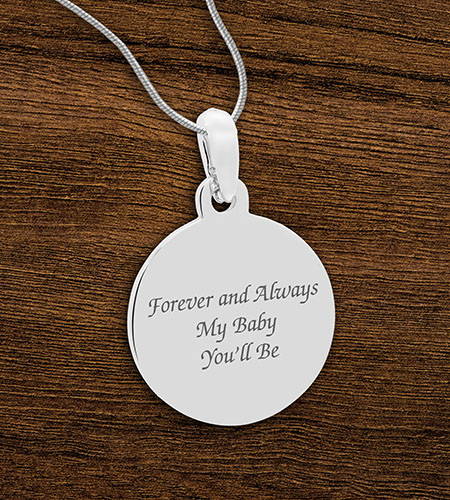 This is similar to a vow that the parents make to the child, promising them something, whether that is to always look out for them, look after them, provide love, or support.
---
Take some time to consider the font choice as well. This is just as important as the actual phrase or verse that you place on the jewelry as it should be matched to fit both the image, the memory it conveys, and the jewelry style.
Custom fonts can and should be used. If you have a specific font in mind, please let us know and we will accommodate you.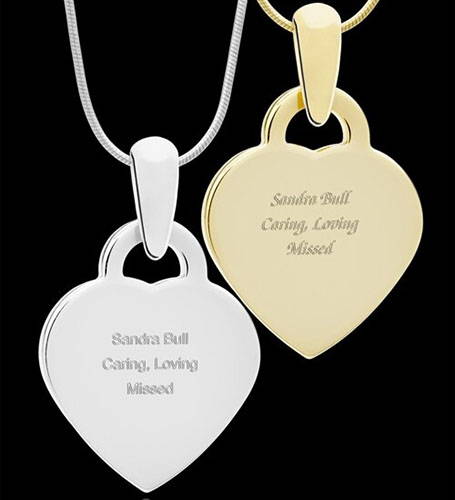 Honoring Our Littles With Baby Photo Engraved Jewelry