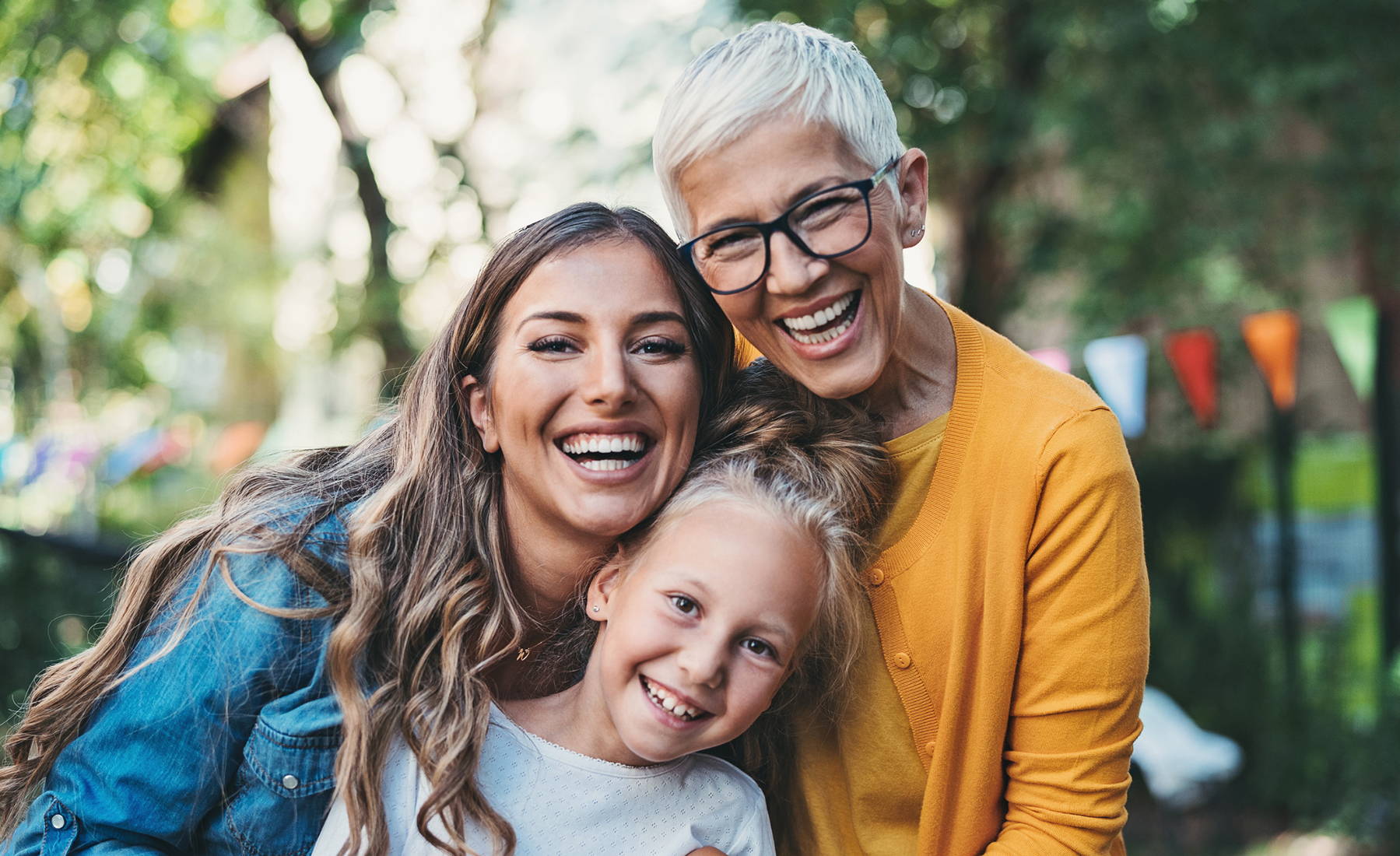 Mothers are a vital part of all societies, and they're special. They are the first person we build a bond with, and they are the one who teaches us how to love and connect. Every year, countries worldwide take one day to celebrate mothers on a day we call "Mother's Day."
It's a special day that shines a light on the love and honor we have for all moms near and far, moms we've lost, future moms, and of course, our mom. While every country has its own way of celebrating Mother's Day, which is rooted in their historical tradition, they all commemorate motherhood for the same reason: mothers are important, loved, and honored.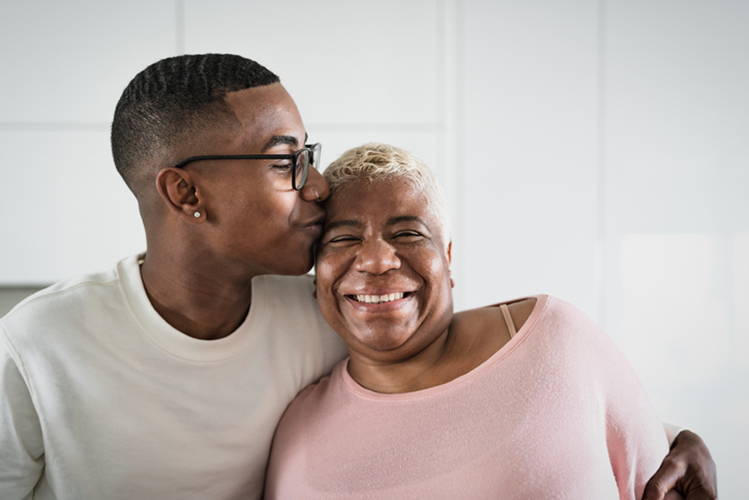 When celebrating Mother's Day, it is customary to buy moms a special gift. Most of us revert to the originals when that special time of the year arrives. This means we gift our mom flowers with a heartfelt card, a box of her favorite chocolates, a new piece of clothing, or a bottle of her favorite perfume.
While there's nothing wrong with these, and moms love any gift from their children, why not try to surprise her this year with something so unique that she will cherish it forever?
If you're looking for something different this year, we want to help you with that, and that's why we have created a comprehensive list of keepsake jewelry gift ideas that will wow your mom. If you are celebrating Mother's Day by memorializing your mom who has passed away, this is a great article that offers creative ideas and tips on how to honor mom on Mother's Day.
Mother's Day is a global holiday that celebrates motherhood and everything it entails. Celebrations and traditions differ from country to country. Still, the purpose of the celebration remains the same despite the country - moms need to be recognized and loved for their role in society and the family unit.
Celebrating motherhood can be traced back to the ancient Greeks and Romans hundreds of years in the past. It has been well documented that they held annual festivals honoring the mother goddesses Rhea and Cybele.
Mother's Day can also be traced back to ancient Christian festivals in the United Kindom and other parts of Europe. This festival was known as "Mothering Sunday" and was held on the fourth Sunday of Lent. The festival's purpose was to allow the locals to return to their "Mother Church," which was the main church in the community. The church was a place that was honored and loved, as mothers are.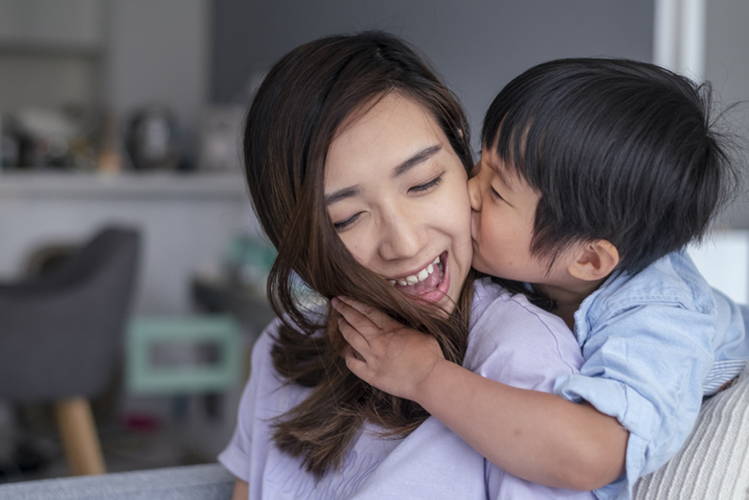 While Mother's Day has many different places of origin and celebration styles, one thing is for certain; mothers have long been worshiped, honored, and revered.
History Of Mother's Day In America
Mother's Day in America has a different origin story that was personal and can be traced back to one particular person. It had its roots in the early 1900s when it was founded by American Anna Jarvis of Webster, West Virginia.
She grew up hearing her mom talk about how she would love it if there were a day designated for appreciating moms near and far. When her mom died in 1905, Anna decided it was her duty to honor her mother's wish.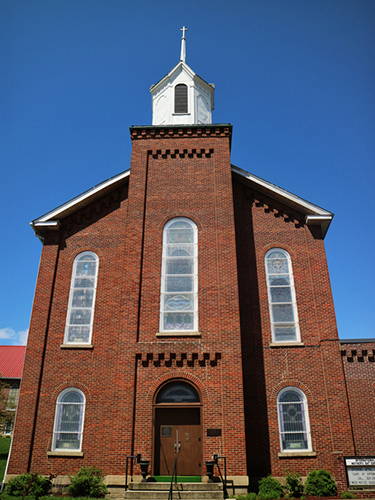 The first recorded Mother's Day celebration in America was on May 10, 1908, which Anna organized. It was nothing like we know it to be today; it was a small ceremony held at the Andrews Methodist Episcopal Church in Grafton, West Virginia.
It was a ceremony to honor her mom and all other moms, including those who have passed and gone. The memorial service was revered by many, and it ultimately manifested into what Mother's Day is today, a commercialized celebration for moms all over the globe.
The Andrews Methodist Episcopal Church, more recently known as the International Mother's Day Shrine, has been turned into a National Historic Landmark. Mother's Day has been recognized as an official American holiday since 1914.
What Makes Keepsake Jewelry A Unique Mother's Day Gift?
Keepsake jewelry is unique from other Mother's Day gifts for many reasons. They are made and designed to represent someone who has passed on and is missed, and they hold profound sentimental value.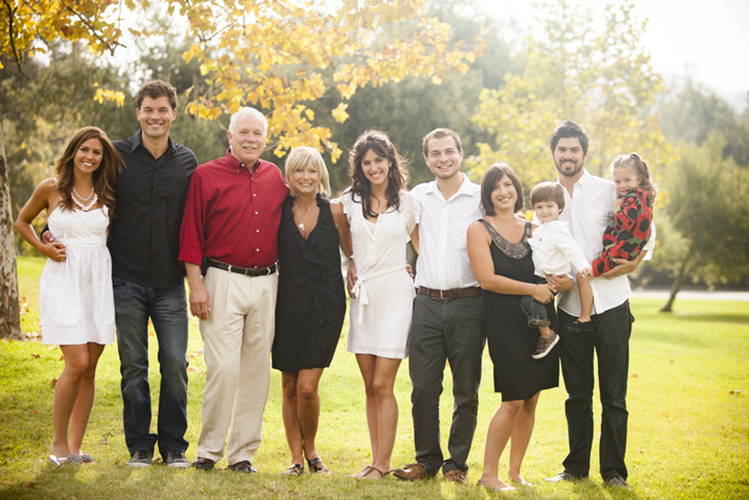 In contrast, other gifts can be used universally and represent many different things, not necessarily something significant to your mom such as the loss of a loved one. Many other gifts don't represent anything other than their meaning which is to be consumed. While there is nothing wrong with these gifts, choosing something with personal meaning can often be more pleasing to receive.
There are many characteristics of keepsake jewelry that make it unique, including the following:
PERSONALIZED JEWELRY PIECES THAT REMEMBER & HONOR SOMEONE'S LIFE
One of the most traditional gift options to give someone is a piece of jewelry. Most people receive this type of gift because it represents love and connection. Aside from style, a specific piece of jewelry is often chosen for its meaning. Some can represent good luck, while others represent personal wealth and social status.
While any type of jewelry is an excellent gift idea for Mother's Day, keepsake jewelry stands out for its sentimental value and the thought that goes into it. In addition, they are generally custom-made, making them even more invaluable.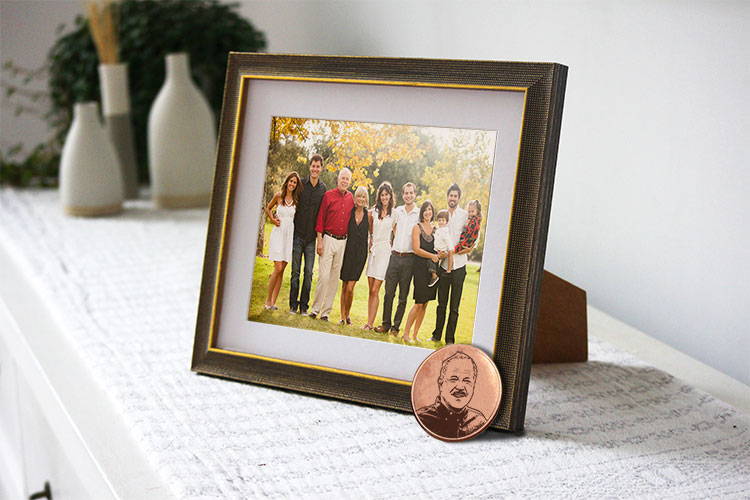 If your mom lost someone close to her and works to keep their memory alive, keepsake jewelry could be an excellent gift for Mother's Day. There are many options to choose from, including necklaces and bracelets with photos etched on them, urn jewelry, and jewelry with sayings and dates engraved on them.
Helping your mom keep the memory of her loved one alive this Mother's Day will make for an extraordinary gift. If your mom is struggling to deal with the loss of a loved one and you aren't sure how to help, here is an excellent article with resources that can help.
MOST PIECES ARE HANDMADE BY A CRAFTSMAN WHEN THEY ARE PURCHASED
Tying into the previous point, you always have the option to have keepsake jewelry custom-made. Many keepsake jewelry stores can customize exactly what you need, making the gift that much more personal. If you decide to go to a craftsman or artisan to have it handmade, the imperfections will give it a personalized twist.
IT CAN HELP KEEP THE MEMORY ALIVE TO MAKE HER FEEL HER LOVED ONE IS ALWAYS WITH HER
The best thing about keepsake jewelry is that it allows us to keep the memory of our loved ones with us everywhere we go. As part of the grieving process, we often struggle to let go and come to terms with our loved one being gone.
IF THE LOSS IS RECENT, IT CAN HELP YOUR MOM GRIEVE
Dealing with the loss of a loved one is never easy, but going through the grieving process during a celebratory occasion such as Mother's Day can make it so much more difficult. It can bring up feelings of guilt and unhappiness. This would be an excellent time to express your sympathies by gifting your mom keepsake jewelry for
IT CAN BE AN HEIRLOOM THAT SHE CAN PASS DOWN TO FUTURE GENERATIONS
In many cultures, an heirloom, also known as a piece of property, is passed down to future generations. It is a very common gift. In fact, this type of gift is revered as highly respectful as it represents generations of memories and stories.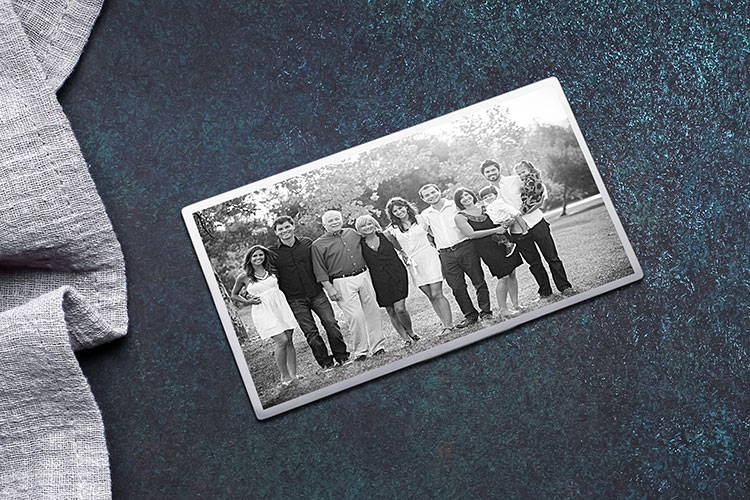 Keepsake jewelry is not meant to be worn occasionally only to collect dust and never be seen. They are meant to be worn often to keep memories alive of someone we have loved and lost.
Using keepsake jewelry as an heirloom is an excellent idea for Mother's Day keepsake jewelry. Because why not gift your mom with keepsake jewelry that she can pass down to keep her loved one alive and remembered forever. Your mom can use her keepsake jewelry to be passed down to one of her children, maybe even you!
THEY CAN BE WORN YEAR-ROUND SO SHE WILL ALWAYS THINK OF YOU
Generic Mother's Day gifts such as candles, flowers, chocolates, or a nice cashmere sweater are beautiful. They represent your love for her, but they will either be consumed quickly or go unused and never seen again. The gift will serve its purpose for a short period until it's forgotten altogether.
With keepsake jewelry, your mom can wear it all the time, every she goes. She will always remember you and the thoughtful gift you gave her. It will serve its purpose for years to come, and there's nothing better than a gift that goes a very long way.
THEY ARE MADE TO LAST FOREVER
Aside from other jewelry, most Mother's Day gifts don't last forever; most of them are either consumed right away or are never used. When a piece of keepsake jewelry is made, it will last forever and can be worn for years to come.
Types Of Mother's Day Keepsake Jewelry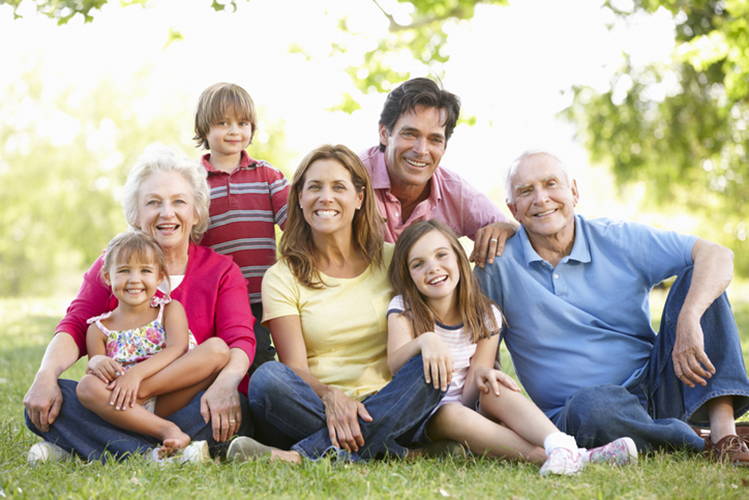 There are many keepsakes jewelry items to choose from ranging from unique jewelry for moms, to standard necklaces and even bookmarks. When it comes to choosing the best one for your mom, it all comes down to her style and preference. Below is a comprehensive list of items you can choose from.
Photo engraved jewelry is a very popular option for keepsakes jewelry. They can be crafted into any shape or size using different metals, and they can be added to more things than jewelry.
Moreover, if she recently lost a family pet that she was very close to, another great option is to get a dog tag necklace engraved with a photo of her treasured furry friend. What a beautiful way to honor a loved family pet! The options with photo engraved keepsake jewelry are endless.
---
A memorial photo locket is one of the most popular options for keepsake jewelry. They have been around for hundreds of years and what keeps them so popular is that they are designed to represent the people we love the most.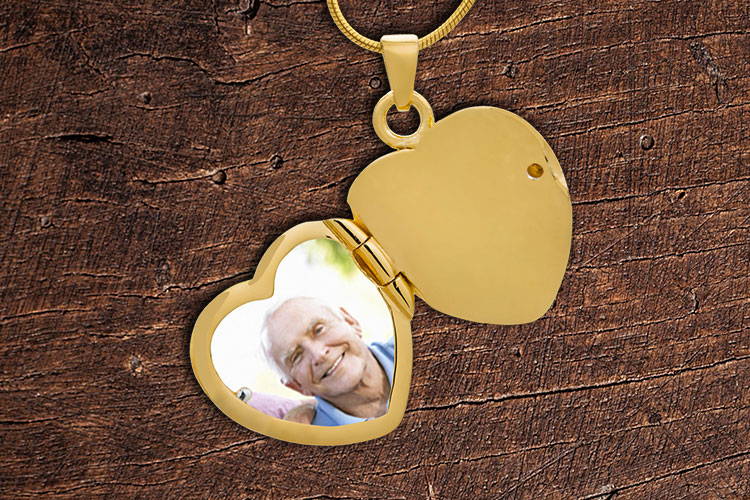 They are versatile in that you can get them in various shapes and sizes and have them customized the way you want. They are timeless in style, meaning she won't struggle to pair them with all her clothing, whether it's leisure or formal.
You can have photos of her loved one(s) placed inside of it so she can always remember them. The best thing about a photo locket is that your mom can wear it every day.
If you're struggling to decide on the best keepsake jewelry, photo lockets are an excellent choice due to the meaning behind them and their timeless appeal.
---
PHOTO ENGRAVED JEWELRY THAT HOLDS CREMAINS
Photo engraved jewelry that holds cremains goes deeper than photo engraved jewelry because it is both physical and visual. Inside, the pendant contains the remains, while the picture on its surface represents who the cremains belong to.
It makes for an incredibly unique gift, and your mom is definitely going to love it. If the passing happened in the past and you already have cremains in your home, all you need to do is add a tiny pinch into the pendent with a funnel that comes with the package.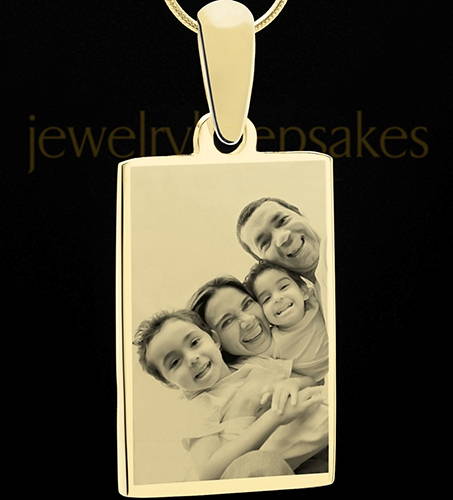 Click here for a better idea of how they are made and the various options you have when designing them.
---
PHOTO ENGRAVED KEEPSAKE ITEMS SUCH AS KEYCHAINS, WALLET CARDS, BRACELETS, MONEY CLIPS, ETC.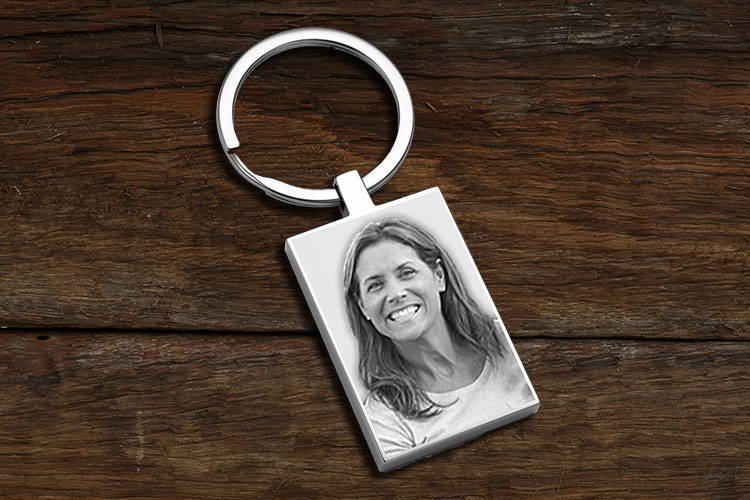 If your mom is not the jewelry-wearing type, that isn't a problem. Keepsake jewelry comes in various forms, including money clips, wallet cards, rearview mirrors, keychains, and more! Whatever her style is, you can indeed find something that she will love and use regularly.
Depending on the item, you can also choose the design from its color to the shape. You can also add an engraved photo onto it, which will make it that much more personal. If you decide on something your mom will regularly use, such as a keychain or money clip, she will never forget your gift.
---
COLOR PHOTO ENGRAVED PENDANTS
Crafting your mom's memory of a loved one by adding a color photo onto a pendant is sure to help her relive her favorite moment with her loved one.
Pick your mom's favorite print and have it engraved so she can have it with her everywhere she goes outside the home. Moreover, color adds life to photos, so it is a colorful and vibrant way to represent a life lived and missed.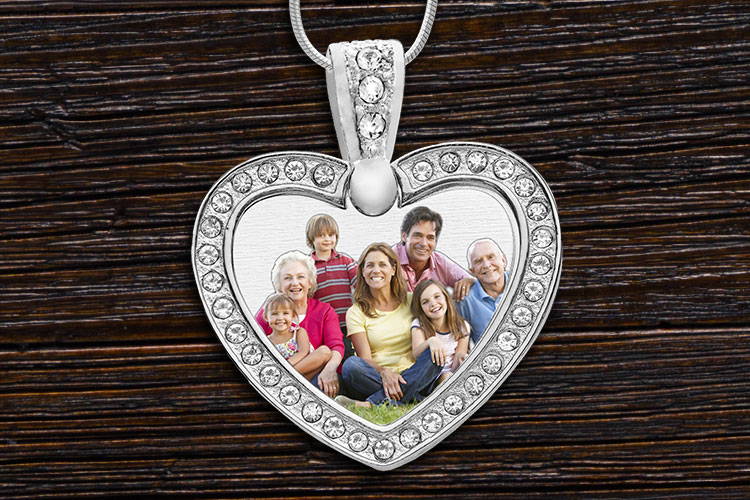 ---
---
Thumbprint jewelry is a unique option since it does a great job capturing a physical piece of your loved one. It offers a stylish look, representing the person you loved and lost.
Personalized memorial fingerprint jewelry is an excellent gift idea for your mom as it can be crafted in any shape, style, and color. If your mom prefers to keep photos private, this would be the next best option.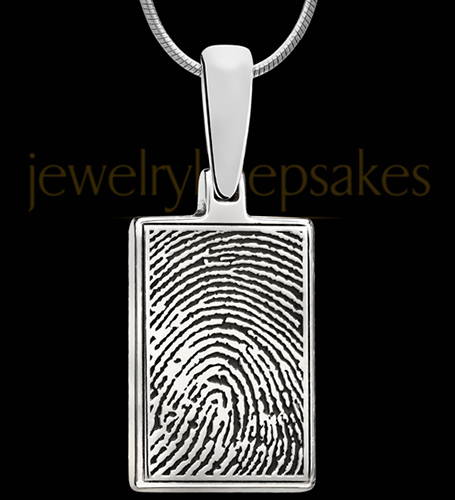 ---
THUMBPRINT KEEPSAKE ITEMS SUCH AS KEYCHAINS, WALLET CARDS, BRACELETS, MONEY CLIPS, ETC.

This is another excellent option if you want to gift your mom with a keepsakes accessory gift that holds a piece of her loved one. Since you can get the thumbnail etched on a variety of different things, you can be a little more creative with this option.
Keepsake jewelers generally have a long list of items you can choose from, making it easier to get a gift for your mom that she will genuinely love. Suppose she's an outdoors type who loves to go camping; the Kershaw knife could be an excellent choice. Or, if she loves to read, a thumbprint bookmark will make for the perfect gift. Whatever it is you decide, we are sure your mom will love it.
---
THUMBPRINT JEWELRY WITH A REAL SIGNATURE OF THE DECEASED ENGRAVED ON IT

---
SIGNATURE JEWELRY WITH THE LOVED ONE'S SIGNATURE OR WRITING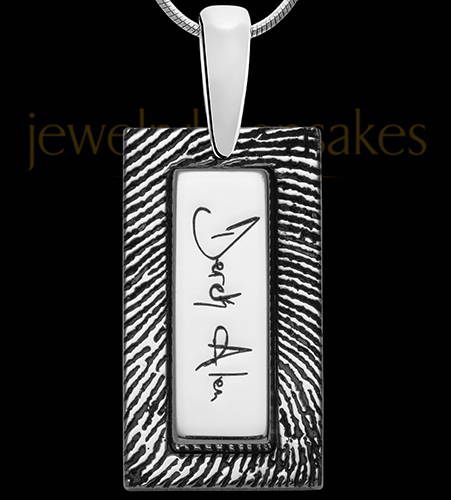 When we lose someone who we love, it is common to forget how they sounded or how their writing looked. Those are the small things we will forever miss. Many keepsake jewelers can help you to keep those memories alive. You can choose from a variety of signature keepsakes jewelry pieces and have their real signature or writing etched onto them.
This is another extraordinary gift idea that your mom is sure to love. The best thing is that you can get the jewelry crafted in a style representing her. Every time she wears it, she will not only remember your thoughtful gift, but she will also thank you for keeping the memory of her loved one alive and close to her.
---
This is a unique option based on how it's made, making it unique from all the others. Jewelry made from ashes is made from your loved one's ashes, and they come in hundreds of different shapes and styles so you can customize it you suit your mom's style.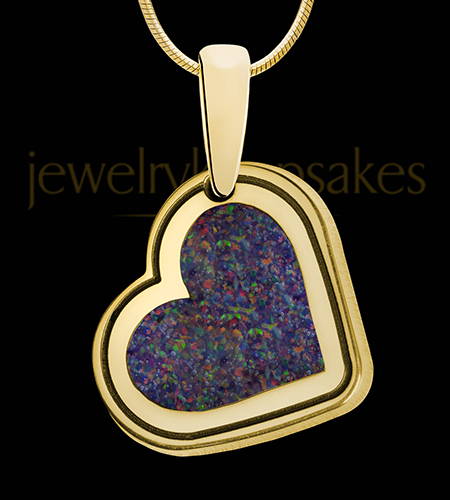 In addition to their wide range of style and shape options, you can get them in the form of a necklace or ring, whichever is your preference. If you think your mom would prefer something other than an urn pendant or photo engraved on a piece of jewelry, this is an excellent alternative. Mother's Day is about thinking of your mom and honoring her, so why not go the extra mile to choose a piece of jewelry representing her style and her loved one.
---
CREMATION JEWELRY THAT CAN HOLD A SMALL AMOUNT OF CREMAINS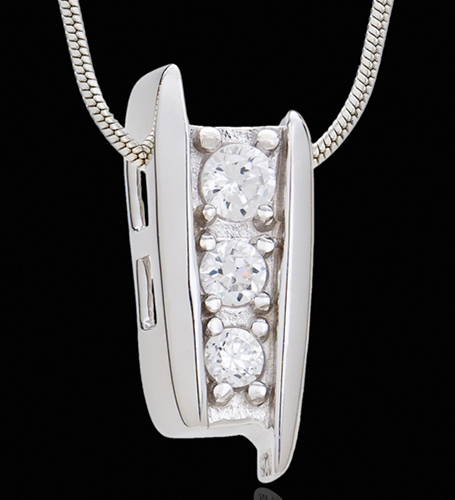 Like jewelry made from ashes, cremation jewelry is similar in that it holds the cremains inside rather than being made from them. In terms of style and design, there are many options as well. This includes a range of metals they can be made from, and they come in various shapes and colors. You won't have any issues customizing a necklace or ring that your mom would love this Mother's Day.
---
CREMATION KEEPSAKE GIFTS SUCH AS KEYCHAINS, WALLET CARDS, BRACELETS, MONEY CLIPS, ETC.

If you think your mom would prefer something aside from jewelry, there are many other options to choose from. Many keepsake jewelers offer a variety of options that range in style and utility.
Just like jewelry options, other items can be made to hold cremains inside. Whatever her favorite item is, you can gift it to her so she will have her loved one with her all the time.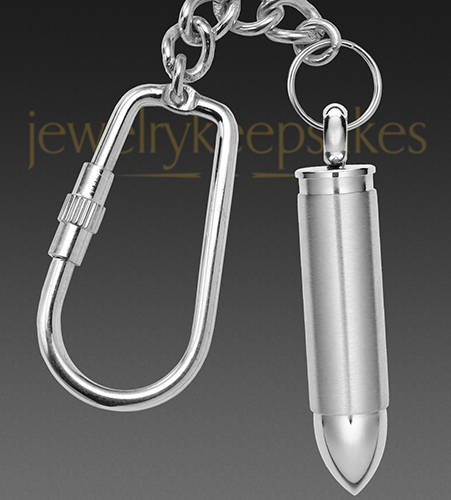 ---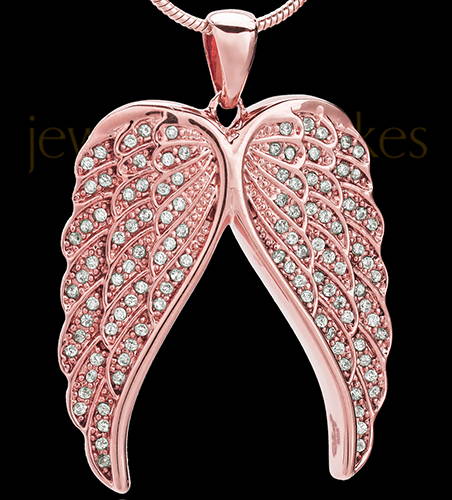 Angels represent protection, love, and harmony and people look at them as a representation of guardianship. Gifting your mom an angel ornament or anything representative of an angel is a beautiful way to tell her that you love her and that someone is looking out for her.
Gifting her an angel wing necklace or bracelet with a message engraved on either side of it representing a loved one she lost will add so much more meaning to it. The message can represent the loved one she lost or their date of birth and death. The options are endless.
This gift would be particularly thoughtful when given on Mother's Day if it happens to be around a time that she lost a loved one and is still grieving.
---
RELIGIOUS JEWELRY MADE FROM ASHES

A cross and chain is another beautiful choice for a Mother's Day gift. If this is a piece of jewelry that she would generally wear, you can customize it to represent the passing of her loved one making it unique from the others.
You can choose from a variety of finishes and metals to best match her style. The difference between this piece and the other keepsake jewelry is that this represents your mom's faith while honoring a loved one. It's made to be personally unique.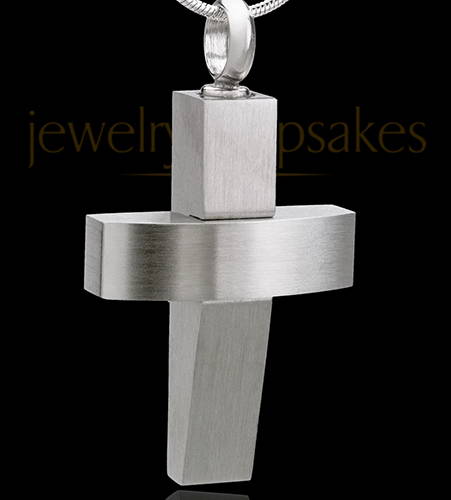 ---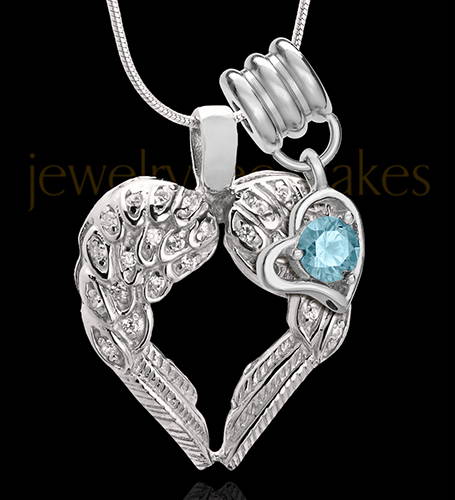 Adding a birthstone to a pendant will act as a stunning accent. It gives the jewelry a pop of color while adding sentimental value. The birthstone can be added to a plain pendant or a pendant that has a photo engraved on it. Birthstones don't only represent birth months; they can also represent other important days.
So, to make this extra special, you might want to add two stones; one representing the birthdate of a deceased loved one and the other representing their passing date. This is a Mother's Day gift that will live on forever.
How Do You Choose The Right Piece Of Keepsake Jewelry For Mom?
Picking out the perfect gift for your mom can be simple when you think about her style, the things she loves, and what her hobbies are. Mother's Day is a day designated for telling your mom that you love and respect her for her years of dedication to you and your family.
The best way to show her this is by presenting her with a gift that has meaning she would understand, and that is personal to her. You want her to know you put thought into the gift and didn't simply throw something together.
Below are questions you can ask yourself about your mom's preferences and styles. They are questions designed to help you decide what keepsake jewelry would suit her best.
DOES YOUR MOM WEAR JEWELRY OR WOULD SHE PREFER A KEEPSAKE ITEM LIKE A BOOKMARK OR A KEYCHAIN?

Not all moms wear jewelry, which could be for a variety of reasons. Some moms don't like the appeal of jewelry, while others have allergies to all metals. Then you have the moms who don't mind jewelry, but they end up throwing them into the jewelry box, collecting dust for years.
If your mom doesn't wear jewelry, you might be better off gifting her something that she will enjoy more. If she collects keychains everywhere she goes on vacations; then a keychain might be the best option. Or suppose she uses money clips, and her current one needs replacement.
She will probably appreciate the extra thoughtfulness behind choosing an item you knew she needed. Adding that extra bit of thought behind choosing the style of the gift can go a long way and will end up serving its purpose.
---
WHAT STYLE OF JEWELRY DOES SHE LIKE TO WEAR?

When it comes to choosing the perfect piece of jewelry, a lot goes into it. Everyone has different preferences and styles, so gifting a piece of jewelry that your mom won't like in terms of its appearance, is something you should avoid if you want to make it the perfect gift this Mother's Day.
Contrary to that point, some moms are indifferent to style and appearance, so keep that in mind when choosing the jewelry. If your mom is the type that loves every gift despite what it looks like, then you won't need to put a lot of thought into choosing the style.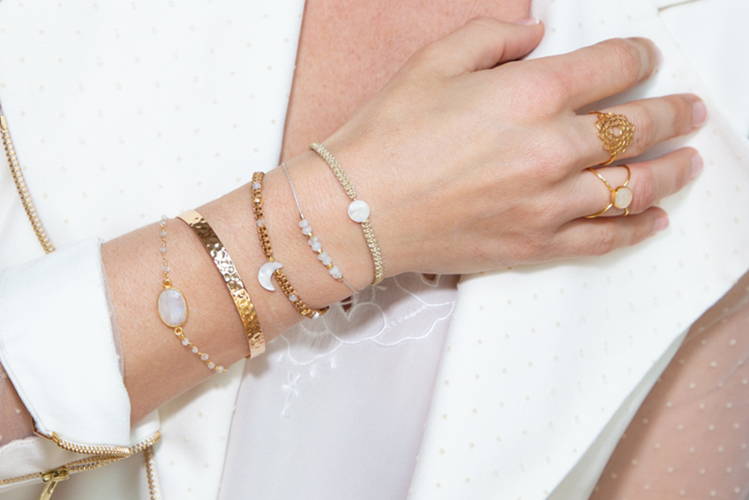 Below are a few things to consider when searching for the best jewelry style for your jewelry-loving mom.
Ring, bracelet, or necklace

Designer

Cylinder

Teardrop-shaped or heart-shaped

Religious symbols such as a cross or angel

Style and length of chain

Color of the jewelry

Hollow or solid

Urn pendant

Photo engraved pendant or Photo locket
If your mom is the type to hang photos all over the house, you might want to consider a photo engraved pendant or locket. If she typically wears more subtle pieces, a winged-memories necklace and pendant might be better.
Lastly, if she prefers rings to necklaces, going with a ring might be the better option. Remember, this is your mom's day, so keep everything about her in mind when planning her gift.
---
WHAT TYPE OF MATERIAL DOES SHE PREFER?

There is a variety of martial you can choose from when it comes to keepsake jewelry. Like the style of the jewelry, the material used is just as important. Consider your mom's style when deciding what to choose in this design stage.
Glass pendant

Solid 14k gold pendant

Wooden pendant

Silver

Rose gold

And more!
---
WHAT IS HER FAVORITE IMAGE OF A LOVED ONE SHE HAS LOST?

If your mom is going through a recent loss of a loved one who was close to her, this part will be easy since you might find her looking at a few photos repeatedly. But if your mom didn't recently go through a loss and you still want to give her photo engraved jewelry, choosing the best picture can be difficult. Below are a few things you can do to help make the decision easier.
Get suggestions from other family members. Talking to other family members will help you get a better idea of what photo to decide on. Let them know what you're planning and ask for tips and suggestions. They might have more ideas that you didn't think of, helping you craft the perfect gift for your mom.
Talk to your mom discretely about her style and which photos are her favorite. This might be the easiest way to find the perfect photo for her keepsake jewelry item. Strike a conversation with your mom about jewelry style and her preference. Be it lockets, photo engraved, pendants, and so on. You can even ask her opinion on the best type of medal and design for jewelry. Her answers will give you an idea of what her style is.
You can also ask her about her favorite photos of her loved ones and what they represent to her. If she has a few, you can choose to purchase her a memorial photo locket because it has the space to hold two photos.
---
LOOK AT HER OTHER JEWELRY

It can be challenging to choose the best style when it comes to buying jewelry for someone. Their style will never be easy to capture. If your mom has a collection of jewelry, you can get an idea of her style.
If you still are not confident by browsing her collection, you can take a photo of a few pieces she regularly wears and show it to the jeweler so they can help you decide the best option.
Unique Mother's Day Keepsakes Frequently Asked Questions
Can I have a custom piece of keepsake jewelry made?

Yes. Most keepsake jewelers custom make all keepsake jewelry and work with you on creating the design, shape, and color. You can even get jewelry made from ashes. The options are endless.
What is a unique idea for Mother's Day jewelry?

Keepsake jewelry is a unique idea for Mother's Day jewelry. It represents sentimental value, and they are designed to honor a loved one.
How do I know what type of keepsake jewelry my mom would like?

When it comes to keepsake jewelry, there is a variety you can choose from, ranging from the type of jewelry, style, the metal used, and color. The best way to know what type is best for your mom is to choose one that matches her style. You can even get items such as keychains, rearview mirrors, knives, and more!
How long does keepsake jewelry last?

There is no designated lifespan on keepsake jewelry. How long it lasts depends on how well you maintain it. If it is maintained regularly, it will last you your lifetime and can be passed down for generations.
How do you clean cremation jewelry?

Use a soft, damp cloth and gentle dish detergent to clean the jewelry. All keepsake jewelry will come with personalized instructions.
How do I get the cremains into pendant jewelry?

The pendant will come with a small funnel which allows you to easily and quickly fill the pendant with a pinch worth of urn.
What is a good gift for my mom for Mother's Day other than jewelry?

A great alternative to keepsake jewelry are keychains, bookmarks, money clips, and any other customized items that keepsake jewelers can customize for you.
Can I get pet memorial keepsake jewelry for Mother's Day?

Yes, you can get any type of memorial jewelry with any photo engraved on it or with your pets added into it. The options are endless.
Gifting Mom Some Love This Mother's Day 2022

Mother's Day is a day of honor and love; it's a day to salute moms all over the globe. The best way to salute your mom and show her you care is by taking the time to carve out the best gift. Since gifts aren't created equally, with some having more value than others, memorial keepsake jewelry is undoubtedly a premier gift option.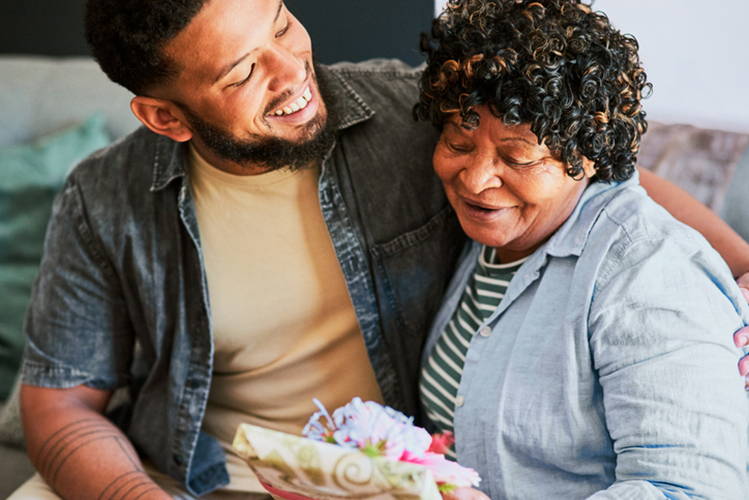 Show your mom you care by gifting her jewelry that represents someone she has loved and lost. This will remind her that you recognize everything she goes through and that you want to bring her comfort.
April 16, 2022 by Jeri K. Augustus