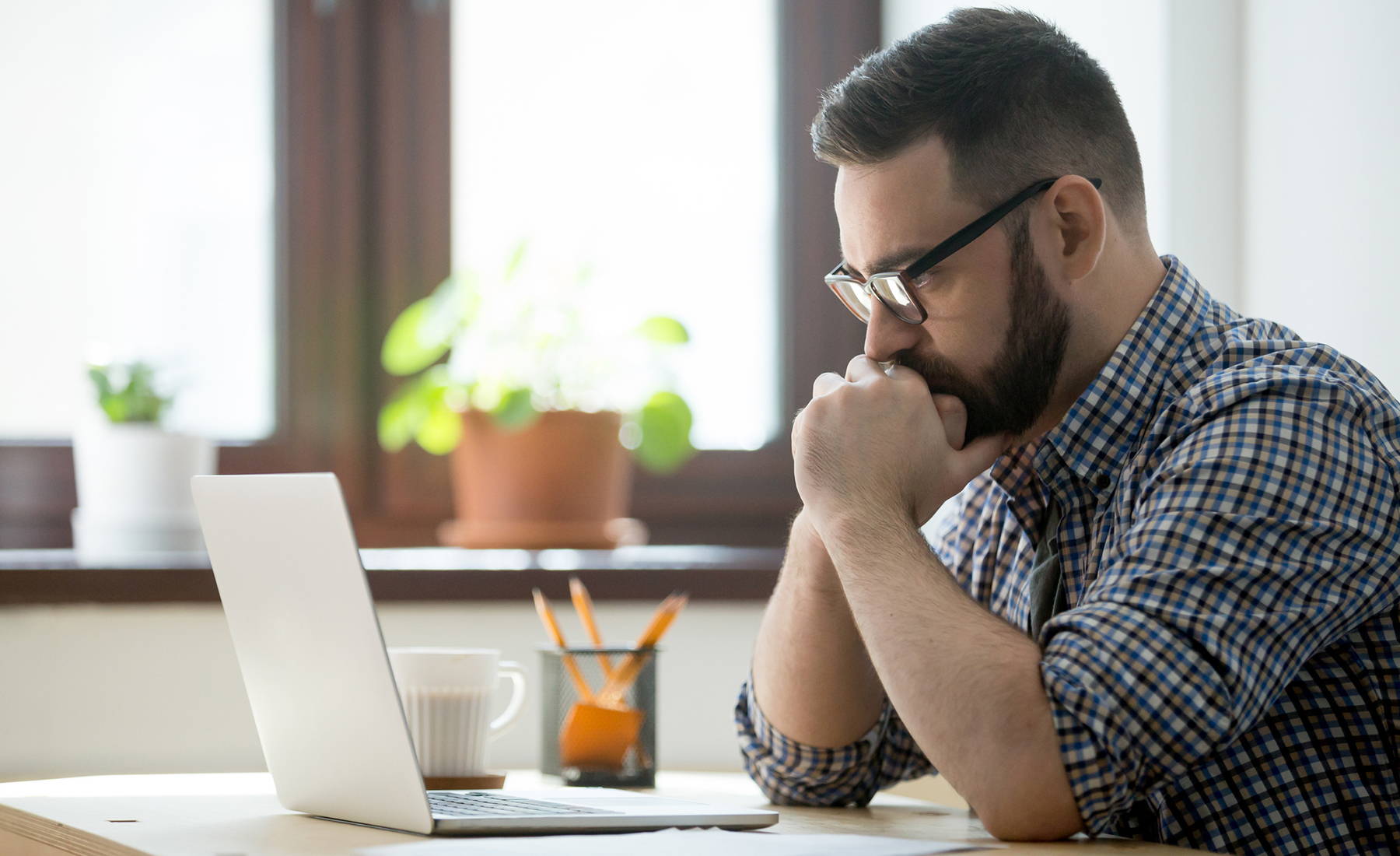 A Step-By-Step Guide On How To Write An Outstanding Obituary
When a loved one passes away, you want as many wonderful things to remember them by as possible. An obituary gives family members the opportunity to share the things that they loved most about someone who has passed while simultaneously keeping members of the community in the know.
Knowing exactly what to put into an obituary, however, can be tough. How do you perfectly encapsulate everything that makes up someone who we have loved and lost? To make things easier for you, we have created a step-by-step guide for how to write an obituary.
Why Obituaries Are Important
Obituaries are so important because they're a way of documenting family history. Their intention is to tell a detailed story about someone's life so, even hundreds of years from now, the reader will be able to get a really clear picture of who that person was and the legacy that they're leaving behind – no matter how big or small that legacy may be.
A well-written obituary will cover:
Deceased's Immediate Family
Parents, siblings and children
Things the deceased and their family are proud of.
The small details that give a glimpse into who they were as a person; hobbies, favorite activities, etc.
A person's heroes, idols, and significant others help to paint a complete picture of their life.
Details About Their Death
This helps to provide a record of their death and let the community know what happened. Details are usually kept very brief – only sharing what the family is comfortable with. Usually the cause and place of death.
7 Tips For Getting Started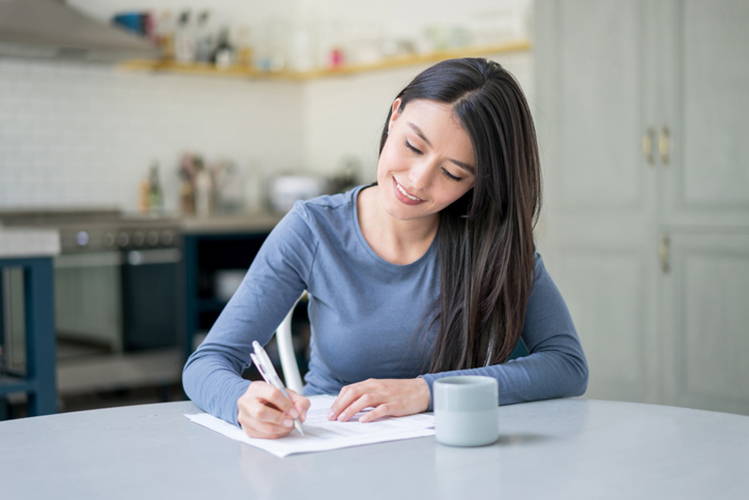 Sitting down to write an obituary can feel entirely overwhelming. You might be wondering where to begin, what the tone of the obituary should be, and how to say all of the right things in just the right way.
Don't be afraid to add some inspiration to get you going. Having a frame picture, their favorite sweatshirt or even a keepsake necklace for ashes nearby can not only bring some comfort but help to put you in the right frame of mind to write about someone you loved. Here are a few tips for writing an obituary to hopefully alleviate some of that overwhelm you are feeling.
1. It Doesn't Have To Be Sad
You don't need to write an obituary that is guaranteed to make someone cry. If your loved one had a zest for life and brought joy to everyone they touched, it's absolutely acceptable to highlight that. Just because they're gone, that doesn't mean you have to stop celebrating their life.
Of course, it hurts to say goodbye and missing them will be tough, but it's really important to remember the good and happy times.
If you need help with formatting, you can find many different obituary templates online. Have you ever read an obituary that really moved you? Refer to it when writing one for your loved one! Having an obituary example at the ready can be incredibly helpful.
Write a few drafts if you have to and show it to another loved one. Ask for their opinion on your word choice, tone, and anecdotes. You really want to make sure the obituary says exactly what you want it to say. You only have one chance at printing one in your local publications, so you want to make sure the words are not written in haste.
4. Write In The Third Person
This is called a "third person narrative." As the writer, you want to remove yourself from the obituary completely. Instead of phrases like, "we are announcing the death of our father Alan," use language that is as if you're an impartial bystander: "Alan passed away."
In writing courses, they call this "show, don't tell". Instead of simply telling the reader about a person's life, show them what their life looked like. If you are writing an obituary for someone who was a family man, don't just say so. Tell the reader what he did to make him such a wonderful father, son, and husband.
Also, personal descriptions really help with an obituary. The column should be as unique as the person that you love!
If you want to write a great obituary, choose three words that really get to the core of the deceased – words that perfectly describe who they were. Then, tell a short story that exemplifies each of the words to really paint a whole picture. If you get stuck or overwhelmed, ask family members or the people who were closest to them for help.
7. Look For An Online Template
If you are still stumped on how to write an obituary after reading this guide, there are many obituary templates online. You can also comb through recent or past newspaper publications to read many obituary examples and model the one you are writing for your recently deceased loved one.
Important Things To Include In An Obituary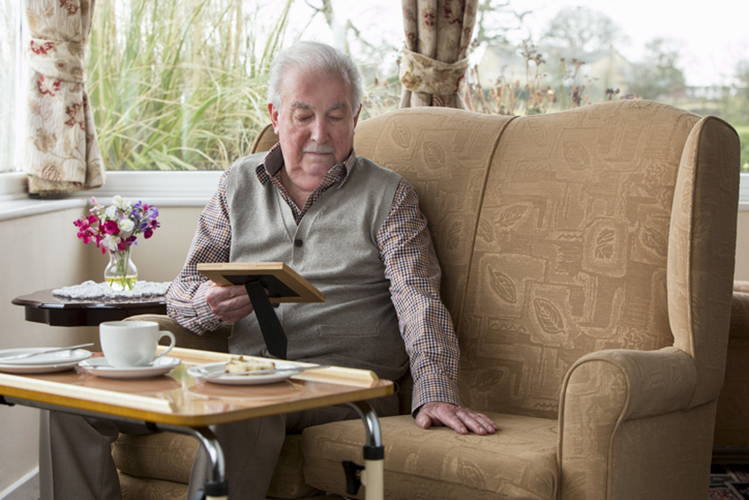 Okay, so you have all of the tips for writing an obituary, now it's time to think about the nitty gritty details – the things that pretty much every obituary across the board will have. Once you've got the basics down, you just have to personalize each aspect of the obituary and you'll be in great shape.
An obituary should include the following:
Announcement of death: Name, d

eath date and age at the time of death, cause of death. Cause of death

can get tricky, depending on the cause of death. Some families may choose to have some discretion when they write the cause of death, others may omit it altogether.

Significant life events: Where they were born and lived, education, marriage, births of children, etc.
Special interests: Profession, hobbies, personality traits and passions
Family: Surviving family members and family members that predeceased them.
Pets/Friends/Other: A listing of special pets, close friends and others.
Services: Any information pertaining to a viewing, funerals, celebration of life ceremonies.
Flowers & Donations: Where can friends and families send flowers or donate in memorandum of the deceased.
Every obituary starts with the announcement of death or loss. This should include all the basic information such as name, date, and any additional pertinent information.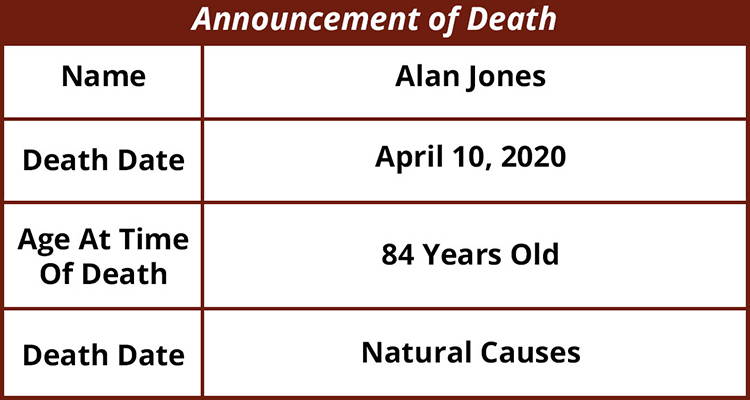 Example:
"On Friday, April 10, 2020, Alan Jones, loving husband and father of three children, passed away from natural causes at the age of 84."
---
You also want the obituary to detail the important things that have happened during the deceased's life. Imagine as though you are writing the obituary for an old college friend to read – someone that has been out of touch with the deceased for a few decades but would still like to be filled in on their life since they last met.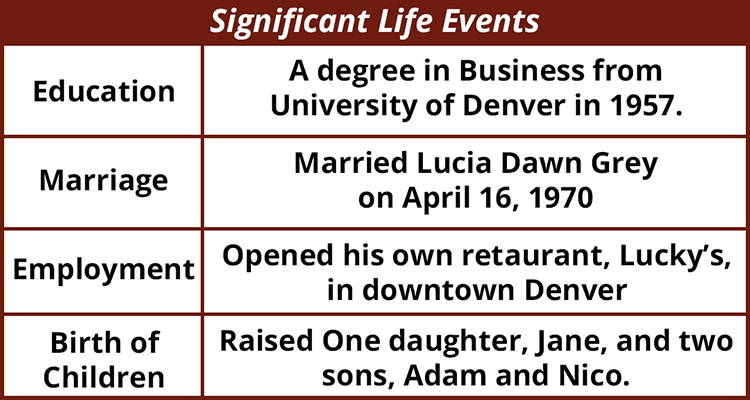 Example:
"Alan was born on June 22, 1935 in Denver, CO to Richard and Tonya (Smith) Jones. He earned a degree in business from the University of Denver 1957, with the dream of owning his own restaurant one day. In 1962, he opened Lucky's in downtown Denver, a community staple that is still open, today. On April 16, 1970, he married Lucia Dawn Grey. They raised one daughter, Jane, and two sons, Adam and Nico."
---
Use this section of the obituary to highlight all of the things that made the deceased special. While you're writing this part, you might think about the things that will always remind you of that person.
Depending on the publication, you might get charged by word, by line, or by the amount of space the obituary takes up (inches). Because of this, the key to detailing their special interests is picking out the ones that really encapsulate the deceased and describing them well.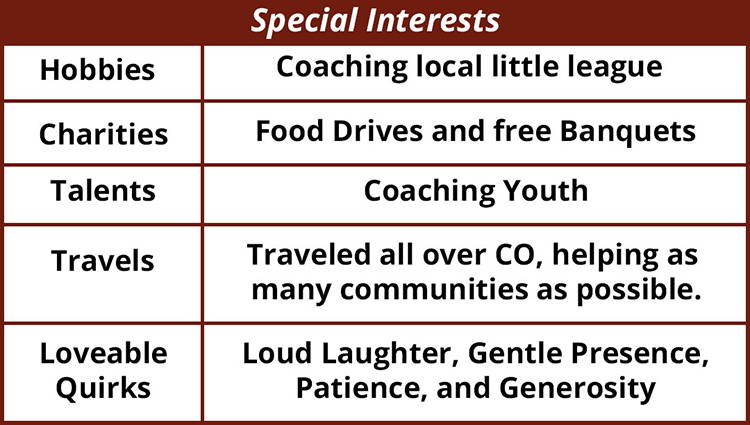 Example:
"Alan was passionate about giving back to the community. He felt blessed that Lucky's was so well-received, and he wanted to thank the people of Denver in every way he could. Throughout the years, Alan hosted many food drives and free banquets for the less fortunate in Denver. All the while, he had a huge smile on his face, which was incredibly contagious. When he wasn't handing out food or running the restaurant, Alan could be found coaching the local little league team or spending time with his beloved family. He was known for his generosity, his loud laughter (which could be heard from a mile away), his patience, and his gentle presence."
---
Listing Survived By & Family Members
In the Survived By, immediate and close family to the deceased is listed. Immediate family such as a spouse and children are listed first followed by other close family members.
Family is listed first name then last name with maiden names in parentheses followed by their place of residence. Children are listed in order of age and with their spouses where applicable. Close friends and pets may be listed here as well.
If you are concerned with the size of the deceased's family and the length of the obituary, cut names from the bottom of the above list and work your way to the top.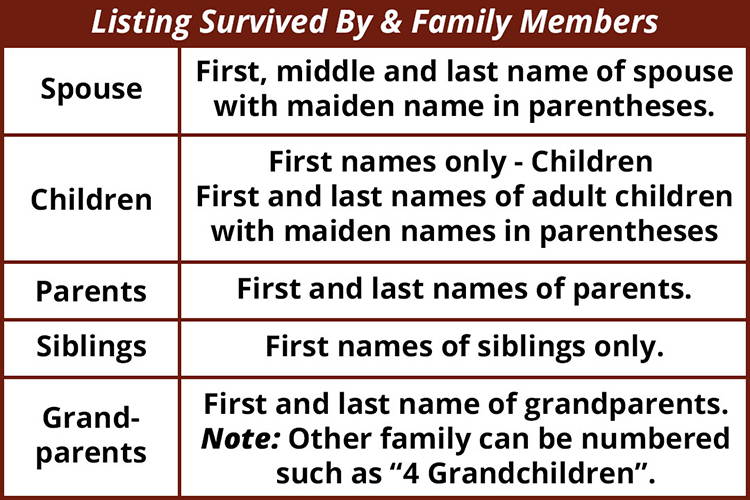 Example:
"Alan will be lovingly remembered by his wife of 50 years, Lucia (Grey) Jones, and his children, Jennifer (Paul) Smith, Adam and Nico. Alan will also be remembered by his by his sister, Jess (Joe) Nixon, and six grandchildren, Bethany (Alex) Smith, Kalan Smith, Kristin Jones, Lauren Jones, Adam Jones Jr., and Taylor Jones. Alex was predeceased by his parents Richard and Tonya Jones."
---
If the deceased leaves behind a pet that they cherished, they should be mentioned as well. An obituary is meant to capture the life of the deceased and everything that meant something to them. For many people, pets are just as important as family members and they should be treated as such even after they pass away.
Pets are so important to some people, in fact, that they are beneficiaries of certain assets or money is set aside in order for surviving family members to take care of them. If the deceased you are writing an obituary for had a pet or multiple pets that they loved fiercely, include them at the end of the list of family members.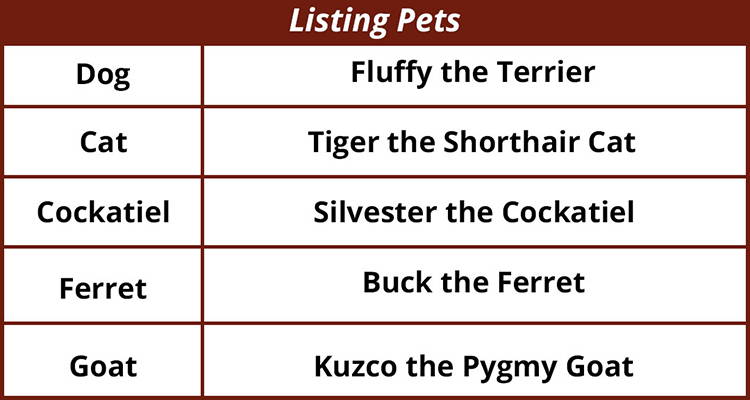 Example:
"Alan will be missed by Fluffy, his beloved Golden Retriever, who laid by his side until his very last day."
---
Some families may have 'honorary' grandparents, aunts, uncles, etc. People that are close to the family that are not related but may be a best friend to a spouse and are considered part of the family. It is perfectly acceptable to list those treasured 'Aunts', 'Uncles', etc. and list them in the survived by section.
Really take this time to consider what else the deceased loved and is worth mentioning. It might even be an inanimate object. Say your loved one had a passion for cars and worked on a particular one every day they possibly could. You will want to mention that in the obituary in a bit of a tongue-in-cheek way.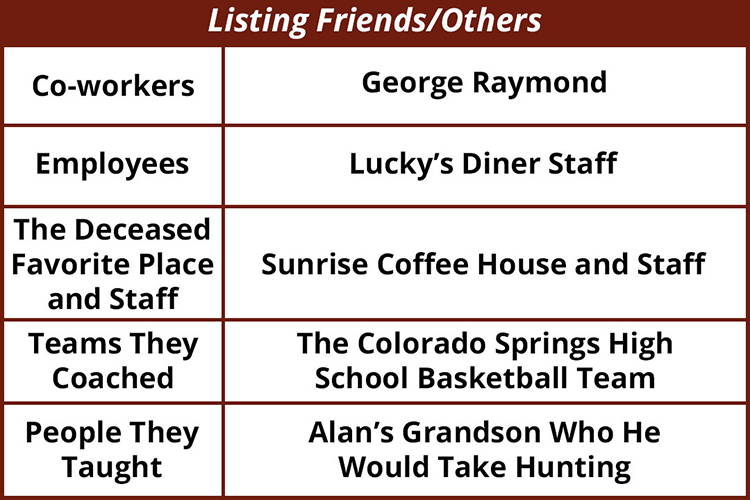 Examples:
"Alan will be missed by his dear friend, Tomas Blake, who was seen at Lucky's nearly every day to spend time with Alan and the restaurant's regulars."
"Alan will be missed dearly by his many friends, who his family thanks for their love and support in recent days."
"He will be dearly missed by his 1965 Ford Mustang, with whom he drive the coast of California in 1993."
---
If funeral services are going to be held, the obituary should include all of the most important details. If there will be an open casket viewing service, be sure to detail the location, date, and time of the viewing. If there will be a service that entails a grave visit, be sure to provide the details for that as well.
If you think the readers would like more information about any of the services and the details that surround them, be sure to include contact information for the funeral home.
In some cases, there will be no services to mention. If that's the case for the person you are writing an obituary for, be sure to mention that at the very end. It will be nice if you leave some information for the readers as to what they can do to express their condolences.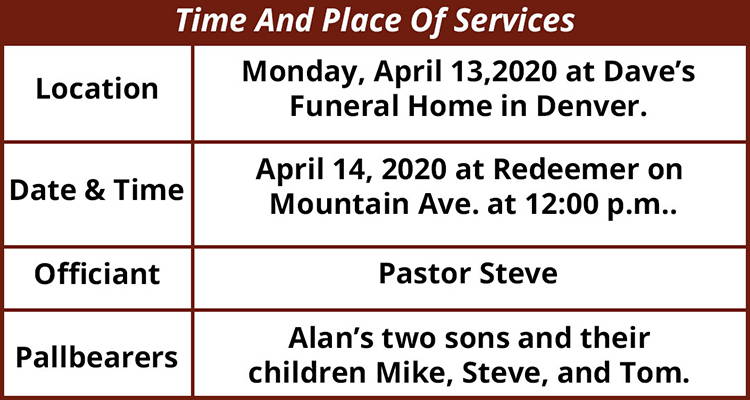 Examples:
"A viewing service will be held on Monday, April 13, 2020 at Dave's Funeral Home in Denver. Please contact the funeral home for more information."
"A funeral service will be held on Tuesday, April 14, 2020 at Redeemer on Mountain Ave. at 12 o'clock p.m., with Pastor Steve officiating."
"Interment will follow at Holy Cross Cemetery, located at 1000 First Street, Denver, CO. Pallbearers will be Alan's two sons and their children Mike, Steve, and Tom."
---
Flowers Or Memorial Donation
When it comes to flowers and/or donation information there are many ways to go about it. The decision might be made by the deceased ahead of time, but there are certain situations where the decision will be left up to the family. In any case, the way that the community expresses their condolences should have some reflection on the deceased.
There is also the option of memorializing the deceased in a physical way. If you choose to go their route, you can include this in the obituary and ask for donations for the memorial. For example, you may want to have cremation jewelry created out of the deceased ashes. The jewelry can act as a lifelong memorial for the entire family that is passed down through the generations.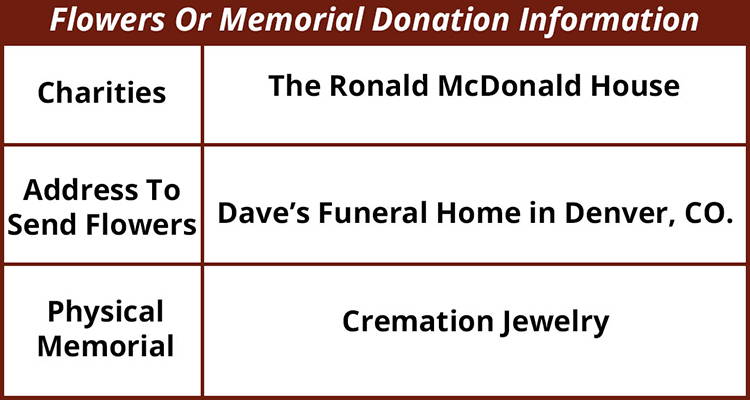 Example:
"Please send flowers to Dave's Funeral Home, 1255 Bell Avenue, Denver, CO 12345."
"In lieu of flowers, it is asked that donations are made to the Ronald McDonald House, a charity that Alan was passionate about."
---
An incredible photo can really make a huge impact on the person reading an obituary. Gather the family together and find the absolute best photo of the deceased that you can. One where they look happy, or they are doing something that they loved to do.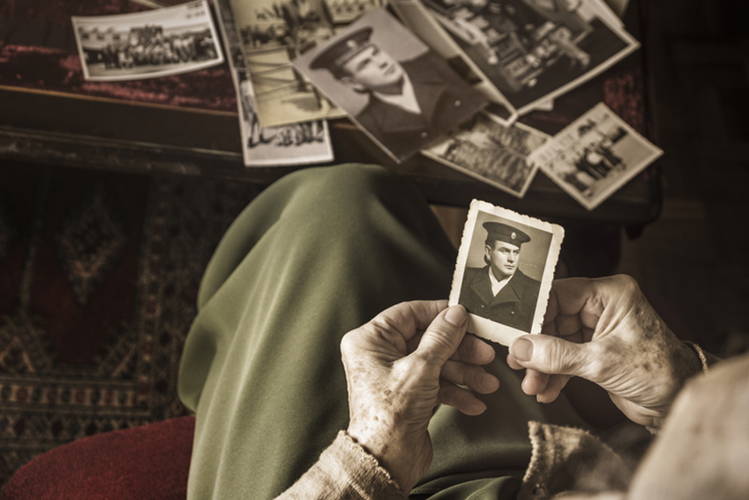 Consider these factors when choosing a photo:
Try to find a photo that includes only the deceased's face in it or crop the photo (in a way that is elegant and not very obvious) if you need to. Having too many people in the photo might be confusing or take the spotlight off of the deceased.
This is especially important if the photo is going to be posted online. Low-resolution photos will appear blurry and take away from the charm of the photo and the person in it. Check with the newspaper, publication, or website and get the exact photo specifications that are needed for the best results.
Check with the newspaper, publication, or website where the obituary is going to be published and ask what the photo orientation requirements are. You don't want to give a landscape-orientated photo to a publication that only prints portrait photos. This can put you at risk for having a photo that is cropped unattractively.
Nowadays, it's most popular to have color photos printed in obituaries or posted online. However, black and white photos can be very elegant and more accurately give insight to the person who has passed away.
Decide if you're going to submit a photo of the deceased when they were older (a current photo) or a photo of them when they were younger (usually reserved for those who were senior citizens when they passed). Whatever photo you choose, it should be an excellent snapshot that portrays the deceased well.
You don't have to submit a photo in which it's obvious that the deceased was posing for a portrait. The most important thing is that their personality is highlighted. When choosing an obituary photo, there are no rules that say the photo can't be a candid, an action shot, or a photo of them doing something that they really loved (riding a horse, or birdwatching, for example).
If you don't have a photo of the deceased that accurately depicts who they were as a person, or is of high enough quality, you can choose to publish a photo of something they loved. For example, if they owned a restaurant, you can publish a photo of the restaurant. If they lived birdwatching, perhaps you would publish a picture of their favorite bird.
Proofreading & Editing The Obituary
The best way to have an obituary proofread and edited is to get the family together and take turns looking at it. One person might have a better way of writing or describing something than the original writer! Also, sitting down with the whole family can be a really nice experience that you all need during this time of grief. Share your favorite stories and attributes of the deceased and pick and choose what to write about together.
When you've got the story down, have at least two people that you trust read it over and check or errors in spelling, grammar, and information. Have them pay particular attention to names and dates, funeral and/or viewing information, and flowers/donations instructions.
Where To Publish An Obituary
It's always a good idea to do a little bit of research before you go ahead and submit the obituary to any publication. Some local papers don't charge a fee at all for submitting obituaries but that may change with the times and vary city by city. The cost of an obituary is usually determined by the amount of space it's going to take up; the number of lines, the number of columns, or the size of the columns in inches.
It's also not uncommon for publications to cap obituaries. For example, one may post the first 24 lines of an obituary for free – after that, they charge by the line.
Printed Newspaper Obituary
Having an obituary published in a newspaper is excellent because you know that they will always be a permanent record of it. Even if you move or lose the clipping, newspaper archives can easily be accessed through the library.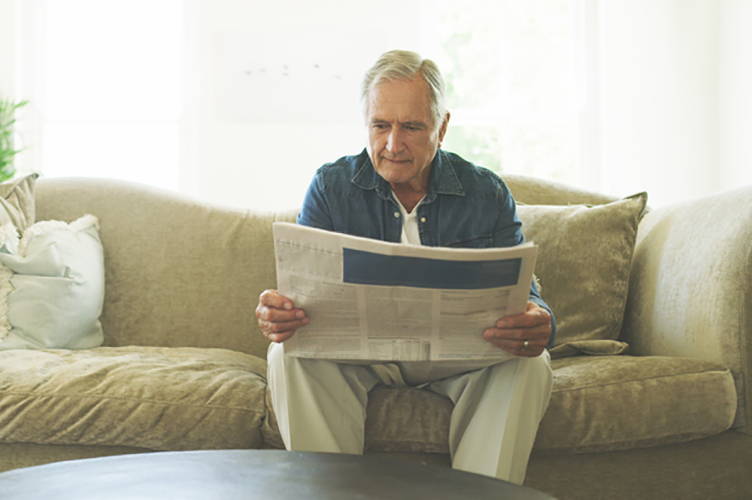 If you're looking for an obituary in the archives, contact the local library where the obituary was published to see what steps you have to take. You might be able to access the archives at home from your computer!
Newspapers typically print two kinds of death notices: one that is factual, and one that is more flowery. The factual one will likely be found in the Classified section of a newspaper. It doesn't tell any of the deceased's hobbies or interests – it just sticks to the basics. These death notices are usually reserved for people who have large estates, wills, many businesses partners or creditors.
3 steps you should follow when having an obituary printed in a newspaper:
Step 1. Determine which paper(s) you want the obituary to be posted in

Local newspaper. If the deceased was an important member of the community, the newspaper might choose to write an article that is specifically dedicated to them. Otherwise, the family of the deceased will be expected to write the obituary, and it will go in the Obituary section.
National newspaper. If you would like to have your loved one's obituary published in the national paper, that is entirely possible. You will have to contact the newspaper's representative for specific instructions. The appropriate information will likely be found on the national newspaper's website.
---
Visit the website for the newspaper in which you would like the obituary to be posted. The website will likely have all of the information that you need as well as any forms that you may need to fill out. Scan the website for the answers to the following questions. If you don't see them, give the paper a call.
How much does it cost to have an obituary posted?

How is the cost determined?

Does the price include that of a photograph, or will that be extra?

What are the formatting requirements, if any?

Will they need to speak with the funeral director and/or obtain a copy of the death certificate?

When do you need to have the obituary submitted to be published on a certain date?

Where do you submit the obituary? (Electronically, in-person, etc.)

For electronic submissions, what file type is required for both the text and image?
---
There's nothing wrong with calling a few newspapers and getting quotes in order to compare the cost of publishing an obituary. When you call a paper to get their obituary cost, also ask them the deadline to have said obituary published. You might want your loved one's obituary to be published on a certain day of the week, or in the Sunday paper.
Because nearly every publication has an online service – and there are some that are strictly online – you may want to look into what it takes to publish an obituary online. In fact, publishing an obituary online is much cheaper in many cases and can save you hundreds of dollars that you can put toward other funeral or familial costs!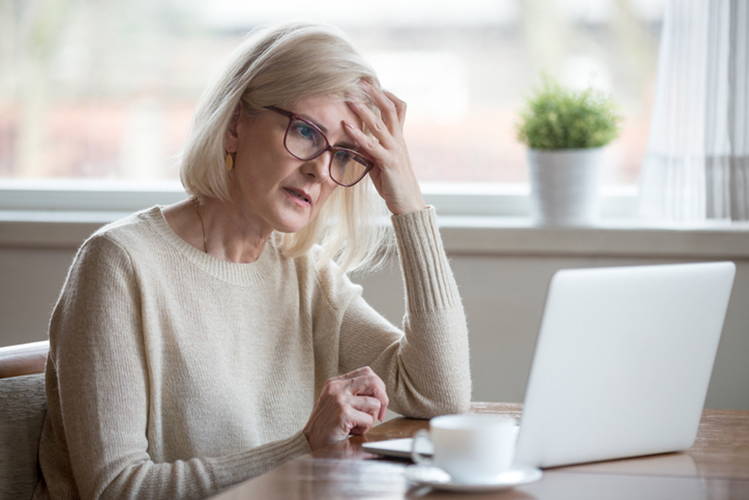 Newspapers are meant to be kept for only one day. They don't have the staying power that the internet has, and clippings may become lost or damaged overtime if they are not well-preserved.
Online obituaries are typically low or no-cost and, in many cases, there is no word cap to an online obituary. There is no cost of printing a certain amount of words or taking up a certain amount of space in the internet because it is virtually limitless!
Obituaries that are online are usually more attractive that in-print obituaries. Photos are sharper, you can include many of them, and it's possible that you can include a video, too. Online obituaries also let you customize the appearance to really reflect the personality of the deceased.
There is greater interactivity with online obituaries. Other family members, friends, or members of the community can share, print, or comment on the obituary to share stories of the deceased.
3 steps you should follow to having an obituary online:
Step 1. Discuss online publication with the funeral director you are working with
Many funeral homes will include an obituary publication on their website as part of their service. When you're sitting down with them to discuss pricing, this is something that you should ask about. Is the price included, or does it come at an extra fee?
---
Step 2. Choose which online publication(s) you would like to run the obituary
Scour the internet for appropriate places to publish your loved one's obituary. The places you will look for and decide on will probably be based on their community involvement. If they are particularly fond of an organization that has a periodical, you may want to reach out to them and ask if they run obituaries.
Some examples of online publications are:
Funeral home website

Obituary websites

Community publications

Church publication or church website

Fraternal/alumni organizations

Social media accounts
---
Step 3. Inquire about pricing and publishing requirements
While you're browsing the internet for places to publish an obituary, reach out to a few (or all) of the ones that you're interested in and get a price quote. Make sure you ask about word count, column size, and photos – all of the things that apply to in-print pricing and requirements may apply to online pricing as well.