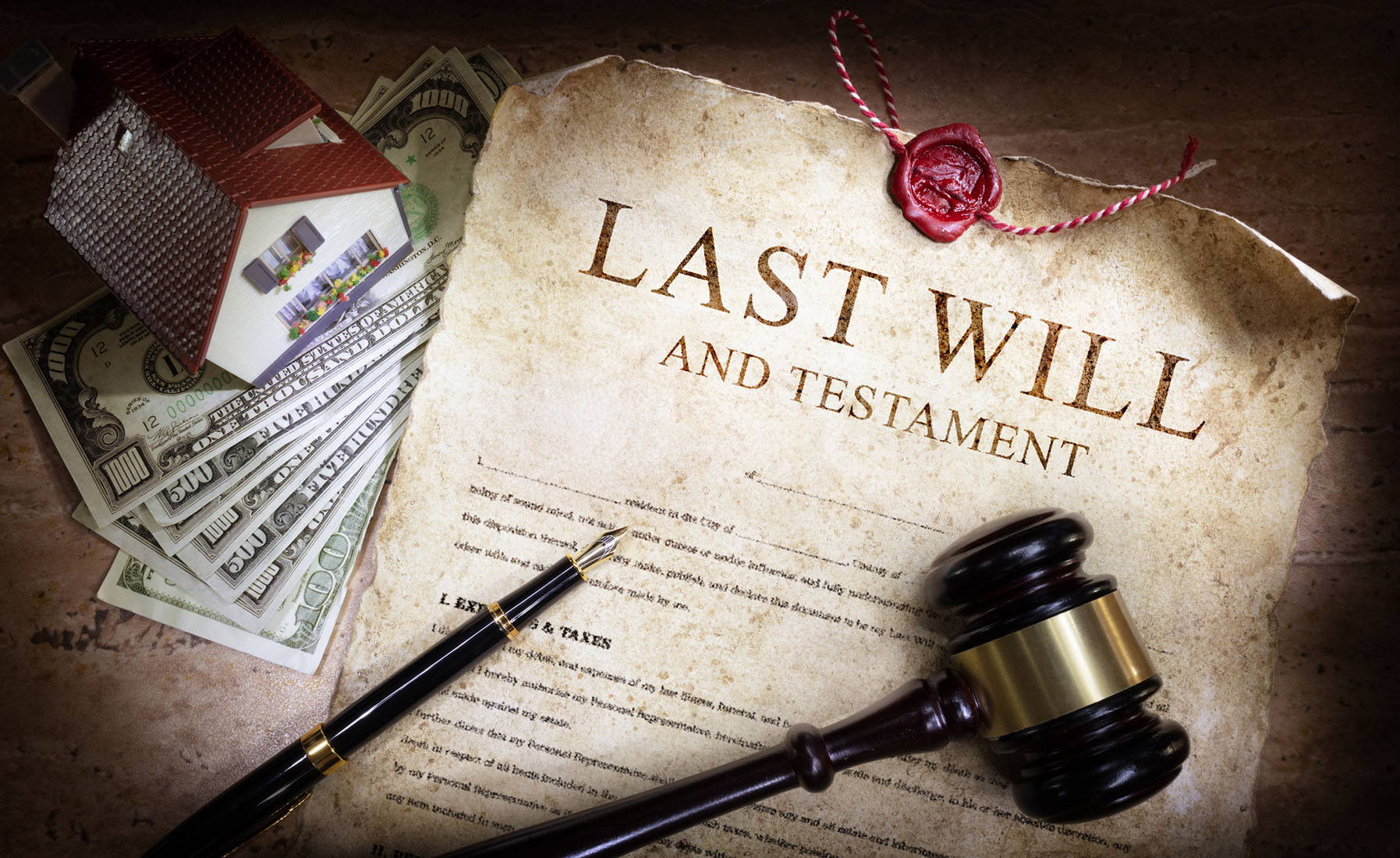 A last will and testament is a very important document to prepare. It's one of those things that most people assume they don't need until they get older or sick, but it also adds a lot of complication if you were to pass away unexpectedly without having prepared one. In other words, it's that thing you don't want to deal with, but that needs to be done.
This is something that is exponentially more important to have written out and completed if you have children who depend on you, or any other situation where someone is depending on you to care for them. It's the best way to secure your own peace of mind regarding what might happen to them in case you were to die.
A checklist of what you'll need to have on hand when it's time to write your will.
A step by step guide to creating your will and tips to store and when to updat
Last will and testament--A legal document that expresses someone's wishes regarding how their property should be distributed after their death, and which person should manage the property until its final distribution.
Trust--This is a three-party fiduciary relationship that is created from a will, and comes to life after the death of the settlor. The settlor, the first party, is the person transferring their property to the trustee, the second party, who holds legal title in the settlor's property or assets in order to distribute them to the beneficiaries, the third party.
Trustor—Also called a grantor or settlor, a trustor is a person who is creating the trust document.
Trustee—A trustee is a person who is being entrusted to act as the legal owner of the trust assets. They are responsible for handling and distributing the trust assets as specified in the trust document.
Bequests--These are items of personal property that someone can leave to beneficiaries in their will. It includes anything from investments to jewelry.
Beneficiaries--This is the party receiving the property or assets in someone's will or trust.
Executor--The executor is the person appointed by the will owner. This person is entrusted to enact and carry out all the final wishes of the deceased, including distributing their estate.
Probate--This is the judicial process through which a will is proved and accepted as a valid last testament of the deceased in a court of law.
Ancillary probate—This is what happens when the deceased has real estate or personal property in multiple states.
Power of attorney—This is basically written permission by the first party for someone else, the attorney, the act out the first party's legal, business and financial affairs.
Fiduciary—A situation or person who holds a legal relationship of trust.
Assets—A resource with economic value that a person owns.
Joint will—A will that two people, most commonly who are marred, both agree upon.
LAST WILL & TESTAMENT BASICS
Last Will & Testament Defined
Put simply, a last will and testament is a document which determines what will happen to your property, or estate, if you were to pass away. It specifies who your belongings will be given to, by who, and how this will happen. A will answers all these questions so that there are less unanswered ones once you've died.
You can use a will to name an executor, the person who will take care of carrying out the wishes laid out in your will; or you can also appoint a new legal caretaker for your children or other dependents.
You need to write a will because if you haven't done so by the time you die, then your loved ones may not be able to offset the costs of your funeral and/or memorial services, and any other associated costs they may encounter.
This could result in them dealing with your funeral arrangements and the like from out of their own pockets. Not having a will can make a very sad time into a distressing and chaotic one as well.
When someone dies, their family and close friends deserve to be able to mourn and process their feelings. They shouldn't have to stress more than necessary about tiring details, legal processes, and the like.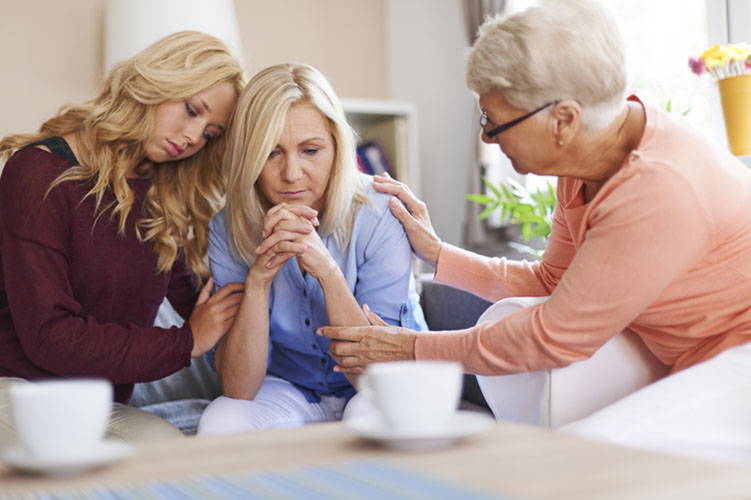 Dying With A Will In Place
When you have written out a last will and testament, the appointed executor of your will begins enacting the distribution of your assets to the beneficiaries you have established in the document once you've died.
The executor makes sure your final wishes, as laid out in your will, are carried out accordingly. This includes any dependents you may have being placed with legal guardians appointed by you.
Dying Without A Will In Place
Alternatively, if you die without having written up a will, the government will have to decide what happens to all your assets in your place. The government will also become the automatic decision-maker regarding who will be your dependents' guardian.
This is often not something people want others to decide for them. It's also the reason that having a last will and testament gives people such peace of mind.
If you're looking into how to have a will drawn up, know that there are two different ways to go about it. You can either use a lawyer, or you can use an online service to have it written out. Lawyers are probably the better option to go with if you have more in-depth aspects needing higher expertise.
Many people find it sufficient to simply use an online service, and it often does cost a lot less money. They are generally accepted as effective by will writers and lawyers, as long as they are executed the way they should be when the time comes.
Using a lawyer can be expensive, but it might be worth it if you have dependents, or any other complicating element to address in your will. If you do decide to search for a lawyer, know that the prices and the way they will charge you can vary.
According to Nolo, "The low end for a simple lawyer-drafted will is around $300. A price of closer to $1,000 is more common, and it's not unusual to find a $1,200 price tag." Keep in mind that those numbers are for lawyers who charge flat fees. Hourly billing can range from $150 to $200.
This can easily add up, but flat fees might still cost more since most lawyers already have standard forms and clauses they use often, and won't need very much time to get your will put together.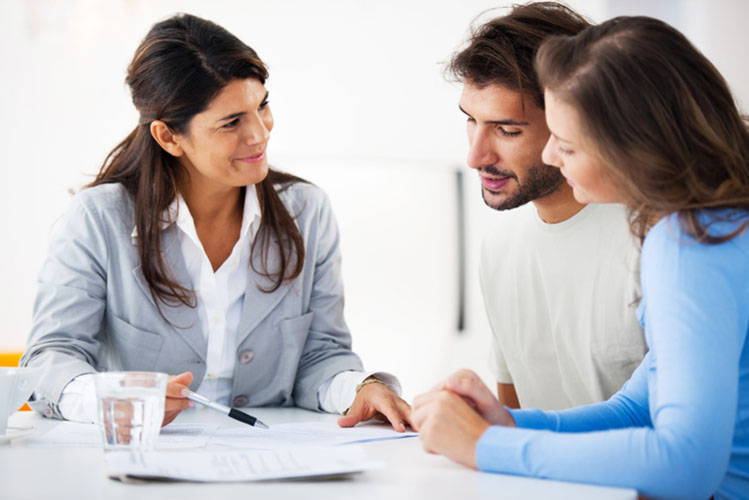 ---
Writing one online can certainly be cheaper, but it might call for more work on your end. This route is fine to take if your situation is quite simple. For example, if you don't have any dependents or not a lot of assets then this might be a good way to have an inexpensive will drawn up.
The cost is usually under $100, and sometimes much less. You probably won't receive legal advice, but if your will is going to be quite simple anyway, then that may not be an issue for you and your needs.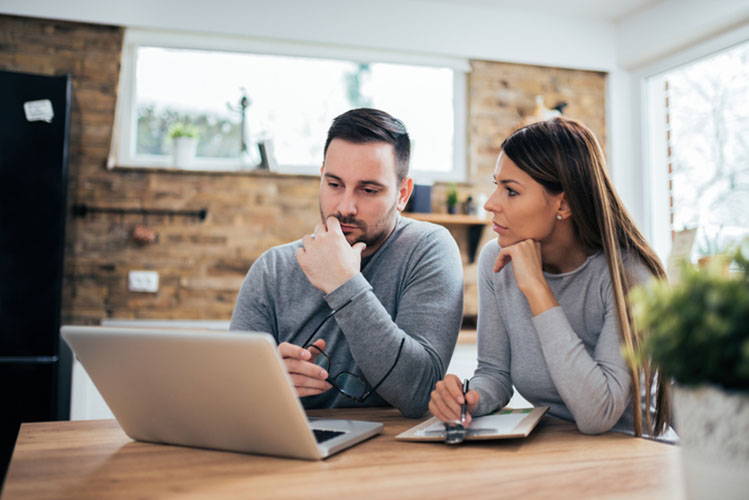 You might find your will writing service costs become slightly higher in the following instances:
You have lots of

beneficiaries

You have a lot of

assets

You need to make a

joint will
Last Will & Testament Timing

Many people wonder whether they should wait until they've reached a certain age before starting the will writing process, or if they should instead jump to getting it done as soon as they are legally allowed.
It is generally advised that if you're young, single, without children and without many assets, you may not need to worry about getting a will written just yet. However, you should make your will as soon as possible if you either are married, have children, or you own lots of assets.
You should also make one if you have any combination of the aforementioned statuses.
HOW TO HAVE A WILL WRITTEN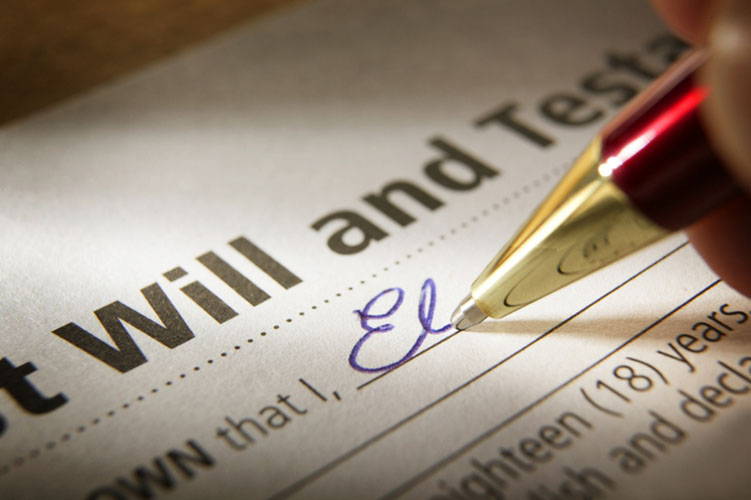 You may decide to have your will written online, or instead seek advice from a legal team. Either way, make sure you've done your research and ask lots of questions before committing to anything.
Read the following sections to understand the two options people can choose for writing their wills, and determine whether one of them will fit your needs more than the others.
Choosing An Online Will Service
When you search online for will writing services you will come across lots of different offers. Most of what you will see are software platforms that will charge you a service fee for using them to create your own will.
Some will offer packages that also include legal advice when needed. There may even be some companies offering free templates but who will also attempt to upsell you on any upgrades they've got available.
The list below comes from TheBalance, going into detail on their choices for "The 8 Best Online Will Makers of 2020."
Online Will Writing Services
TotalLegal

: Best for Comprehensive Legal Planning – This site is in questionnaire format and costs $19.95 to create your will. If you sign up for a monthly membership plan, they start at $7.49 a month.
If you find yourself with many assets which need to be included in your will, or you are confused on the various documentation necessary for your situation, then you might want to start considering hiring a lawyer to help you with your last will and testament creation.
Which attorney you use will likely depend on your location, so it might help to use a wills attorney search engine platform, like Thervo. You can also enlist the help of a freelance legal writer via websites such as FlexJobs.
Another avenue you can explore online is enlisting the help of built-in resources that come with will-writing software programs. Sites like Nolo have informative blogs that can help you more ways to find a great lawyer to help guide you in the right direction.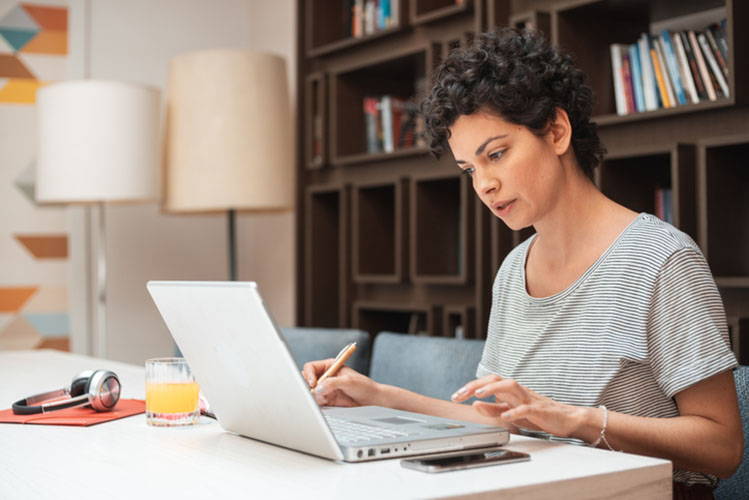 ---
Some legal plans may be offered through your workplace, unions, or consumer organizations. Check into your place of employment (or organizations you might be associated with) to see whether there are free or inexpensive legal assistance offers for members or employees.
If there is such a resource available for you, make sure to consider the attorney's knowledge and experience with estate planning before making a committed decision. If you feel comfortable with your options through this kind of plan, then it might be a strong option to consider.
---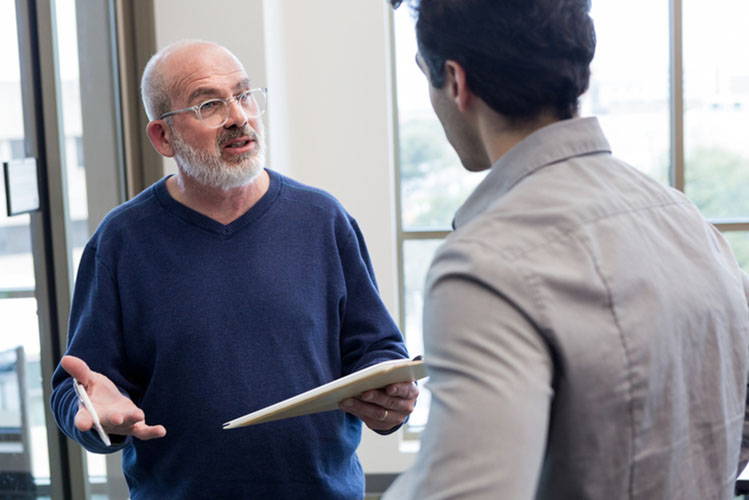 One of the best ways to find a reputable lawyer is to ask your friends and family for recommendations. This is such a great way to go because it makes it easy to have confidence in your choice when someone you know has had a great experience using them.
Start asking around, or maybe post a status on your favorite social media platform asking for recommendations that way. Doing so can expand your reach easily since your friends can tag their friends, and so on.
This method allows you to also specify in which geographical area you'd like to find your attorney.
There are lots of legal aspects to will writing that the average person might not think of, so it's helpful to research as much as you can before deciding how, when, and where you will endeavor to have it written. As such, you may want to consider the below checklist of important documents, account numbers, and the like before making any hard and fast decisions.
Have all related certificates handy.
This means birth certificates, plus relevant marriage and divorce certificates.
Bring other relevant documents.
Make sure to have any deeds, mortgages, bank account information, investment portfolio account numbers and other information. Also get hold of your insurance policy numbers, funeral plans, and burial lot information if you already have that in mind. The more specific you are, the easier things will be on your loved ones when you go.
Who will your executor be?
This is the person who will be handling the distribution of your assets. It should be someone with whom you feel comfortable placing your implicit trust, and who is organized and responsible. You can also name a co-executor, if you wish.
Consider also appointed a back-up in case neither of those people are able to perform when the time comes for whatever reason. Make sure to have these people in mind for the role before you sit down to start the process of creating a will.
Decide who your beneficiaries will be.
These are the people who will inherit your property. When deciding this, you will want to think as specifically and imaginatively as possible.
For example, if you are married, you should address the unlikely assumption that your spouse dies at the same time as you, so that every scenario has been thought through. This might prompt you to include in your will that 'Plan A' would be to leave your inheritance to your spouse, but 'Plan B' would mean it gets left to your children, or whoever would come next.
Always have back-up plans, and consider unlikely and unexpected things to happen when making this decision.
List out real and personal property for each beneficiary.
Your estate includes both real and personal property, and you will need to decide what goes to who when you die.
Real property means unmovable things such as houses and land. Personal property is basically everything else, like investments, bank accounts, jewelry, family heirlooms, and the like.
Keep in mind that anything you jointly own can't be wholly bequeathed to others—only the portion that you actually own can.
Pick a legal guardian for minors.
In the case that you die while your children are still underage, they will need a legal guardian. Even if you are married, you will again want to imagine that your spouse for one reason or the other isn't there, either.
You might also be in a unique situation where your kids' other parent wouldn't get custody of them. Think of a first and second choice of people you would entrust to raise your children, and have them in mind when you go to make your will.
Before you write them in, make sure to have a talk with them so you know they would be able to handle taking your children into their care.
Don't forget about your pets.
Pets are legally considered personal property, so you can't treat them like your children (although many people consider them like their kids). You can, however, create a provision in your will mentioning them and appointing a caretaker who you'd like to take responsibility for them.
This is another one that you should discuss with the potential caretakers beforehand so you know that you're both on the same page.
Additional Things To Include

Decide your digital legacy.
Since so much of our lives is often shared onto social media nowadays, this has become an important consideration for after we die. You should have your directions in mind for the executor of your will so they or your family or close friends can take the necessary steps to handle your accounts.
Include contact information of notable people.
This includes your lawyer, bankers, financial advisor, accountant, and insurance agent. Let your executor know where this information is, and keep it separate from your will.
Make sure to have witnesses.
This an important step not to be forgotten. You must have a signature by two witnesses to make your will legally binding.
This step is to ensure that the person signing the will is the same person who wrote it. The witnesses don't have to read the will or know what's written in it, but they will need to provide their name, address, and occupation.
FINAL WISHES TO INCLUDE IN A WILL
As part of writing a will, you will want to include any final wishes you have regarding your estate. This includes any charities you might want to leave money to, or any other personal property you'd like bequeathed.
If you decide you'd like to leave some or all of your money to charities, you'll need to start thinking about which ones mean the most to you. What causes do you value highly?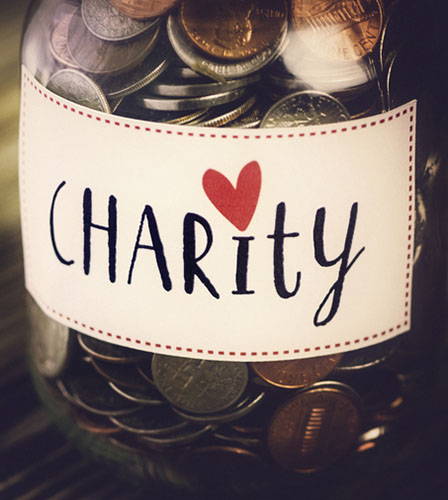 Maybe you love animals and donating to the Humane Society would hold special meaning. Perhaps St. Judes or the March of Dimes holds a special place in your heart. The options for charities in need is endless.
Take a look at this Go Fund Me article listing some of the best U.S. charities to donate to in 2020, and think about which issues you feel most passionately about. From there, you can narrow down a charity—or a few charities—to donate to.
---
It's common for people writing a will to try finding ways to make their loved ones' grief more bearable in the anticipation of their death. How can this be done?
Offering them a gift of keepsake jewelry—or leaving it as a bequest in your will—is a great way to make your family smile after you're gone. It will surely ease their pain to see your face on a photo jewelry pendant.
Another option for you would be to give them a piece of thumbprint, or fingerprint jewelry to remind them of the uniqueness that made you, you. They can keep these jewelry pieces on their person whenever they're missing you the most.
Other options include bequeathing a small amount of cremated ashes for an urn necklace for ashes. This is a personal way to gift your loved ones a way to remember you.
PREPARING, STORING & UPDATING YOUR WILL
If you're finding yourself feeling a little stuck, or just confused, we've created a to-do list to help you get started. It's in chronological order, so it might help give you a better sense of how to go about getting your will written.
We've simplified the process of creating your will into 8 easy-to-follow steps that will get you going in the right direction.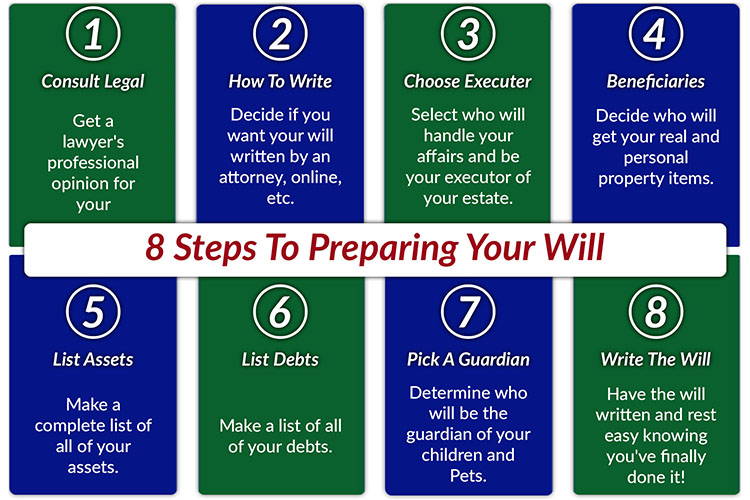 Storing Your Completed Will
When you've finished writing up your will, it's best to keep the document in your home. This is where people will likely first look, like the executor of your will.
Make sure that wherever you do store it, you've communicated this with your executor. It might be a good idea to also give them reminder every few years, especially if you've moved it. Some ideas might be: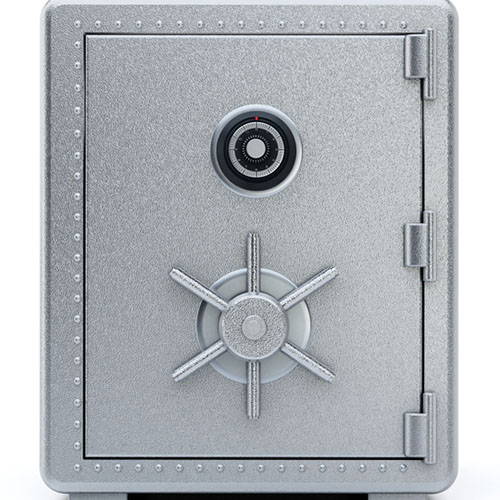 It's okay to keep your will in a safe if you are opting to keep it yourself, but it's important to make sure your executor is aware of where and how to find it. Include passcodes and/or keys.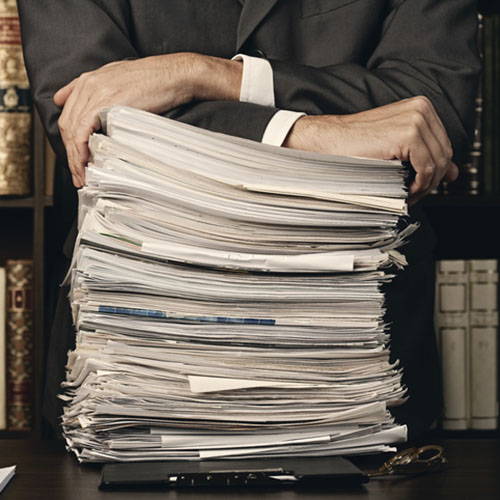 This is an option if you have used an attorney to have your will drawn up. It's a good option for keeping it safe and secure, but it may cost more than other options.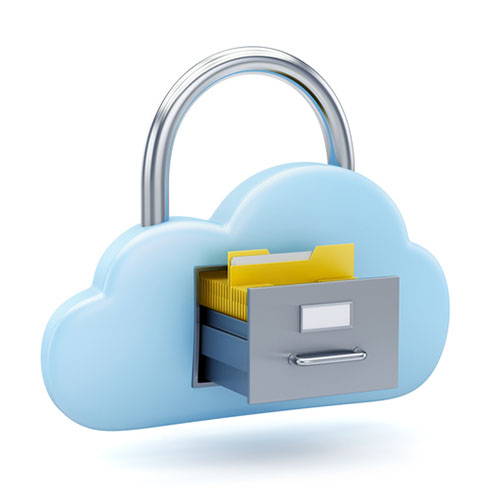 Storing your will with a will writing service you have used online is an option. They will usually charge you an extra fee, but it can cost significantly less than if you left it with a attorney.
While many might assume it a good idea to store their will in a safety deposit box, it's strongly advised that you don't. The reason is that the bank isn't allowed to open a person's safety deposit box until the executor has received probate from the court. The thing they need to grant probate is the will itself, so this would cause a lot of issues with getting your affairs handled.
Your will and related documents should be reviewed and updated as needed every five years at least. It should be updated sooner than this if you have experienced a change in personal circumstances or in your financial situation. It should also be reviewed and updated if there has been any change in a related law.
WILL & TESTAMENT DO'S AND DON'TS
Wondering what you should and shouldn't do when it comes to making a will? Read the following dos and don'ts to clarify.
Find a credible witness.

Seek counsel from a qualified attorney. It's a good idea to do this even if your situation seems very simple.

Make a living will, which addresses end-of-life care and emergencies that happen while you're still living. This helps fill the gaps that a normal will presents (since wills are only effective after you've died).

Make sure anyone you've given a vital role to, whether a power of attorney, executor or even just a witness are all accepting of the potential responsibilities that come with it.
Create other copies of your will with "spiced up" aspects in an effort to make it more interesting. This can cause legal issues down the line when its validity needs to be proven.

Forget to add your pets to your will.

Forget to update you will as needed. If your family has experienced births, deaths, or divorces since you had it drawn up last, then things will need to be adjusted in your will. You should also update it if your property has increased.

Rely on a joint will alone. Since it's highly possible that you will pass away at a different time to your spouse, you'll need to have your own will to account for assets you own yourself.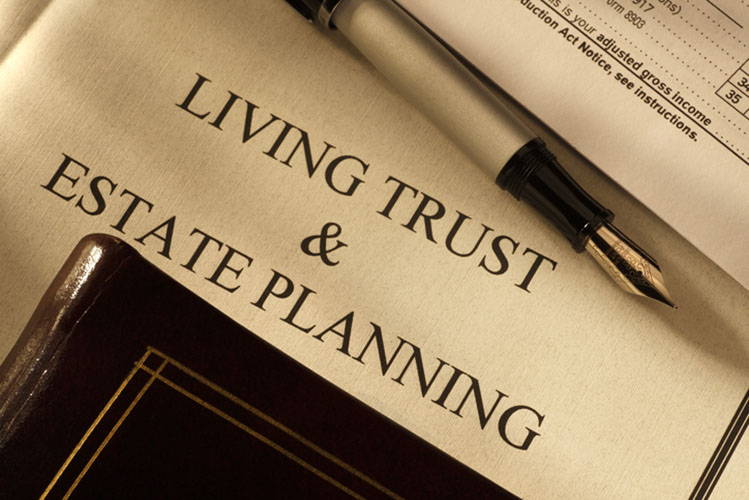 Have you been wondering whether your situation would benefit from having a trust drawn up along with your will? Is a will itself sufficient? It can all get confusing since the circumstances differ so much between states.
In some states, like Texas, the probate process is simple. In others such as California or Florida, however, it's more complicated. Read on to find out the differences in the two documents, and find a deeper understanding of what will work best for you.
What is a trust, anyway? A trust is a three-party agreement where the trustor, the person whose inheritance it is, names a trustee, a second party who will "watch over" the inheritance, to hold legal title of their property until it is time to give it over to the beneficiaries—the third party. It is different than a will because it takes effect as soon as you create it. Meanwhile, a will only takes effect once you have died.
Pros And Cons Of Wills & Trusts
Every family's situation is unique and there are instances where one might be a better fit than the other. Let's go over the pro's and con's of wills and trusts to help each individual or family make the decision that is best for them.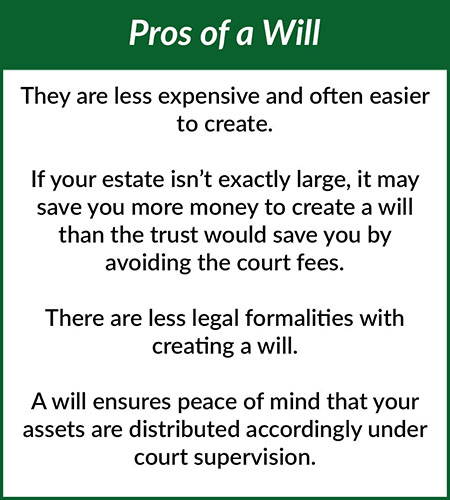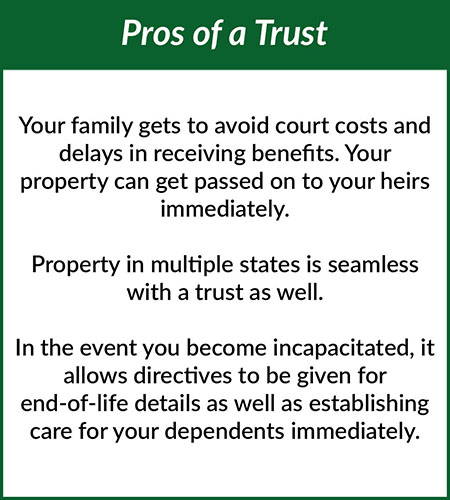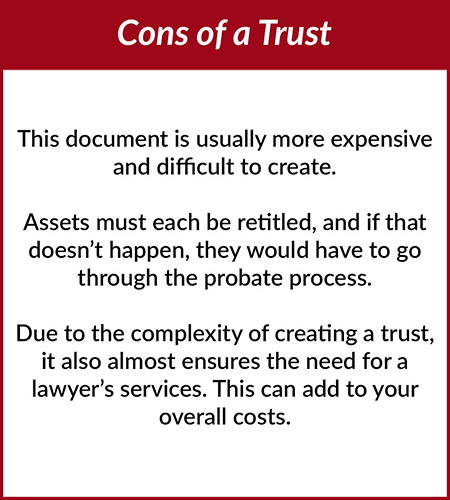 Do I need a power of attorney?
Having a power of attorney is really at each individual's discretion, but it makes the process of your affairs being handled a whole lot easier in the case that you become incapacitated and mentally unable to handle them yourself. Without a power of attorney, court proceedings will be necessary before your financial, legal, and business affairs can be handled.
Why should my important documents be kept separate from my will?

The reason that other documents shouldn't be stored with your will is that they can leave impressions on you will from staples, ink, glue, etc. that can make the validity questionable.
Will my will ever become outdated?

Yes—it's possible over time that your will can become outdated. If you change bank accounts, homes, buy and sell many assets, or re-marry/have more children, your will definitely would need to be updated.
Does the state I live in make a difference in my will?

Yes, it does make a difference which state you reside in. The document requirements vary by laws state to state. If you are writing your will online, it's important that you make sure the software program you are using coincides with your state's laws.
Do I need to include my pets in my last will and testament? Why?

Yes, you should include your pets in your will. United States law sees them as personal property, so you need to mention what you would like to happen to them should you pass away.
Where can I find more information on wills and trusts?

For more information on writing a last will and testament, you can visit the following resource links we've gathered:
A LAST WILL & TESTAMENT: PREPARING FOR THE UNEXPECTED
Writing your last will and testament is not something most of us want to actually deal with, or think about for that matter, but it is a necessary part of preparing for the unexpected. It is the best way to show your loved ones how much they mean to you when the time does come when you pass away.
People don't always think about the fact that their death will not only be a sad and grievous time for their friends and family, but also a stressful time in the case they haven't quite gotten things in order before their passing. Make sure you don't leave your loved ones amidst chaos and confusion—bite the bullet and sort out your affairs ahead of time.
Further Reading:
How To Write An Outstanding Obituary
What To Do With Social Media Accounts When A Loved One Passes
September 28, 2020 by Jeri K. Augustus