Jewelry Specifications
Size:
This keepsake measures 1 1/8" wide x 1" high. The keepsake is measured from the bottom of the pendant to the bottom of the bail. The necklace measures 18" from end to end.
Material:
This keepsake is made of stainless steel.
Internal Volume:
This keepsake does NOT hold cremains.
How to fill:
This keepsake does NOT hold cremains.
Personalization Options:
This keepsake can be engraved on the front and the back.
Jewelry Description
We aim to please with our expert engravings
Your pendant will reflect the picture you love
Pendant is stainless steel heart, the clasp silver , large green stone near center
Abel Necklace - beads of different sizes in green, silver, clear and gold colors
Packaged with the utmost care
Make it totally yours by choosing personalization for the other side
No hassle shipping
Check out our

Photo Engraved Jewelry FAQ's

to learn more!
---
The creating process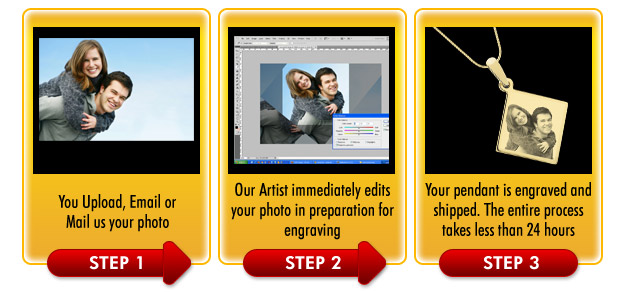 Bring your favorite picture with you whenever you choose when you select the Abel Necklace with green beads and pretty pendant. This lovely Abel beaded necklace has green, clear and silver beads as well as gold accents and the necklace has a fresh and vibrant feel. At the center of the necklace is a stainless steel heart shaped pendant that can be engraved with any picture that you love and sitting along side it is a large green stone with a clear gemstone encrusted top. You can select a color photo, a black and white picture or even one in sepia tones and the image on the pendant will be black and white grayscale regardless of the color of the initial image.
Size: Necklace measures 18", Pendant measures 1-1/8"w x 1"h
What makes our customers come back for more
Reviews