Jewelry Specifications
Size:
This keepsake measures 1 1/4" wide x 1 1/4" high. The keepsake is measured from the bottom of the pendant to the bottom of the bail.
Material:
This keepsake is made of stainless steel with a gold plating.
Internal Volume:
This keepsake DOES NOT hold cremains.
How to fill:
This keepsake DOES NOT hold cremains.
Personalization Options:
This keepsake can be engraved on the front and the back.
Jewelry Description
Diamond or square stainless steel shape pet pendant in rhodium plating that is gold
Not for cremated ashes just for your favorite picture
Choose five lines of text for back personalization
Use our cording that is clear for displaying
This Diamond Pet Gold Reflection is without an urn
Magnificently boxed and packaged just for you
You order, we process, engrave and ship in a day
Check out our

Photo Engraved Jewelry FAQ's

to learn more!
---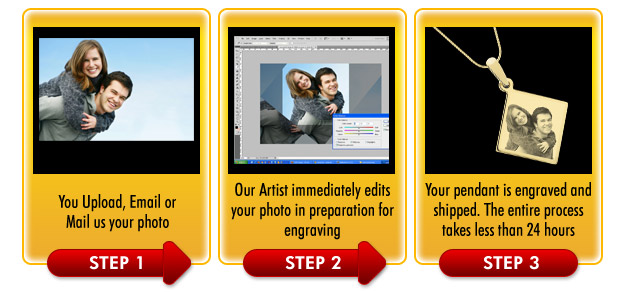 This Diamond Gold Pet Reflection jewelry keepsake can help you after losing a special pet and companion or if you have someone that you are close to that you need a special gift for - think about this pendant! It truly transforms not just your memories but also your favorite picture onto the front of the face of a gold rhodium plated over stainless steel pendant that is a square shape on it's side or in the shape of a diamond. You can see where the image that is reflected back is a grayscale image and the grayscale is great contrast to the gold rhodium. Even with the way in which the image is engraved onto the face of the Gold Plated Pet Diamond, you will find that the top of the pendant is smooth and it will hang securely from the bail on the cording it comes with or even a ribbon or chain.
Size: 1 1/4" w x 1 1/4" h
Reviews