Jewelry Specifications
Size:
This keepsake measures 1 1/4" wide x 1 1/4" high. The keepsake is measured from the bottom of the pendant to the bottom of the bail.
Material:
This keepsake is made of stainless steel.
Internal Volume:
This keepsake DOES NOT hold cremains.
How to fill:
This keepsake DOES NOT hold cremains.
Personalization Options:
This keepsake can be engraved on the front and the back.
Jewelry Description
Diamond pendant that is silver plated on a stainless steel
Stainless Diamond Reflection engraved with a picture - doesn't hold cremated ashes
Choose some names, a verse, a poem for personal text
Easy display options with clear cording
Diamond Reflection has NO inside urn
Magnificently boxed up
We ship right away - check out our shipping policies
Check out our

Photo Engraved Jewelry FAQ's

to learn more!
---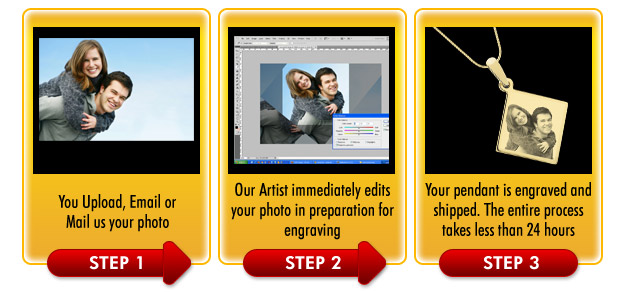 You can keep a memory alive and with you always when you have the Diamond Stainless Reflection jewelry for your photo engraving needs. The Diamond pendant is appealing to men and women and the unique shape of the pendant means that it is an obvious choice for almost any picture. The top to bottom length will make it superb for those pics where you want full body and the side to side length make it a terrific way to display pictures with multiple people. The clear filament that comes with the Diamond Silver Reflection keepsake lets you display the jewelry from any metal surface as the two ends have magnets. Or you can remove the clear cord and use a ribbon, a chain or any other hanging device to display your Diamond Reflection somewhere where you can see it often.
Size: 1 1/4" w x 1 1/4" h
Reviews