Jewelry Specifications
Size:
This keepsake measures 1 1/8" wide x 1" high. The keepsake is measured from the bottom of the pendant to the bottom of the bail. The necklace measures 18" from end to end.
Material:
This keepsake is made of stainless steel.
Internal Volume:
This keepsake does NOT hold cremains.
How to fill:
This keepsake does NOT hold cremains.
Personalization Options:
This keepsake can be engraved on the front and the back.
Jewelry Description
Highly technical and professional engraving
No shortcuts - your satisfaction is a must!
Heart and the clasp are plated silver finished, heart is stainless steel
Beads of the Elsie Necklace in colors like purple, clear, silver and longer gold accent beads
Presentation matters - we go the extra mile!
Plenty of room to add wording for extra personalizing
No need to wait - we ship fast!
Check out our

Photo Engraved Jewelry FAQ's

to learn more!
---
Engraving from start to finish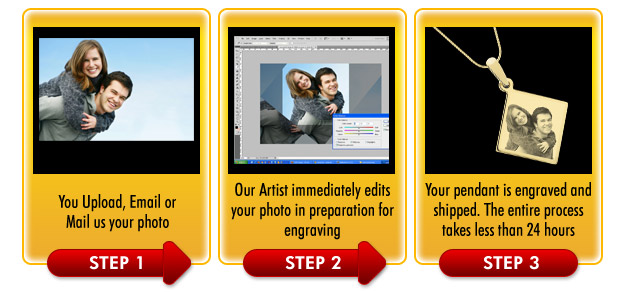 So gorgeous best describes the Elsie Necklace in purple beading and with an exceptional pendant! The necklace has both large and small purple beads and interspersed silver and gold accents. The larger beads of the Elsie necklace mixed with the smaller ones and the longer gold colored rods gives a lot of depth and great dimension to the jewelry necklace and shows it to be a standout accessory. A heart for your photo that you adore is displayed from the Elsie purple and silver beaded necklace and you can submit any picture that holds special meaning and we take care of the rest. Come up some spectacular text that's engraved to the back to enhance the personal nature!
Size: 17" Elsie Necklace, 1-1/8"w x 1"h heart pendant
Why our picture jewelry is great!
Reviews