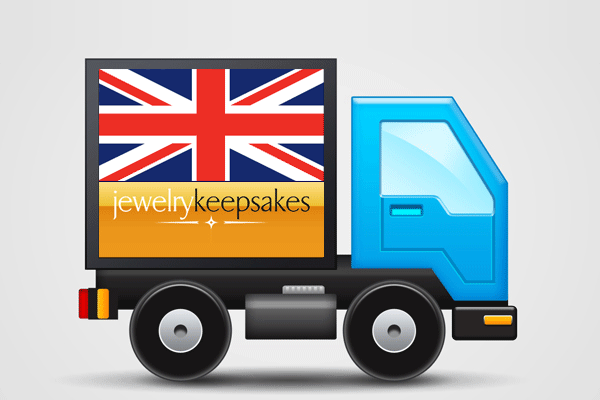 Do you ship cremation jewelry to the United Kingdom?
We do ship cremation jewelry to the UK! Jewelry Keepsakes is committed to providing the best quality keepsakes to families looking to remember loved ones that have passed and our commitment spreads worldwide. We ship not only within the United States but to Canada and the United Kingdom as well. For those customers in the UK, we have some FAQ's on what to expect with shipping costs and delivery estimates as well as any additional information that will help make an informed decision.
---
How is my keepsake prepared for shipping?
We take the upmost care when packaging your cremation jewelry purchase. All keepsakes are placed in a jeweler's gift box with the included chain (if applicable) underneath the velvet platform of the box. The jeweler's gift box is then placed in a presentation box. We securely wrap the presentation box with packaging materials and place inside the carriers shipping container.
---
Will I get tracking information on my package?
Absolutely! We provide tracking information within 24 hours of your package leaving our facility via the email address supplied when ordering.
---
What can I expect with shipping costs and delivery times?
Depending on the carrier you selected and the respective service, shipping costs range from $18.99 to $86.99 and delivery estimates range from 3 to 10 business days. See the chart below for more information.
---
---
Will I be charged a duty on my keepsake?
You may have to pay VAT (value added tax), duty or tax on your keepsake. These duties/taxes are imposed by the UK Government and not Jewelry Keepsakes. Visit here to learn more.
---
Important phone numbers
Have additional questions for Jewelry Keepsakes? No problem! Our international toll free number for our UK customers is 020-337-18458.
Need to contact the UK Customs helpline? Call 0300 200 3700 from within the UK.