Jewelry Specifications
Size:
This keepsake measures 1 1/8" wide x 1" high. The keepsake is measured from the bottom of the pendant to the bottom of the bail. The necklace measures 18" from end to end.
Material:
This keepsake is made of stainless steel.
Internal Volume:
This keepsake does NOT hold cremains.
How to fill:
This keepsake does NOT hold cremains.
Personalization Options:
This keepsake can be engraved on the front and the back.
Jewelry Description
Parents, children, loved ones, pets - permanently etched on the pendant
No rush policy - your happiness with your keepsake matters most!
Lovely and matching plated clasp and heart, heart is stainless steel
Leila Necklace beads are black and green and silver in oblong and heart shapes
You're going to love our Leila Necklace presentation!
Don't hesitate to personalize - one line or more it's the same cost!
We will get you your Leila Necklace as soon as possible - lots of shipping selections
Check out our

Photo Engraved Jewelry FAQ's

to learn more!
---
The art of creating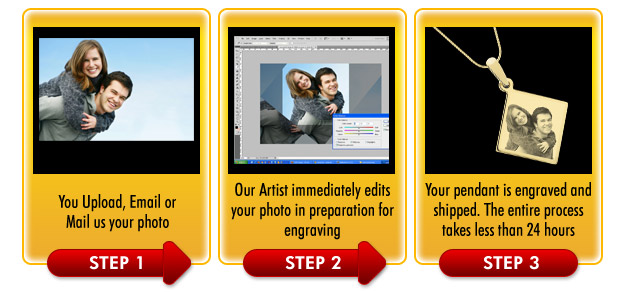 A creative expression of love, the Leila Necklace with different color beads and heart that can be engraved will display your most favorite picture on the face of the pendant. The Leila beaded necklace is a combo of different color green and black beads and the beads themselves range in style from hearts to faceted rounds to cylinder shapes and smooth rounds. The stainless steel heart shape pendant attaches at the toggled clasp, with the 18" overall length meaning that the pendant is displayed as a focal point with all attire. The Leila Beaded Necklace with Heart Photo Pendant can typically be on it's way within a twenty-four hour time period.
Size: 18" Leila Necklace, 1-1/8"w x 1"h for the heart
Why elect to go with our pendants?
Reviews