Jewelry Specifications
Size:
This keepsake measures 1" wide x 1" high. The keepsake is measured from the bottom of the pendant to the bottom of the bail.
Material:
This keepsake is made of stainless steel with a gold plating.
Internal Volume:
This keepsake DOES NOT hold cremains.
How to fill:
This keepsake DOES NOT hold cremains.
Personalization Options:
This keepsake can be engraved on the front and the back.
Jewelry Description
Round Stainless Steel Pet Gold Plated Car Pendant
Honor a living pet or a deceased pet
Back of Gold Pet Round - add personal words
Rearview mirror cording in the box
No urn is inside the Gold Pet Round Pendant
Ideal as a gift as it is packaged in gifting materials
Typically ships - 1 day
Check out our

Photo Engraved Jewelry FAQ's

to learn more!
---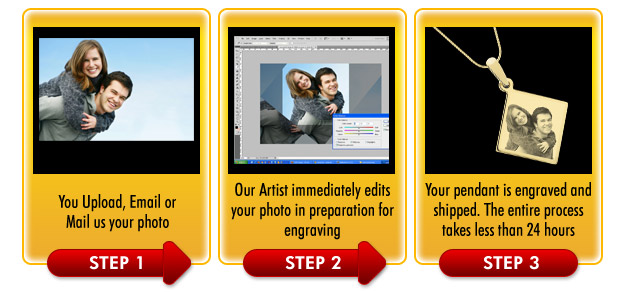 Hold close a memory of a special pet and friend when you wear this Pet Gold Round Reflection Engraved Picture pendant. This Gold Pet Round is timeless and classic and the round shape has a broad range appeal. Love gold but not the high cost? No worries here because the gold is actually gold rhodium plated over stainless steel. This gives great longevity to the exterior of the jewelry, fabulous durability and a lovely shine that will be further enhanced with your fave picture! Have some fun and choose one that makes you laugh, makes you smile. It's okay to be a little silly and not be somber if choosing a picture to memorialize your pet as the pendant should bring some comfort and love.
Size: 1" w x 1" h
Reviews