Jewelry Specifications
Size:
This keepsake measures 1" wide x 1" high. The keepsake is measured from the bottom of the pendant to the bottom of the bail.
Material:
This keepsake is made of stainless steel.
Internal Volume:
This keepsake DOES NOT hold cremains.
How to fill:
This keepsake DOES NOT hold cremains.
Personalization Options:
This keepsake can be engraved on the front and the back.
Jewelry Description
Beautiful round shape of silver plated on stainless steel
Just for pictures - you cannot add a remembrance to the Silver Pet Reflection Round
Bauer, Molly, Gunner - don't hesitate to add your pet's name to the back
Easy display options with our clear cord that is included
No need to worry about filling - no urn on the inside
Packaging of the Silver Pet Round Reflection is gorgeous
Fast turnaround time - on it's way quickly!
Check out our

Photo Engraved Jewelry FAQ's

to learn more!
---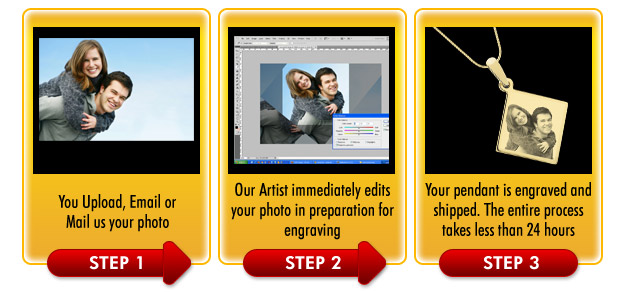 Horses, cats, birds, dogs and turtles - we love pets and know that you do too! Why not show off your favorite pet with the Pet Stainless Reflection Round remembrance jewelry! It's a gorgeous silver on stainless steel round pendant and you can see where the surface has the appearance of being slightly brushed while around the edges is polished to a brilliant shine. The long bail means that your Stainless Pet Round Reflection hangs low enough to have great wow factor and be the star of the show. Doesn't matter if your picture is color, black and white, sepia tones - we can get the job done! And don't be afraid to ask if we CAN engrave it! We've done store receipts, verses from a book, several different unique ideas that people choose to help them remember a great moment.
Size: 1" w x 1" h
Reviews