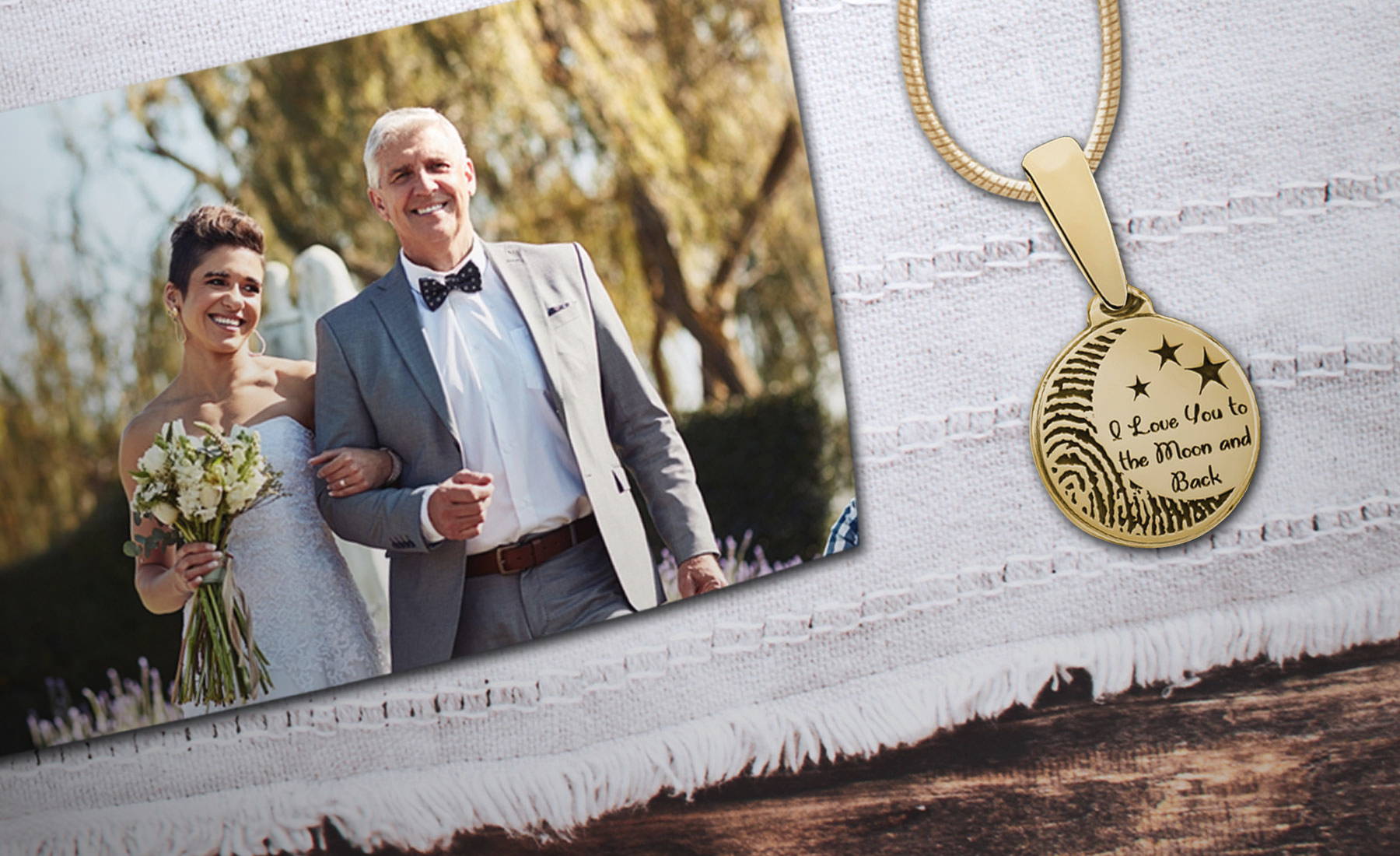 When we are babies, we get our little feet stamped into ink and onto paper. For many parents, this is a precious keepsake of their child. As we grow older, we might give our parents the gift of our handprints in clay or stamp them into the shape of a turkey around thanksgiving. Our prints have always been a tool of the most unique forms of gift-giving.
Finally, there is a form of jewelry that takes gifting our prints to the next level. Thumbprint jewelry is a special, personal and unique gift that builds a special connection between the giver and recipient. Anyone can go to a jewelry store and purchase a mass-produced necklace or ring but the gift of thumbprint jewelry allows one to carry a piece of their loved one with them forever. They are perfect, one-of-a-kind gifts!
What Is Thumbprint Jewelry?
The things that makes us the most unique is our fingerprints. When you combine the uniqueness of one's fingerprint with the thoughtful gift of custom jewelry, you have a one-of-a-kind, personalized gift to give to someone that you care about.
Custom thumbprint jewelry makes an incredible gift for any occasion and the process is really simple! All you have to do is choose your favorite jewelry design, use the thumbprint kit that is sent to you in the mail, ship it back and in no time at all, you'll have your custom fingerprint necklace sent to you in a delightful gift box.
When you order with Jewelry Keepsakes, the thumbprint that you send isn't just printed on your chosen pendant. The thumbprint is engraved onto the pendant to create a texture that will bring memories to life with every touch.
What Styles Of Thumbprint Jewelry Are Available?

There are many different styles when it comes to choosing your custom thumbprint jewelry. Aside from personalizing the jewelry with a loved one's print, you can customize the style of jewelry to their liking.
Variety Of Shapes & Metals
Custom thumbprint necklaces come in the shape of a heart, moon, circle, rectangle, oval or dog tags and they range in materials from copper to stainless steel, 14k white gold, gold plated, rose gold and stainless steel.
Choose From Pendants & Keychains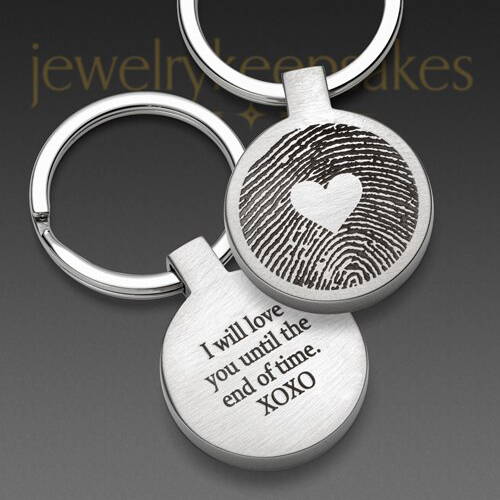 You may decide that your loved one would prefer a custom thumbprint keychain which are also available! Thumbprint keychains are made of a durable stainless steel and are available in either a circular or square shape.
Features & Benefits Of Thumbprint Jewelry
There are some extraordinary benefits and features of thumbprint jewelry that make them a great choice for everyone on your gift list or for yourself!
Holding onto a piece of someone that has either passed or moved away can be a very therapeutic experience. If you no longer have a loved one with you, feeling the ribs of their print a memorial fingerprint necklace or keychain can bring joy to an aching heart.
With a fingerprint memorial necklace or keychain, you not only have the ability to have something extremely personal but it's a gift that lasts forever. Thumbprint pendants can be passed down through generations as an heirloom piece or held close to the heart when you're missing someone far away.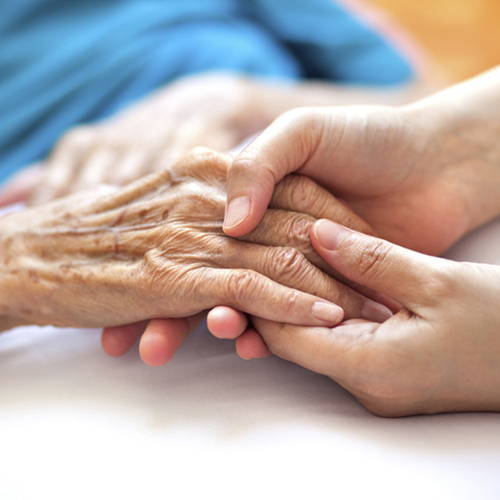 ---
Engraved jewelry offers something that other gifts lack: complete personalization and uniqueness. Anyone can go into a store and pick out a last-minute gift, but when you give something that cannot be mass-produced or purchased by just anyone, it adds a special flair.
The best way to show that you truly care about someone is to give them a gift that shows you really know them. A gift that will invoke joy and emotion every time the see or wear it. That's exactly what you get with a unique piece of engraved thumbprint jewelry.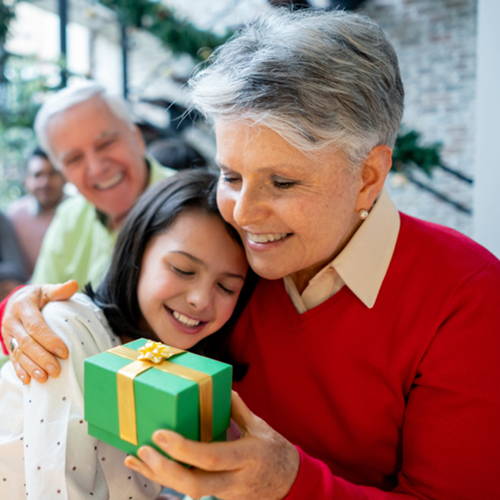 ---
The personalization of custom thumbprint jewelry doesn't stop at the print itself. Whether you are looking for a striking piece of black metal jewelry or a bright and shiny white gold, you're sure to find something that perfectly fits the style of the receiver!
The personalization of their memorial fingerprint gifts even goes as far as customizable dog tags for a respected member or the military – or, a dog! With a custom thumbprint pendant, you have the option to engrave a pet's print on, too!
After you have the print and style decided on, you have the option to personalize further with a special engraved note on the back of your thumbprint jewelry.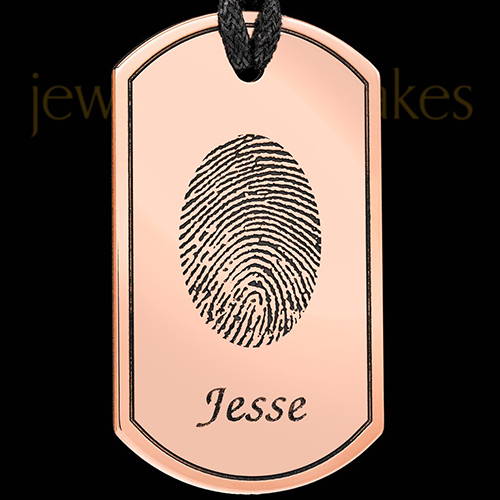 ---
Custom thumbprint jewelry sounds like a pricey gift, but you don't have to break the bank or purchase a payment plan! The wide range of colors, shapes and materials make it so that there is something that fits everyone's budget.
Some jewelry stores have you purchase a chain separately from the pendant but when you order a fingerprint necklace or pendant, your choice of chain and a small gift box are included!
However, if you are looking for a more luxurious gift, there are 14k yellow and white gold options for extra special occasions.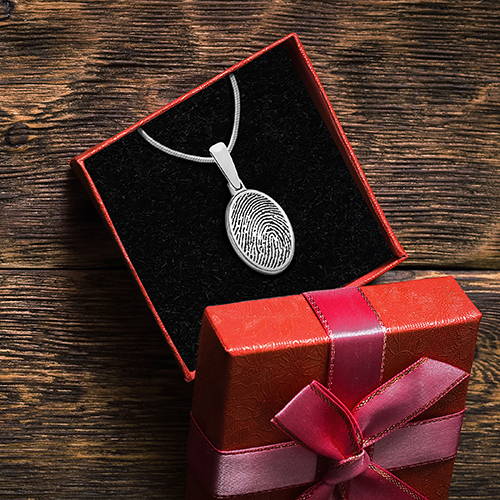 15 Occasions For Thumbprint Jewelry
One of the very best things about thumbprint jewelry is that you don't need a specific occasion to give the gift of one – it fits into so many categories and is the perfect fit for almost anyone in your life. Whether you want to give a gift just because or you're trying to show someone just how much they mean to you, a personalized piece of thumbprint jewelry is a gift that never fails.
A custom thumbprint pendant can be given as a unique gift just to show that you are thinking of another person. You can give them a gift of your own thumbprint, one of their children, loved ones or pets!
When they receive this gift, they will know how much you love and care for them not matter what – you don't even need a reason to show it! "Just because" gifts are one of the best ways to show your affection.
When you give someone the gift of a "thinking of you" thumbprint keychain or necklace, every time they gaze upon their thoughtful gift they will remember how lucky they are to have a friend like you.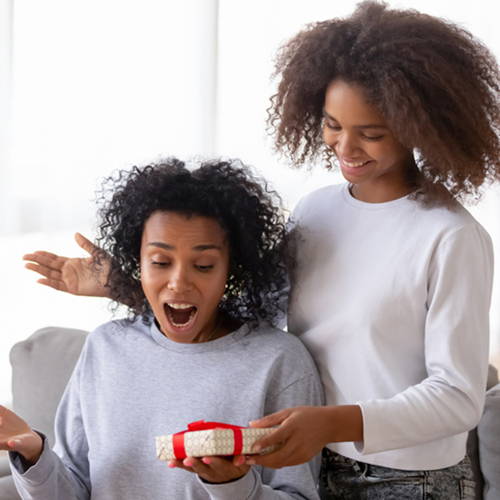 Thumbprint memorial jewelry is the perfect gift of condolence when someone passes away. With thumbprint jewelry, a piece of the deceased will live on forever. A great feature of fingerprint memorial jewelry is that it has texture to it so that when you feel the thumbprint on your pendant, you will be feeling a piece of your loved one forever.
To memorialize a fallen soldier, there are thumbprint memorial dog tags available. With Jewelry Keepsakes, you even have the option to engrave something onto the back of your thumbprint pendant such as the soldier's name, rank or a sweet note.
Another great piece of jewelry offered for a thumbprint memorial is the crescent shaped print on a circular pendant with the words "I love you to the moon and back," showing that your love for the person will go on forever and ever even though life cannot.
With many options, thumbprint jewelry is perfect for any member of the family for the purpose of remembrance. If you'd like, you may even select a an order with multiple pieces so each member of the family has their own to hold forever.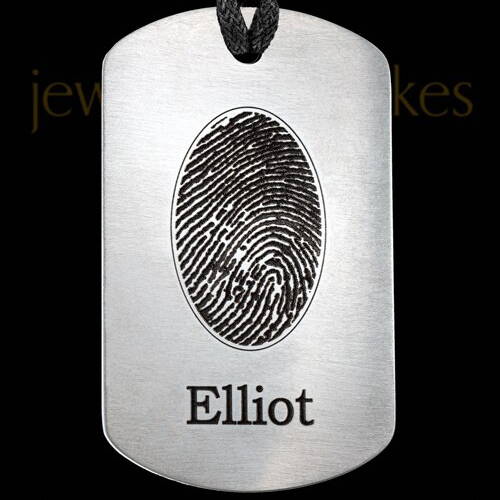 Graduating high school or college is a huge milestone! It's also usually a time when your child, sister or brother moves away. What better way to keep you with them or them with you than with a custom fingerprint jewelry?
There are great options that have a more feminine air to them – like the heart shaped necklace or crescent thumbprint pendant. And then there are pieces that are a little more masculine like the black metal thumbprint necklace or the dog tags.
For a more unisex option, there are pieces like the round fingerprint necklace, round or square thumbprint keychains or rectangle thumbprint necklaces. Each one comes in a variety of materials so you can give something that perfectly suits your grad!
Either way, graduation thumbprint keepsakes can be personalized further with an engraving of your grad's name, graduation year or school name!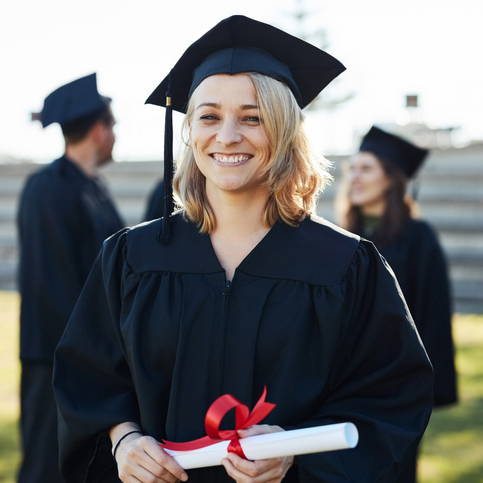 When you give the gift of thumbprint jewelry for the purpose of marriage, there are so many ways that you can do it. Of course, you can gift the bride and groom each other's prints as a wedding gift in the form of a fingerprint heart necklace to show their forever stamp on each other's hearts.
On just about any piece, you also have the option to engrave up to two fingerprints so the bride and groom can have (or give) matching pieces of thumbprint jewelry. What better way to show the marriage of two people than to have their fingerprints forever entwined on a single piece of custom jewelry?
Thumbprint jewelry can also be given to parents of the newlyweds by the bride and groom! A simple way to say thank you for all they have done throughout the years, everything that led them to the marriage that they are celebrating!
Another thoughtful way to use a custom fingerprint pendant for weddings is to gift bridesmaids a print from the bride and groomsmen a print from the groom! They made a great addition to any wedding party thank you package.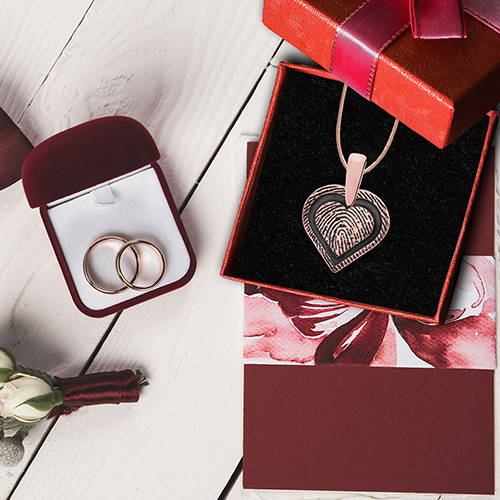 Throughout life, we hit so many milestones! From baptism, to first communion, bar mitzvahs to sweet 16s, 21st birthday to 100th birthday, there are so many things to celebrate.
Jewelry Keepsakes can easily print the thumbprint of a baby celebrating their first birthday or baptism. A sweet baby thumbprint necklace is a great momentum for parents to have and eventually pass onto their son or daughter when the time comes. As it gains family heirloom status, it can be given as a gift time and time again.
As children get older, they seem to never stop celebrating! A special 14k gold thumbprint necklace to commemorate their first communion, quinceañera or bar mitzvah will allow them to fondly look back on the memories that they made during those times of celebration.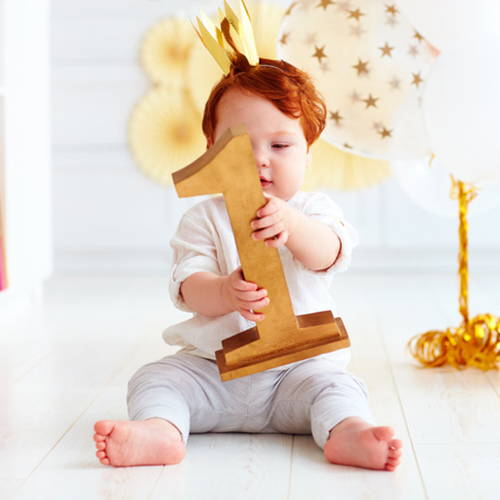 MOTHER'S DAY & FATHER'S DAY
Mothers and fathers usually love everything children give them, right? But the thumbprint keepsake really takes the gift-giving up a notch! Even if you have multiple siblings, a necklace with multiple fingerprint pendants is a lovely gift for mom.
For dad, you might want to consider one of the strong, stainless steel keychains or black metal thumbprint necklaces. On any pendant, you can also engrave a sweet message to let your mom or dad know what they mean to you. These keepsake thumbprint keychains and necklaces are truly a gift that keeps giving. No matter the distance, your parents will be able to feel your touch with your thumbprint jewelry close to their heart.
If you are one of many siblings, you might want to take a look at our options to pieces with multiple pendants! Many people love this option because it's able to include the whole family for a true sense of "together forever."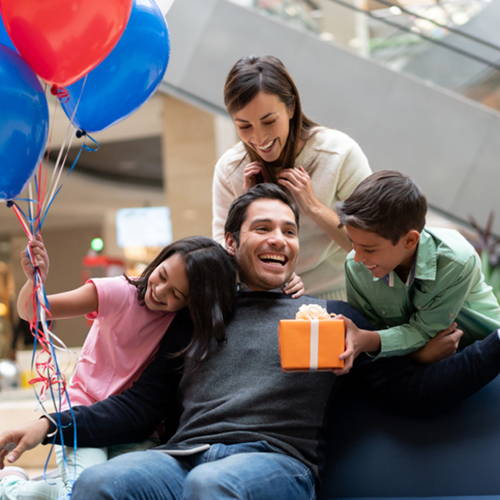 Best friend jewelry has been around for ages. One of the most common kind of jewelry for best friends to give each other is one that splits into two so each friend can have a piece. However, these necklaces can be purchased anywhere and you never know when you'll run into someone wearing the same jewelry as you and your bestie!
Silver fingerprint jewelry is a great option for a best friend commemorative necklace. Each person gives the other their fingerprint to hold with them forever and touch when they need to feel close. The thumbprint necklace is a truly unique gift and you'll be positive that no one out there in the world is able to give their best friend the same gift.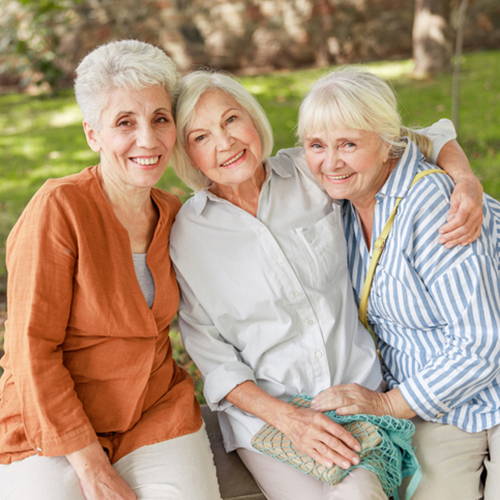 The heart-shaped thumbprint necklaces in silver, white gold or gold-plated are an essential for your next Valentine's day gift. You don't even have to worry about picking out the gift wrap because Jewelry Keepsakes does that for you!
Engraving your print into a piece of jewelry will last a lifetime – your partner will be able to hold you close to them every day and remember the moment they were given such a unique and custom gift! They best gifts are the ones that cannot be replicated, and a fingerprint pendant is just that.
Another holiday that can have you stumped when it comes to gifts is Christmas. We spend much of the end of the year searching high and low for that perfect gift for everyone special in our lives. This year make custom thumbprint jewelry that perfect gift! No matter who is on your list this year (or who has been naughty or nice) thumbprint jewelry is the way to go.
If you aren't sure whose print to put on the pendant, you can always go with a pet! Once you get the thumbprint kit in the mail, stamp a furry friend's paw print instead of a fingerprint and have it perfectly preserved in a necklace, keychain or dog tag forever.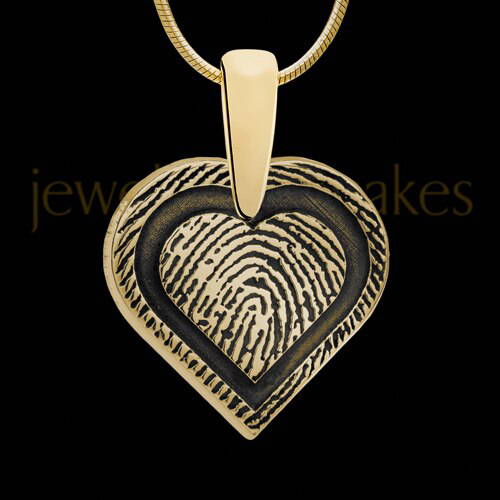 When you choose a gift to give your most loved partner with them in mind, you'll always come out with the perfect gift. A custom fingerprint necklace is one of the most thoughtful gifts you can give because it is so personal.
Not only does a custom fingerprint necklace have the imprint of your partner's finger but you can have their initials engraved, select a monogrammed style or have a love note engraved on the back.
One of the best things about custom fingerprint jewelry is that it doesn't necessarily have to be your fingerprint. If you and your partner have a child or a beloved pet that you share, you can purchase a baby fingerprint necklace or a pawprint necklace! These pieces are all about showing off what is special about the person you love.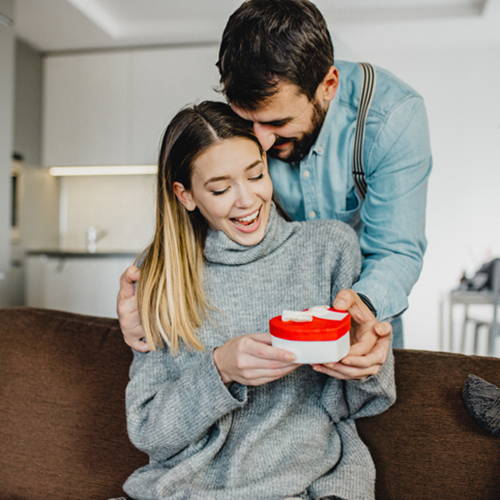 And speaking of pawprint keychains, a memorial fingerprint necklace is a great way to hold your furry friend near your heart forever. Over time dogs, cats and other small animals practically become a part of our family and it's only right that they are treated as such when it comes to gift giving!
In fact, a memorial print necklace or keychain is an amazing gift to give yourself in a time of grief. We must always remember to take care for ourselves the same way we would care for a friend in times of need.
Taking a paw stamp is easy. Once you order your fingerprint kit online, simply stamp your pets print onto the paper and mail it back to Jewelry Keepsakes who will then create a one-of-a-kind memorial fingerprint necklace or keychain for you! You can even utilize the engraving portion of the order to put your pet's name or a special not about them.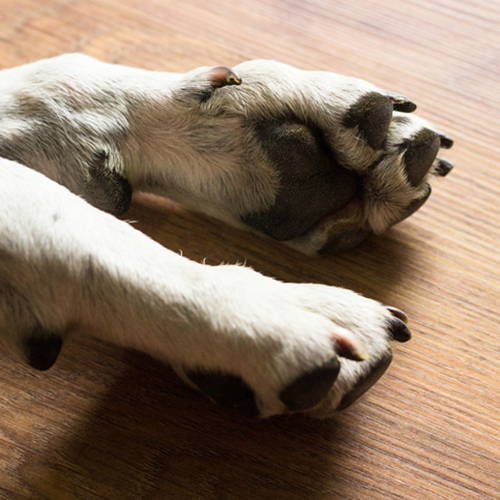 Welcoming a baby into the world is one of the most special occasions we will ever celebrate! A baby fingerprint necklace is the perfect gift to commemorate that moment and make those tiny prints last forever. Baby's grow up so fast right before our eyes! Having a tiny fingerprint to hold onto is something truly special so you can always touch it and remember when your child came into this world.
Baby fingerprint gifts are appropriate for all members of the family, not just the parents! How touched would grandma and grandpa be to have that little special moment forever inked on a keepsake? They are sure to proudly show it off to all their friends! Don't' forget to leave a special engraved note on the custom fingerprint piece to let grandma and grandpa know how much they mean to the family.
Parting can be such sweet sorrow. If it's time for you and your classmates (or teammates) to move forward with your lives in separate directions, a fingerprint pendant can be the perfect gift to always remember each other and the amazing times you had together.
On the other hand, custom fingerprint necklaces can be the perfect gift for sorority sisters! What more thoughtful gift for a "big sister" to give to a "little sister" than a piece of them that they can take with them as they grow and succeed through life. Sometimes when we're looking for encouragement, the memory of a mentor can be enough to go off of.
Don't forget that you can always add up to six lines of engraves encouragement on the back of any custom fingerprint pendant.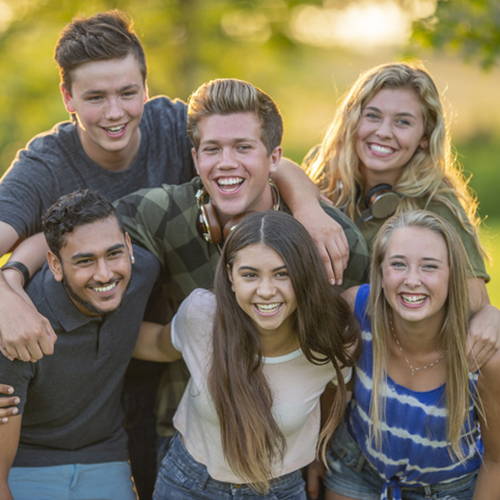 We have so many reasons to celebrate throughout life! Big or small, a piece of custom fingerprint jewelry is a thoughtful way to say "congratulations" to someone that we care about. Pieces of thumbprint jewelry are able to say "congratulations" in such a special way because there will never be another gift like it!
For example, first time homebuyers would love the personalized fingerprint keychain! This could be a great gift from a realtor, parents or a close friend. It's great way to say, "congratulations on your new home!" with something that is more personal that a gift bag or bottle of wine.
Use the engraving options to send a congratulatory message or include the homeowners names or address.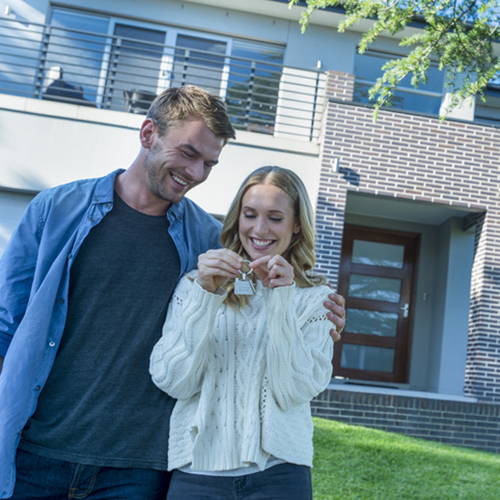 There are many times in life when we know that "I'm sorry" just doesn't cut it. There are no words to describe the deep feelings of love and sorry we feel for another person. When words fail you, a piece of custom thumbprint jewelry is there to lift you up. Giving such a personal gift that lasts forever is a chance to tell the person you love that you will always be there for them.
Each time the rub the texture of your thumbprint on their pendant or keychain, they will be comforted knowing that they have a friend that they can lean on in times of hardship or despair. Jewelry is a surefire way to cheer anyone up but when you give it the extra personal touch of an engraved print, monogram, birthstone or message, the recipient knows exactly how much you mean to them.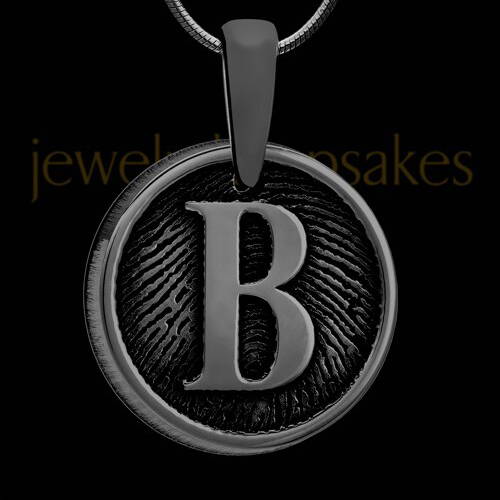 When words fail us, the perfect gift is all we need to express our feelings. It can be as simple as a pawprint pendant to say, "thank you for pet sitting for me" or as complex as saying, "thank you for saving my life." Either way, a thumbprint pendant is the perfect gift so show your never-ending appreciation for someone because it's a gift that will last forever.
Here are a few examples of people you may want to thank in a special way.
If you are dating or married to a medical professional, you know how trying the long periods of time apart are. When you give the gift of thumbprint jewelry, your hero will begin every shift with a piece of you with them - whether it's a long day at the hospital or traveling for business, the doctor, nurse or first responder will be able to feel your love.
It's also a great idea to give the gift of baby fingerprint jewelry to your doctor, midwife or nurse that helped deliver your baby! For many people, that day is the most special day of their lives and it can be hard to find a way to thank the people who played the biggest part in making everything go smoothly.
Lastly, there may be a special medical professional in your life that has been by your side through a major life event. Thumbprint pendants are a great way to personally thank the person who helped you or our loved one get to where they are today and for the endless hours they spend providing help and care when we need them most.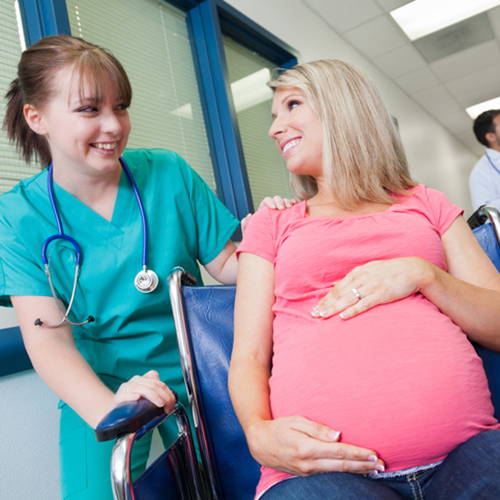 ---
While it can feel almost impossible to thank the members of the military for all that they do, we can start by thanking the ones that are closest to us. If you have a soldier in your life, giving them a gift that means they can take a piece of you with them wherever you go is one of the most meaningful things that you can give them.
For this purpose, you may want to get one of the sleep dog tags imprinted with your thumbprint and one with your soldier's thumbprint. That way each of you have something to hold onto a feel the texture of while you are apart.
Military thumbprint pieces are also a great idea because they have an heirloom quality. Thumbprint pieces can be passed down through generations to continue the pride and patriotism that your family or loved ones feel for their soldier for years and years to come.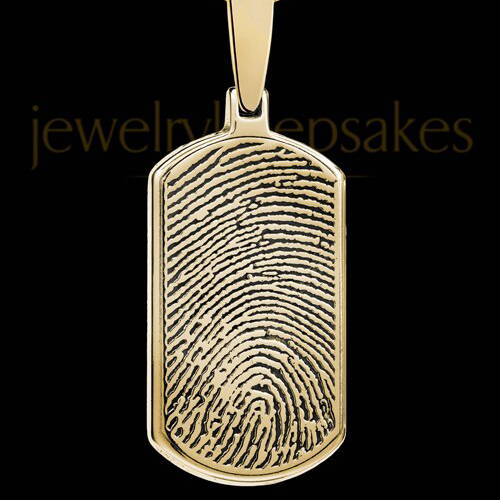 ---
If you have a special officer in your life or one that helped you through a particularly tough situation, what better way to say "that you" or "I appreciate you" than a gift that lasts forever? With the option to personally engrave a thumbprint pendant for an officer, you can have their badge number, name or city that they have sworn to serve and protect on the back of their gift.
As a suggestion, the matte black thumbprint necklace pendant is perfect for any member of law enforcement. The style is sleek and bold just as they are while still having an air of softness and kindness.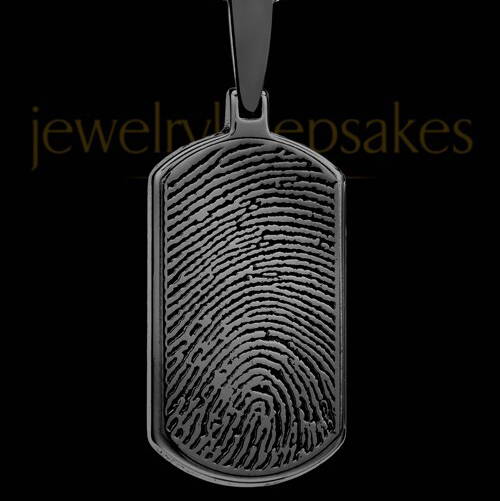 How To Gift Thumbprint Jewelry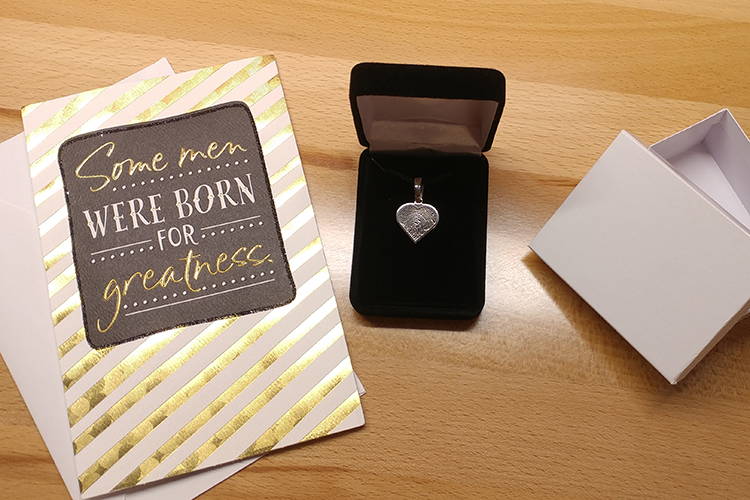 Have you ever had trouble finding the perfect gift box or bag to present your perfect gift in? When you order thumbprint jewelry, the work is done for you! Each item is presented in a lovely gift package that was hand wrapped with care. You don't have to worry about presenting your thoughtful gift in a blank, black box without any character!
Some jewelry stores will sell you a gorgeous and pricy piece of jewelry and then make you spend more for the perfect chain. Each piece of thumbprint jewelry – no matter what size, shape or style – it comes with a matching 20" chain, free of charge!
Don't even worry if you wanted until the last minute to purchase your unique gift. If necessary, you can push a rush on the job and not have to worry about the compromising of quality! Your piece will be quickly and carefully made by hand in the USA and shipped within 1 or 2 days.
A few ideas on when to gift them their personally designed thumbprint jewelry: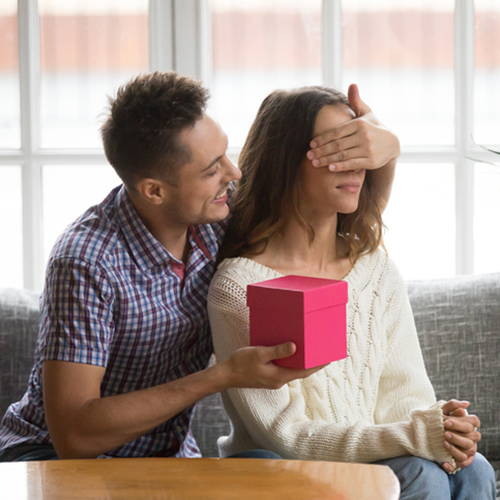 When you see each other for the first time at your wedding

Before your graduate walks across the stage

As you say goodbye to your soldier at the airport

When your loved one is handed the keys to their new home

When you visit a new mom recovering from labor

When you visit a loved one recovering from surgery or illness

On a dinner date

During a romantic night at home

At a baby shower gift ceremony

When discharging from the hospital

In the mail, as a sweet surprise

& so many more! Do whatever feels right to you
How To Get A Thumbprint Image
There are a few different ways to get a thumbprint for you piece of jewelry. You might have to get a little bit sneaky if you want to keep it a surprise!
The best place to start is with a family member. If you're looking for a baby fingerprint, they are sure to have that in their file of records or in a memory box. Every baby's feet are stamped at birth, so parents are likely to have them safely preserved somewhere in their home!
If you need to get an adult's fingerprint, start with their close friends and loved ones. You never know what they might have! However, if there are no prints to be found, Jewelry Keepsakes will provide a thumbprint collection kit at no charge to you.
If you are interested in collecting the fingerprint of a parent or loved one that has recently passed, contact the funeral home as they are likely to have a copy on file. However, for this process you may need to be a direct family member so it's best to check with the family first!
Request A Thumbprint Collection Kit
We offer a free thumbprint collection kit that you can select when ordering your jewelry. Once you receive a thumbprint collection kit, simply stamp the finger that you want engraved on your fingerprint pendant and send it back to Jewelry Keepsakes! The process is extremely easy and hassle free.
There is also the option to use your phone and a QR code to send in your fingerprints. On the website, there in an image of the card that gets sent out with the thumbprint collection kit. Use the QR image on that card to directly upload the fingerprint image from your phone to the website. You may also opt to upload the image to your computer and sent it via email to sales@jewelrykeepsakes.com!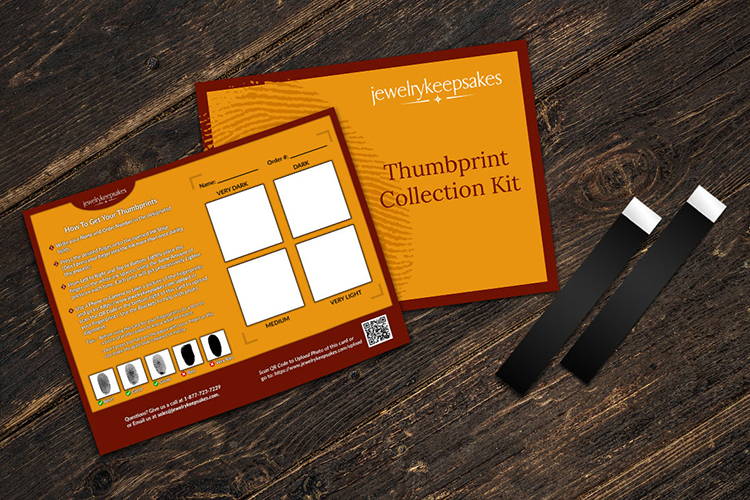 Thumbprint Jewelry Makes A Lasting Impression
And there you have it! Fifteen perfect occasions to give a loved one, friend, or someone that means something special to you a piece of thumbprint jewelry. These are among the best gifts to give because they are lasting, unique and personal.
Fingerprint jewelry is made with heirloom quality metals that will withstand years of loving and being passed down from generation to generation. Thumbprint pendants are created to be much thicker than typical industry standards so you may have the keepsake in your family live on forever!
May 21, 2020 by Jeri K. Augustus