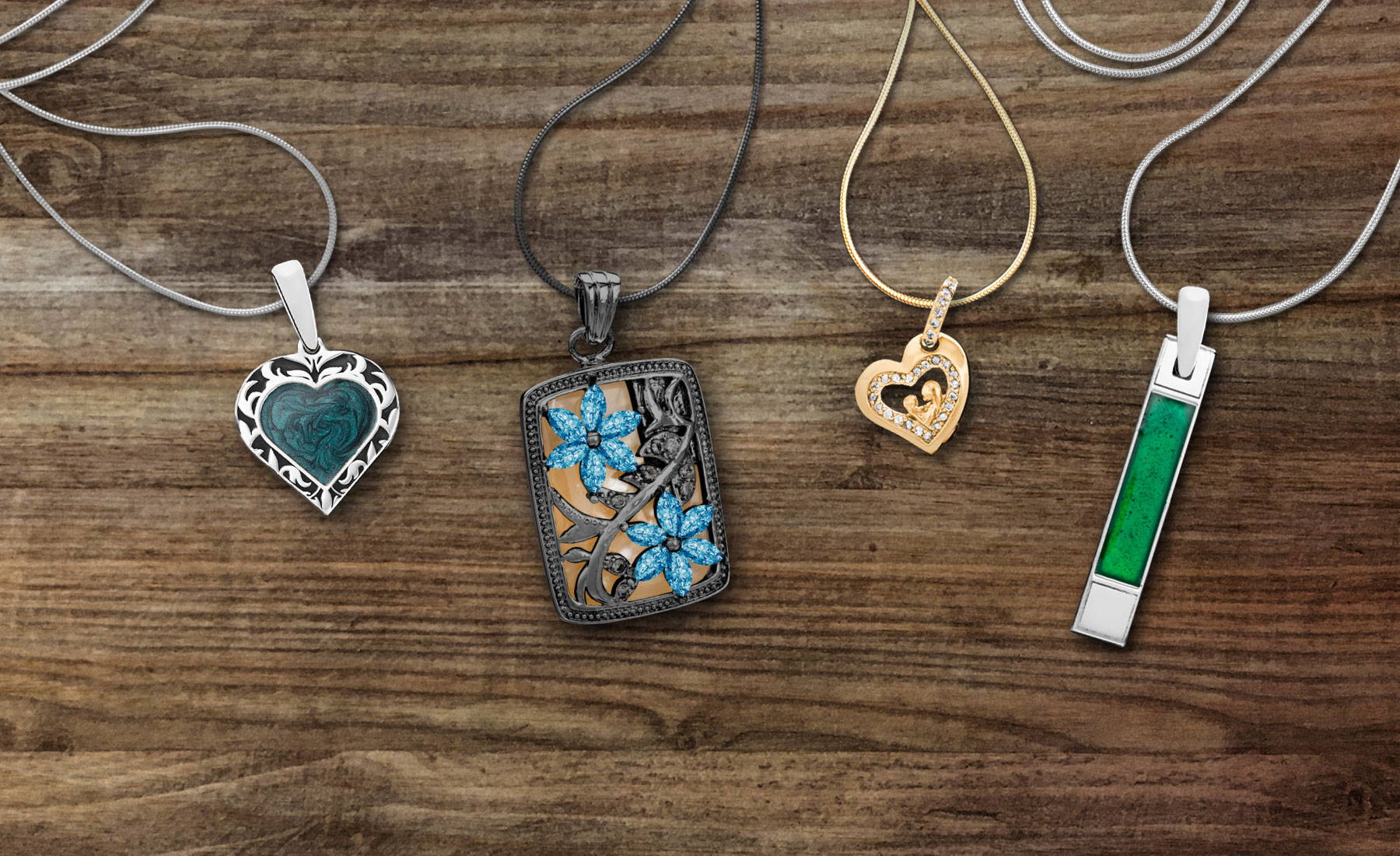 21 Ways To Display Cremation Jewelry
Losing a loved one is the hardest thing any of us will ever experience. It's traumatic and heartbreaking to go through that loss. There is no wrong way to grieve during this time, nor is there any wrong way to honor their passing. Part of the grief process is learning to cherish the memories of your loved one without holding onto the pain of that passing.
One of the ways you can hold onto the memory of that person and keep them close to you may be easier than you think – through the creation of a personalized, beautiful piece of jewelry. While this practice is growing in popularity, it may not always be practical – or feasible – to wear such a piece. That's why we've created this list of alternative ways to use and display cremation jewelry that will suit any situation.
What Is Cremation Jewelry?
With the growing popularity of cremation in the United State, it has also become popular to collect the ashes of a loved one in an urn or container for display in a home or for scattering them in a specific place. However, more and more people are turning to cremation jewelry to remember those they have lost.
But what is cremation jewelry? Why is it so popular?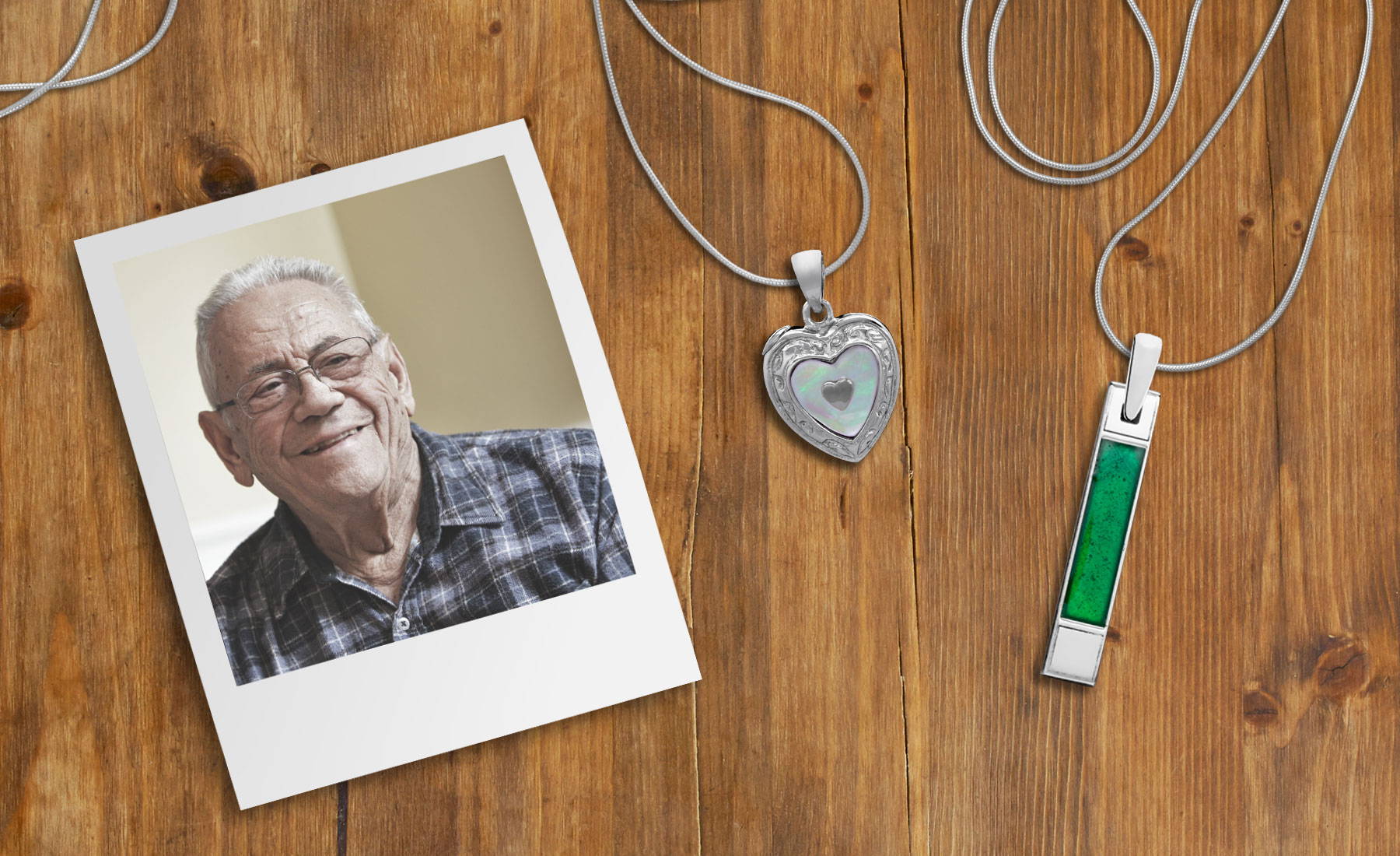 Also known as funeral jewelry, memorial jewelry, and remembrance jewelry for ashes, cremation jewelry offers a uniquely personal way to memorialize a deceased loved one. These small pendants, cremation jewelry rings for ashes, or even bracelets can be filled with a small amount of cremated remains. Alternatively, some people prefer to fill them with a lock of hair, a small piece of cloth, or even dried flowers that hold some significance to their loved one.
Cremation Jewelry History
Memorial jewelry has been around for millennia. Throughout the 17th and 18th centuries, mourning rings – bearing the name, date of death, and social rank of the deceased - were popular gifts for grieving family members, though the practice dates as far back as the 14th century. Even Shakespeare had them given out to his theater company after this death in 1616!
When Prince Albert passed away in 1861, Queen Victoria wore a broach containing a lock of his hair from that point until the end of her life. This was a commonplace practice during the American Civil War as many soldiers gifted locks of hair to their loved ones in case they never returned from battle. Many magazines and pamphlets at the time included guides on how to incorporate these keepsakes into jewelry and art.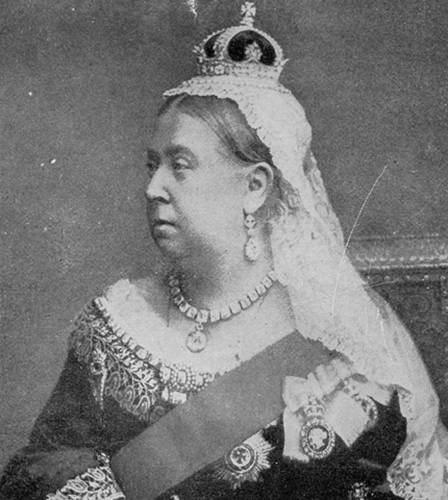 Today, memorial jewelry is still used in much the same manner. While less traditional than an urn, cremation jewelry offers a smaller, more personal alternative to these options. Unlike urns or larger memorial displays, jewelry can be taken with you anywhere and still be unobtrusive. It is a way to honor your loved one by crafting something that contains or, in the case of ash jewelry, may be created from those remains.
Styles Of Cremation Jewelry
When you think about cremation keepsakes, any number of things may come to mind. Though it's likely that you might think about the stereotypical, bland piece of jewelry that offers little personality or connection to the person it seeks to memorialize. Historically, you might not be wrong.
However, modern memorial jewelry options are anything but bland. There are options for everyone, no matter the age, sex, or personality. Even better, most of these are affordable while being quality, durable pieces. We want to help you create the perfect container for the memories of your loved one, whatever form that takes. To do so, we offer several unique, stylish options that are perfect for wear – or for display – in any context.
Pendants are the most prolific type of keepsake people choose as memorial jewelry. These small urn pendants are a perfect way to keep your memories safe and close, even when you can't always find space for larger memorial items.
We offer a variety of shapes like ribbons, hearts, flowers, gemstones, and geometric designs. We also have a selection of lockets or our uniquely shaped millennium pendants for even more distinctive pieces that are sure to appeal to any taste. Most of our urn pendant keepsakes can also be engraved on the back for an even more personalized design.
We have hundreds of standard pendants in a wide assortment of shapes and themes that are a wonderful way to hold close a memory of a loved one. From hearts to animal shapes, gemstone pendants and more, it makes it easy to find exactly what you're looking for.
Our cremation pendant necklaces are available in sterling silver, gold plated and other metals such as stainless steel and solid 14k yellow, white and rose gold. Most of the pendants can be personalized with engraved text and all of our 14k gold urn pendants include a matching chain at no additional charge.
Our millennium pendants feature a unique elongated shape that is both subtle and stylish. They will also hold a "pinch" of cremated remains. Due to this sleek, unobtrusive design, no one will know the true purpose of the pendant unless you choose to disclose the contents.
Each pendant can be chosen as is or with a personally selected bead charm attached, making this a unique piece that is just for you to wear or display. Most of them are available in antique copper, rose gold, sterling silver, black stainless, or gold plated.
If you want a sleeker option than the millennium pendants, the cylinder cremation pendant is a nice choice. These 1" long pendants will hold a "pinch" of cremains and can be filled by unscrewing the bail at the top. The small interior compartment isn't immediately obvious to anyone but yourself, giving you another subtle option for cremation jewelry.
Many of these designs are more unisex than many others, providing a sleek and simple pendant that may appeal to masculine tastes as well as feminine ones. These are a great option both for men to wear and, if the deceased was male, it may better represent their personality as a memorial keepsake.
Another pendant option for cremation jewelry is a photo locket. These are wonderful keepsakes for remembrance as they combine two physical reminders of the deceased into a piece of jewelry that can be worn for any occasion.
Most of our lockets measure 1" wide by 1" high, giving just enough space for a miniaturized photo to be placed in the center of it. There are several styles for the locket, from an understated design to something more ornate.
Because we know that your faith can be just as important as your memories, we have several religious design options for pendant urns. These range from crosses to prayer beads to a pair of angel wings to represent your loved one's passing.
We have a wide selection of crosses, from a classic design to a more stylized, modern motifs, many including gemstones. However, these are options for most major religions, allowing anyone of faith to find something appropriate for their belief. There are even symbols of universal peace and love that transcend one specific set of beliefs.
These powerful symbols of faith are beautiful urn pendants that allow a private, personal way for the recipient to hold a piece of their loved one with them. These would also make excellent gifts for religious friends or family members after losing someone.
Most people don't consider rings for cremation jewelry. However, with these cremation rings, you can personalize your own statement piece that contains meaning as well as a tribute to the deceased to carry with you always.
These can be worn a variety of ways, though the most common is either as a promise ring as a symbol of commitment and love or as a wedding ring to memorialize the loss of a spouse. For those who aren't interested in wearing them in any traditional manner, you can wear them on a necklace or use them in part of a display.
Cremation rings are available in a wide variety of metals and sizes. Choose cremation rings in sterling silver, 14k yellow gold, 14k white gold and 14k rose gold. The men's rings come in size 8-12 and women's come in 6-8.
Bracelets offer another option for keepsake jewelry that few people consider, though it's no less viable than any of the others. Cremation bracelets provide a way to honor a lost friend, family member, or other loved one.
Much like the other jewelry types, these bracelets have a small bail on the underside of the band that can be filled with a "pinch" of cremains. Due to the discreet placement of the bail, they are easy to fill but don't obviously appear like a cremation keepsake from an outside perspective. Only you – and those you choose to share with – will know the true nature of the piece.
The most unique option for memorial jewelry we offer is one of our ash pendants. These one-of-a-kind pendants are created by mixing ashes from the deceased with colorful resin of your choice to create a distinctly personal piece of wearable art. The effect this creates is beautiful gorgeous swirl affect that retains a glossy, gem-like appearance that is both beautiful and highly personal.
These pendants come in multiple sizes, shapes, and even offer multi-color options for the resin. Once the pendant is ordered, we immediately ship out an ash collect kit with instructions, making the process safe and easy. If you are looking for a completely customized option for housing your loved one's cremations that doesn't resemble the classic cremation urn pendant, an ash jewelry keepsake is absolutely the choice for you.
Selecting the Right Memorial Jewelry for Anyone
Cremation jewelry may seem like a difficult gift to pick out for someone, even if you know their tastes. However, it's likely that you have a better grasp on what they may favor than you might think. Most cremation urn jewelry is tasteful and stylish on its own merit, though there are some more unique options that might appeal to you. We also recommend discussing the process with the recipient of your gift, even if lightly, before making your final selection to ensure it suits both recipient and their loved ones.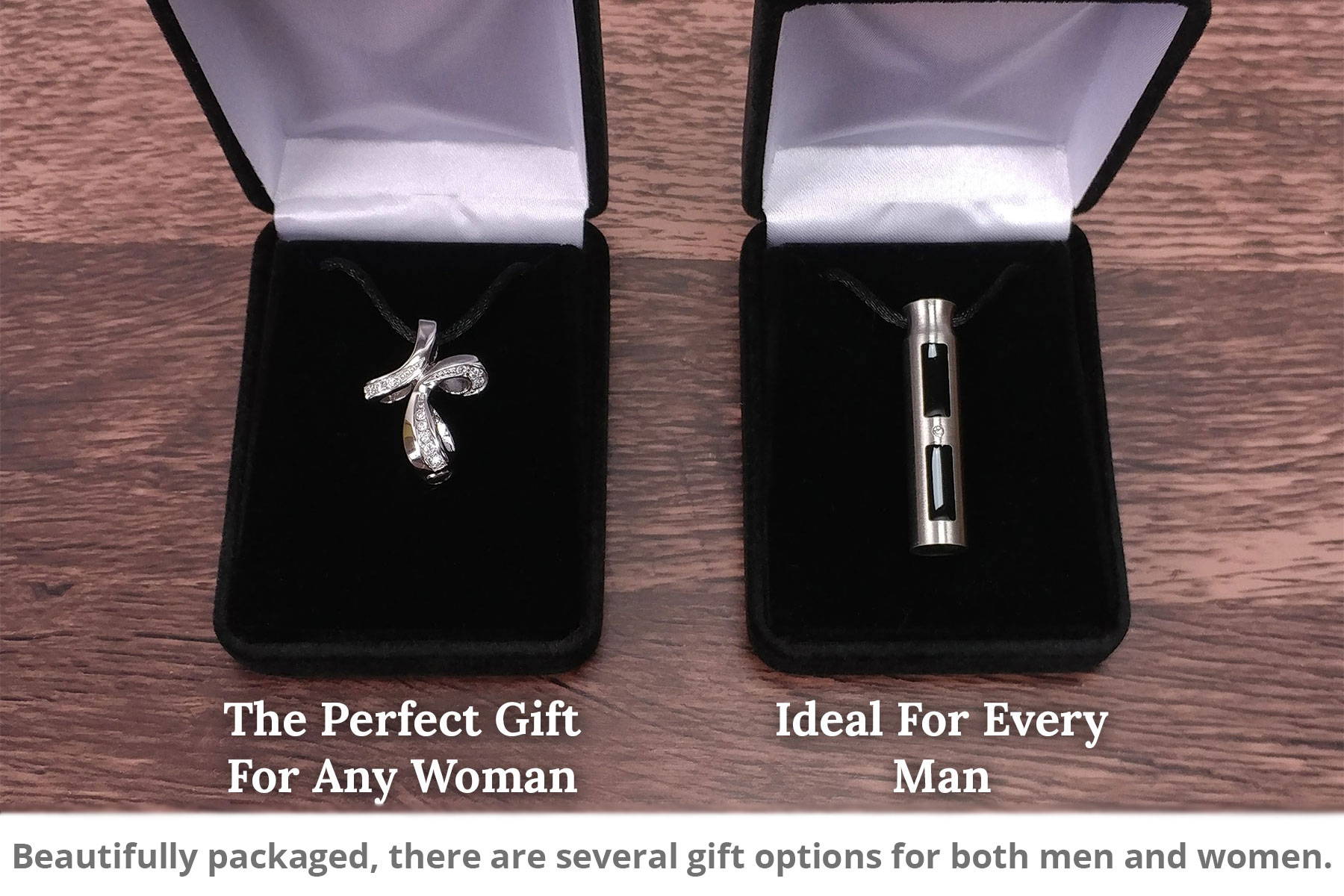 Many times, it can be difficult to find that exact choice. Fortunately, most of our items are categorized to help you make that selection. Many of our cremation urn pendants are unique and specialized to a variety of interests that may be appropriate for your selection. We have pieces that suit both masculine and feminine tastes, as well as some that fit both. With some of the items we've picked out above, we hope you'll be able to find that perfect gift for anyone.
All our items arrive in a plush black gift box that is perfect for gifting to anyone. Grief is never a straight line and it may be that the right time to present this type of present may vary from person to person. You may wish to present it on a birthday or important anniversary in the deceased life. It may be more appropriate to do so on a holiday or a significant date for the recipient instead. Depending on the person, you can also gift this item on the anniversary of the person's death, especially if the recipient is planning to commemorate the day in any other fashion.
In the end, there's no wrong way to give the gift of jewelry, especially if it comes from the heart.
Alternative Uses For Cremation Jewelry
While the most obvious purpose of any piece of jewelry is to be worn, that doesn't mean it's the only option – or even the most logical or comfortable – for many who receive such an item as a gift or buy it for themselves. There are plenty of alternatives for anyone who feels uncertain or uninterested in wearing cremation jewelry that are just as meaningful.
Jewelry is seen as a luxury item and, especially in the case of cremation jewelry keepsakes, they may be irreplaceable. The risk of wearing it and losing it is worth a lot of anxiety for even the most responsible person.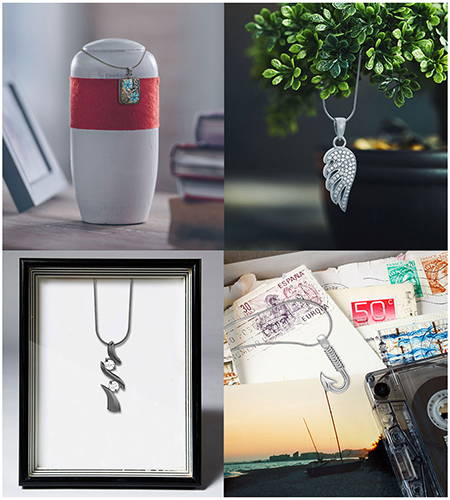 Displaying your jewelry in one of the unique ways we outline in this article offer several benefits that may not seem immediately obvious:
It's unlikely to be lost or stolen.

It won't tarnish or rust due to exposure to the elements.

There's no risk of it standing out or clashing with any attire or mode of dress.

Placed in a highly visible location, it is something the entire family can enjoy.

It may be something you want to visit daily with relative ease.
With that in mind, we've created a list of unique and creative ways to display your cremation jewelry. If you're interested in one of our pieces but looking for another option, we have plenty!
One of the most popular options for displaying one of our cremains keepsakes is to keep it within one of our domed displays. These glass domes have the option of either silver or gold bases – to match the jewelry of your choice – and have a small hanging hook on the top of the dome. You can loop the chain over the hook or, if the bail is large enough, hook it through the top.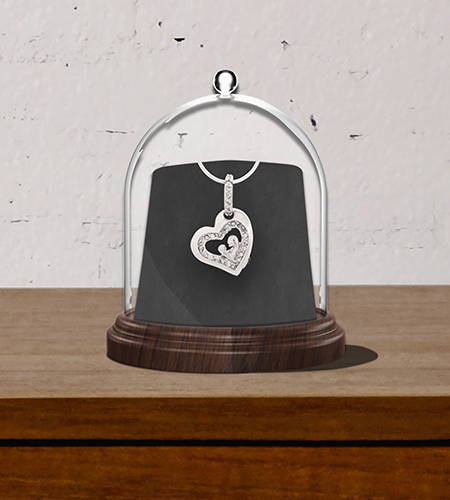 These domes look lovely on a nightstand, bookcase, mantle, or on any shelf in your home or office. This is an excellent way to display a piece of jewelry in a highly visible, safe location that will provide comfort for the owner. It also allows easy access to the jewelry if you'd like to wear it in the future.
Another common choice for families is creating a dedicated space for the cremation urn for a loved one in a specific area of the home. Much like the domed display, this can be played in any part of the home, though we might recommend a mantle place, cabinet, or other area with high visibility but safely tucked out of easy reach to be jostled.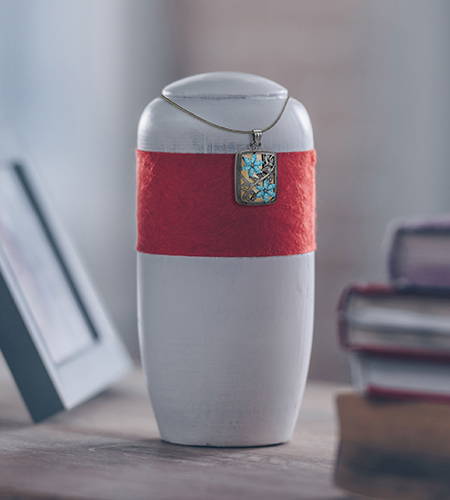 A cremation urn where your loved one's ashes have been laid to rest provides a beautiful, permanent memorial for a lost loved one. The pendant can be draped across the urn or resting atop it, depending on the shape and size of the urn itself. This option also provides easy access to the pendant if you'd like to move it, either for wear or to incorporate it in another type of display.
Many homes have a China cabinet or another display case to house breakable items like expensive flatware or more generalized objects like figurines, knick-knacks or other keepsakes. Often these items have emotional or monetary value as they may have been passed down through generation or inherited from a family member passed on.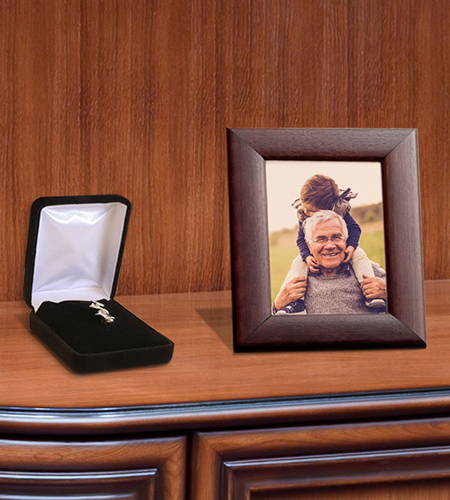 Displaying your memorial pendant in such a case – along with other objects associated with your deceased loved one – gives you the opportunity to create a beautiful, lasting memorial for that person within your home. It's one that everyone who visits can enjoy, especially once they know how meaningful the shelf or cabinet is.
If you are someone who travels frequently – either for work or in your personal life – then you may be looking for a more mobile option to display a keepsake pendant or cremation pendant. One way to keep the memories of your loved one close is to hang a cremation keepsake from the rearview mirror of your car.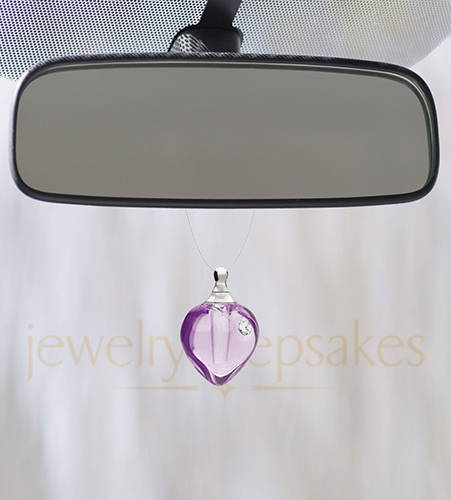 You can easily attach it using clear fishing wire, a chain, or even a colorful ribbon. Simply slide it through the bail and tie it around the mirror.
This option is great for anyone who's often on the go and spends a lot of time in a vehicle. However, you'll want to make sure not to tie it in a way that obstructs your view of the road!
If you'd like to display a cremains keepsake with a photograph of the deceased, there are numerous options for it and many of those we will outline over the next few items of this list.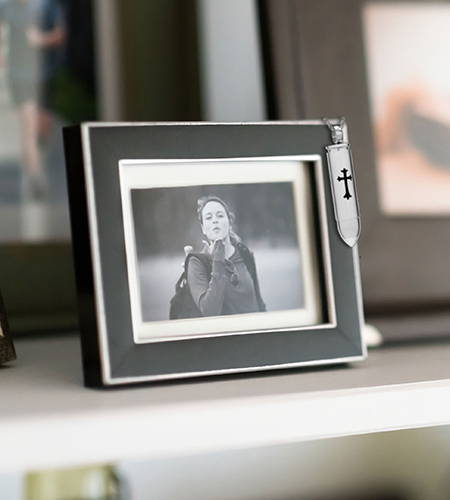 You can drape a keepsake pendant over the corner of the picture frame; this works whether the photo is framed on a wall or placed on a table. The key to creating a visually appealing display is to make sure the chain is neither too long nor too short. You'll want it to rest gently against the side of the frame, not dangling down loosely or resting on another object.
This is an excellent option for families or anyone who displays family photos. It also adds a subtle addition to your memorial that is both meaningful and lets you keep those memories close.
Photo wreaths have been growing in popularity over the last few years. With a basic wreath made from grapevine or twine, you can add mini-frames across the surface and fill those with your favorite memories of your loved one, especially if you use photos that span the entire length of the person's life.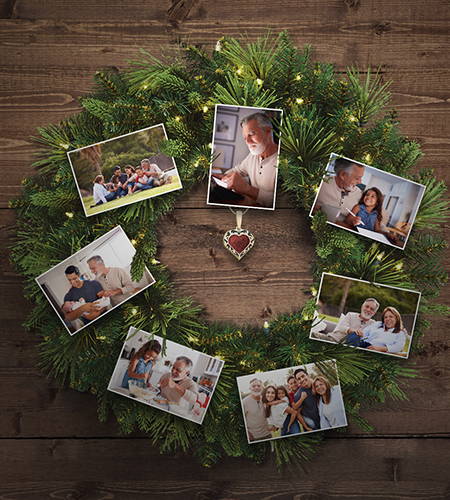 These are stylish and creative ways of bringing personal touches into your home without a lot of cost. You can suspend the pendant from the middle of the photo wreath, creating a lovely centerpiece for the display. Alternatively, you can incorporate it in the center of a large bow or flowered display at the top of the wreath.
If you are a creative DIYer or want to be one, this might be a good project to tackle. Not only will it give you a good opportunity to collect those treasured photographs, but it will make the display more meaningful because you created it yourself.
Another great idea for crafty DIY-enthusiasts is the creation of a shadowbox. Many people create personally tailored shadow boxes that reflect a person or important aspects of someone's life. These boxes can highlight personal achievements in academics, sports, hobbies, or even professionally.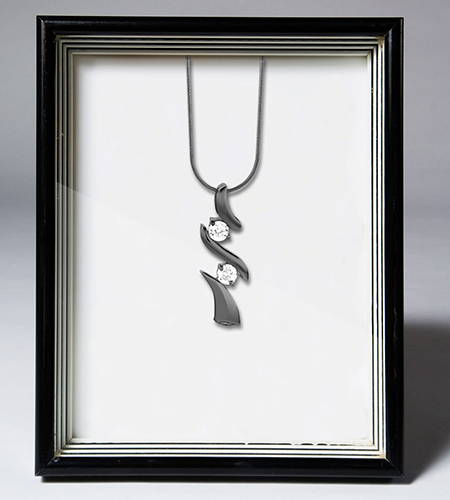 They can also be crafted around life experiences like vacations or big moments in someone's life. The can also be used as a small, wall-hanging display of important objects in a collection or something else. Generally easy to construct, they are also the perfect way to create a small, wall-mounted memorial for someone who has passed away.
Displaying memorial jewelry with a shadowbox is not too far off some of our other options on this list but it's also unique in itself. Perhaps you can attach the pendant within the box as a piece of the display itself or you can drape it over the box if you'd like to have easier access to it at a later date. Either way, you can create another unique way to honor the deceased while still keeping a piece of them close.
8. Displayed With A Special Object
When our loved ones pass on, they often leave their most important possessions behind for the living. Those things we inherit, whatever they are, can become some of our most important possessions as well. It's natural to want to keep those items close at hand.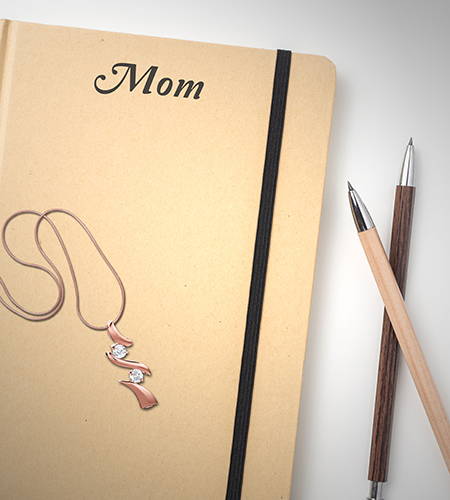 You could drape the pendant over an object that was significant to the deceased – and perhaps yourself – in life. It could be a favorite baseball, a tool, or even just a coffee mug they loved. While it doesn't need to be an official display, it may offer solace or a proper tribute to that person by keeping a cremation keepsake with the item.
This is one of the easiest options to accomplish. For a child who has lost a parent, grandparent, or other important person in their life, they may seek comfort in a favorite toy or item that has some significant for them - perhaps even a gift from that person.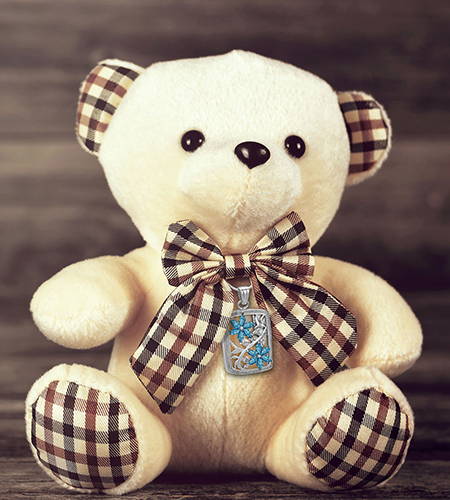 A small memorial pendant draped around the neck of the toy with the chain or a ribbon (and perhaps even carefully stitched onto the toy itself) is something many children would find comfort in.
If you are thinking of gifting a cremation keepsake, giving it to the recipient with a plush toy or other item is also an option. For anyone who has lost a child or a young person, this may bring them comfort or solace in their time of loss.
10. Attached To A Photo Album
Photo albums can be a source of comfort and good memories after the death of a loved one. These photographs represent the best times spent with that person and with a family at large. A family photo album is a secure place to keep a keepsake like cremation jewelry.
With the loss of a young child, a memorial keepsake might be kept with a baby book that can be brought out together for remembrance. A pendant – or a ring on a chain– can be kept a wedding album for those who have lost a spouse or even parents.
While these items may not be kept out in the open every day, they are still fitting memorials. They can be taken out when the moment feels right - whether in grief or in comfort - to remember the best times spent with that person.
11. Incorporated Into A Scrapbook
Much like photo albums and shadowboxes, scrapbooks are a collaborative craft that require a good deal of dedicated time and effort. However, that hard work always pays off in the creation of a unique and highly personalized item that can be passed down for generations.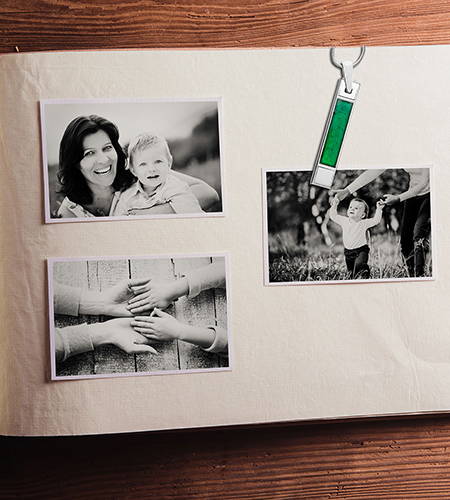 A memorial pendant can be incorporated into the design of a scrapbook for a deceased person in several ways. It can be draped across the cover much like one would a photo album or it could be attached to the cover in a more permanent fashion as a centerpiece to the book.
You could also find a clever way to attach it with a small hook or wire into one of the pages itself, adding a cremation style pendant to a page with their obituary or funeral information. There are several options available for this type of display, from more overt to something within the item itself that may be opened and enjoyed.
Art is something deeply personal and carries meaning far beyond what eye may sometimes see. It may be that you and your loved one shared an appreciation for art of a certain style or medium.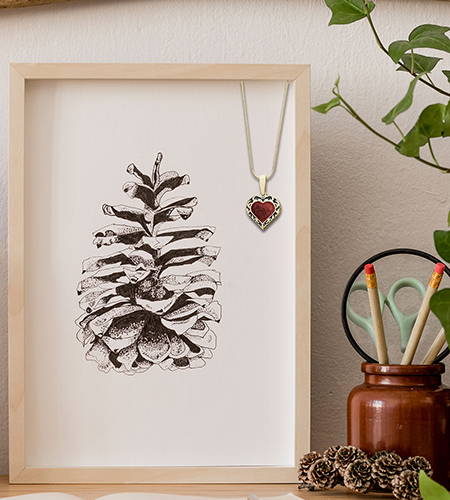 Perhaps they bought you a piece of art or the two of you chose something together to share in your life. Maybe you've purchase a piece that reminds you of that person or you've had a portrait or other art commissioned in their memory or likeness.
Draping a memorial pendant over the edge of a piece of art or perhaps even attached to the frame it's in can serve as another type of memorial for that loved one. This could easily add a way of further personalizing the piece and deepening it's personal significant to you.
If you work a job where you have a locker – like a fireman, policeman, or even at a gym – you may find that the best place to keep a small tribute to a loved one is within it. Alternatively, maybe you are even a student who spends a lot of time on campus. If this is a place where you spend a lot of time, it might make more sense for you to keep your keepsakes on hand there instead of at home.
You can hang it from inside the door with a small hook and even decorate the interior with a photo of your choice to make the option a little more personal. If you are a private person, this may be the best option for you, as the discreet nature of the pendant and the location keeps the nature of the tribute subtle.
14. In Your Workshop Or Office
Many times, we spend more time with our hobbies or work than we do in any leisure areas of our homes. If you have a hobby that takes up a lot of time or work in a dedicated space, you may want to keep your necklace somewhere that reflects the time you spend in that space.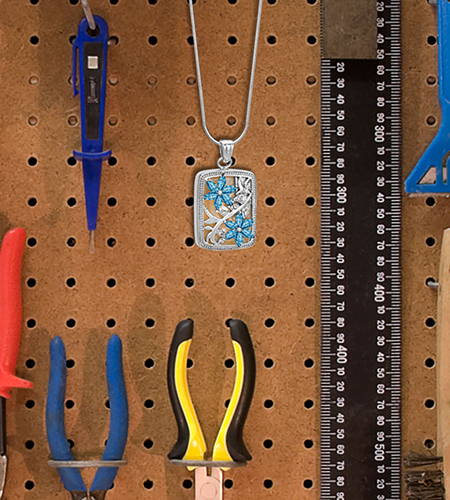 Perhaps you work with tools or have a workshop in your garage. You can hang a pendant on a pegboard holding your equipment, allowing you to have it close while you work without the danger of damaging it while you're hard at work.
If you work in an office, another option is hanging it from a bulletin board or even a whiteboard in your personal office space. Either way, you'll find your memorial piece easy to spot when you're in this space. However, it is important to remember to store that keepsake safely when you aren't around if other people have access to the area to prevent accidental loss or theft!
15. Hanging From A Mirror
Hanging a keepsake pendant from a bathroom vanity mirror is a good way to keep your personal memorial more private than a public display like a dome or a display case.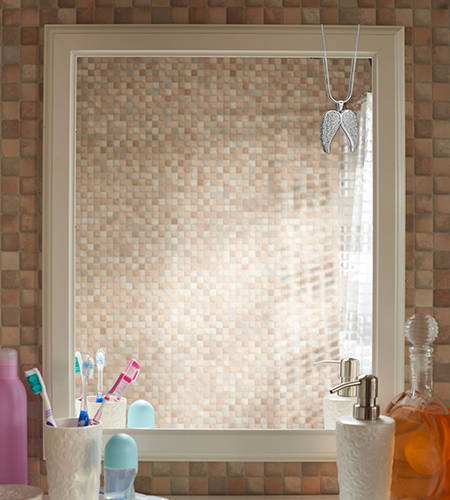 This multipurpose option works for just about anyone, as it keeps your pendant safe and tucked away in a private location that you can enjoy at any time. This way, it will be on display as you go about your morning or evening routine. It's an unobtrusive way to keep your keepsake close and at hand, even when you choose not to wear it.
We do recommend that you keep the pendant in a dry area when you shower or allow any steam to build up in the room. You don't want to compromise the metal!
Another place to display your pendant within your home is hanging it directly from a window. We recommend a window you might spend the most amount of time in front of – perhaps one in the kitchen or other room the family gathers in regularly.
Alternatively, you can put it in a room where the person spent a lot of time in (especially if they had hobbies or something similar). That way, you see it on display every day while you go about some chore or in the act of getting ready for your day.
If you plan on hanging it in this manner, you may want to consider one of our glass pendants. The unique designs coupled with a light through the glass will give a unique, prismatic effect in any room they are in! This would make a great gift idea for someone who spends a great deal of time at home.
Tips for hanging your pendant on glass:
Choose some strong line from a fishing pole or clear filament to hang from the window. Tie a secure knot on the ends together after you pass the filament through the bail. Using a thumbtack, push the pointed end of the tack into the frame with the filament tight between the frame and thumbtack. Make sure the thumbtack is secure in the frame by tugging gently on the pendant once it's hung.

Hang the pendant high enough that it is free from little hands, doggy feet or where it won't dislodge from the window being opened. The top panes work best for bottom opening windows and will be far enough out of reach of children and pets.

Glass or crystal keepsakes may work best for being hung in a windowpane. They are resistant to tarnishing and fading and the color of the glass will be reflected on the walls when hit with direct sunlight. If choosing a metal keepsake, clean the pendant periodically with a dry lint free polishing cloth to remove any dust build-up and keep your pendant looking brand new. Never submerge your cremation jewelry in water.
One of the most creative ways to make use of a memorial keepsake is to use one as a memorial ornament. The holidays are a time of togetherness, joy, and family. It is also a good time to remember those we love who are no longer with us.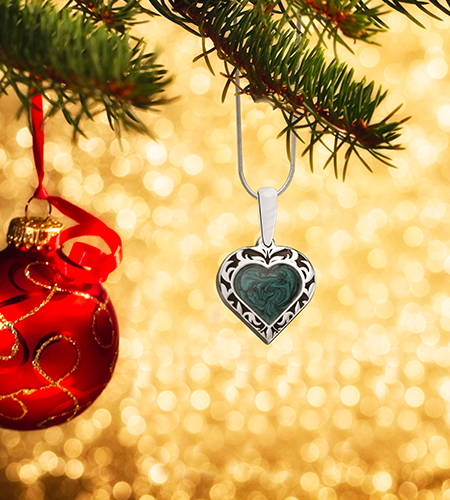 Perhaps adding a small token of your loved one to your yearly Christmas tree (or other holiday décor) may be the right way for your family to pay homage to those loved ones. While each piece from Jewelry Keepsakes comes with a sterling silver chain, it can easily be attached to a hook or other means of hanging on a tree. You can also add one of the cremation pendants to a larger, more eye-catching ornament with emotional significance or ties to the deceased.
This is an excellent option for families who always spent holidays together, as it is a great way to keep those holiday memories fresh and part of the Christmas spirit.
While you may not want to wear a pendant daily or even with any regularity, there are other options for keeping one of our keepsakes close. Many of our designs come in the form of keychains that are both portable and stylish. They are perfect unisex options for those who have zero interest in wearing jewelry.
This one is a more unusual option but may be one that appeals to someone with a green thumb or, alternatively, if the deceased had an affinity to gardening or plants. Many smaller plants and trees can be grown indoors and cared for without much effort. They also make excellent memorials in themselves.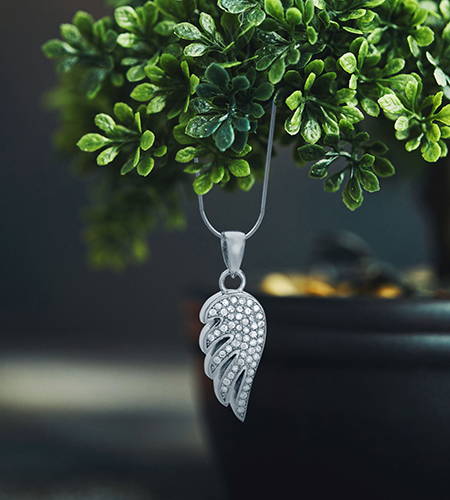 It would be easy to attach a keepsake pendant around the pot that the plant is held within. Or, if it would create a more visually appealing display, you can always use a ribbon or chain to attach the pendant around fully matured plant or tree.
For a more subtle memorial, one of our anti-tarnish sterling silver cremation pendants can be planted within the soil so that the plant grows around a physical reminder of your loved one. If you do choose this option, you will want to wrap the pendant in a water-proof container to keep it pristine.
20. Within Another Object
While we've already touched on the idea of keeping a cremation keepsake with another object like a stuffed animal, you can also consider incorporating one of our cremation pendants within the piece itself. Many stuffed animals can be custom created to hold small things like voice boxes within them. It is possible to have one created that will house this piece of your loved one within.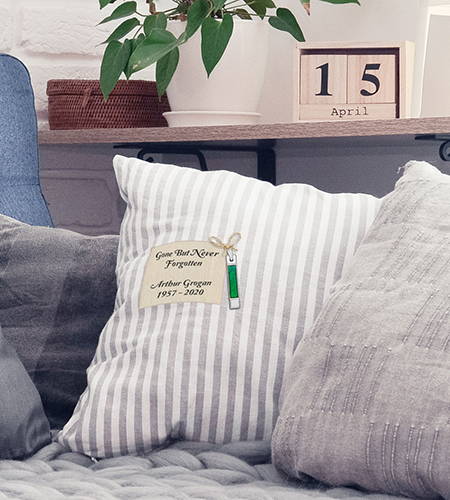 If you'd prefer another option, there are also the popular option of memorial pillows made from a personalized item of clothing from the deceased. Usually, these are crafted from a favorite shirt or other garment and the pendant can easily been stitched inside or, if you'd prefer, you can stitch it onto the front or into the pocket of the shirt pillow.
This may be a great option for a child or young person who has lost a close relative. Grief is a difficult journey and often takes time to process properly. For those who are young – and for any of us, really – it may take weeks or even years to fully come to terms with the loss. Creating a time capsule for a loved one soon after their death by setting aside personal items like letters, photographs, a watch or favorite piece of jewelry is a way of preserving memories forever, even if you aren't ready for them at the time.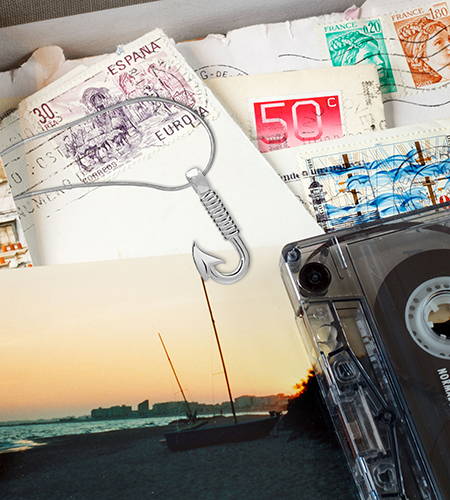 This gives you – or whomever you create this for – a chance to breathe and to put things aside until you are ready to pick them up once again. Perhaps the grieving person isn't ready yet for a cremation urn pendant. There is no fault in that. But a time may come when they wish they had such a keepsake. By creating a time capsule and including a piece of memorial jewelry, it allows time for both grief and memories to settle for the time you are ready to meet them again.
Imagine the moment you open that time capsule – what memories will you rediscover?
Cremation Jewelry - Versatile Ways To Memorialize