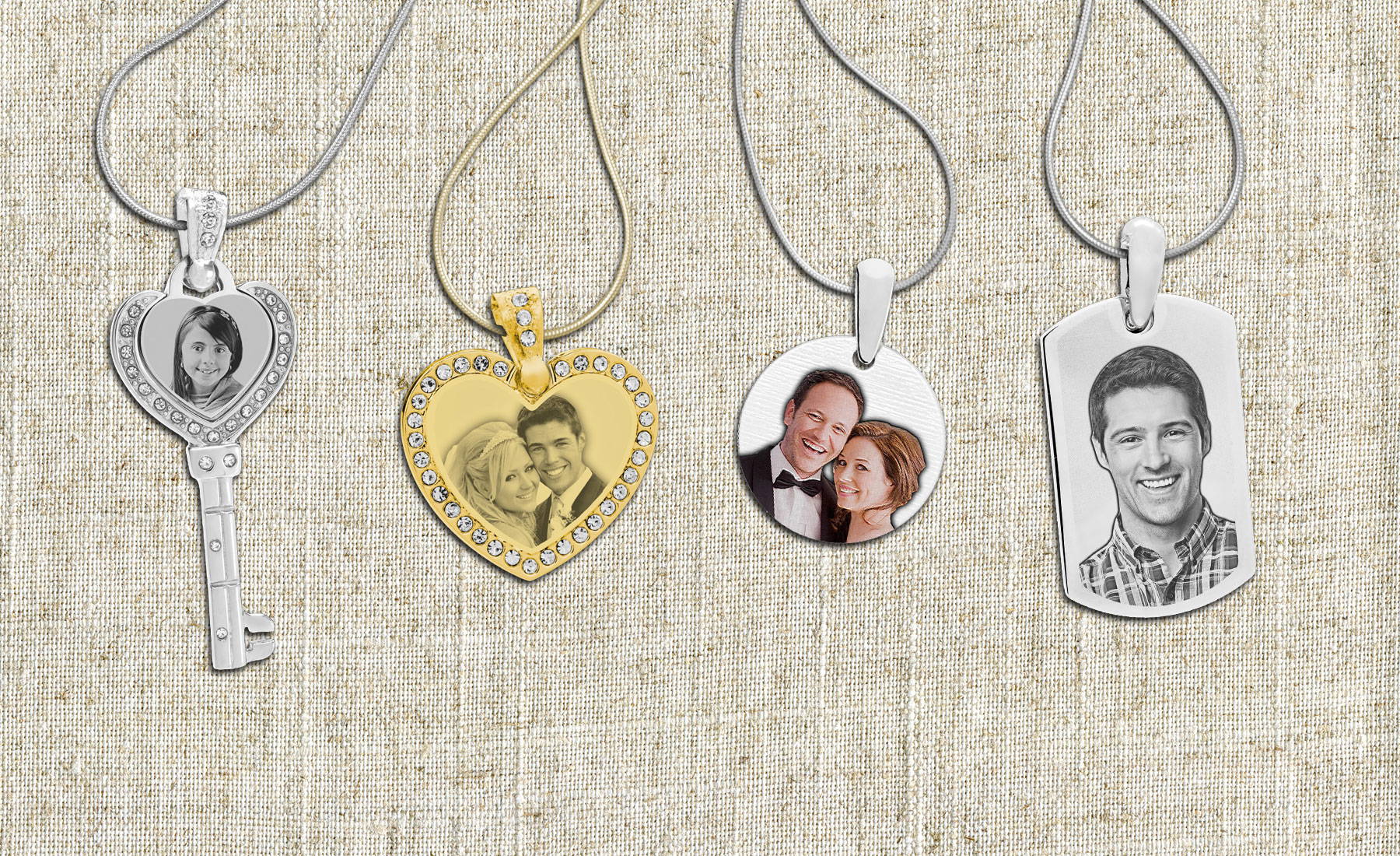 How Jewelry Keepsakes Makes Your Memories Last; Why You Should Choose Us
If you are wondering whether or not you are making the right choice in choosing Jewelry Keepsakes to make a photo engraved piece of jewelry for any occasion you might have, the following reasons will convince you.
Our priority as a business is always to satisfy our customers and their desires. We believe that this choice you're making - to get photo engraved jewelry to keep your memories - is beautiful, and we will give our best to help you bring your desires to fruition.
Therefore, we carefully consider your specifications in order to deliver and create precisely what you want and even go beyond your expectations.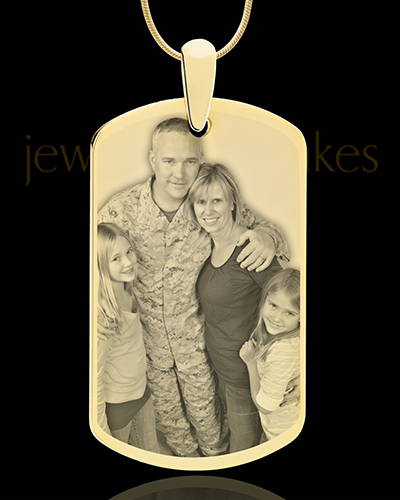 We craft every piece of jewelry with intentionality and care, making sure that the design you have in mind is brought to life. We ensure that every detail, right from the photo in the jewelry, to the type of jewelry, the color, and the design, is carefully planned and carried out.
We recognize the importance of keeping and making memories, and as such, we go the extra mile to give you a piece of jewelry that will not only make the memories last but will also keep them burning bright and alive in your mind.
WE UNDERSTAND THE IMPORTANCE OF GIFTS TO MARK MEMORIES
At Jewelry Keepsakes, we understand that many situations can warrant gifts, and each of these situations have their own peculiarities. We know that giving photo engraved jewelry as a gift to new parents is different from giving the same type of jewelry to people who are mourning the transition of a loved one. As such, we make all our jewelry, keeping the situation around them in mind.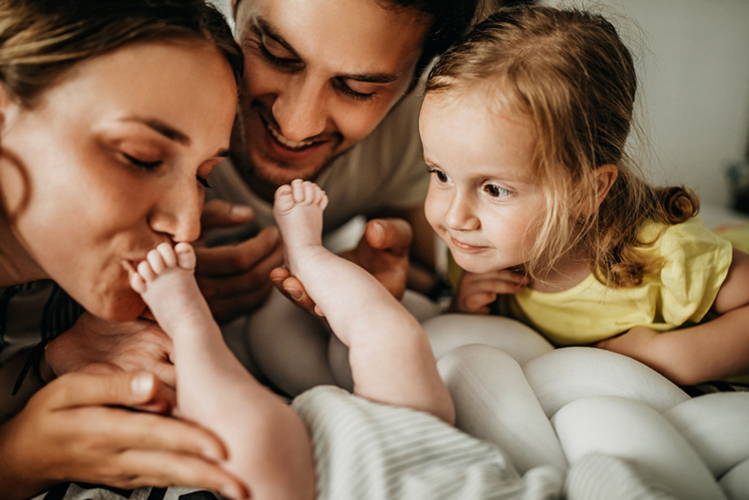 For instance, photo engraved jewelry for new parents would come in exciting designs that will make the parents excited about their new journey. On the other hand, a photo engraved jewelry for a grieving person will be done in subtle and calm designs that will communicate hope and peace to the recipient.
We recognize the importance of these seemingly minute details and do our best to incorporate them all into our jewelry pieces.
WE DESIGN EVERY PIECE IN SUCH A WAY THAT WE WOULD BE PROUD OF THEM
We believe that for our customers to like and appreciate what we do for them, we must first appreciate them ourselves. Because of this, we craft every piece as if it were our own. We craft them so that we would be able to take pride in the fact that they came from us.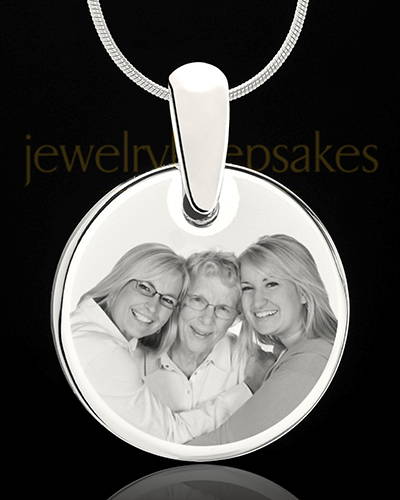 We craft our pieces such that when we come across them, we can boldly and proudly admit that we made them.
We've had many years in the industry, so we've seen many designs and pieces, and as such, our standards are high and impeccable.
We craft our designs not as jobs but as intentional gifts we give you - our customers.
WE ARE A FAMILY OWNED BUSINESS
There are few things that can replace the love and companionship of other family members. We recognize the importance of our business, and so do other members of our family who have also come to recognize and imbibe the core and vision of the business.
With this, you can be assured that your photo engraved jewelry is made by people who are passionate about it, not just people doing it for money.
WE WEAR AND HAVE GIVEN PHOTO ENGRAVED JEWELRY GIFTS
We believe in our brand's importance, and as such, we are our brand's greatest promoters and influencers. From experience, we have been on both ends of the spectrum, and we know how wonderful it is to receive and gift photo engraved jewelry as gifts.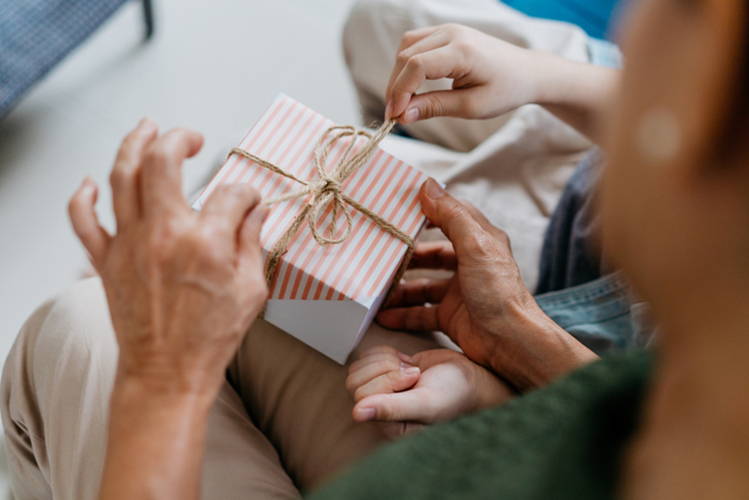 We have firsthand experienced the warm, fuzzy feeling resulting from being given an incredibly thoughtful gift that shows someone took time out to give a gift and didn't just grab the first thing they saw at the mall.
We hope to help as many people as possible experience this wonderful feeling, too.
One of the primary reasons we are so proud of our pieces is because of how versatile they are. There is hardly any situation where our photo engraved jewelry pieces aren't suitable. Below are some special occasions where photo engraved jewelry would serve as a fantastic gift.
Special Occasions Where You Can Give Photo Engraved Jewelry As Gifts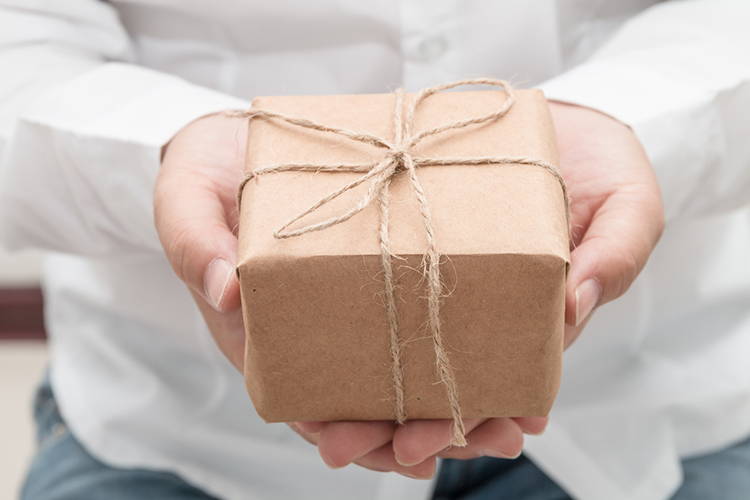 We think of jewelry as a gift for very specific occasions. When it comes to something as unusual as photo engraved jewelry, we don't often think it could be suitable for such moments in time. That's simply not the case! Check out some of our thoughts on when to gift photo engraved jewelry!
Asides from the date of the commencement of the relationship, there aren't many other occasions for couples to celebrate their union and love. The first date anniversary is one of the best romantic anniversaries that couples can celebrate with themselves.
The reenactment of how and where it all started from can help to keep the love between you and your partner burning bright. To further make this event a memorable one, photo engraved jewelry would be perfect. Again, you have several options to choose from.
Stainless Steel Memories Heart Pendant
What better way to show your everlasting love for each other? Our stainless steel memories heart-shaped jewelry not only depicts love with its beautiful heart-shaped design, but the stainless steel also depicts that the love between the two of you will remain untarnished.
While this is a more feminine gift, it can also be given to a male partner. This pendant is a best seller, and with the price it's going for? You should grab it now! What's more? You can personalize it by making an engraved writing on the back.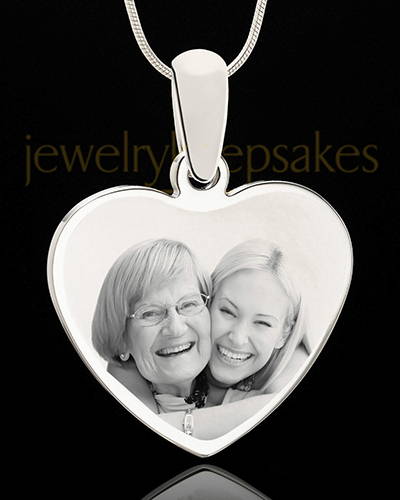 Silver Framed Heart Photo Engraved Pendant

This pendant not only speaks personal taste, it also speaks elegance and class. You can include a photo of your first date in it or other photos of the both of you.
Gold Plated Gem Photo Engraved Circle Pendant
This gem-studded pendant is an amazing way to tell your partner how much of a gem they are. It comes in both circular and heart shapes, both of which are perfect for expressing your eternal love for each other.
LAST NIGHT BEFORE SOMEONE GOES OFF TO CAMP/SUMMER PROGRAM
You might wonder what is so special about going for a camp or summer program. However, for most teenagers or adolescents, summer programs are usually the first time they would be away from their parents for a fairly long time.
It can be an exciting as well as a scary period for them. These photo engraved keepsakes will help them have a tangible keepsake about the experience as well as make them manage any homesickness they might have.
Photo Engraved Wallet Cards
A wallet card engraved with a family photo is one of the best gifts you can gift your teenager as they go for a summer camp. The wallet cards are charming and still fall into most teenagers' definition of cool.
The keepsakes will ensure that the picture isn't damaged during all the physical activities they would be involved in. You can also engrave a personalized message on the front or back of the keepsakes. The message can be about a coming of age message or about how proud you are of them.
What's more? It is practically weightless and won't take up much space.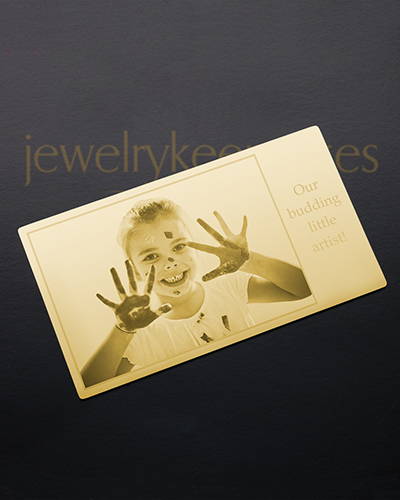 Our luxury photo engraved bracelets are the perfect way to celebrate and remind your teenage daughter of her feminine elegance as she goes off to camp. They come in various styles, designs, and colors to match most female teenagers' tastes.
A particular favorite is the sophisticate side heart photo engraved bracelet. The silver and stylish design with a heart-shaped pendant by the side ensures that it can pass off as both a fashion statement and a sentimental piece.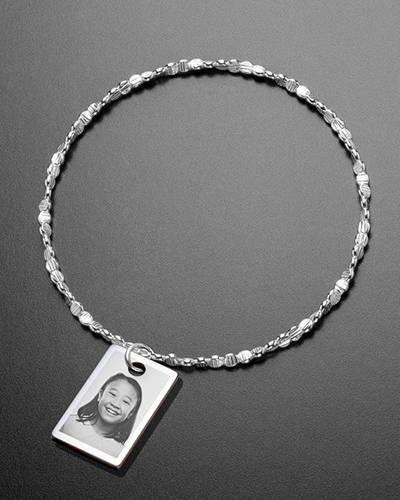 After dedicating several years, effort, and resources to one's career, many people look forward to that time of retirement when they can finally take that much-needed rest.
Retirement can evoke a mix of feeling for different people. While some people will be glad to be out of the workforce, others might feel nostalgic or even sad to let go of something to which they had to devote most of their lives. Whatever they feel, giving them gifts to mark their retirement is a sure way to make them feel seen and appreciated.
Giving a colored pendant as a retirement gift is a way of hinting that even though their lives have been colorful through the various experiences they've garnered during their time working, this new phase they are embarking on will also be colorful.
That's one of the best things about Jewelry Keepsakes; they are so versatile, and with the right design and build, they can convey quite a lot of messages. With our color pendants, you get to maintain the exact color and hue of the picture you choose to engrave in the pendant.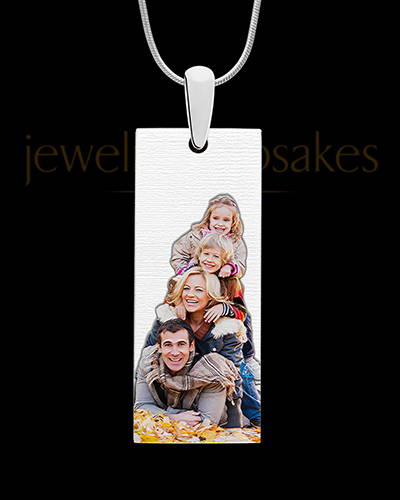 This pendant will make the picture, and the moment it depicts remains brightly in their mind. And anytime they feel nostalgic, they can simply grasp it and reminisce on the amazing life they've led and are still living.
Rearview Mirror Photo Engraved Keepsakes
This is one of our most unique products. It is so special because it is designed in such a way that the engraved photo on it can be reflected.
Giving a colleague or loved one who is retiring this thoughtful and unique gift will help them retain and cherish the moment so much more. And anytime they look at the picture in the keepsakes, they will be reminded once more of how far they've come.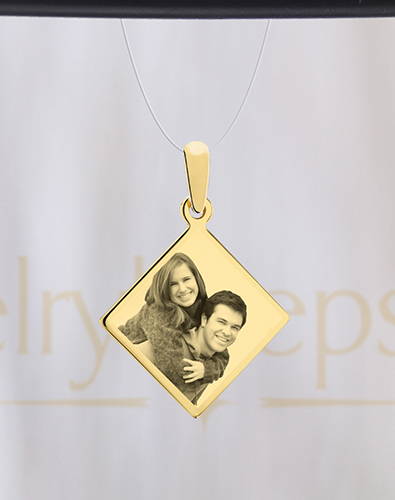 Men's Photo Engraved Rectangular Pendant
Our rectangular photo engraved pendant is a great retirement gift, especially for men. The stainless steel luster will ensure that it doesn't fade or crack and gives it a masculine feel. They are also very easy on the eyes and can be paired with different attires.
These are awesome, elegant choices for female retirees. The pendants are charming, stylish, and beautiful. Additionally, they are made to last and remain untarnished for as long as possible.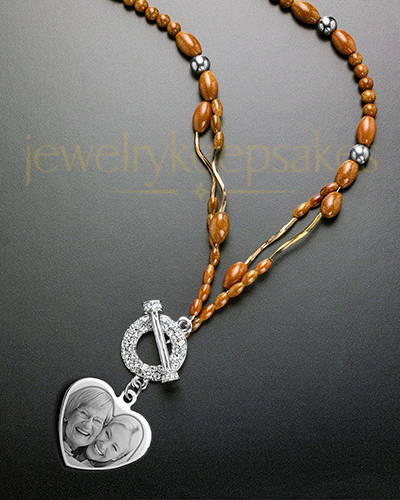 Favorite Teacher/End Of School Year Gift
Teaching is more than a job; it is a life calling. Asides from our immediate family members and loved ones, our teachers are some of the people that have also contributed to our lives in one way or the other.
We've all had a particular teacher we feel indebted to because of how much impact they made on our lives. What better way to show our gratitude than with timeless keepsakes that will serve as a constant reminder of how impactful they've been? You can also give these keepsakes as an end-of-the-year gift to your classmates, principal, or friends.
Silver Blessing Wallet Cards
This wallet card is a perfect gift to give a favorite teacher or classmate at the end of a school year. We think it's perfect because it allows you to have 4 different photos engraved into it.
The 4 pictures can include a group picture of the class, a picture of your teacher, your picture and a picture of the both of you together and if it's a friend you're giving, you can replace the teacher's picture with your friends own!
This keepsake is not only very versatile and gives you lots of options to choose from, but it is also an incredible way to keep all the memories shared alive. What's more, it is flat, light, won't take up much space, and is perfect for both genders.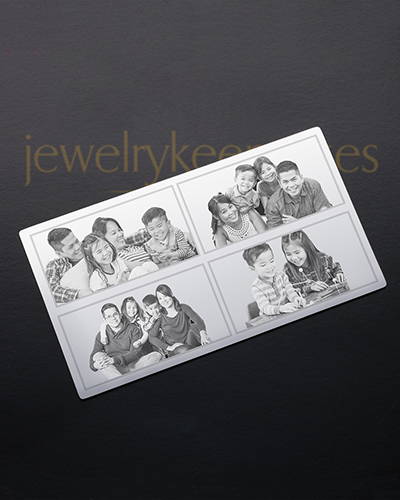 Sophisticate Octagon Photo Engraved Bracelet
This is a charming gift to give your favorite female teacher or classmate. The design is such that it is perfect for women of all ages. It has an octagon-shaped pendant where you can engrave a medium-sized photo of them or a photo of the both of you.
Just as its name implies, this bracelet is sophisticated, elegant, and clean in its design - the perfect impression every female wants to have of themselves.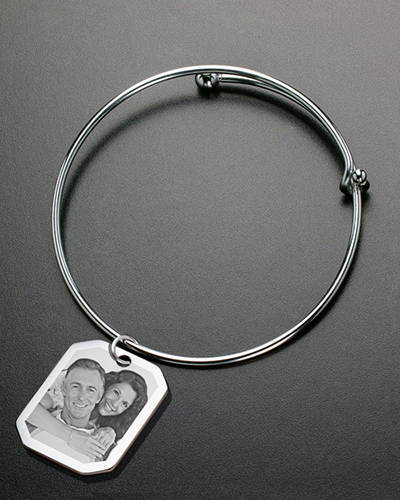 Photo Engraved Diamond Pendant
This is another of our best-selling pieces. This pendant is perfect for a male teacher or friend. Its simple and manly design allows it to be used or worn on various occasions. In addition, the kite shape of the pendant is unique and won't be easily found elsewhere.
You can include a photo of you and your teacher or friend on it and also make a written engraving telling them how grateful you are to have met them and their impact in your life.
CELEBRATING A HEALTH TRIUMPH OR RECOVERY
Whoever came up with the saying that "health is wealth" certainly knew what they were saying. Our health is the most important thing to us, virtually every other part of our lives depends on how healthy we are.
Going through a sick phase can be draining, not only for the patient but also for their loved ones and those around them. So when you have a loved one who has currently recovered from a health challenge or condition, it is certainly worth celebrating.
Gold Gem Heart Birthstone
Surviving a health condition can be likened to a new birth - a new chance at life. Gifting them a thoughtful gift like the gold birthstone pendant is a great way to help commemorate their recovery as well as welcome them into what we hope will be a healthier version of their lives.
There are birthstones for different months; you can choose to go for a pendant with a gemstone from their birth month or one of the months in which they got better.
The gold gem heart birth is a particularly fascinating and intriguing piece. It can remind them of how strong they've been and how they deserve a gold medal for their excellent work in recovering.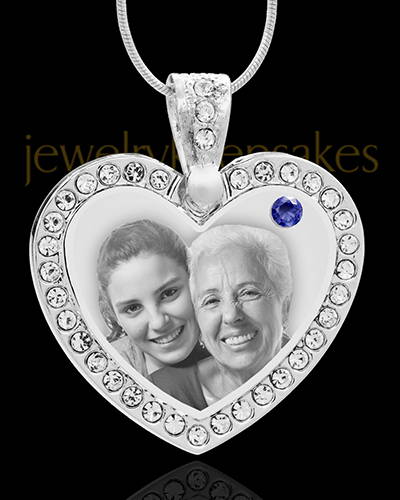 Abel Green Necklace Bead Keepsake
The color green signifies life, growth, and rebirth. After a particularly draining period of sickness, the green beaded necklace is bound to evoke feelings of hope and vitality in them.
The calm and hopeful hues in the necklace will inspire hope and faith. The necklace comes with a heart-shaped pendant on which you can engrave their picture. If you want, you can also engrave a goodwill message on the back of the necklace.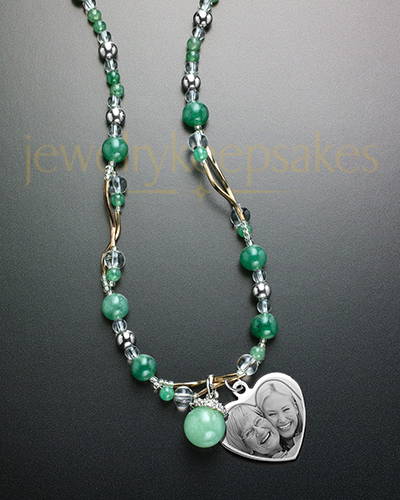 Moving into a new house is a pretty big change. It is an exciting change. It would most likely be a growth move and an incredible change for a parent. However, it can evoke a myriad of feelings, especially in kids and adolescents.
For one, moving into a new house means they would have to change the neighborhood they've grown used to. It can also mean they would have to change schools, which might make them lose out on some of the friendships they've cultivated. Giving them a photo engraved jewelry might make them cope better with the change.
Silver Delight Wallet Card
You can have some pictures of them inside your old house engraved into a wallet card. Giving them a keepsake like this will help them combat the nostalgia they might feel later on. The silver delight wallet card is a perfect way to immortalize the beautiful memories linked with your former accommodation.
It also helps that engraving the photographs mean that they won't fade, and your kids can remember them for a more extended period of time.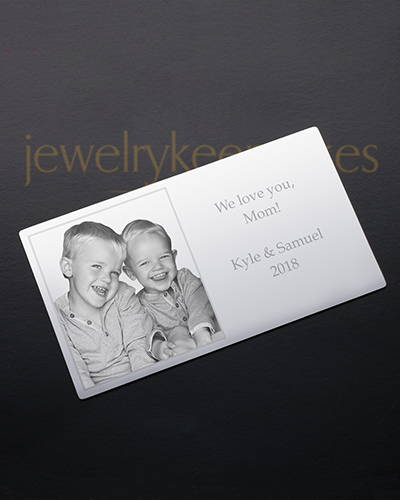 Photo Engraved Oval Stainless Keychain
What better way to welcome your kids or spouse to a new house than to give them a personalized and customized keychain? Just picture this: as you get to the entrance of your kids' room, you give them their own personalized keychain with the key to the room? Can you imagine how recognized and seen they would feel?
With our best-selling oval stainless keychain, you can be assured that they will have nothing but smiles on their faces. The design of the keychain is simple, and it comes with hooks that make it easily and firmly attached to any hook or place you might want to fix them.
You can engrave the date of the day you moved into the new house to commemorate the occasion, and you can as well add a picture of their favorite spot in your old neighborhood. That way, you get to help them preserve their memories of that place while making sure the memories of the move into this new location remains evergreen.
Going on a fitness journey is a commitment that takes a substantial amount of effort and dedication. And as such, once it has been achieved, it deserves to be celebrated just like any other commitment.
A photo engraved keepsake is a great way to commend them for their efforts. It can also serve as a reminder of the journey and help them to maintain that fitness level.
Small Thick Heart Pendant
This cute and charming pendant is small but packs a punch in sentimentality and the emotions it can evoke.
You can give them this delightful heart-shaped pendant to serve as a reminder that through small and consistent steps, great things can be achieved. You can engrave a picture of them after they've achieved their goal with some inscriptions on how proud you are of them for achieving this feat.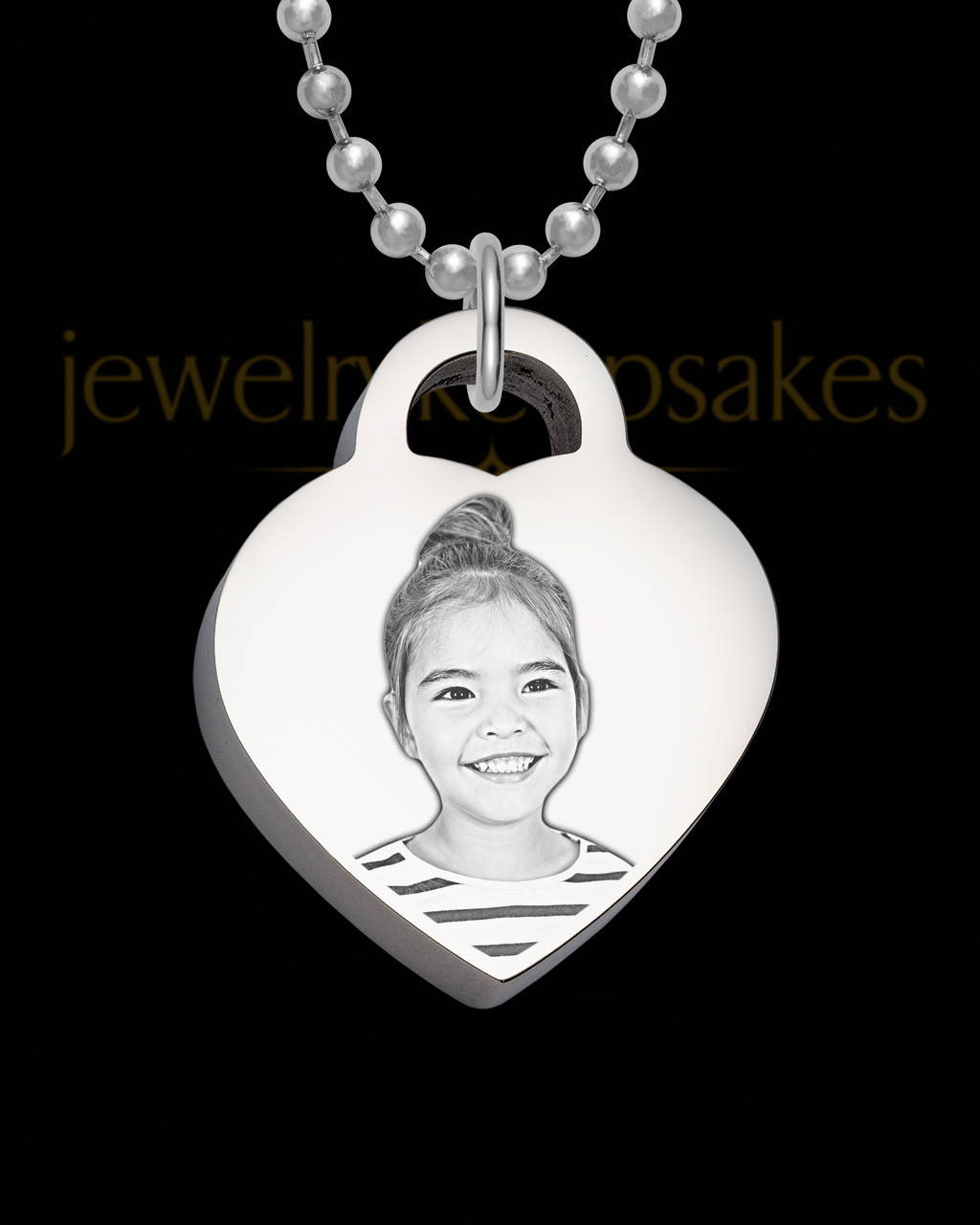 Silver Reflection Wallet Card
This keepsake allows you to add 2 pictures and a quote. This keepsake is perfect for documenting a visual representation of their fitness journey.
You can add a picture of them before their fitness journey on the left side of the reflection card, an uplifting quote from their favorite movie or music in the middle, and a picture of them after they've achieved their goal on the right.
You can as well get the silver blessings wallet card that allows you to add as many as 4 pictures. It all bodes down to you and your perception of what would mean more to the person you want to give the gift to.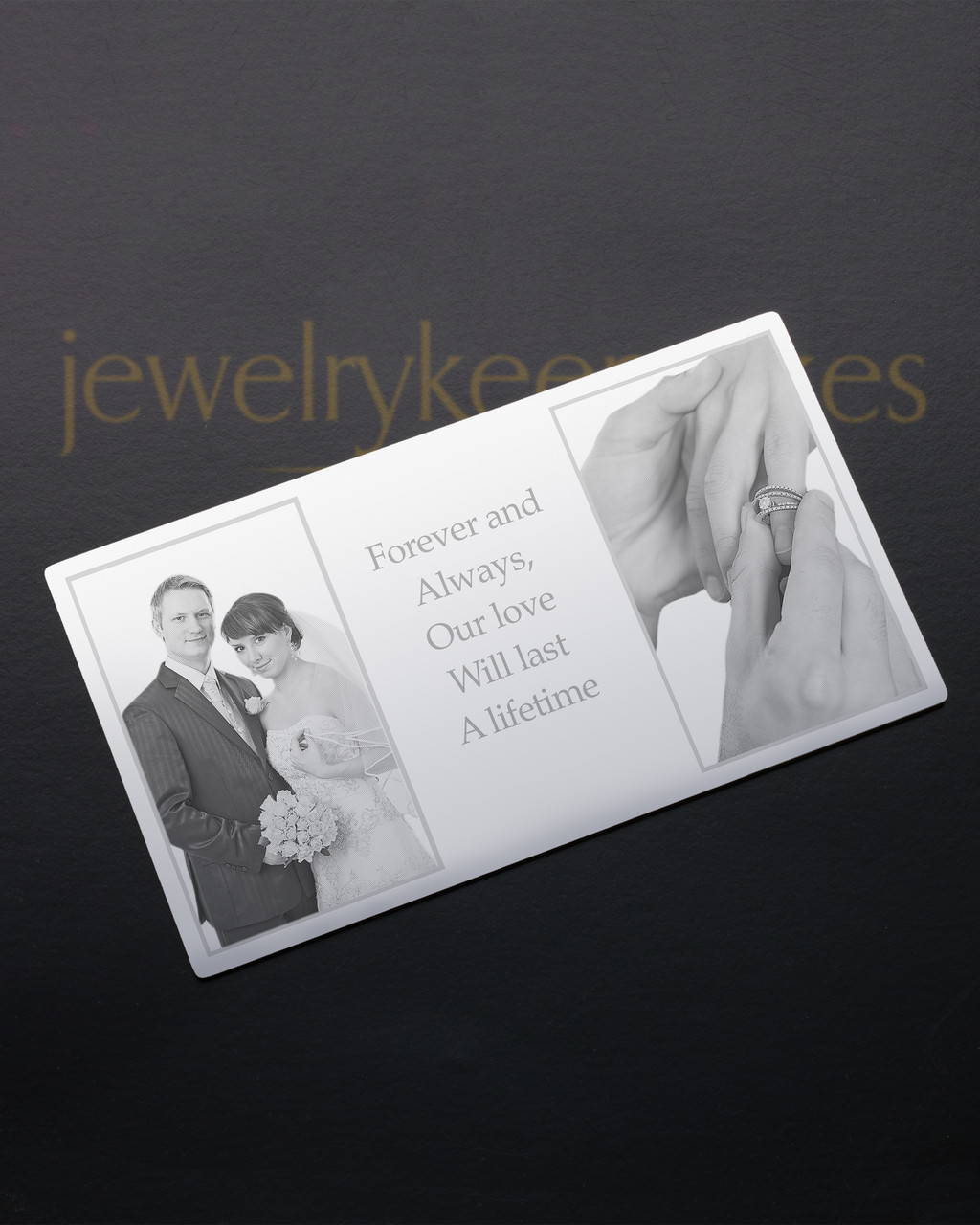 OPENING NIGHT OF A MOVIE/PLAY THAT SOMEONE HAS A ROLE IN
The opening night of a play you have a role in is bound to make one excited. After all, it's not exactly every day one plays a role in a movie. This occasion is memorable and should be commemorated with a memorable and thoughtful gift to keep the memory of that exciting event from fading.
Meadows Heart Pendant Engraved Bracelet
An exotic memorabilia for an exciting event! This pendant is one of the most unique photo engraved gift ideas ever!
The fascinating blend of colors on the beads on the bracelet is not the only thing that makes it unique; the heart-shaped pendant, as well as the closing hook, are also one of a kind. Getting a role in a movie is not a common occurrence and, as such, deserves to be celebrated with the most unique type of gift.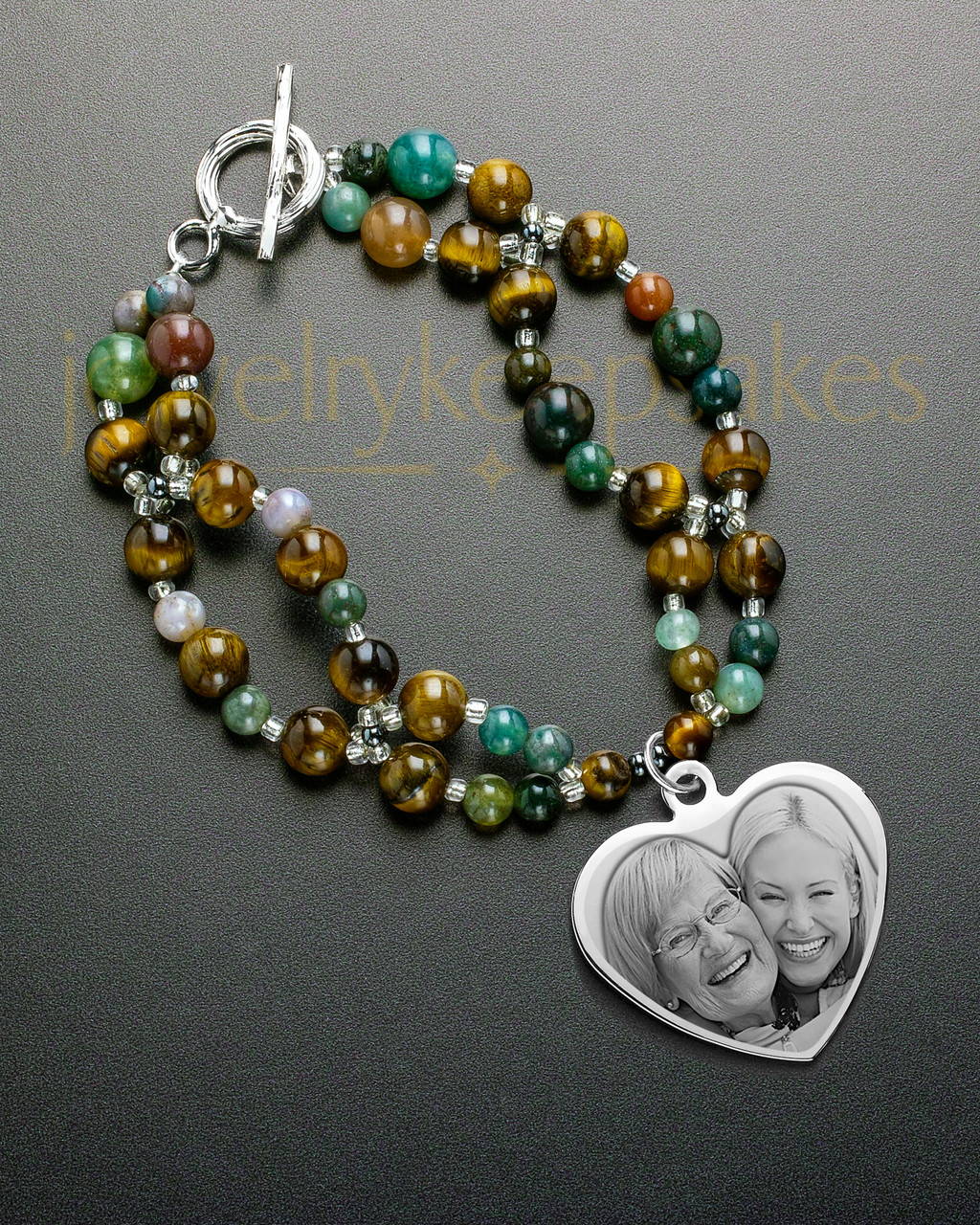 Photo Engraved Gem Heart Full Color Pendant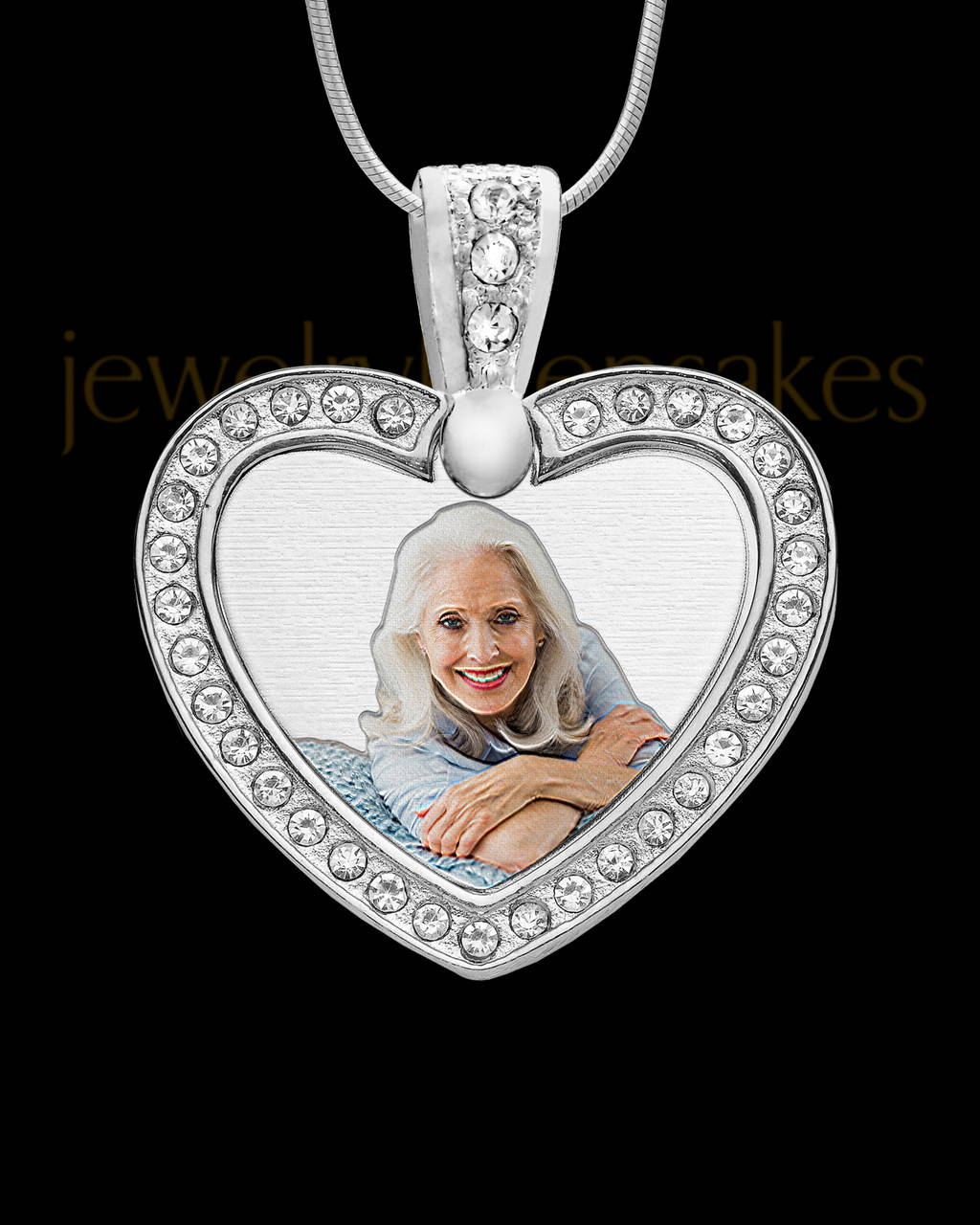 WINNING A SPECIAL GAME, MATCH OR TOURNAMENT
Winning any competition, whether the science fair or a football game, is a big deal. A lot of preparation and dedication would have been carried out in order to emerge as the victor.
Sure, it's common to go for a party or outing to celebrate their winning; however, what about giving them something tangible to always remember the event with?
Gold Plated Stainless Necklace

This unisex stainless steel pendant is perfect for celebrating a win. You can engrave a photo of them during a particularly intense period during the game and then add the date of the game on the back.
CHECKING OFF A BUCKET LIST DREAM
Most times, things on our bucket lists are usually things that, given our present circumstances, might seem near impossible. But we put them on our bucket list to give ourselves hope that with the right mindset and effort, nothing is impossible.
So when we eventually check something off a bucket list, it means we've put in a ton of effort and moved out of our comfort zone. Frankly? That takes courage and should be celebrated.
Most people take pictures to commemorate checking something off their bucket list. But it's just a matter of time before a photo fades. A wallet card engraved with the picture ensures that the memory and pictures remain evergreen.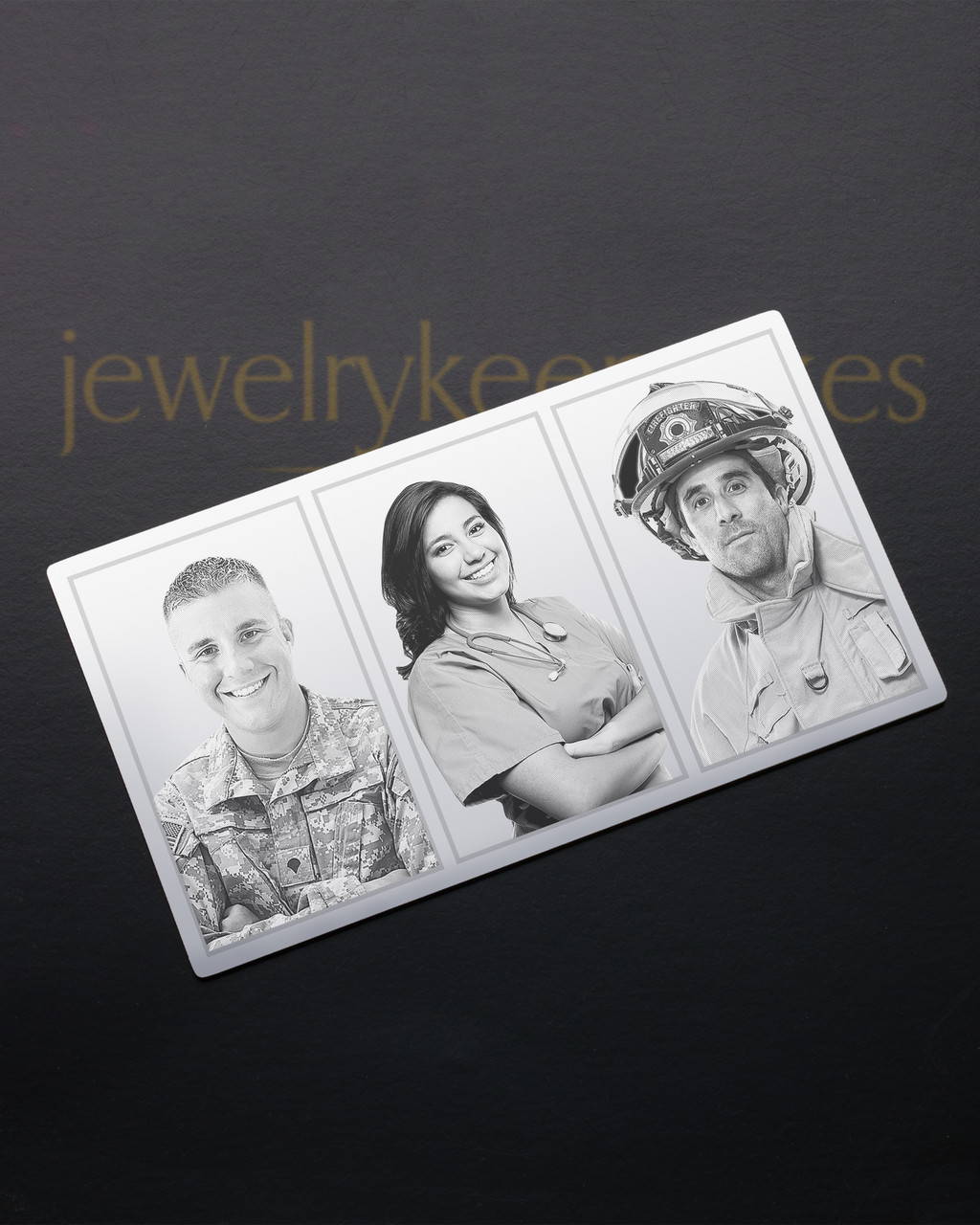 Sport has this amazing quality of uniting people of different races, opinions, and backgrounds and making them all root for and believe in the same thing. Be it a basketball game season or volleyball game season, the end of a sports season is usually a nostalgic and exciting period. It might mean not seeing your other team members for a while, so giving them a piece of picture jewelry is a great way to keep and remind them of all the memories shared.
The silver celebration card is a wallet keepsake. You can add 2 pictures, one taken at the beginning of the game and another taken at the end of the game.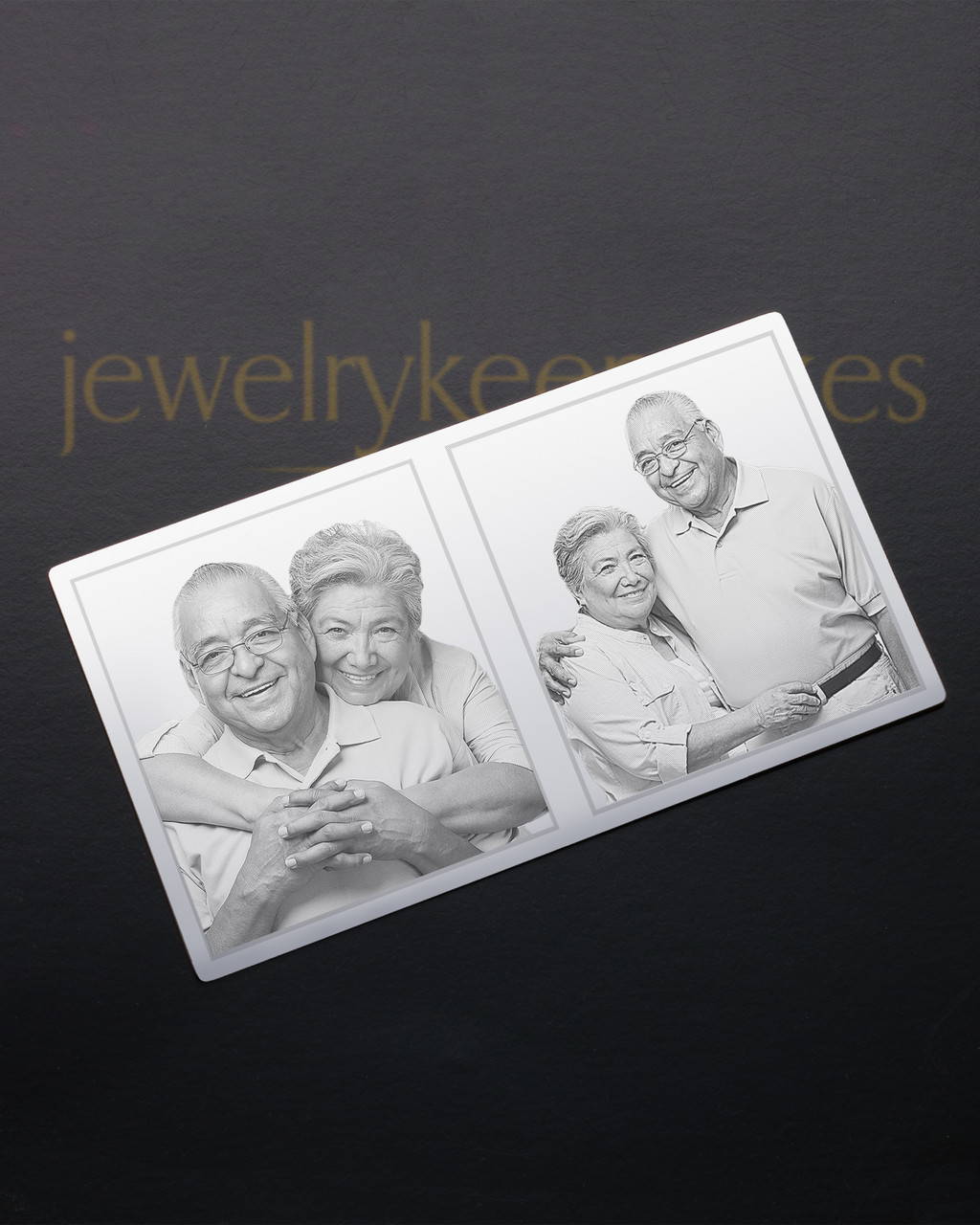 RECEIVING AN AWARD OR HONOR
Being the recipient of an award is a testament to how hard a person has worked and is dedicated to a particular cause. After all, awards are only given to excellent people with outstanding performances. Therefore, to celebrate this incredible achievement, an excellent keepsake is also required.
Photo Engraved Stainless Heart Keychain
One thing about Jewelry Keepsakes Keychains is that you can never go wrong with them. Not only beautiful but incredibly practical and useful, you can engrave a picture of them taking the award into this photo jewelry gift to help immortalize that memory.
And what's more, it's something they might be using every day, and it will serve as a way always to boost their morale and convince them that they are indeed capable of excellence.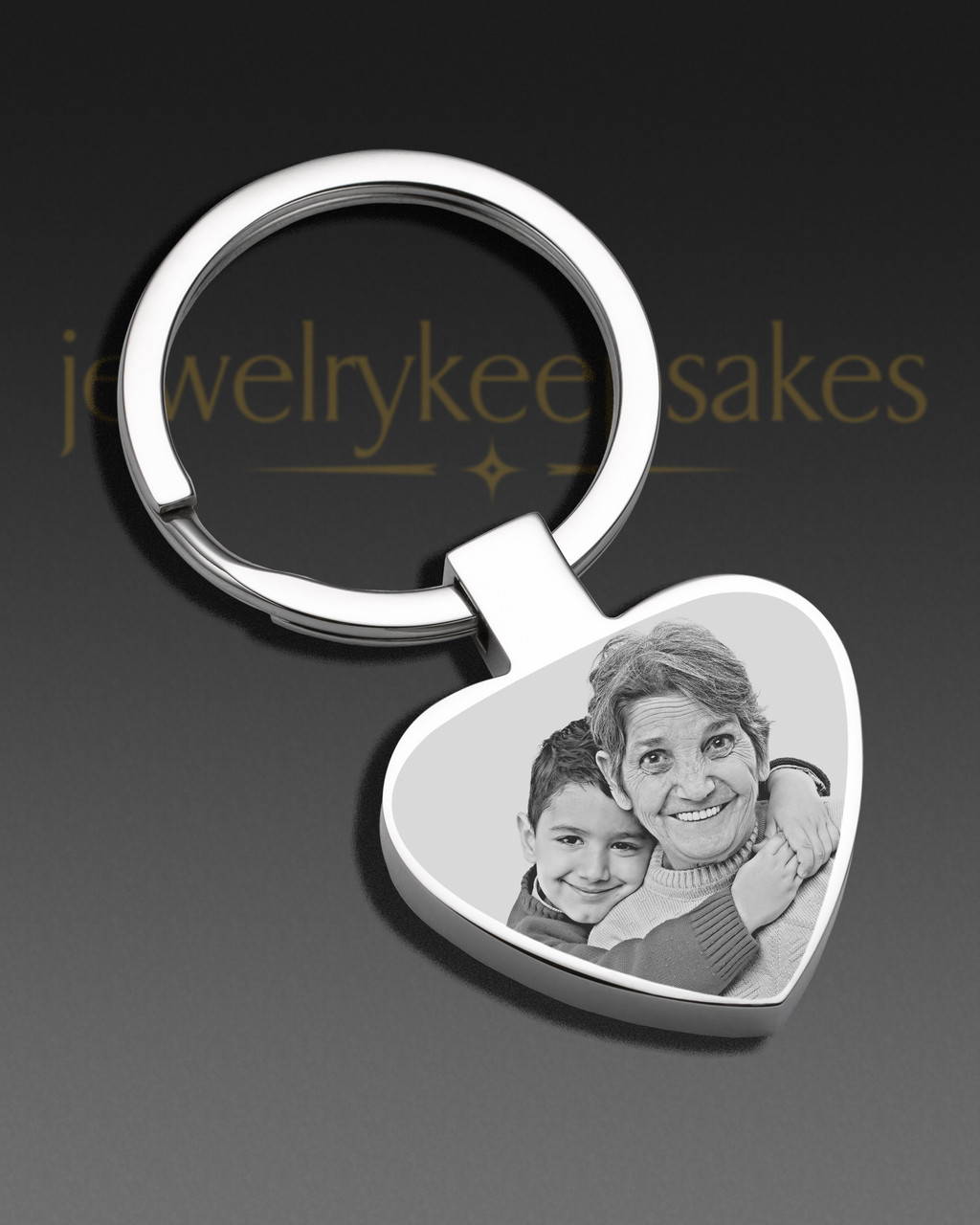 GET ELECTED INTO A POSITION
Getting elevated into a position speaks volumes about how selfless a person is. It also depicts how much people are willing to trust them. Getting elected into a position would make them happy, but they might also temporarily feel overwhelmed at the responsibilities they might have to carry out. Giving them a gift that tells them how much you trust them and is rooting for them will be appreciated
Luxury Elongated Diamond Photo Pendant
The luxury elongated diamond photo engraved jewelry is not everyday jewelry. It is unique and perfect for expressing your trust and faith in their ability to handle their newfound responsibilities.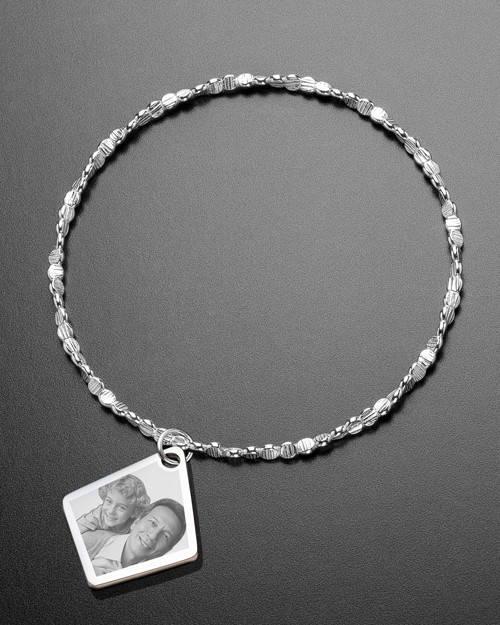 Advancing in one's chosen career field is an incredible achievement and deserves to be celebrated. This is a milestone that should be commemorated with a unique and thoughtful gift. One beautiful thing about giving gifts on occasions like this is that it can go both ways.
If you are the person being promoted, you can gift your parents a keepsake with a picture of you during the promotion event. But, if it's the other way round and you are the one giving gifts to the person being promoted, our pendants or keychain keepsakes can help you gift them the most thoughtful gift ever!
Rectangle Gold Plated Pendant
This pendant is clean, simple, and classy, and the best part is that it can serve as a gift to all genders. You can have one of their favorite photos engraved in the pendant with a congratulatory and goodwill message.
The design is such that it is versatile enough to be worn in both professional and casual settings.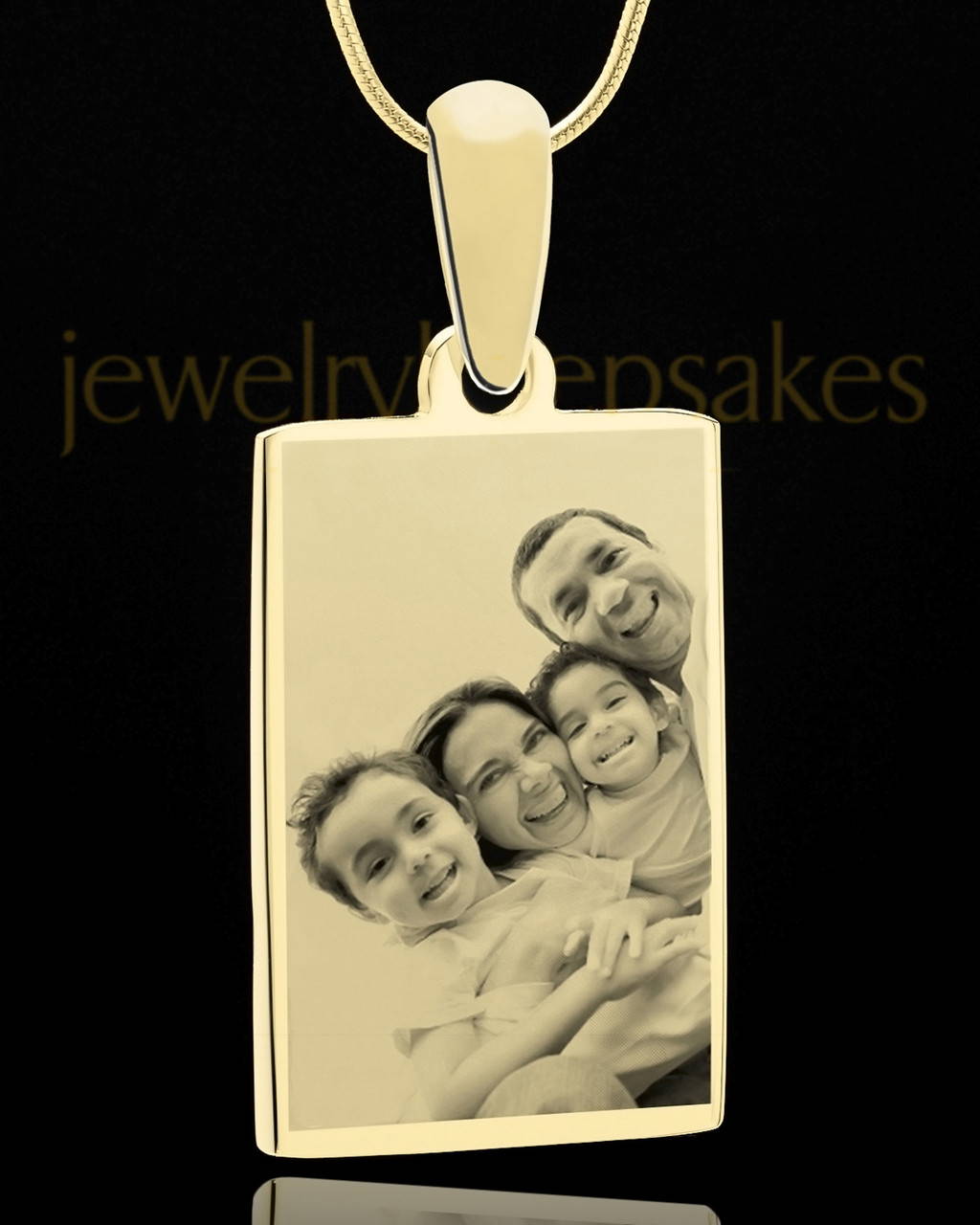 If the promotion would warrant the promoted getting a new office or other features where they'd have an additional set of keys, then a photo engraved keychain would not only be meaningful and thoughtful, but it would also be helpful.
You can include a personalized congratulatory message on it and appropriate pictures depicting the occasion. So anytime they want to open their office to start the day, they are reminded of how proud you are of them. This might just motivate them to work harder! And in no time, you'll be thinking of another promotion gift to get them.
Beaded Photo Engraved Pendants
If you want to go the extra mile in getting the perfect promotion gift, any of our beaded keepsakes will do the work. In many cultures of the world, beaded ornaments are worn or used as a sign of good luck and success.
Giving a loved one who was recently promoted one of these is a sure way to communicate how happy you are for them and how hopeful you are that this promotion would herald in more success for them. Our beaded keepsakes are made with bright and colorful beads artfully arranged to help add a touch of color to anything they might choose to wear with it!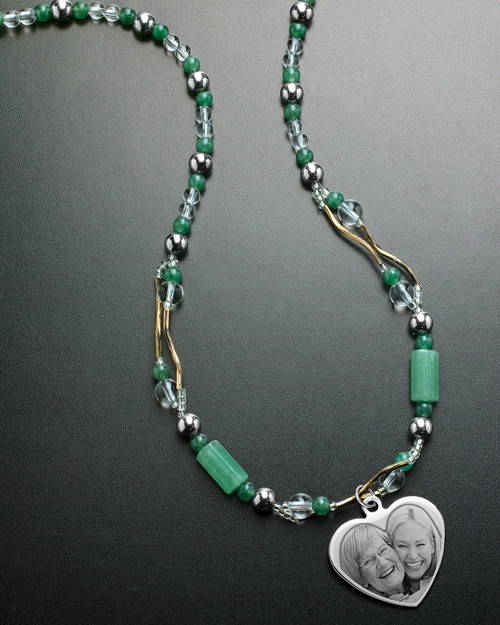 Photo Engraved Jewelry Gifting Frequently Asked Questions
How do I Choose the Most Meaningful Photo for My Photo Engraved Jewelry?

Keeping memories is one of the most cherished parts of being human, and we should do our best to keep the most important moments in our lives.
Photo engraved keepsakes are one of the best ways to achieve this.
However, it is important to choose the perfect keepsakes for immortalizing the beautiful moments in your life. Here are some tips to consider when choosing a photo to engrave in your photo jewelry.
Choose a photo that perfectly captures the moment you want to immortalize.

Make sure the photo is clear and in focus.

Close-ups pictures are the best.

Ensure the photo has proper lighting.

Consider the background and the number of people in the picture.
What is the Most Popular Shape for Photo Engraved Jewelry?

The beautiful thing about photo engraved jewelry is that it can come in virtually any shape you want. However, the most popular shapes for photo engraved jewelry are listed below. This is based on the data collected from our best-selling keepsakes.
Heart shape

Dog-tag shape

Oval shape

Round/ circular shape

Rectangular shape
How Long Does it Take to Make a Photo Engraved Jewelry?

There is no fixed amount of time for making photo engraved jewelry as designs and complications differ. However, it takes an average of 1 to 3 days to create a piece of clean and elegant photo jewelry.
Here at Jewelry Keepsakes, we prioritize our customer's satisfaction and do our best to come up with amazing and unique personalized designs for your keepsakes in the shortest time possible.
How Long Does A Photo Engraved Jewelry Last?

The pictures in our photo jewelry are permanently etched and designed to last for as long as you want to wear them. However, the pendant's surface can be scratched or washed off by some harsh chemicals. We, therefore, recommend that you take care not to let them get scratched and also avoid exposing them to harsh chemicals.
Can I Give a Piece of Photo Engraved Jewelry to a Child as a Gift?

Yes! Of course! Photo engraved jewelry are perfect for all sexes and age. Here at Jewelry Keepsakes, we have small-sized and charming pendants perfect for kids. You can permanently immortalize memories that you would want them to not forget on jewelry keepsakes and gift them out.
Photo engraved jewelry is one of the most versatile and thoughtful gifts you can give someone to commemorate a special occasion or immortalize a particular memory. As human beings, there is only so much our memory can handle, and this is why it is crucial to have keepsakes that can keep our precious memories evergreen.
Got a special memory that you don't want to forget? Or looking for a perfect gift idea for a loved one? Jewelry Keepsakes got you covered! Please browse through our catalog here to make your selection, and contact us to start designing your very own personalized and charming photo engraved jewelry.