Get all the answers and necessary information about our shipping policies all in one convenient location!
Shipping In The United States (Including Alaska & Hawaii)
$7.00 - Standard Shipping (5-7 Days)
$25.00 - 2nd Day Air Shipping (2 Days)
$39.00 - Overnight Shipping (1 Day)*
*Please note that your order must be placed by 12:00 pm MST in order for same day shipping.
When Will My Order Arrive?
Please use the Delivery Chart to understand when your order will arrive. Please note that USPS/FedEx does not deliver on Sundays or holidays and that holidays can delay the delivery of your order.
If you have a special situation and need your items sooner, please contact us and we will do all we can to assist.
International Shipping Information
We do offer International Shipping at Jewelry Keepsakes. International shipping rates are calculated during the checkout process.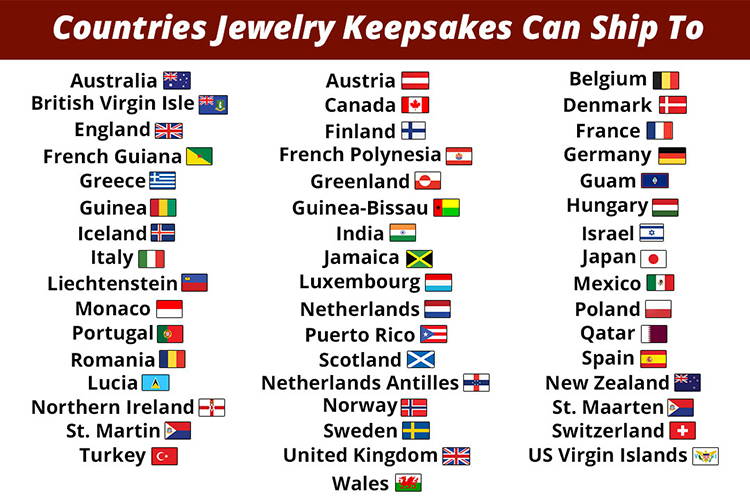 What you need to know regarding International Shipping:
The destination country might impose tax or duty charges before releasing the package to you.

In addition to charging a duty, if your package is stopped at customs, IT WILL DELAY THE SHIPMENT.

If an order is refused due to customs importation charges, and the order is sent back, Jewelry Keepsakes may charge the method of payment for the initial order for the shipping cost to the destination country and return to our facility.
Please note that any charges incurred or delays that happen due to the recipient's Custom Department, Jewelry Keepsakes Inc. is not responsible for those charges or for the delay in delivery.
Additional Shipping Information
Please find additional shipping information below.