Having a wearable memorial to a loved one can go a long way in aiding in the grief process by giving loved ones a tangible memory of the deceased. Cremation bracelets are jewelry bracelets that have either a charm or pendant that will hold a remembrance or have an interior compartment for a remembrance. They can be worn on the wrist and are available in a variety of different styles so you can choose what works best for your lifestyle. The bracelets come in both men's and women's styles and are a modern and affordable way to keep a loved one close.
Different styles of Cremation Bracelets
Cremation bracelets are very versatile and available in a wide range of styles. From leather braided bands to chain link to cuff styles, there's something that appeals to everyone. Most of the bracelets can be personalized with engraved text and you can choose from different colors or finishes. The cremation bracelet is packaged in a jeweler's gift box and presentation box and includes everything needed to fill and seal.
Cuff Style Cremation Bracelets
Cuff style cremation bracelets are suitable for both men and women and are adjustable to fit different wrist sizes. The bracelet can be gently pulled apart or pushed together to get the most comfortable fit on the wrist. Cuff bracelets can be fitted to sit on either side of the ulna, which is one of the bones of your forearm. Where you place the bracelet is of personal preference so choose the place on the wrist or forearm where it is most comfortable.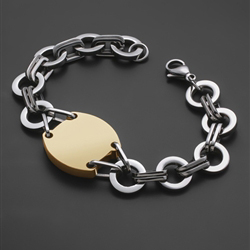 Link or Adjustable Bracelets
Link or adjustable bracelets are a great option for those that have smaller than normal wrists or larger than normal wrists. The bracelets may be made of links or have an open design much like that of a cuff bracelet. With link bracelets, use the clasp to attach to a link that creates a snug fit but not so snug that it leaves an imprint on your skin. With adjustable style bracelets, the bracelet can be tightened onto the wrist simply by squeezing or applying pressure to the material and effectively bending the bracelet around your wrist.
Band or Bangle Bracelets
With band or bangle style bracelets you have the least amount of flexibility when it comes to fitting a large variety of different sized wrists. These style bracelets are best suited for those that have a normal sized wrist - typically 7" for women and 8" for men. The bracelets measure between 7-7/12" for women and 8-8/12" for men and will fit close to the skin. The band can not be cut or lengthened. Bangle style should be able to slide over the hand onto the wrist or, such as with the Cape style bracelets, opened at the clasp and then slid onto the wrist at an angle.
Sizing and fitting your cremation bracelet
To get the proper fit for your cremation bracelet it is important that you size your wrist. Using a flexible tape measurer or a piece of string and another person to help with the measuring, wrap it around the wrist you will be wearing it on. Measure either above or below the ulna bone on your forearm that sticks out on your wrist to get proper fit. Mark where the ends meet using a pen or sharpie. Unravel the tape measurer or string against a ruler. That is your wrist size.
To determine your fitting style use the guide below:
Snug fit - add 1/4" to 1/2" to your wrist size
Comfort fit - add 3/4" to 1" to your wrist size
Loose fit - add 1-1/4" to your wrist size
For example, if your wrist measures 6" and you are looking for a snug fitting bracelet, look for a bracelet that measures anywhere from 6-1/4" to 6-1/2". Your cremation bracelet should never be so snug or tight on your wrist that it leaves an imprint on your skin. The bracelet should be able to move freely around your wrist with no pressure or gently applied pressure to turn. If you cannot turn the bracelet around your wrist at all than go up in size.
Tips on choosing your cremation bracelet:
What is your activity level? For those that are highly active and plan on wearing their bracelet daily, choose something with a secure clasp and that fits snug to your wrist. This will help keep the bracelet from moving around during activity and keep the bracelet from being snagged or caught on objects.
What is your age? For elderly hands or those that suffer from arthritic ailments, a cuff style may work best. There are no clasps or closures to deal with and the cuff style simply slips on and off. For young adults, cremation bracelets that you could add more charms to or where the charms are easily interchangeable gives them the flexibility most teens are looking for.
Are you going to personalize? If you're looking for a cremation bracelet to further personalize, consider an id style bracelet. The style is typically very simple and the face of the bracelet generally allows for several lines of engraved text. Not looking to add engraving? Consider a bracelet that holds a charm. It still allows for you to get personal by choosing a pendant that reminds you of your loved one and that can be filled with a tribute in their honor but without any added pressure to add engraved text.
Making a daunting choice easy
Finding the right cremation bracelet is not a difficult task but you should put some planning and thought into it. Think about the age of the recipient, their lifestyle and how personal you do or don't want to get. Cremation bracelets provide not only a beautiful representation of a life but also are a physical personal reminder of the deceased that is discreet and private.
''