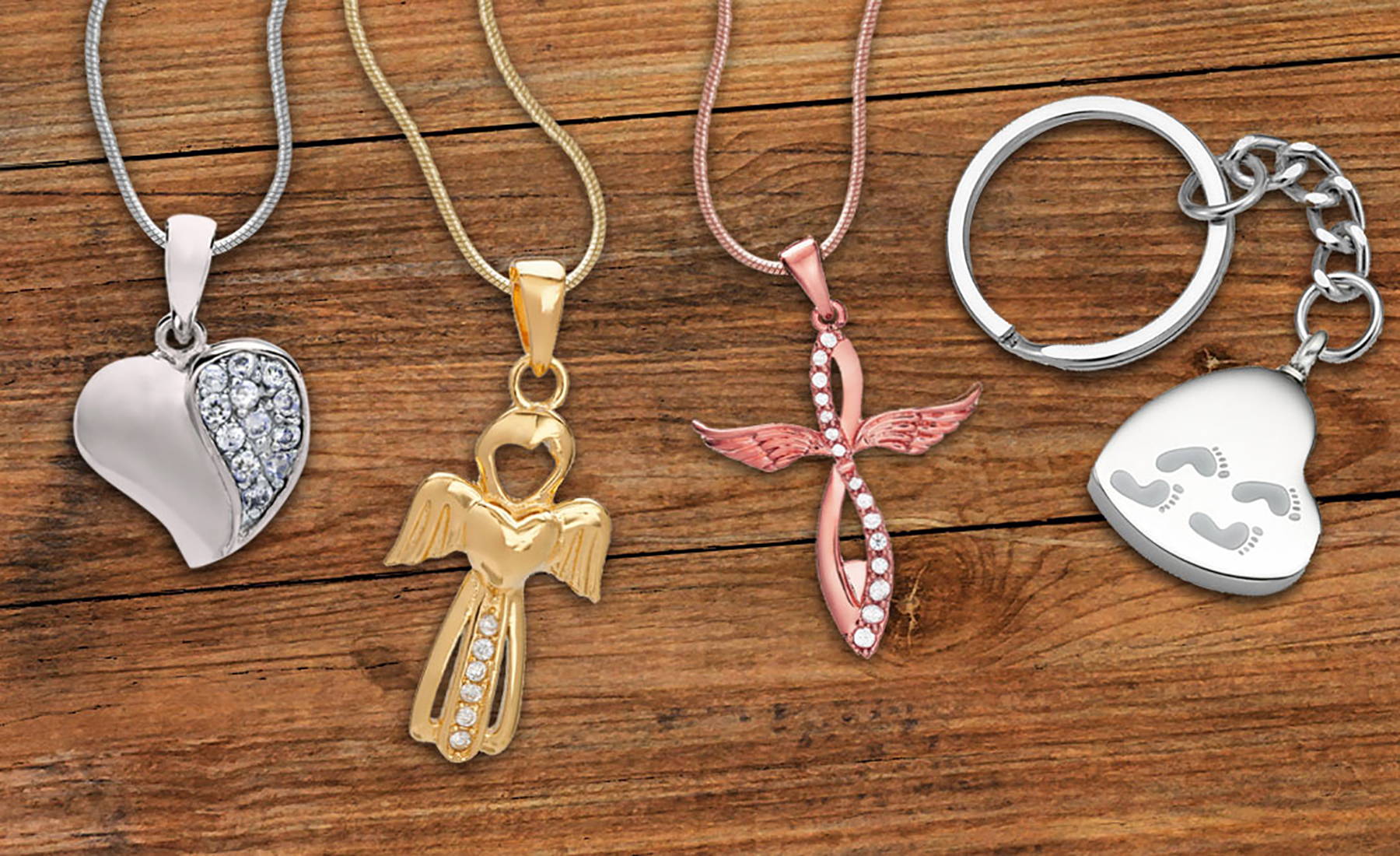 Everything You Need To Know As A Buyer
When choosing a piece of cremation jewelry, whether it is a pendant to hold the ashes of a loved one or a keepsake, it is important to understand which type of metal your piece is fashioned from. The metals used in cremation jewelry typically range from sterling silver, stainless steel, copper, brass, titanium, and several types of gold, all of which have different durabilities, compositions, attributes, and price points.
In this jewelry metals guide, we are going to take a look at nine of the most commonly used metals in cremation jewelry and outline what their features, benefits, compositions, and histories are alongside commonly asked questions about them.
Why Should Someone Be Interested in the Different Metals Used in Cremation Jewelry?
Anyone looking to purchase cremation jewelry should spend some time in familiarizing themselves with both metal alloys and basic metals. This allows them to make an informed decision on how to customize the piece to fit the individual they are celebrating and make the right choice for their own lifestyle.
Here are some reasons behind why you should take some time to learn about metals used in cremation jewelry.
With so many types of metals being used in cremation jewelry, knowing what the attributes are, what their features are, and what their benefits are, helps you create a truly customized and personal piece that reflects your loved one.
For instance, if someone's loved one had an iron will or persevered through a difficult life, this stainless steel intricate heart urn pendant is a wonderful symbol for this as it is long-lasting, durable, resilient, and hardy.
Another reason behind why it is important to familiarize yourself with the metals being used is it ensures that you have the knowledge needed to properly maintain, clean, and keep your cremation jewelry safe from wear and tear.
For example, those who purchase sterling silver pieces like the winged memories sterling silver heart or the sterling clear spring garden memorial charm and add in birthstones, will need to take special care due the complexity of the gemstone inlay.
You may also want to understand how the base metal reacts to certain conditions or surfaces. For instance, many individuals are allergic to metals that have nickel in it, and so you would want to understand which alloys have nickel in its composition and avoid it as such. Beyond this, understanding how durable, hardy, resilient, or malleable a metal can be is important for those who have lifestyles that will elicit more wear and tear.
For instance, physical labor jobs, trades jobs, or retail service jobs may not be ideal for gold urn necklaces, rose gold cremation jewelry, or any pieces made of gold-plated copper, stainless steel, or silver.
Types Of Metals Used In Cremation Jewelry
Before we jump into the finer details of each type of metal, it is important to first understand that there are different categories associated with metals. Metals can either be alloys or elements. Common metal elements are iron, copper, and niobium, while alloys refer to a mixture of elements.
Alloys will either be made up from a base metal like brass or copper, or from a precious metal like gold or sterling silver. Alloys are created by changing the strength, the color, and the temperature used to create the final metal piece.
This is a term used to describe any metal that is not either a noble or precious metal, making it a catch-all phrase used within the jewelry industry. Base metals can be used in their raw form or they can be plated with a thin layer of gold, nickel, silver, or rhodium on items like chains, rings, earrings, and so on.
Common base metals are aluminium, brass, copper, pewter, nickel, steel, stainless steel, titanium, and white metals (made from tin-based alloys)[1].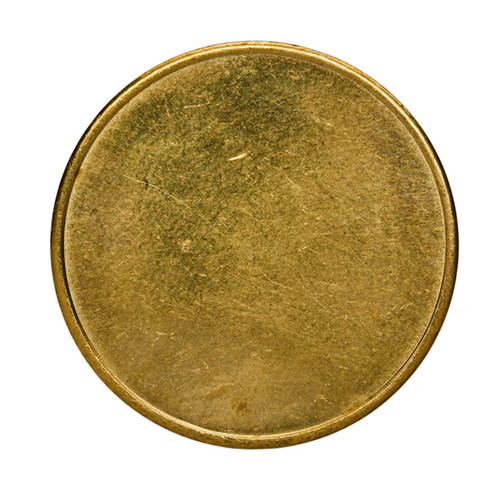 Example Of Brass Base Metal
A precious metal is a metal that is rare, meaning that it is found naturally in the Earth's crust, and has a high economic or monetary value associated with it.
Common examples of precious metals are gold, silver, platinum, iridium, and rhodium among others[2].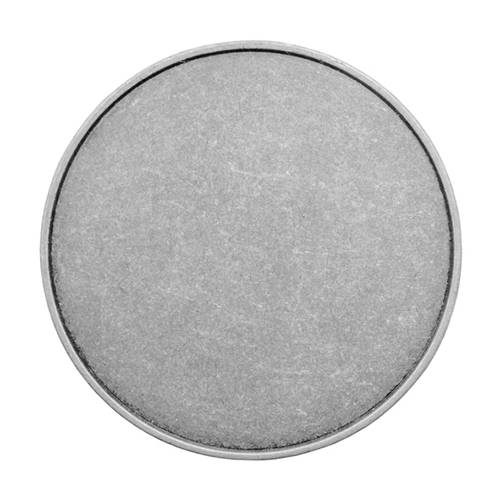 Example of Silver Precious Metal
Noble metals are known to be highly resistant to corrosion and oxidation and are normally rare or precious in their categorization.
Commonly accepted noble metals include gold, platinum, palladium and silver among others[3].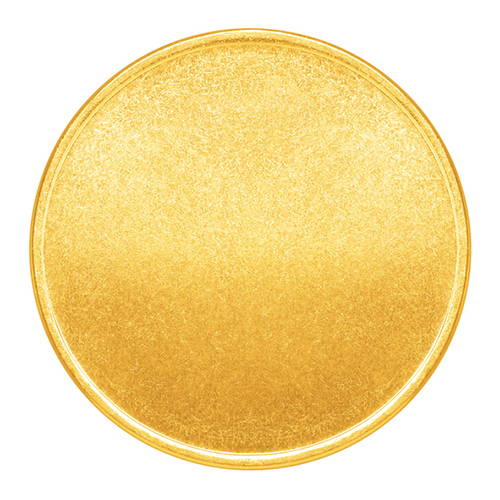 Example Of Gold Noble Metal
These are metals that contain iron in them. These are less expensive than their non-ferrous counterparts as non-ferrous metals will have lower weight profiles, are non-magnetic, and are resistant to corrosion.
Non-ferrous metals include tin, zinc, lead, nickel, copper, and aluminum[4].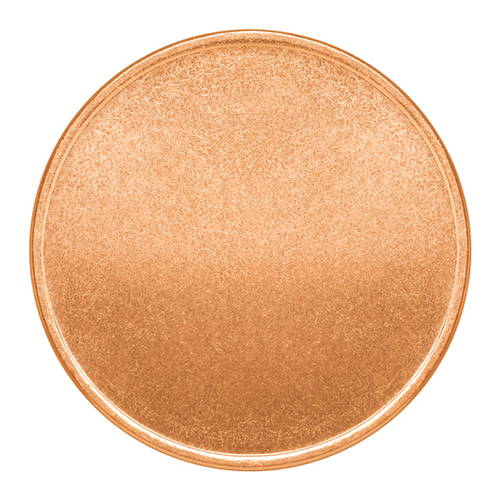 Example Of Copper Ferrous Metal
9 Commonly Used Metals In Cremation Jewelry
There are nine metals that are commonly used in making cremation jewelry. We will discuss the nine metals, their features and benefits and some faq's about each metal.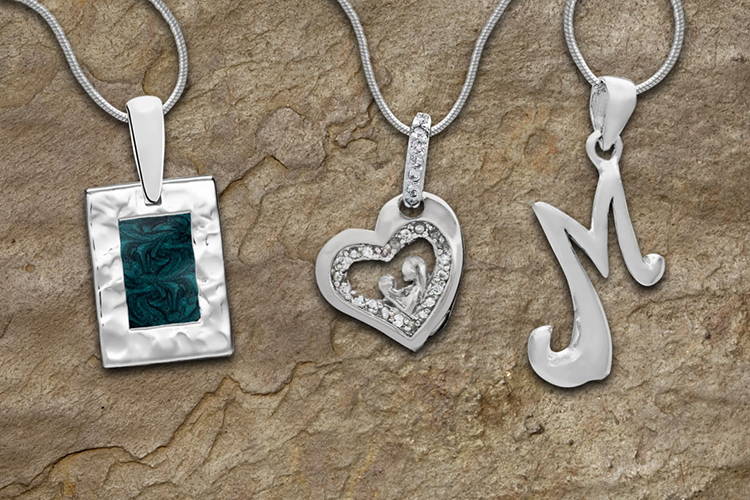 One of the highest quality silvers obtainable, sterling silver is a fantastic alternative to gold or costume pieces. Silver itself is a pure, precious metal with a high sheen and an almost white color.
Sterling silver is a silver alloy, meaning it is a mixture of silver and other metals, specifically, 92.5% pure silver, with the remainder most often being copper or nickel. This particular blend of silver is commonly called 925 Sterling Silver[5].
WHAT TYPES OF STERLING SILVER EXIST?
Like any alloy, many kinds of silver alloys exist. These are only limited by which types of metals are used as their base make up. However, sterling silver typically refers specifically to 925 sterling silver, as other types of silver refer to different concentrations of it, such as fine 999 silver, which is a 99.9% silver ingot.[6]
WHAT IS THE DIFFERENCE BETWEEN STERLING SILVER AND SILVER PLATED?
Solid sterling silver refers to a piece of jewelry made entirely of sterling silver, which is formed into whichever shape is desired.
The term 'silver plated' refers to a piece made from a base metal, such as copper or stainless steel, that is then covered in a thin layer of sterling silver through the use of chemicals and electric currents.
This process, called electroplating, binds the sterling silver coating to the base metal, covering it completely and giving it the look of silver.
WHAT ARE THE FEATURES & BENEFITS OF STERLING SILVER?
On its own, silver is relatively soft and malleable, making it easy to bend and form, but as an alloy, sterling silver is more durable than other metals, and lasts for years when properly cared for.

In order to properly care for a sterling silver piece, simply keep it away from sources of water, and avoid collisions with hard objects to slow tarnishing and avoid dents and scratches.

Although any sterling silver will tarnish eventually, special polishes are readily available and require only a clean cloth to use, making your silver look brand new with a single polish. Alternatively, there are some equally effective DIY polishes available for solid pieces with no inlaid gems or stones.[7]
The most advantageous thing about sterling silver is that it is a hypoallergenic alloy due to its high percentage of base silver. This is great news for anyone who might have a nickel allergy or generally sensitive skin.

Since silvers tarnish with use, they are best suited to those that will wear them less often. For example, if you prefer to only wear your jewelry when you leave the house and remove it the moment you get home, a silver piece would be a good option.

Additionally, it is also better suited to anyone who won't be spending much time in contact with moisture, as this hastens tarnishing as well.[8]
WHAT SKIN TONES WORK WELL WITH STERLING SILVER?
Being a light-colored metal makes sterling silver great for those with cool or neutral skin tones. To determine if you have a cool or neutral skin tone, look at your skin in natural light. If you clearly see blue veins, or ones that are blue in some areas and greenish in others, you're in luck, as these are the hallmarks for cool and neutral skin tones, respectively.
However, this is more of a guideline than a rule, and doesn't bar those with warm skin tones from wearing silver whatsoever.[9]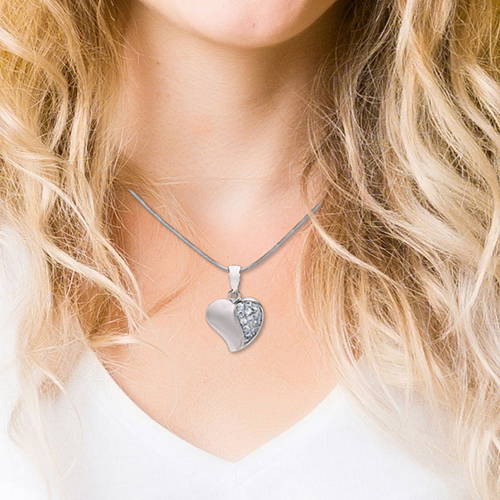 Can sterling silver get wet?
Although water won't directly damage the metal, it will cause it to tarnish more quickly, turning the metal dark shades of green and, eventually, black if left long enough.
How long does sterling silver jewelry last?
Sterling silver is more durable than other metals, but far from indestructible. It can be damaged with use, as the metal can wear away, get dented or scratched, and even crack or snap in places if not properly cared for.
Where can sterling silver be worn?
Sterling silver can be worn almost anywhere, however, it should be removed before entering water, such as a pool, and it is important to remember that silver is highly conductive of both heat and electricity, making it unsafe to wear in such environments.
Gold itself, though eye catching and desirable, is often expensive and inaccessible. An inexpensive alternative is gold plated jewelry, which is a base metal, often copper, stainless steel, or even sterling silver, that is covered in a layer of gold only several microns thick. This allows for an inexpensive piece, like the gold plated "I" keepsake jewelry, to have the look of an expensive one to the untrained eye.
Gold-plating also works great for decorations that don't have to deal with high amounts of wear and tear. The gold layer maintains its high sheen, and the base metal provides extra durability to the general structure of the piece.
WHAT TYPES OF GOLD PLATED JEWELRY ARE THERE?
Gold plating can be applied over many different types of metal, however, sterling silver (referred to as vermeil in this application) and stainless steel are our preferred bases. These two metals provide a massive increase in the durability of a piece while reducing its cost significantly and maintaining its appearance.
Gold plating is achieved using one of the following three methods:
Electroplating is the process of submerging a base metal into a metal solution, such as copper into gold nitrate that has been dissolved in water, and running an electric current through that base. As the copper is submerged, it attracts the gold coating to it, forming small bubbles of it on its surface. As electricity is passed through, the gold merges with the surface of the copper and forms a thin, solid layer.
IP vacuum plating is also known as ion plating, and is the modern process of vaporizing a small amount of metal coating using heat, pressure and various gasses. It is ionized with magnetism, then subsequently bombarded onto the surface of a base metal. This process is complex, but has the advantage of allowing a wider range of materials to be combined.[10]
A nano-coating is a ceramic plating that is applied to the surface layer of an object to give it favorable characteristics such as resistance to corrosion, water resistance, enhance glossiness, and eliminate the potential for scratches and dents. Nano-coatings come in liquid and solid form and are applied on jewelry pieces to repel oil, dirt, and water[11].
WHAT ARE THE DIFFERENCES BETWEEN SOLID GOLD & GOLD PLATING?
A solid gold piece has a mixture that is made up of primarily gold with various other metals, resulting in the 14K gold label you see.
Gold-plated jewelry has a base metal such as brass, sterling silver or another base metal that has been covered with a thin layer of 24K gold.
WHAT ARE THE FEATURES & BENEFITS OF GOLD PLATED JEWELRY?
Due to its versatility, gold-plated jewelry is a popular option because it is affordable

Gold-plated jewelry also has a gorgeous lustre, and looks incredibly valuable

It is advisable that if you are going to purchase gold-plated jewelry, that you choose one with a thicker plating so that it wears down at a slower rate. You can get gold-plated jewelry re-plated, if the need arises.
Is highly inexpensive for those who have extremely tight budgets due to how little real gold is actually used.

It is almost identical in its appearance to solid gold.

It is extremely lightweight.

The structure of the base metal is significantly more durable than solid gold.

Gold-plating inhibits corrosion of its base metal.
WHO IS GOLD PLATED JEWELRY A GOOD FIT FOR?
Gold plated jewelry is a good fit for people who want a piece of cremation jewelry that they will wear on limited occasions, maybe once or twice a year. If you are not allergic to base metals such as nickel and are on a tight budget, gold plated works well. It should not be bought if you are planning on wearing it everyday.
WHAT SKIN TONES WORK WELL WITH GOLD PLATED JEWELRY?
Since gold plating does such an exceptional job at mimicking solid gold, it is also a fine choice for those with warm skin tones. The hues of warmer skin brighten up the coloring of the gold-plated metal, giving it a more authentic look and feel.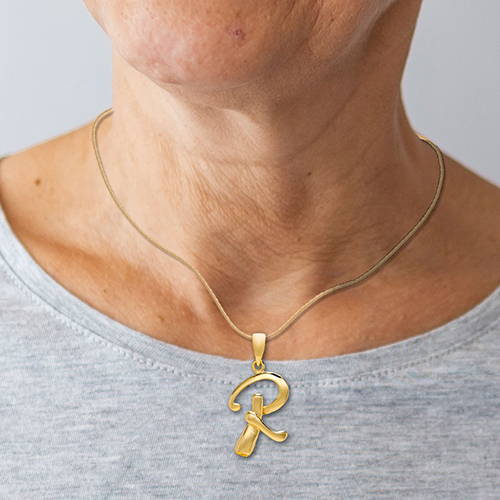 Can I wear perfume with gold-plated cremation jewelry?
While you definitely can wear perfume with gold-plated jewelry on, it is recommended that you spray the perfume on first and then don your jewelry. You don't want the chemicals in the perfume to tarnish or wear away the gold-plating.
How often should I clean my gold-plated jewelry?
Ideally, after every use you should take a soft cloth to it and remove any dirt or dust. If it needs a deeper cleaning, use warm, soapy water only and let it soak for a few minutes before wiping it gently dry.
How long does gold-plated jewelry last?
With infrequent use, gold-plated jewelry can easily last years. The more you wear it, the more it will wear down and lose its gold coating.
Can the gold-plating be reapplied if it wears away?
Yes, it can be, although it is often more cost effective to simply replace the piece when this happens.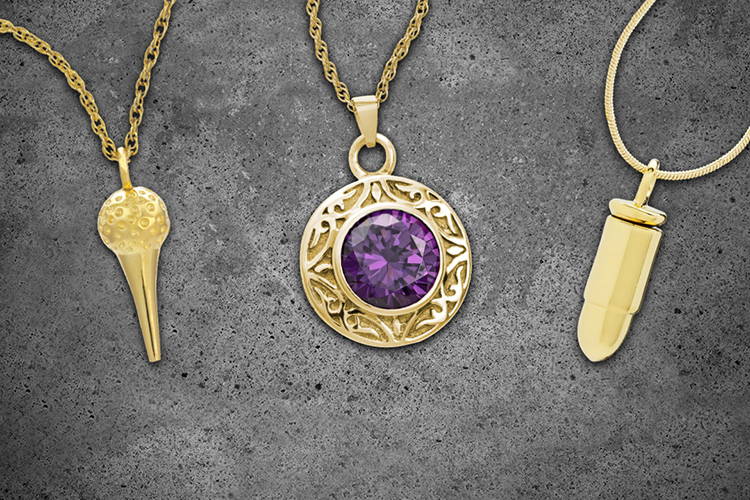 WHAT IS SOLID YELLOW GOLD?
Solid yellow gold is the most commonly seen gold color in terms of jewelry, as it is the simplest to produce and has an attractive color and sheen to it. Solid gold cremation jewelry is actually made from a gold alloy, as pure gold is far too soft for such an application, and would be easily damaged, or even broken after only minimal use.
A typical 14K yellow gold jewelry piece, like this 14K gold ribboned heart remembrance urn pendant, is made up of approximately 58% pure gold, with the rest being any combination of copper and zinc. This mixture improves the durability of the piece, and improves the color and sheen that gold already possesses.[12]
WHAT IS THE HISTORY OF GOLD?
Gold, in its various forms, has been worn as jewelry for thousands of years, with some of the earliest known pieces dating back to 4000 B.C.E. Although it serves different purposes in different cultures, gold jewelry has always been a standard of fashion and accessories alike, due to its impeccable shine and colouration.
WHAT ARE THE TYPES OF GOLD?
When shopping for cremation jewelry, you are likely to come across three different types of gold, those being yellow, white, and rose gold. However, there is a fourth gold, called electrum which is green gold.
Yellow gold is created by mixing together pure gold with copper, zinc, and silver.

White gold is created by mixing together gold, platinum, or palladium or gold, palladium, nickel, and zinc.

Rose gold, also known as pink gold, is created by mixing gold, copper, and silver together. The copper is what gives it that pink hue.

Green gold is created by mixing together gold and silver with a little bit of copper. Generally, the more silver there is, the higher the green tint.
A gold karat is denoted on jewelry with the letter 'K' and refers to how much gold content the jewelry piece has. The gold karat rating system works as follows: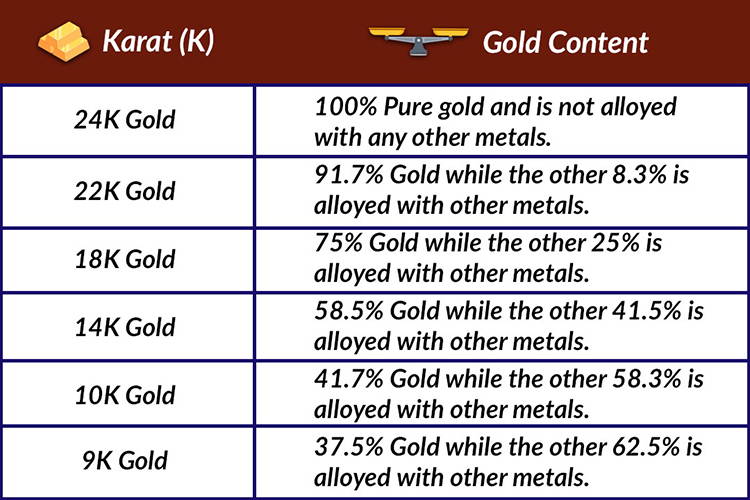 Both 18K and 14K gold is ideal for jewelry creation, while 10K gold makes jewelry affordable to buyers on a stricter budget. If interested in the purity rating of a piece, this is expressed as a percentage and may be stamped with a number. For instance, a 22-karat piece will have 22 out of 24 parts gold which is 91.7% gold and will be stamped with a 917.
WHAT ARE THE FEATURES & BENEFITS OF SOLID GOLD JEWELRY?
Solid gold jewelry is more expensive than many other metals, however, few compare to its palette and radiance.

It will never tarnish and requires minimal cleaning.

Solid gold is easily altered and repaired and is suitable for both men and women.
Out of all of the golds available, solid gold is the most hypoallergenic because it mostly contains either zinc or copper as opposed to nickel which is a common metal allergy.

Solid gold jewelry is very easy to maintain, as you only need a few cups of warm water and basic dish soap. Try not to use dish soap with unknown ingredients and always avoid chlorine. Let it air dry.

Solid gold jewelry is very easy to have altered or repaired if it breaks. This is because it is a lot more malleable than other metals in this list.
WHO IS SOLID GOLD JEWELRY A GOOD FIT FOR?
Solid gold jewelry is a fantastic option for those who want a more traditional, classic, or timeless look and feel. 18K gold jewelry is great for those who have a nickel allergy as it contains none and comes with that classic yellow appearance that is associated with high-value jewelry.
14K gold jewelry is better for those who want a good mix of durability, value, and purity as it has that classic gold appearance that is attractive, not too yellow, but also affordable. 10K gold jewelry is better for those who prefer a more subtle yellow appearance and who want an extremely affordable and durable piece.
WHAT SKIN TONES WORK WELL WITH SOLID GOLD JEWELRY?
With gold being the yellow colour that it is, it works best for those with warm or neutral skin tones.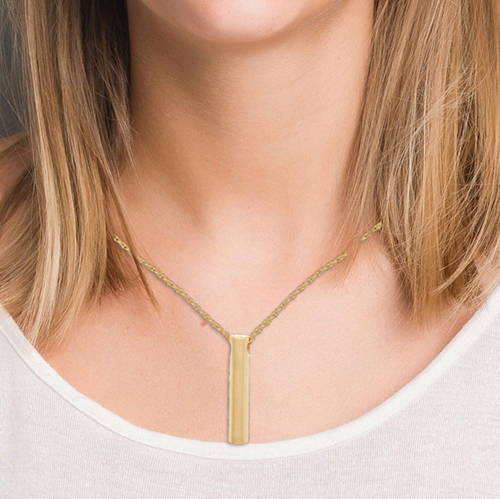 Can I wear solid gold in the water?
Yes, you can! Even in the shower! Just don't use any scrubs, body washes, or gels on it and wipe it down with a soft cloth when you get out.
Can I wear solid 14k gold every day?
Yes, you can! Just keep it away from any hard or abrasive surfaces and polish as needed.
How do I keep solid gold from tarnishing?
Any solid gold that is not 24K can tarnish. To keep it from tarnishing, wipe it down after you wear it with a gentle cloth and wash it regularly with a basic soap and warm water.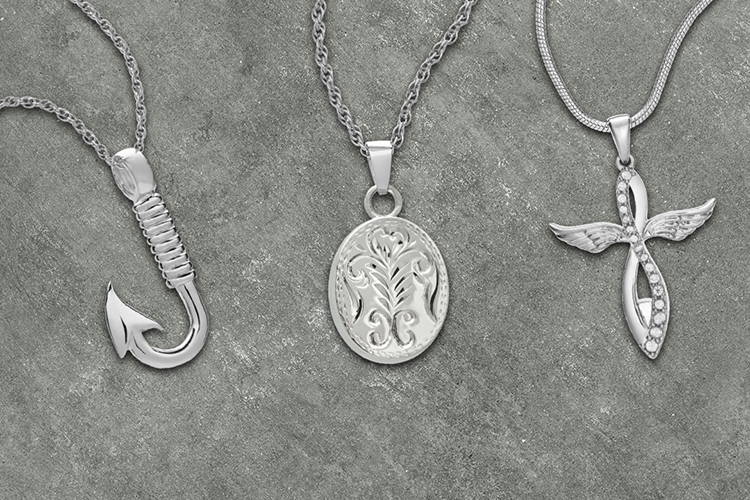 White gold, so named for its near white finish and exceptionally high sheen, is a gold alloy consisting of pure gold and one or more of several lightly colored metals. A typical 14K white gold urn necklace contains around 58% pure gold, while the remainder usually contains nickel, silver or palladium, a white silvery precious metal.
It is because of this mixture of lightly colored metals, coupled with a rhodium coating, that white gold can achieve such a high gloss finish as seen here on this 14K white gold majesty cylinder keepsake.[13]
WHAT IS THE HISTORY OF WHITE GOLD?
White gold itself was created in 1710 by German alchemists Johan Frierich Bottger and Ehrenfried Walther Von Tschirnhaus, however, the white gold we know today wasn't introduced until some time in the 1920's.[14] The popularity of white gold jewelry continues to soar today as fashion accessories, engagement rings and wedding attire among both men and women.
WHAT ARE THE TWO MAIN TYPES OF WHITE GOLD?
White gold two variations consist of a nickel base and a palladium base, and both tend to have a rhodium coating.
A nickel based white gold is simply a gold alloy where nickel was used to achieve a white color.
A palladium based white gold used palladium to achieve the same result while additionally avoiding nickel allergies.
WHAT ARE THE DIFFERENCES BETWEEN STERLING SILVER & WHITE GOLD?
While sterling silver and white gold are very similar in their coloring, as both have a similar silver to gray coloring, their compositions are where they differ. White gold is made primarily of 24K gold, mixed with other metals which may include nickel, palladium, platinum, zinc, copper and even silver.
Sterling silver contains no gold, and is made almost entirely of silver, mixed with small amounts of copper and zinc.
WHAT ARE THE FEATURES & BENEFITS OF WHITE GOLD JEWELRY?
White gold possess a spectacular eye-catching shine that compliments cool white coloring.

It is much more durable than both yellow gold and sterling silver.

White gold does not tarnish and is much more resistant to scratches and dents.
14K white gold is more durable than yellow gold as it uses a stronger alloy base with a combination of silver, palladium, copper, and nickel. Yellow gold mainly uses copper and zinc.

While 14K white gold can have silver in it, it doesn't tarnish like sterling silver will over time.

14K white gold can be made to be hypoallergenic if nickel is not used in its composition.

14K white gold is fairly easy to maintain, and while it does not tarnish, the rhodium coating does wear away over time. It can be "dipped" by a jeweler every couple of years to maintain the rhodium coating for lustre and color.
WHO IS WHITE GOLD JEWELRY A GOOD FIT FOR?
A 14K white gold piece is a good fit for people who like the classic look of silver but want a much more hardy piece that can stand up to everyday wear. It is perfect for those who prefer a contemporary look that is versatile and can compliment many types of outfits and styles.
It is also more affordable than platinum and the neutral silver coloring makes gemstones pop beautifully.
WHAT SKIN TONES WORK WELL WITH WHITE GOLD JEWELRY?
Solid white gold, is a rich, silvery white color, and as such works well for those with cool skin tones to match the coolness of the metal.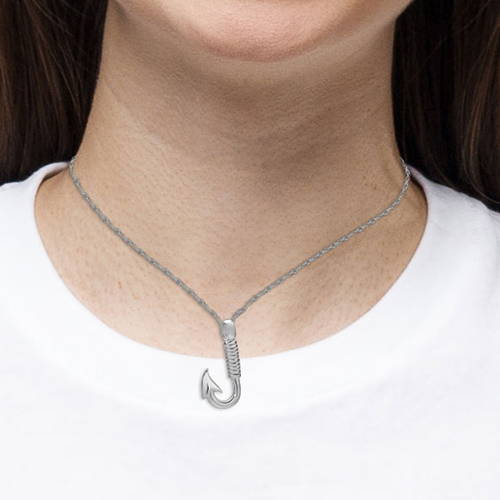 How do I clean my 14k white gold jewelry?
You will want to soak your white gold piece in a mile soap and warm water solution for about 30-minutes. Once soaked, gently rub the piece with a soft cloth to remove any dirt or debris and then rinse it with lukewarm water. Dry it gently with a soft cloth.
How do I keep my 14k white gold jewelry safe?
When completing housework or other hard-to-do tasks, remove your jewelry piece. You do not want it around chlorine-based cleaning supplies. Ideally, do not wear it in the shower either.
I have a scratch on my 14k white gold jewelry. Can it be removed?
Yes it can! A jeweler can polish it out. If the piece gets polish too much though, the rhodium plating can wear away which will require you to get the jewelry re-dipped.
I have a nickel allergy. Can I wear white gold?
Nickel based white gold is not considered hypoallergenic, and thus can cause a reaction in those who have a nickel allergy. It is suggested to avoid wearing white gold if this is the case.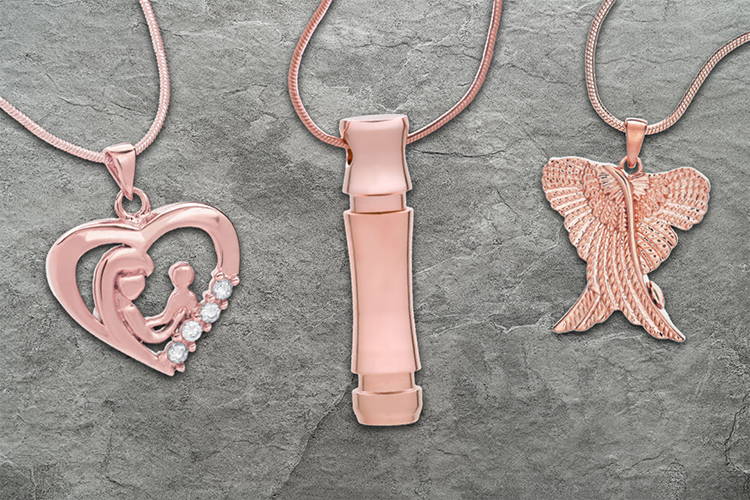 Known as being the most romantic of golds due to its pinkish hue, rose gold is a gold alloy composed of a combination of gold, sterling silver, and copper to give it its signature colouration. For example, 14K rose gold contains around 58% pure gold, with the other two metals varying in amount to fill the other 42% and obtain the desired intensity of red colouration from the copper.
Rose gold can be polished to an exceedingly high gloss finish and is a suitable style for both men and women.[15]
WHAT IS THE HISTORY OF ROSE GOLD?
Rose gold originates in early 19th century Russia and was originally known as Russian gold. It was popularized by none other than the famous jeweller, Carl Faberge, who first made use of it in his world-renowned Faberge Eggs.
Rose gold continued to rise and fall in popularity over the next several decades, reaching its peak when it was used by Cartier in their now infamous Trinity Ring, which was three intertwined bands, each a different colouration of gold.[16]
WHAT KARATS OF ROSE GOLD ARE USED IN JEWELRY?
The most common Karats of rose gold are 18K and 14K, though pieces of as little as 10K do exist as well. The number of karats is chosen based on the resulting colouration desired by the jeweler working with the gold, as less gold allows for more copper to be added, intensifying its reddish hues.
WHAT ARE THE FEATURES & BENEFITS OF ROSE GOLD JEWELRY?
Rose gold is unique in that it has far more variations of its colouration than the other two golds. It can range from red gold, which has an intense hue to it, down into

rose

gold

, which is far softer, all the way to pink gold, the lightest and brightest of all.

It often contains silver, but it will not tarnish, although it may darken over time.

As for cleaning, it requires the least cleaning of all the golds, and no special polishes or procedures are necessary.
14K rose gold is the least expensive option out of all of the gold jewelry because it mainly uses copper in its composition.

Due to it using a lot of copper within its composition, it is also the most durable of the golds available.

It does not have enough silver in it, so it does not tarnish.

It does not need any special maintenance with regards to cleaning.
WHO IS ROSE GOLD JEWELRY A GOOD FIT FOR?
While rose gold is seen less often, it is a good fit for those who want a more romantic look. It is very appealing to those who like vintage-inspired jewelry pieces and it can be combined beautifully with yellow and white gold to create a unique jewelry set.
Keep in mind that rose gold does contain copper, so it is not considered a hypoallergenic option.
WHAT SKIN TONES WORK WELL WITH ROSE GOLD JEWELRY?
Rose gold's color makes it a pristine choice for those with warm or neutral skin tones, as the reddish tint of the Rose gold is complemented by the skin and enhances the look of the piece.
Those with fair skin that have red or pale undertones, those with lightly tanned or Mediterranean skin, and those who have darker skin work well with rose gold.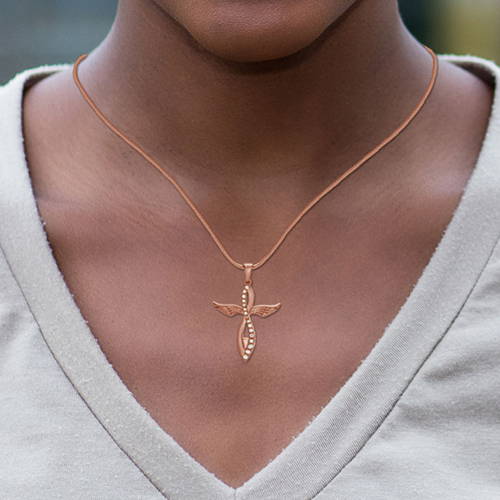 Can rose gold change coloring over time?

While rose gold will not tarnish, it can appear darker overtime. It will not fade though!
What does rose gold jewelry go best with?
A 14k rose gold piece will compliment a 14K solid gold piece and a 14K white gold piece quite beautifully. Rose gold also works really well with neutral colors like black, white, beige, cream, and navy blue.
Will rose gold discolor my skin?
Getting discoloration from a rose gold piece is completely normal. Depending on how acidic your body is, the copper in the rose gold piece can interact with your skin and turn it green. While some experience discoloration, others do not.
This discoloration is not indicative of the piece being low-quality but rather of the natural chemical reactions between your skin, the copper, and the air.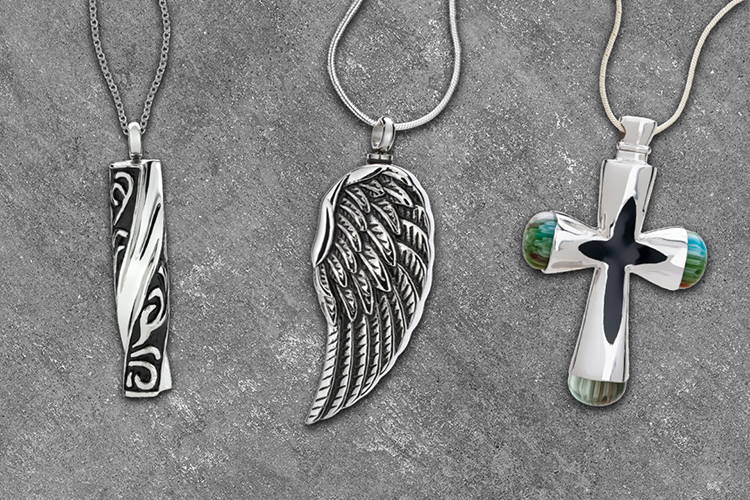 Growing in popularity over the last few years, stainless steel is something you might recognize more so in your kitchen cutlery drawer than in your jewelry collection. Stainless steel is a metal alloy, a mixture made primarily of iron and small amounts of carbon and several other metals.
Changing the concentration of other metals in the mixture produces various types of stainless steel, called grades, which each possess their own features and properties.
WHAT IS THE HISTORY OF STAINLESS STEEL WITH REGARDS TO JEWELRY?
Stainless steel jewelry didn't hit the markets until 1847, as it was only discovered just over 30 years earlier and primarily used for commercial purposes. Even after its inception into the fashion industry, the first stainless steel jewelry came in the form of men's watches and continued on being marketed towards the male populace.
By the time the 1980's rolled in, stainless steel rings and bracelets were readily available, as well as earrings and other pieces.[17]
WHAT GRADES OF STAINLESS STEEL ARE USED IN JEWELRY?

There are generally five grades of stainless steel that are used in jewelry.
The most common of these is 304 which is made up of 20% chromium and 10.5% nickel.

The best jewelry brands use either 316 (which is what we use), 316L, or 316F which are hypoallergenic and contain more molybdenum for resistance to corrosion.

316L is generally for body jewelry as this is considered surgical stainless steel, and you may come across cheap jewelry made of steel grade 202 which is 18% chromium and 4% nickel.
WHAT ARE THE FEATURES & BENEFITS OF STAINLESS STEEL JEWELRY?
Stainless steel is hard, light and durable and has a brighter sheen than most metals.

Additionally, it is one of the least expensive metals available, making it an attractive option for those on a tighter budget.
It is hypoallergenic, so even those with sensitive skin can wear it.

It does not rust, fade, or tarnish and can stand up to water and chemicals.

Maintaining it is easy as you just need warm water and soap.

It is not a precious metal, so it is affordable.

It is scratch-proof.

It does not look like a cheap metal.
WHO IS STAINLESS STEEL JEWELRY A GOOD FIT FOR?
Stainless steel is a good fit for those who want jewelry that looks like silver but is more durable, scratch-proof, and affordable. Those who have sensitive skin, are allergic to common metals, or work in a physical labor job, fit stainless steel jewelry well.
It can stand up to wear and tear and is lead-free, nickel-free, and cadmium-free. It can also have beautiful gemstones inlaid to it that shine due to the silver-like sheen as seen on this millennium cremation pendant.
WHAT SKIN TONES WORK WELL WITH STAINLESS STEEL JEWELRY?
Since stainless steel has an almost silver-like finish to it, it works exceptionally well for those with cool or neutral skin tones to help accent its color.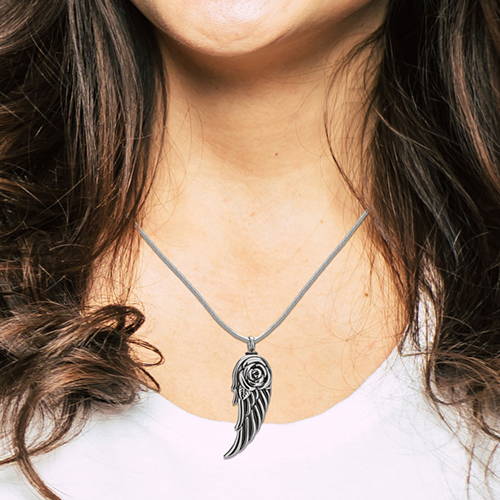 Does stainless steel change color?

No, it does not change color. It may lose its luster over time but simply cleaning it will bring back the shine.
Can stainless steel be worn in a wet environment?
Yes, stainless steel jewelry can be worn in a wet environment as they do not rust. However, keep it away from chlorine as this can corrode it.
Is stainless steel magnetic?
Not typically. If you have a stainless-steel piece that is 316 in quality, it is likely to be non-magnetic.
Can stainless steel be engraved?
Absolutely! Stainless steel jewelry can be engraved using laser techniques.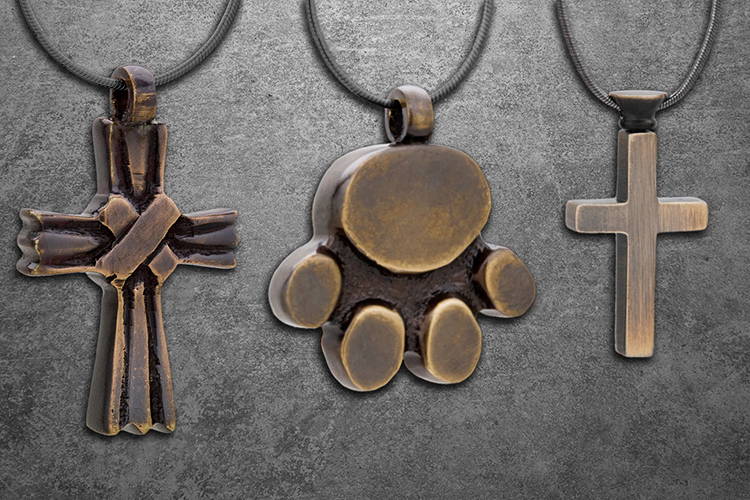 WHAT IS BRASS AS A METAL?
Almost as timeless as gold or silver, brass was an early discovery in human history, although it was difficult for humans to make. Brass is composed primarily of a mixture of varying ratios of copper and zinc, and periodically has other metals mixed in to promote various characteristics over others.
Brass jewelry has been around for centuries, dating back as early as 500 BC, as it is an extremely versatile metal and could be formed into a multitude of shapes and patterns. Bearing this in mind, it's no wonder the gold-like metal has maintained its position in the modern fashion market.[18]
WHAT ARE THE TYPES OF BRASS JEWELRY?
Brass can be made into all kinds of jewelry, such as rings, bracelets, pendants, and even cultural pieces like the brass coils of east Burma.[19] There are three classifications of brass, each with their own characteristics, and all usable by jewelers in different ways.
Alpha brass is best when worked cold, where Alpha-Beta brass, and Beta brass are best worked hot, Beta brass being ideal for the process of lost wax casting.[20]
WHAT ARE THE FEATURES & BENEFITS OF BRASS JEWELRY?
Brass is unique in that it is a common material yet maintains a gold-like finish with minimal effort.

It is a highly versatile material that can easily accent any style with intricate designs or a regal simplicity.

Since it is such a common metal, it is also readily available in a pinch, and won't detract from a look unless improperly cared for.
Brass is an extremely common material and is readily available, which makes it inexpensive to purchase.

If you choose a brass cremation piece that has a higher concentration of copper, it may turn your skin green and it may turn itself green overtime. However, a lacquer coating can be used to prevent this.

It is resistant to corrosion and will not rust.

Brass can take quite a lot of hits before breaking as it is a durable metal. This means that it is more likely to bend than it is to break.

Brass is very easy to clean, just requires you to use acidic natural cleaners like vinegar or lemon zest.
WHO IS BRASS JEWELRY A GOOD FIT FOR?
WHAT SKIN TONES WORK WELL WITH BRASS JEWELRY?
The near gold finish of brass makes it an ideal choice for those with warm or neutral skin tones, alike. Not only will warmer skin tones accent the brass coloring, but it will give the brass the look of pure gold.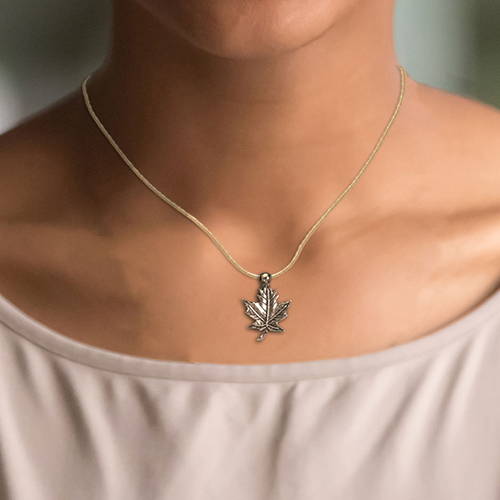 Why does my brass jewelry look dull?
While brass jewelry can turn green, it can also take on a darker state over time and lose its lustre. If your brass jewelry looks dull, clean it with warm water, a toothbrush, and an acidic base like vinegar, ketchup, or a basic dish soap like Dawn.
How long will my brass jewelry last?
With proper care, a brass jewelry piece can last decades.
If I have sensitive skin, can I wear brass?
Brass is not hypoallergenic, which may cause problems for those with sensitive skin. While it can turn your skin green, this is a harmless reaction.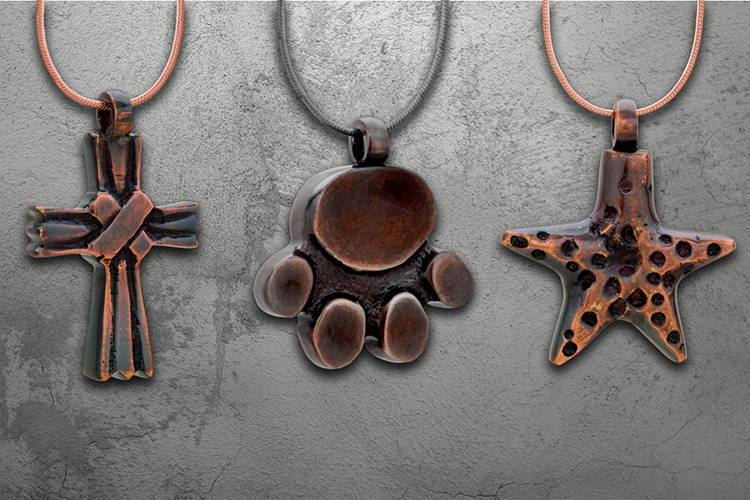 As one of the most widely used metals, copper has a fair bit of history behind it, dating back almost ten thousand years ago. It is a pure metal, not unlike silver and gold, with a high sheen and reddish-brown coloring.
It can be used as standalone jewelry but is also commonly used as a base metal for electroplating.
WHAT TYPE OF COPPER IS USED IN JEWELRY?
When it comes to jewelry, copper is almost always used in an alloy form as it can hold up well over time and is extremely durable. If you are looking for a less expensive jewelry option, one made from copper alloy is a fantastic buy as it can hold up to daily wear and tear.
However, it is important to note that you will need to routinely clean it as copper oxidizes when it interacts with oxygen, which is what causes that green tint on your skin. Copper is generally mixed either with zinc or tin, or is used in conjunction with brass and bronze alloys.
WHAT ARE THE FEATURES & BENEFITS OF COPPER JEWELRY?
Copper jewelry offers some of the most unique pieces, as no other metal that quite reflects copper's reddish-brown palette and versatility.

Its nature as a softer metal allows it to form intricate designs with ease, and aside from its tendency to oxidize, can last for years for a minimal cost.

Some gorgeous examples of copper's intricate designs include this remembrance copper turtle and this petite paw cremation pendant.
Copper requires little maintenance. Regular cleaning with a weak acid, such as vinegar, will prevent it from turning green, or, periodically applying a thin coat of clear nail polish will yield the same result.

Copper is one of the least expensive metals available, even as an alloy for jewelry.

Science hasn't figured out exactly why, but copper has antimicrobial properties.[21] In other words, bacteria can't survive on its surface, so unsealed copper jewelry is surprisingly sanitary.
WHO IS COPPER JEWELRY A GOOD FIT FOR?
Copper jewelry is ideal for those looking for an inexpensive yet unique, rustic look. Additionally, it is great for anyone who wants a diverse collection, as copper can be formed into a multitude of shapes and patterns.
WHAT SKIN TONES WORK WELL WITH COPPER JEWELRY?
The rustic, brown tones of copper work exceptionally well for those with warm skin tones as the brighter hues of your skin have an aesthetic influence over the copper jewelry.
This causes the copper to look brighter and appear more reddish to the eye.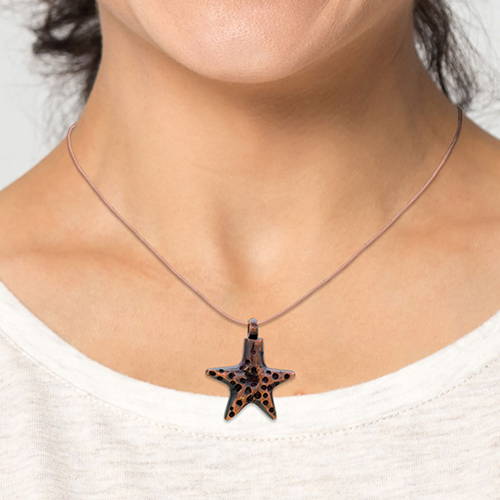 Yes, copper can rust as it is susceptible to molecules in the air.
How long does copper jewelry last?
Permitting that you take proper care of it, it can last years. However, copper is known to wear away, so you may end up replacing it sooner than other forms of jewelry.
Can copper jewelry give you copper poisoning?
No, your body can only absorb trace amounts of copper through the skin, which is not enough to cause copper poisoning.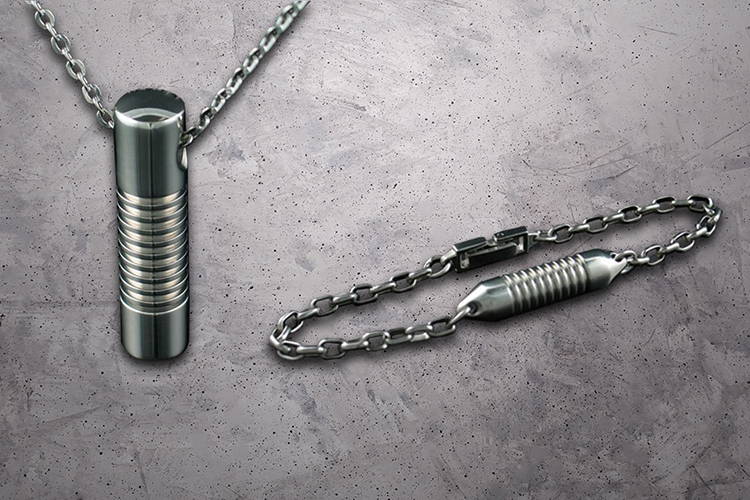 Titanium, another pure metal, is also widely used for its strength and corrosion resistance. This dark silver colored metal can be polished to a very high sheen, and lasts for years, even without any proper care or treatment.
As jewelry, it serves as a long lasting, eye catching piece that is highly resistant to damage and deformation.
WHAT IS THE HISTORY OF TITANIUM WITH REGARDS TO JEWELRY?
Titanium first made its mark on humanity through engineering during WWII, as its exceptional durability, resistance to the elements and incomparable light weight made aircraft and naval vessels that turned the tide of many battles.
Afterward, it was deemed fit for use in the construction of shuttlecraft, and now makes up 85% of the materials used for missions into outer space. It was only very recently that it was finally folded into the jewelry market and has maintained a firm foothold there ever since.[22]
WHY IS TITANIUM SOLD AT A PREMIUM?
Titanium is sold at a premium as the production process is extremely energy intensive. Combined with the fact that titanium has a very high melting point of 1,668°C or 3,034°F, means that it must go through multiple stages of handling, increasing the cost needed to manufacture titanium products.
It is the complexity of the handling process and the energy needed to convert the metal into ingots, that impacts market value.
WHAT TYPE OF JEWELRY WORKS BEST WITH TITANIUM?
WHAT ARE THE FEATURES & BENEFITS OF WHITE GOLD JEWELRY?
Titanium is so lightweight that it feels almost non-existent on your body, it is resistant to corrosion, rust, and chemicals.

It can be inlaid with gemstones, can be fashioned into bold contemporary designs, and can be colored or brushed with numerous types of finishes.

It is extremely affordable and in its refined form, it is inert, meaning that it will not react.
Titanium jewelry is extremely comfortable to wear due to it being lightweight.

Titanium jewelry does not corrode or rust, which means that it will stay in good shape for years without any additional maintenance.

In comparison with other metals like solid gold, titanium is affordable.

Titanium is not mixed with any alloys that would cause allergies, so it is hypoallergenic. Titanium is biocompatible.
WHO IS TITANIUM JEWELRY A GOOD FIT FOR?
Titanium is a great fit for men as the designs are bolder in nature and have a more masculine appeal associated with them. It also helps that titanium is extremely lightweight, so it is perfect for men who do not want to be wearing a heavy piece.
However, titanium is also a great fit for anyone who wants a more contemporary piece that stands out in design.
WHAT SKIN TONES WORK WELL WITH TITANIUM JEWELRY?
While titanium jewelry can come with exterior coloring, most titanium pieces will either be very light or very dark grey in color with a high gloss finish.
This makes it an ideal choice for cool skin tones no matter which shade you choose.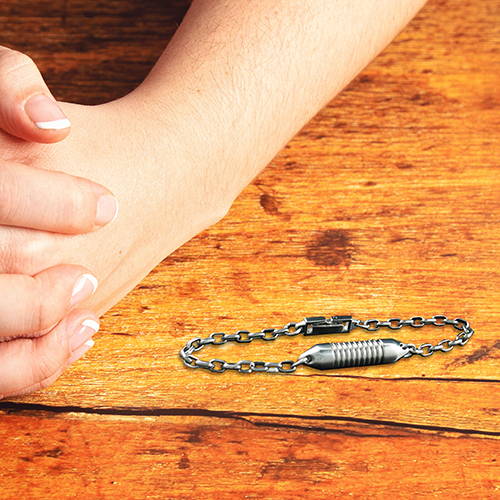 How do I clean my titanium jewelry?
You will need a detergent-free soap and mix it with warm water. Let the titanium piece soak for 20-30-minutes and then wipe it down with a soft cloth. When you are not wearing your piece, store it in its original box or in a soft cloth bag.
What does high tensile strength mean?
Titanium has a high tensile strength, which means that it can stand up to a lot of force before it breaks. A titanium piece is going to keep its shape without being bent or deformed under immense pressure.
What grade of titanium is used in titanium jewelry?
The most common titanium grade used with jewelry is aerospace grade 5 titanium, which is an alloy made up of 90% titanium, 6% aluminum, and 4% vanadium.
Cremation Jewelry Metals - Endless Possibilities