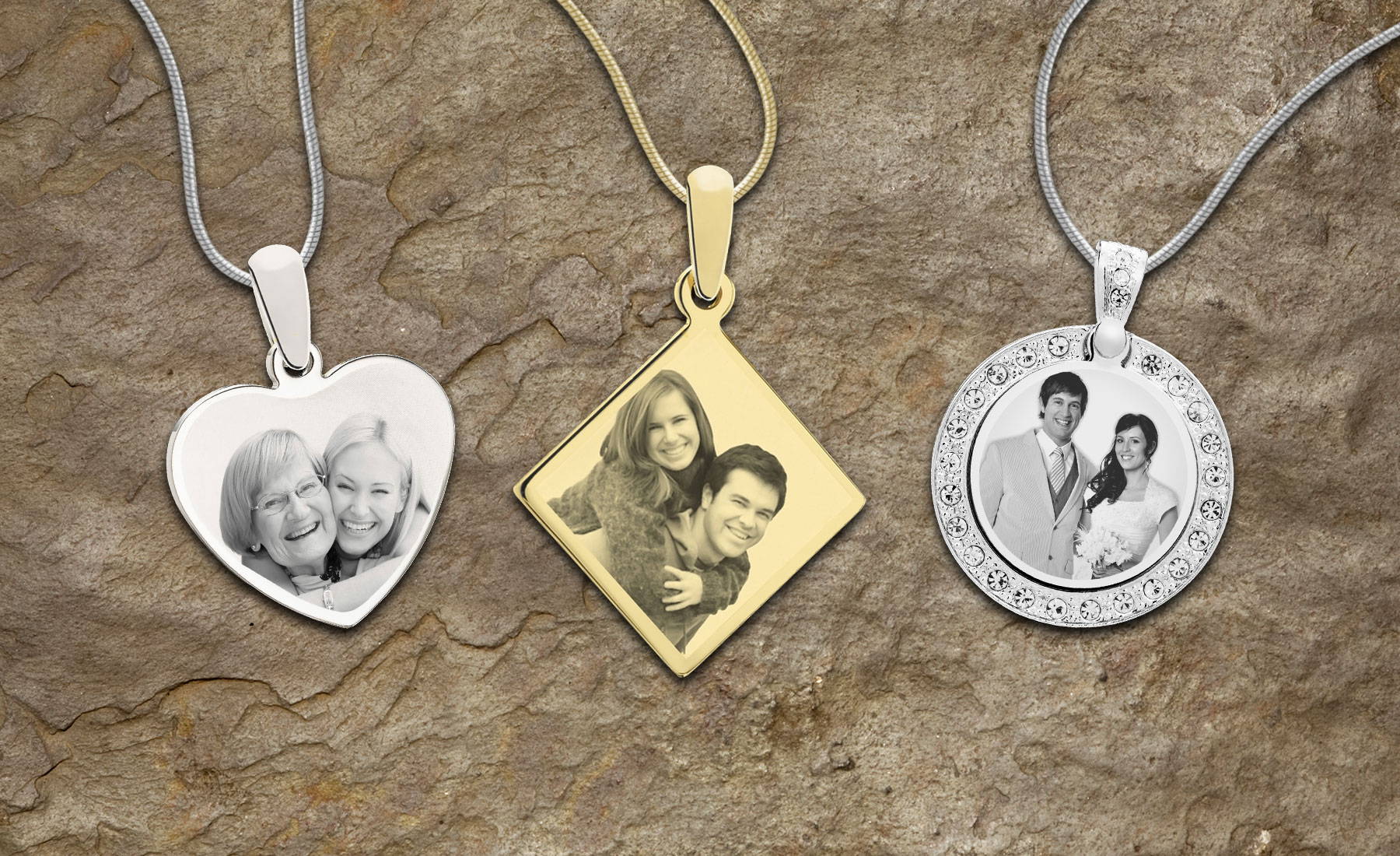 Photo engraved jewelry is a very special kind of jewelry that can serve as a unique keepsake, a gift for your loved ones, a memorable party favor, and so much more. It's a style of personalized jewelry that not only tells a story, but also lasts a lifetime.
Since there are so many different purposes that picture engraved jewelry can serve, this guide can be a helpful tool to use for navigating the different styles, options, and uses available before making any purchase decisions. If you're unfamiliar with this product, everything you need to know can be found here.
What Is Photo Engraved Jewelry?
Also known as personalized photo jewelry, this remarkable jewelry product results from the process of permanently engraving a photo directly into the pendant of a jewelry item using a precision laser. This means it isn't simply stuck on with any kind of adhesive—it's there for good!
There are varying kinds of jewelry this can be done with, including different sizes, shapes, chains, and pendant styles. The engravings can be done from black and white photos as well as colored photos, and the customizations that can be done with each piece of photo jewelry are plentiful (including the option to hold cremains inside, too)!
Why Do People Buy Photo Engraved Jewelry?
There are a variety of reasons why people might want to buy a picture engraved necklace, a photo dog tag, or even a photo engraved money clip. These gifts work very well for special occasions and as personalized keepsakes, too.
Some examples of situations where photo engraved jewelry might be the perfect gift solution include:
What Kinds Of Photo Engraved Jewelry Is Available?
There are probably way more options than you'd think when it comes to this specialized kind of jewelry. If the entire concept is new to you, then get ready for lots of enlightening. Don't worry, though—we'll break it down nicely for you here!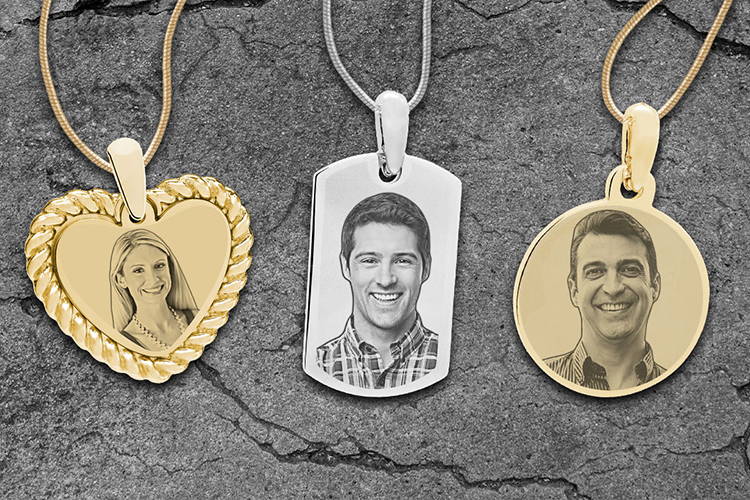 Photo engraved pendants are becoming a very popular option within the realm of engraved jewelry, and it's not hard to see why! Color photo pendants serve as excellent gifts and keepsake items for a variety of events and special occasions.
Engraved pendants are the perfect way to treasure a captured moment forever, all on a beautifully crafted custom photo pendant. Think of it as a creative way to essentially "highlight" your favorite moment, person, or milestone that you've encountered in your life journey thus far.
What To Expect With Photo Engraved Pendant Jewelry
Photo engraved dog tags, rounds, and heart-shaped pendants are just some of the options available with this kind of keepsake jewelry style. The pendants are of high quality, meaning your jewelry will LAST!
If you're not sure of what to expect when you start the shopping process, don't stress. We've got you covered with a few features listed here, just to give you an idea.
---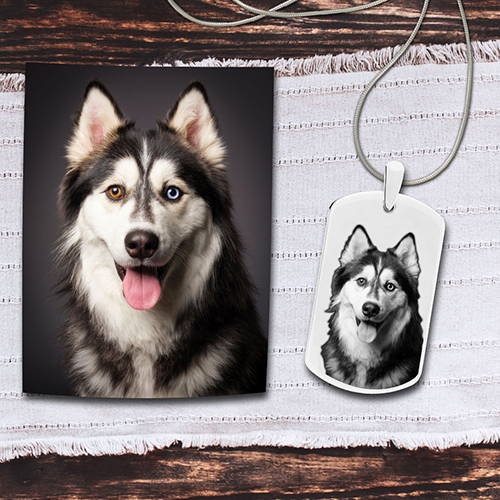 We can take black and white, sepia, colored images, etc. The result will always be black and white greyscale.
---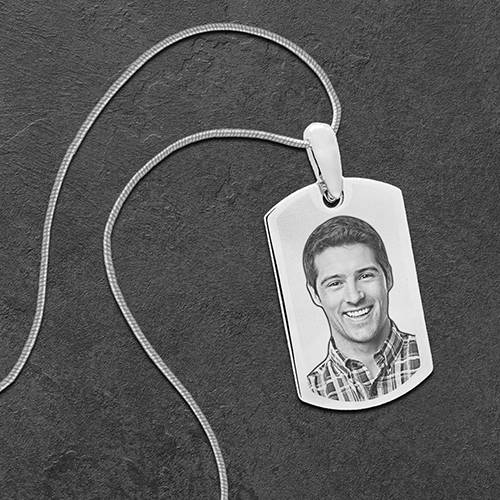 The photo jewelry includes a FREE matching chain. Additionally, we provide an attractive presentation of the finished piece of jewelry, complete with a gift box and white display box.
What's So Great About Photo Engraved Pendants
As we've mentioned, photo engraved pendants are a top choice with many of our customers, and it's easy to see why! These works of art have become a novelty trend in jewelry, and it doesn't look to be slowing down anytime soon.
Ever heard the phrase "A picture is worth a thousand words"? The fact is that this kind of pendant has the power to say so much more than words ever could. Some examples of this are listed below: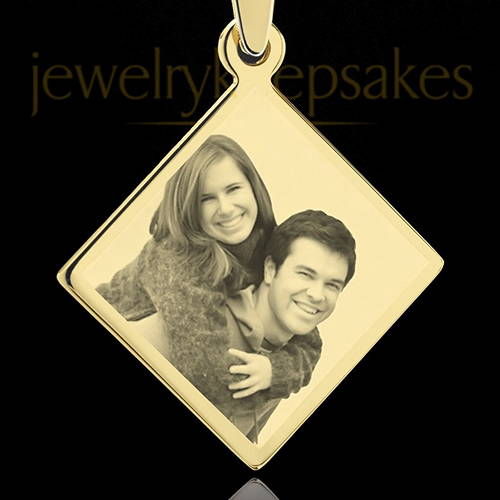 Great for the visual type (people who require visual images to better savor their memories).

A wonderful way for people not adept at writing—or who just dread doing it—can express their feelings for someone in an even more meaningful way.

The best way to remind someone of something symbolic, like a landmark you grew up around, a traditional family food you always made during the holidays, a country flag where you spent time with someone special, and so much more!

It's an excellent present for those who travel for work or pleasure quite often. With the gift of personalized photo necklaces, the traveler in your life can feel comforted and closer to home.

On a different side of the same coin, custom photo jewelry is a great little token for a traveler to give to his or her family and friends before taking off on their next adventure

These pendants could even provide a way to identify lost pets, should the situation arise.
Dog tags have always been great, out-of-the-box gift ideas, but a dog tag photo necklace is just another level up! Adding a photo engraving makes this kind of gift much more memorable and special, and with our high-quality features listed below, this should come as no surprise.
What To Expect When Buying Photo Engraved Dog Tags
There are lots of customization options available for our dog tags.
What's To Love About Photo Engraved Dog Tags
If you think dog tags are only for those who are or have been in the military, think again! This is a stylish trend that anyone can pull off. With that being said, they certainly don't have to be strictly for the purpose of being worn, either.
This kind of jewelry can be dynamically functional: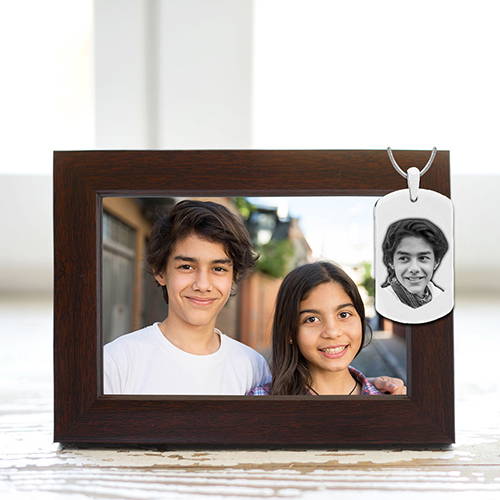 Dangle it from a rear-view mirror in your car. Ideal for those that are always on the go!

Hang it somewhere significant in your room. A mirror, in a window, a place where it will catch your eye often.

Frame the photo dog tag somewhere in your house, for safe-keeping and for display. You can also drape the dog tag off the corner of a picture frame.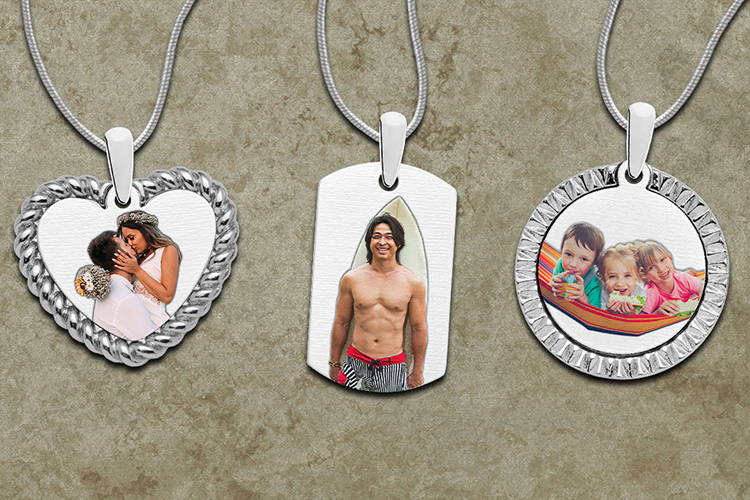 Sometimes, black and white just doesn't do the job. Many customers prefer color engraved pendants. Color pendants ensure that whatever special moment they're celebrating can be represented in a life-like and vibrant way.
What To Look For In Color Photo Engraved Pendants
Color pendants really capture the essence of life's most precious memories. When buying a color photo pendant, you want to make sure you're getting the best quality!
In order to be able to recognize the best colored pendants, you'll need to be aware of the standard features to look for. The highest-quality color engraved pendants will typically have the following characteristics:
Textured White Background
---
---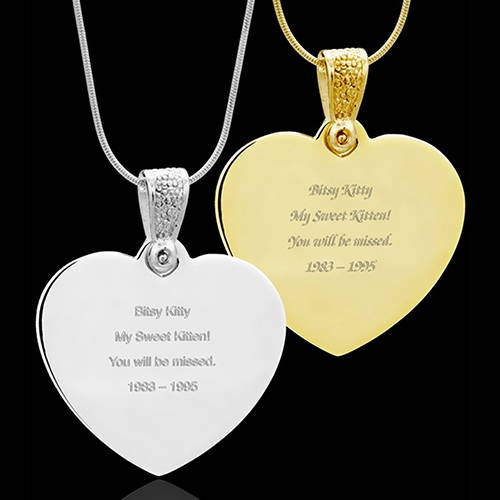 We can crop and customize your photo any way you'd like such as removing backgrounds and focusing in on one person. You can also personalize with engraved text on the back.
What's The Best Part Of Color Engraved Photo Pendants
Color photo engraved jewelry has a lot to offer anyone looking to wear a favorite photo or moment caught in time. The unique quality of having a textured white background sets them apart from black and white grayscale pendants.
BIRTHSTONE PHOTO ENGRAVED PENDANTS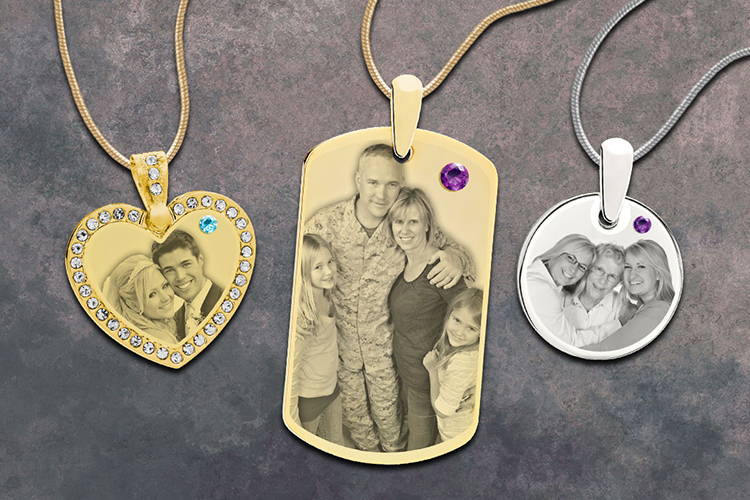 Are you looking to add that extra degree of personalization to your engraved jewelry purchase? If so, a birthstone pendant might be exactly what you're looking for. Our beautiful birthstone pendants make for perfect birthday gifts, memorial keepsakes, and so much more.
The stone placement is not only a meaningful addition to your pendant jewelry, but it also adds quite a pleasing aesthetic element as well!
What To Look For In Birthstone Pendants
With a birthstone engraved pendant, you'll want to have multiple pendant sizes and shapes to choose from. This will give you more creative freedom to use toward customizing your jewelry.
You also should consider pendants that allow for photo engraving, plus text engraving on the back. This ensures that your pendant will be as unique as your fingerprint!
Why Shop Birthstone Photo Engraved Pendants
We've got all the creative space you could want for customizing your piece of jewelry. We understand that our customers are all one of a kind, and we believe they deserve the same kind of personalization in their own jewelry pieces.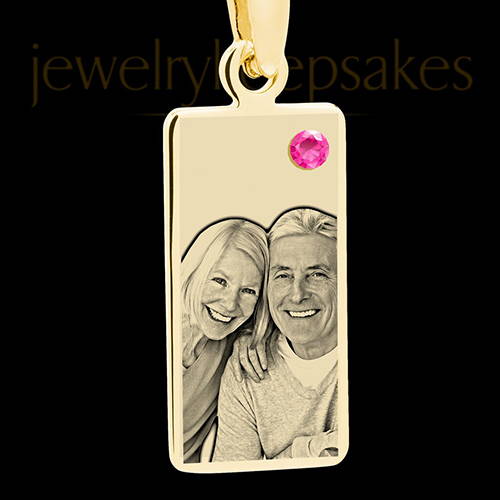 Various pendant shapes and sizes available

Splash of color is added with a birthstone

The stones can symbolize any special month—not just a birthday!

Option to engrave text on the other side of the pendant

You can get a birthstone in the pendant itself, or as a heart-shaped attachment to add to the chain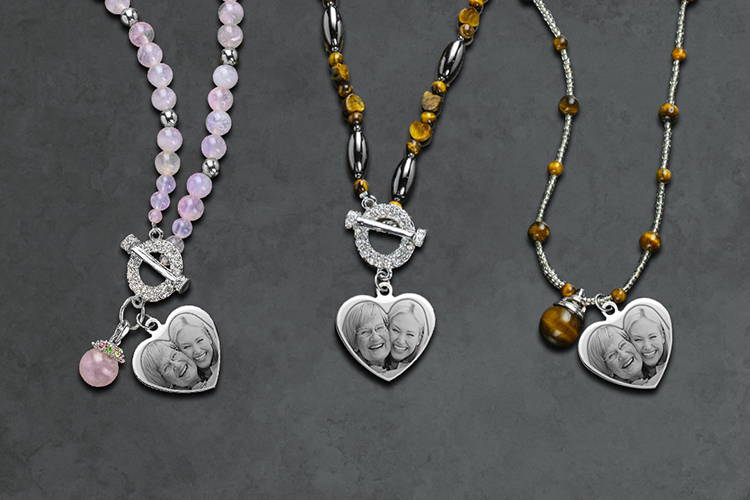 Looking to spice things up with your engraved jewelry, outside of just the pendant? Our beaded pendant chains are an excellent route to go!
Beaded Personalized Photo Necklaces can add a funky, dainty, pretty, or even a bold look to your jewelry selection, whether your pendant is engraved with black and white, or popping with color. These chains allow you to shop for and create a gift as unique as the person you're buying it for—even if that person is you!
What Can You Expect From Photo Beaded Pendant Necklaces?
Generally, beaded pendant necklaces should have lots of room for customization. This means lots of colors and style options to complete the special photo you've chosen for your pendant!
Are you a lover of bold colors that stand out and draw the eye? Or are you looking for something subtle, with nude tones? Either way, you'll surely find whatever it is you're looking for (whether it's for yourself or for a loved one).
Why You'll Love Beaded Pendant Necklaces
Versatile and fun, we've got a myriad of options available to give you a chance to fully express your individuality. Plus, the chain styles are incredibly dynamic. They work for youth, children, and the wiser, more seasoned fashionistas, too.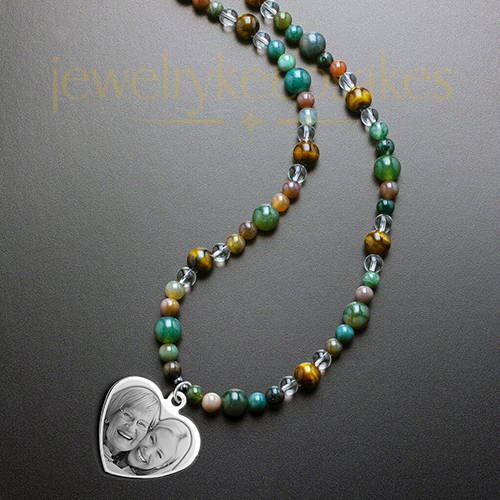 Each day, we have the choice to be someone different. Based on the outfits we put on, and the ways we choose to accessorize those outfits, we can embody whoever we feel like being.
Beaded pendant necklaces can give anyone that extra edge to complete whatever look you may be going for on any particular day.
MEN'S PHOTO ENGRAVED JEWELRY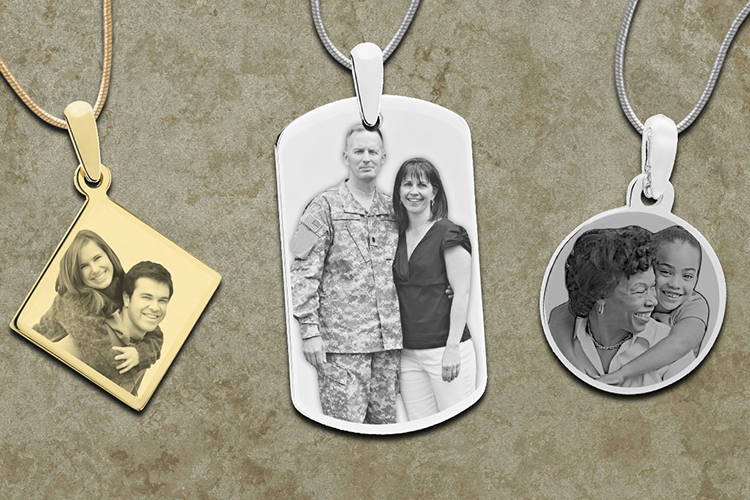 Our men's photo engraved pendants are designed especially for an overall masculine style. The clean, sharp edges and smooth finishes of our pendant options are just what a man tends to look for in a chain pendant.
Qualities Of Men's Engraved Jewelry
Just as high-quality as the rest of our keepsake jewelry, our men's pendants are the perfect gift for a husband, brother, boyfriend, or any other special men in your life!
This gift can be extended beyond just necklace chains, and into keychains, money clips, and more. You never have to struggle buying gifts for the special men in your life ever again.
Benefits Of Men's Engraved Jewelry
Men's engraved pendants are a much-needed aid to those who constantly find it nearly impossible to buy gifts for their male family members, friends, and spouses.
A photo engraved bracelet is a great way to maintain consistent visibility of the keepsake itself. With an engraved bracelet, you can have your favorite photo conveniently dangling from a beautiful bracelet on your—or the gift receiver's—wrist.
Reasons To Choose A Photo Bracelet
Bracelets are the perfect option for anyone who isn't fond of wearing necklaces. Alternatively, it could be a matching gift tied in with a necklace someone has already been gifted. Furthermore, a photo engraved bracelet could be a gift for yourself that connects with someone else's you've gifted, or vice versa!
Features Of Photo Engraved Bracelets
You have beautiful options to choose from, whether you go with a beaded style, luxury twist style, or the simpler stainless steel.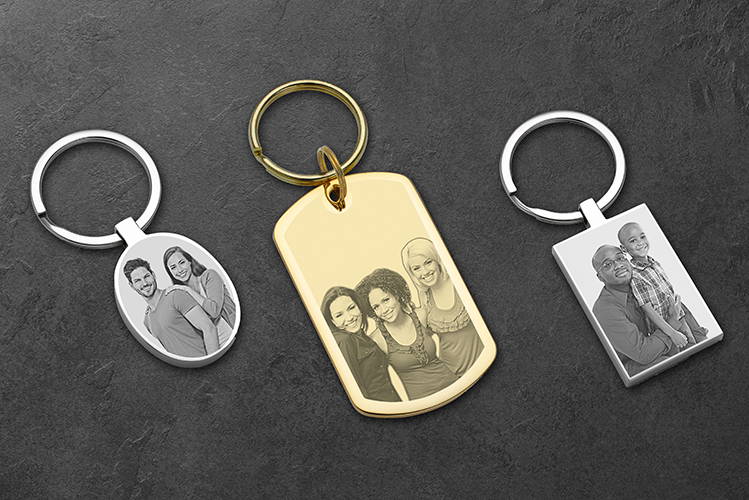 This is a widely loved option for buyers looking for gifts of all kinds. Keychains are easy keepsakes to give to anyone in our lives, but photo engraved keychains are a much more special and memorable gesture.
This pendant keychain could be a gift for anyone from family members to coworkers, and everyone else in-between. As an added bonus, you can have the photo of your choice engraved onto a keychain you already have, if not a new one from us!
These gifts are great for on-the-go enjoyment, no matter where your path may lead you.
Why Choose A Keychain For Engraving
Keychains are great for people who are always on-the-go.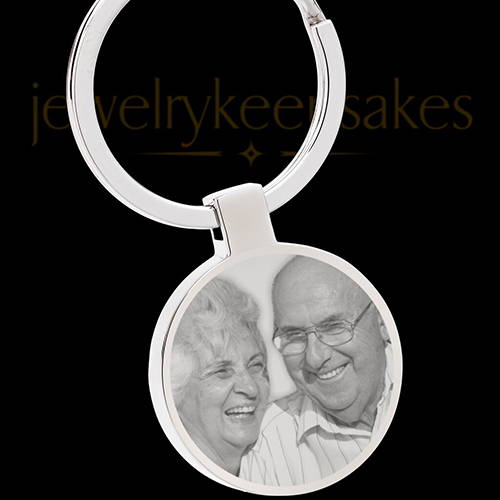 People with lots of commuting in their daily lives, for example, will be able to glance at their special photo engraved keychain through their commute, giving their soul a little much-needed sunshine.
For hard core travelers, keychains are great mementos to take with them. They are super portable, and fit easily into a traveler's backpack.
Photo engraved keychains are an excellent way of always letting your loved ones be reminded of a very important factor: distance means nothing for those who've nestled their way in your heart.
PHOTO ENGRAVED WALLET CARDS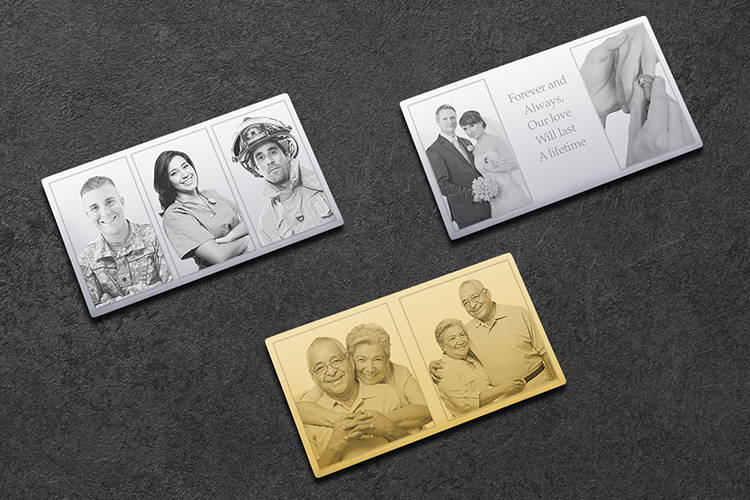 Engraved wallet cards are a delightfully modern, yet unique way to show someone you're thinking of them. Give them something more than money to keep inside their wallets. Give them something priceless, instead.
An engraved wallet card is the upgraded version of simple wallet photos. Why carry pictures that can get ripped, torn, and bent, when you can have a portable, beautiful memento with you, always?
What Is Included With Photo Engraved Wallet Cards
You can get up to six lines of text engraved, if you'd like! As always, choose any photo you'd like engraved, all on either a gold-plated or silver stainless steel wallet card.
Why Choose A Photo Engraved Wallet Card As A Gift
This kind of gift would be an ideal option for those you know who simply don't wear jewelry, and who also don't like carrying a lot of keychains around.
A great example of someone who would enjoy a wallet card with a photo engraving would be a husband, father, grandfather, or uncle. You could even consider gifting an engraved wallet card to your child's godfather.
This would be a perfect way to thank them for taking on such an honorable role in your child's life, and you could pick out their favorite photo of their godchild to be engraved on the card.
PHOTO ENGRAVED CREMAINS JEWELRY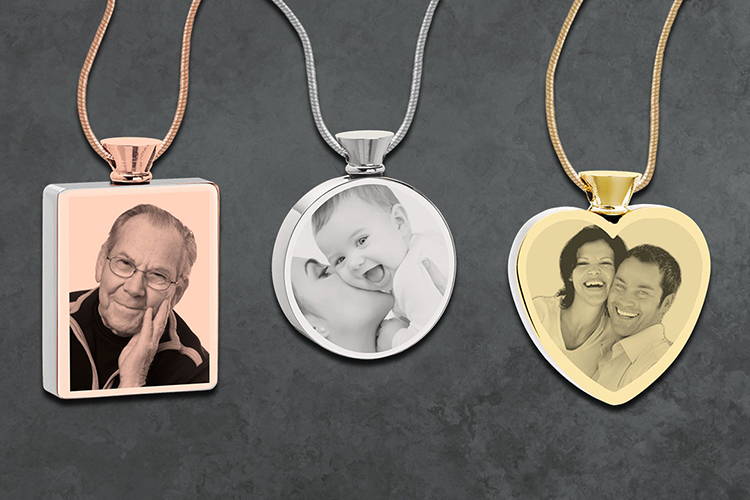 This type of jewelry is extraordinarily special. Why? It has just enough space inside its pendant to hold the remains of a loved one's ashes, also called cremains. Cremation has become quite a desirable option these days, and the ways in which people can physically hold onto the cremains of those who have passed on have expanded greatly.
Our photo engraved pendants that hold cremains provide two-in-one functionality for honoring those who have passed on. You can see your favorite photo of them, while also carrying a bit of their ashes with you wherever you go. Mix and match whichever birthstones, photos, and pendant shapes you would like that best represent your loved one.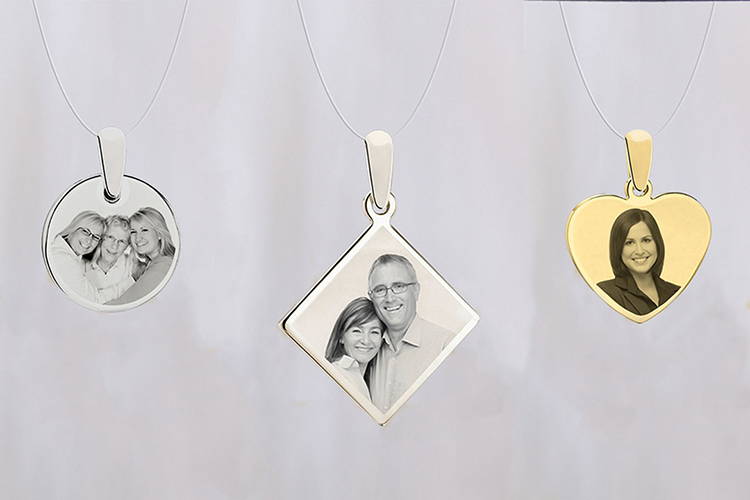 These special pendants are designed for hanging on the rearview mirror of your car. It's a unique and easy way to keep someone's memory close to your mind's eye, whether they are geographically close to you or not. Make your commute more personable and pleasant by keeping your favorite person's photo within your line of sight—whether they are still with us or not—throughout all your daily travels.
It's a great gift for those who do lots of commuting to and from work every day. While driving through traffic is not the most fun thing to do every day of the week, gifting a rearview mirror pendant with a memorable engraving of a special moment can really help brighten their day and put a smile on their face!
The Best Part Of Rearview Mirror Photo Jewelry
The unique design of our Photo Engraved Rearview Mirror Pendants gives them the appearance that they're floating gracefully in the air.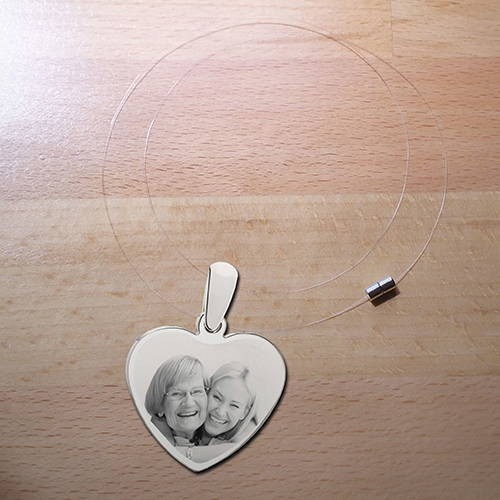 They include a clear filament with magnets on each end. The magnets will adhere to any metal surface, allowing the pendant to hover about an inch below the rearview mirror of your vehicle. Just like magic.
What To Expect Of Rearview Mirror Photo Jewelry
There are many ways to make your rearview mirror pendant one of a kind. For instance, choose from silver, gold, and rose gold plating, various pendant shapes, and even the option to store cremains inside these beautiful pieces of photo engraved jewelry.
CHILD'S SIZE PHOTO JEWELRY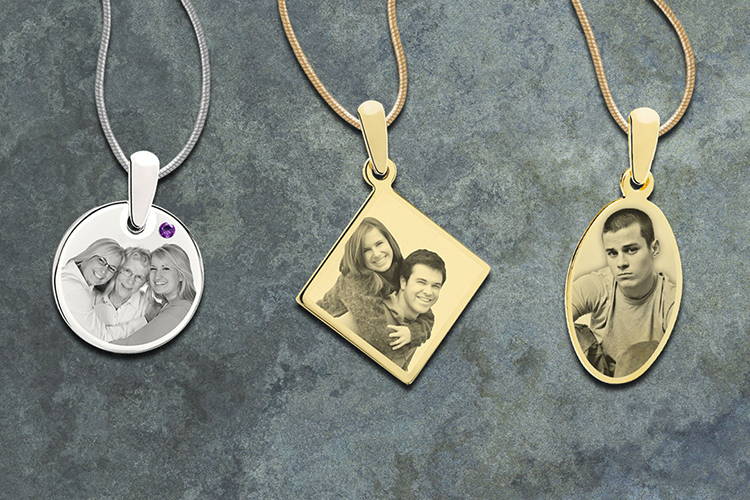 Brainstorming a gift for your child's birthday? Or maybe you're looking for something to give your niece or nephew. This can be even more important when you live far enough from your little ones that you feel the need to give them something they can remember you by.
Our Child's Size Photo Jewelry is the perfect way to do just that. They will always remember who gave them they special pendant, complete with an engraved photo of them, you, or you and them together. Whether you're together every day, or halfway across the world from each other, a photo engraved pendant is a wonderful gift for the special kid in your life.
The Best Parts Of Child's Photo Jewelry
Child sized jewelry is made slightly smaller than our standard pendants, made specifically for little hands. They're durable enough to stand the test of time, and can also be easily wiped clean in case your little one gets into any sticky situations.
PET PHOTO ENGRAVED JEWELRY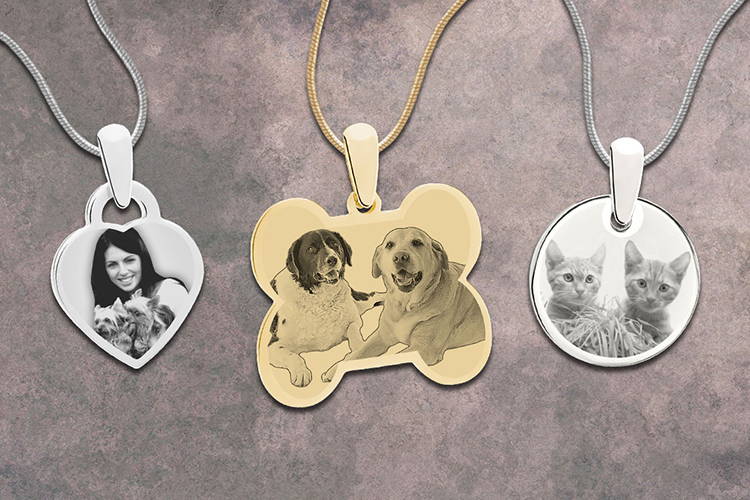 Our photo engraved jewelry can be designed specifically with your pets in mind, whether they are still with you or not. We have special pendant shapes for pet collars and name tags, such as the classic dog bone shape, hearts, puzzle pieces, and more. Ideal for every pet lover to celebrate a favorite picture of their pet, a pet's adoption day, or as a memento for a pet who has passed away.
In the case of a pet's passing, you may also want to consider the option of storing his or her cremains inside a photo engraved pendant for a necklace, wallet photo, rearview mirror pendant, or any other form of keepsake jewelry.
PHOTO ENGRAVED MONEY CLIPS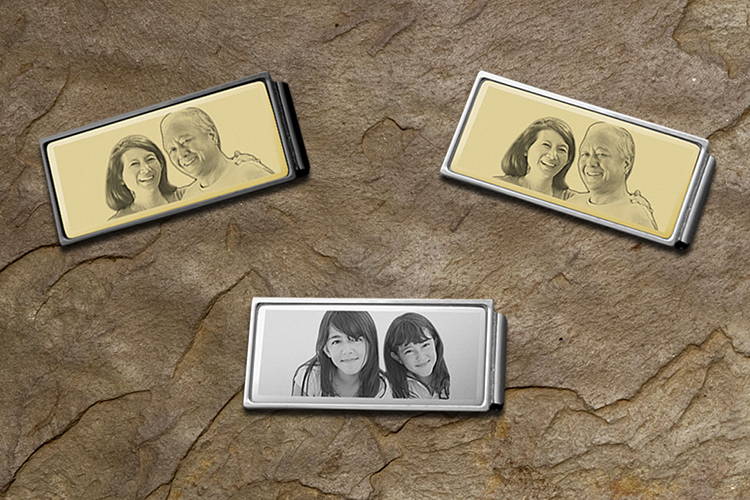 Tired of struggling to think of gift ideas for guys? Photo engraved money clips are perfect for men, and unique because of their personalization. Don't settle for a plain, boring money clip or wallet when you can have your favorite photo engraved on it! Kill two birds with one stone and achieve both practicality and a personal, emotional element, too.
Give him a way to keep his money safe and organized while keeping a photo-engraved keepsake with him at the same time.
What To Expect From Photo Engraved Money Clips
Our money clips are polished, durable, and made from quality material, but also small enough to fit into any front or back pants pocket. Our master engravers can crop and fit any meaningful photo onto the clip, providing you with the perfect gift for the hardest-to-buy-for guy in your life.
Why Does Our Photo Jewelry Stand Out From The Crowd?
There are lots of companies out there offering a similar concept of keepsake jewelry. The problem is, they haven't perfected it the way that we have. The reason we've been able to do this is our combined industry experience and expertise. These things along with our high-quality materials have allowed us to take over the market, serving many happy customers throughout our years in business.
Check out a few of our key features below.
KEY FEATURES OF OUR PHOTO ENGRAVED JEWELRY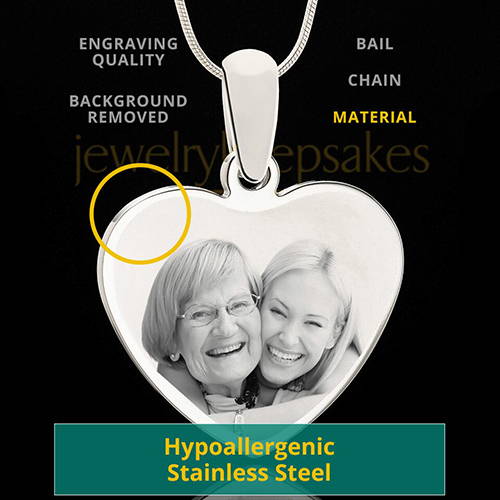 All our photo engraved jewelry is made from solid hypoallergenic stainless steel. Most keepsake jewelry competitors use an alloy that can often aggravate those with sensitive skin. This makes no sense to us—these keepsake items are sentimental, and our customers tend to want to wear them every day!
---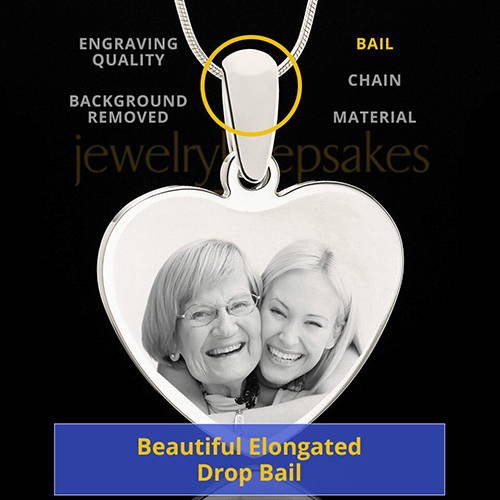 Our pendants include an elongated drop bail, while many of our competitors use a jump ring to suspend their pendants. Our elongated drop bail tends to add a much more dramatic and higher-quality look to the pendant.
---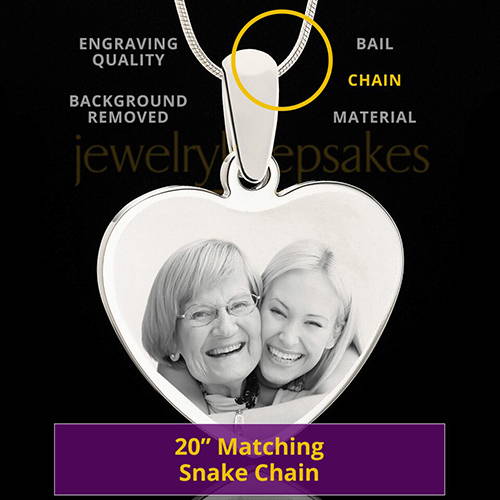 Our pendants always include a free 20" Stainless Steel snake chain. Multiple lengths of Sterling Silver chain are also available, of course. We know our customers like to change it up every now and then, so we love offering them that freedom!
---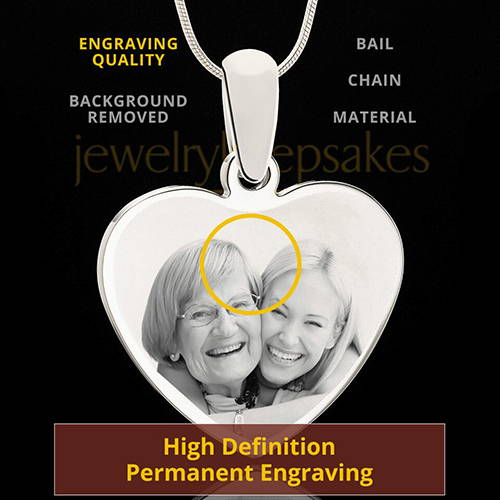 It goes without saying (but we'll say it, anyway) that our high-quality engraving is permanent and will not disappear. Your memories may start to fade over time, but our photo engraved pendants won't! Count on us to capture your favorite moments, and make something incredibly special out of them.
---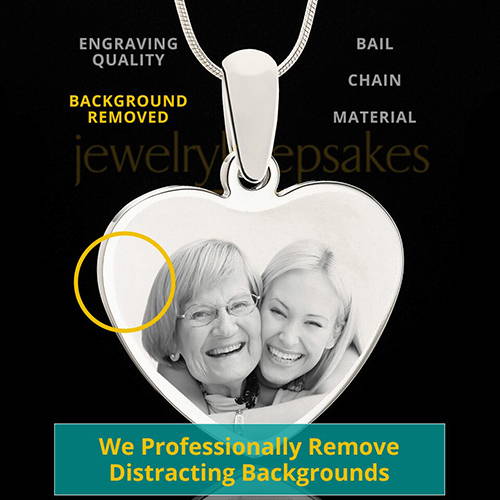 Our talented artists can do lots of customization, such as remove backgrounds, add contrast, merge two separate photos together to become one—basically, we can personalize your special keepsake item in any way that we can do for the jewelry to turn out amazing every time.
Additionally, we are a proud, Made in the USA kind of company. Located in Great Falls MT, our pendants ship the same day when orders are received by noon MST.
How To Select The Right Jewelry Type
With so many different options out there, it can be difficult to choose the right kind of keepsake jewelry for you, or for the person you're shopping for. Here are some ways you can narrow down your search!
Consider your budget, first and foremost. This is a good starting point from which you can begin directing your tastes and preferences, once you have decided on a spending limit.
Skin type might play an important factor, too. Different colors will look more flattering on different skin shades. Besides aesthetic reasons, you also want to make sure you're keeping in mind any skin sensitivities before purchasing your jewelry. You might need to steer clear of certain materials, depending on any possible allergies you or your loved one may have.
The pendant size will vary depending on which pendant you buy. If you're shopping for a child, for example, you might want a smaller pendant. You might also want something smaller for a pet. If you're buying for a woman, you might want to consider whether she prefers dainty styled jewelry, too.
Consider the photo you will choose for engraving. If the photo will be landscape, you'll need to choose a pendant that can correctly display that photo. If you would like to have a portrait photo engraved, you should consider a pendant that will make the most sense for that photo layout.
The chain length is something that should always be considered, as each chain length is different with every purchase. Think about your loved one's style preferences when choosing the pendant and chain that will go with it.
What Kinds Of Personalization Options Are Available?
Keep in mind throughout your experience with shopping and buying any kind of keepsake jewelry, that there are lots of chances to make your special piece of jewelry even more unique with small additions and customizations. At Jewelry Keepsakes, we want to give you plenty of space for creativity when you're picking out your piece!
Look out for personalization opportunities with these things:
You can add a birthstone to any pendant, making the gift even more dedicated to the one you love. Remember that birthstones don't have to always represent a birthday—it can symbolize the month of an anniversary, day of passing, or any other significant times.
Not only can the birthstone be embedded into the pendant—it can also be attached as a tiny added pendant, stacked onto your chain of choice. This will be sure to add a nice, colorful touch to your keepsake jewelry.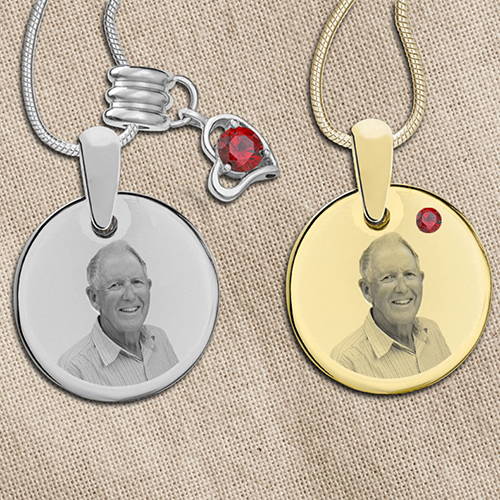 ---
That's right! You can always add another photo engraving to the other side of your pendant of choice. Get two perfect moments captured all on one meaningful pendant, whether it's for a necklace, bracelet, or keychain.
See your second photo on the flip side!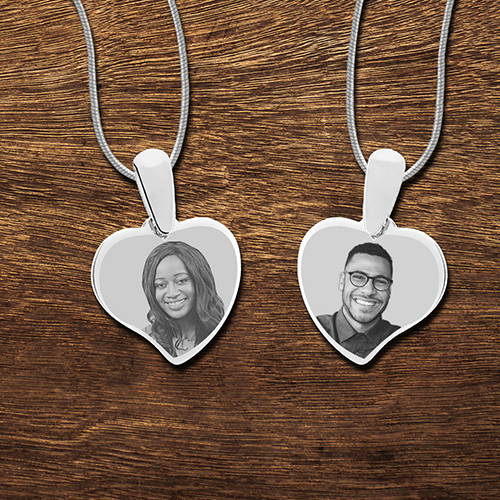 ---
PERSONALIZED TEXT ENGRAVING
Having text engraved is a great way to add a special, memorable message added to your photo engraved pendant jewelry.
Whether you would like it to be an engagement of wedding anniversary date, the day you met someone, a proud graduation date, or the day of a loved one's—or pet's—passing, engraving text adds a solid, tangible element to your gift.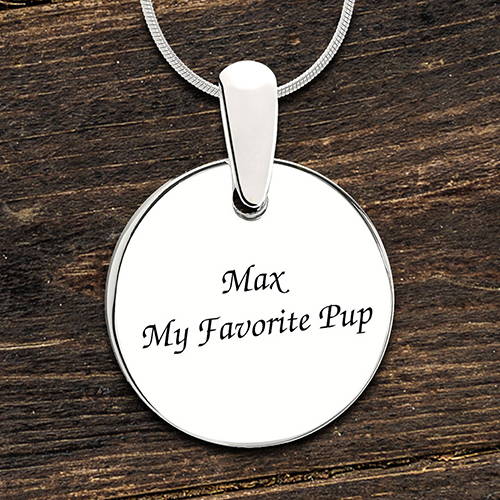 What Can I Expect To Be Included With My Purchase?
When you buy a jewelry keepsake item from our store, you get so much more than a mere piece of jewelry with an engraving. In contrast, you actually get a memory that's been enhanced and curated to perfection, exactly to your satisfaction. Our products symbolize deep, meaningful moments in life, and the deliverance and representation of such a thing is incredibly important to us.
For that reason, we make sure the presentation of our keepsake jewelry items are as impressive as the pendants themselves. Every additional element plays a part, like pieces to a puzzle. With your purchase, you can expect a few things: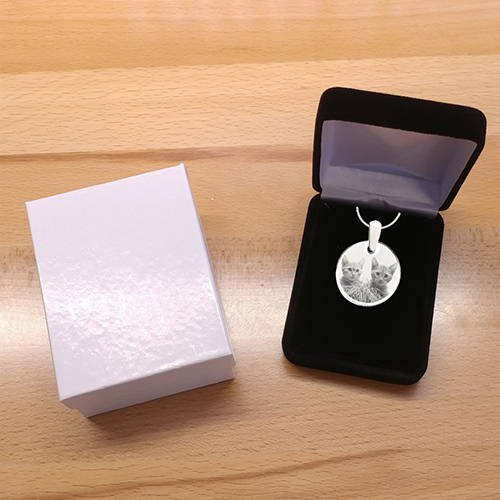 The keepsake will be delivered in a beautiful velvet gift box and then placed inside a white presentation box.
Complimentary gift wrapping is always available if needed—just ask!

Your purchase includes a 20" snake chain, but multiple chain lengths are available. Of course, you can always opt for a beaded chain as well.

We aim to always ship and deliver our items on time, so our customers get what they want and when they want it.

You can expect the photo to be expertly etched into your chosen metal for a higher level of detail and an impressively sharp image. You'll want to stare at it all day!
Giving The Gift Of Photo Engraved Jewelry

Gifting photo engraved jewelry is a great way to share some smiles and some memories with friends and family. Whether you're buying for the man in your life, that special lady or gifting a custom photo pendant to a child or teen, we are here
PHOTO JEWELRY GIFTS FOR MEN
Men can be some of the hardest people out there to buy for! Trust us, we get it. That's why we've singled out some our best gift ideas for even the most difficult-to-buy-for guys. Even those who seem to have it all can find enjoyment in a piece of our keepsake jewelry.
Some ideas for men might be:
Photo engraved wallet cards and money clips are a great gift idea for the professional man. The wallet cards easily fit into any wallet or billfold and the money clips are a terrifice alternative to those that don't carry a wallet.
Keychains that are engraved with a spouse, children or even a family pet are a terrific gift idea for the man that is always on the go. Easily attached to an exiting key ring or used alone, they give him a visual memory of someone he loves.
From photo engraved pendants geared in men's styles to rearview mirror photo engraved jewelry, any guy would appreciate the ability to glance at that favorite picture that brings a smile to his face.
---
PHOTO JEWELRY GIFTS FOR WOMEN
The most ideal gift ideas for women from our many photo engraved jewelry pieces include the following:
Birthstone photo engraved jewelry is a super gift idea for any mom! Heart photo engraved pendants can be engraved with those that have stolen her heart and can be further personalized with the names of her loved ones on the back.
Photo bracelets and photo engraved pendants give every woman the opportunity to wear that favorite memory and show it off! The wide assortment of designs allows you to choose a pendant or bracelet that best suits her style.
---
PHOTO JEWELRY GIFT IDEAS FOR CHILDREN

Children fill a tender place within our hearts, and they call for particular representation of those feelings.
Choose from any of our child photo jewelry that are sized appropriately and offer children a visual way to connect with someone they love.
Rearview mirror photo pendants and birthstone photo jewelry offers teens a way to have that visual reminder of a parent, a pet, a bestie as well and the option to further personalize with a birthstone honoring a special month.
Making Memories Timeless With Photo Engraved Jewelry
Our keepsake jewelry, and specifically our photo engraved pendants, are one of a kind items. Our company works hard to put our experience and thoughtfulness into the products we sell. We take great pride in what we provide for our customers, and that means ensuring the end product is a unique, sentimental piece of photo engraved jewelry with every single order placed.
We're very conscious of what sets us apart from the rest, and we intend to maintain the same level of quality, care, and precision for many years to come.
Further reading:
10 Occasions For Photo Engraved Jewelry
Celebrate A New Arrival With Baby Photo Jewelry
Updated May 15, 2020 by Jeri K. Augustus