There are a lot of options out there when it comes to buying an engraved picture necklace and let's face it, there really is no how to guide on choosing what works best for you…until now!
We've answered all your questions from how do you know where to buy from to what exactly is an engraved photo necklace? What should you look for and what's going to give me the best value, the best quality, the best engraved picture locket for my money?
A guide created to help you make the best informed decision. We've done the research for you and have the answers to your questions!
Photo Engraved Jewelry - What is it?
We all have those favorite pictures that we love, those photos that tell a story about a moment in our life. An engraved photo necklace combines that picture that you love with a high quality stainless steel pendant and gives you a wearable option to display that picture.
Your photo is cropped to your specifications. With our picture engraved necklaces, we remove the distracting background in the photo and engrave your image on a very light background. This allows the picture and the subjects to be showcased, not the pendant.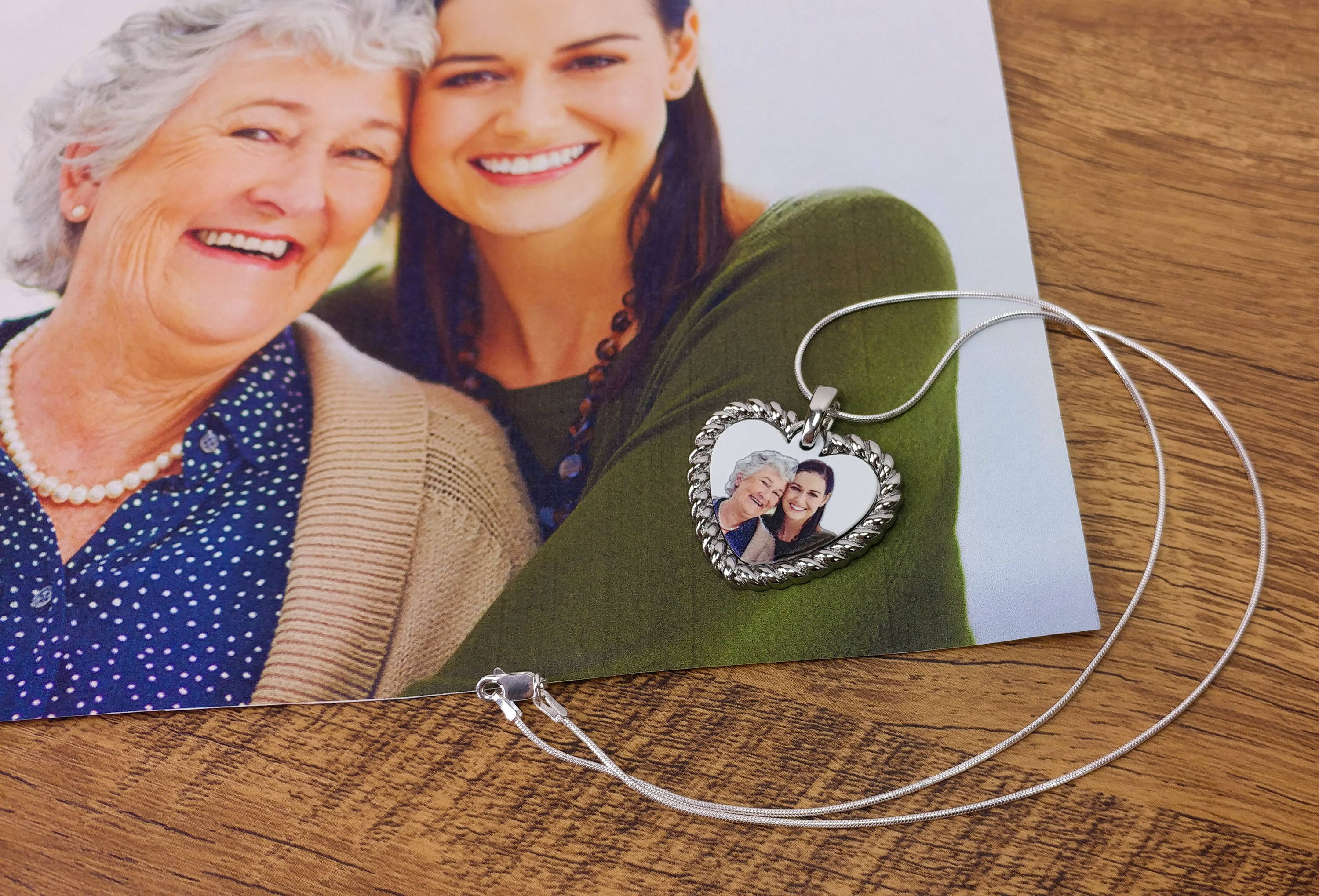 ---
Engraved Photo Jewelry - What types are available?
We understand that no people are alike as are no two pictures. Therefore, we offer a great assortment of different shapes, styles, finishes and options with our engraved photo jewelry so that you can get exactly what you're looking for!
Everyone likes something a little different, personal and unique to them. The assortment of styles enables you to choose what not only appeals to your personal sense of style but also what will best accommodate your lifestyle.
Types of Photo Engraved Jewelry
---
Engraved Photo Pendants - Hundreds to Choose From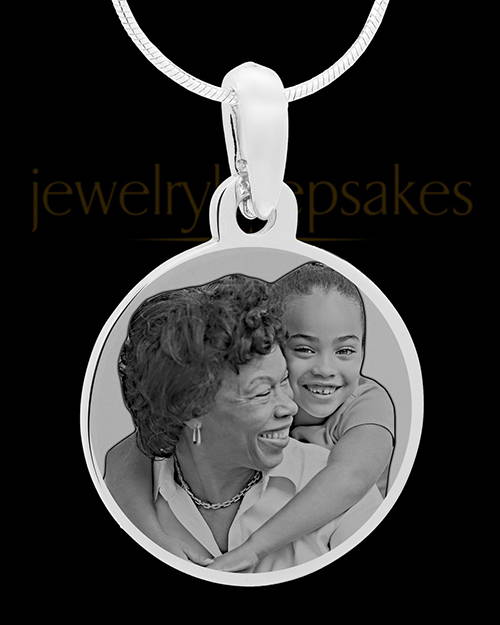 Our selection of photo engraved pendants is complete and meant to be ideal for everyone. Not only do we carry a broad selection of different types of pendants and from the man in your life to gift giving made easy for a child, we've got you covered!
And we don't stop there! Most of our engraved picture jewelry pendants are available in different finishes and with a variety of different options. Not only is it a highly personal gift for you or someone you love, but it is completely customizable too!
Picture Engraved Jewelry Finishes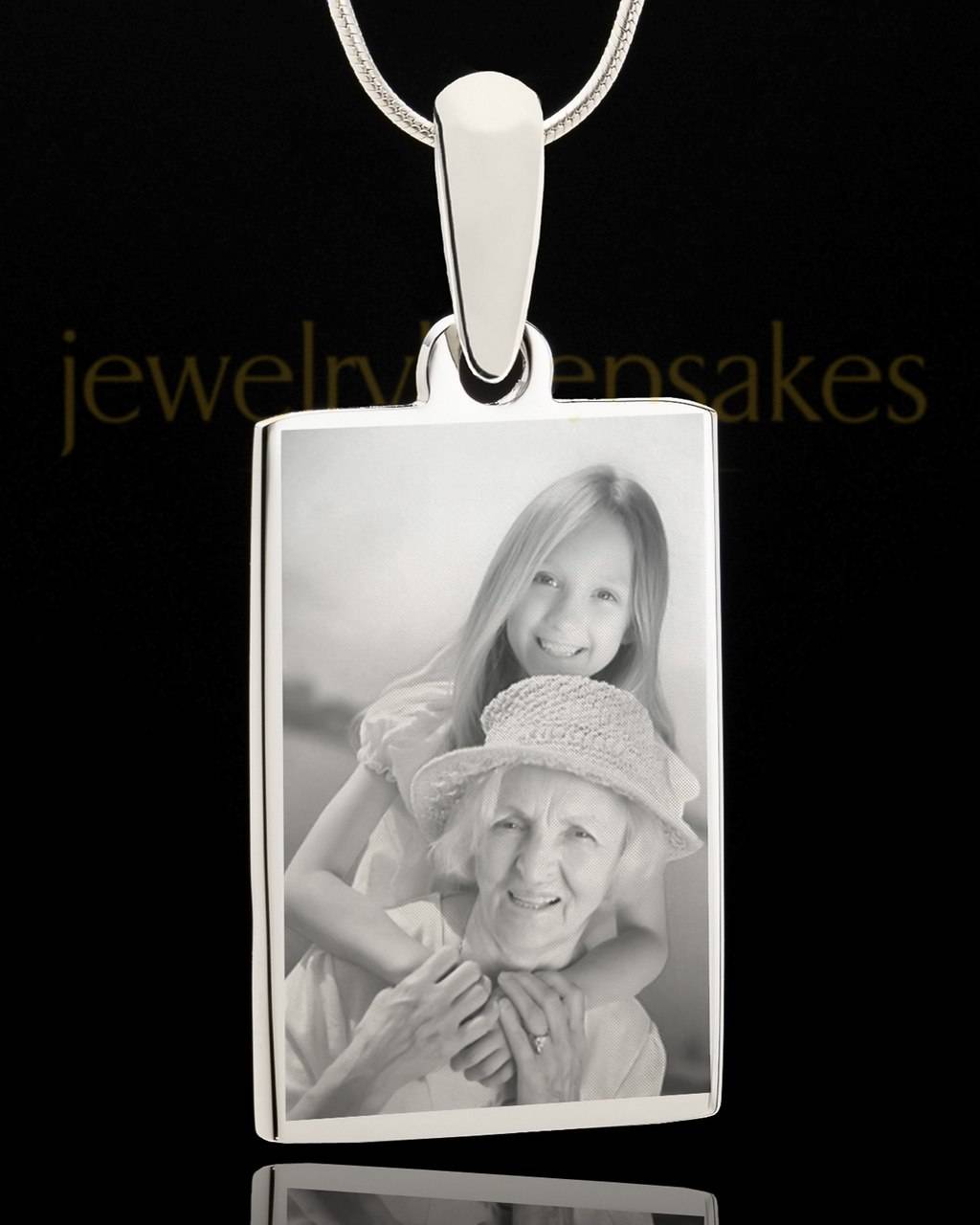 Polished Stainless Steel provides a stunning and durable background for your favorite picture.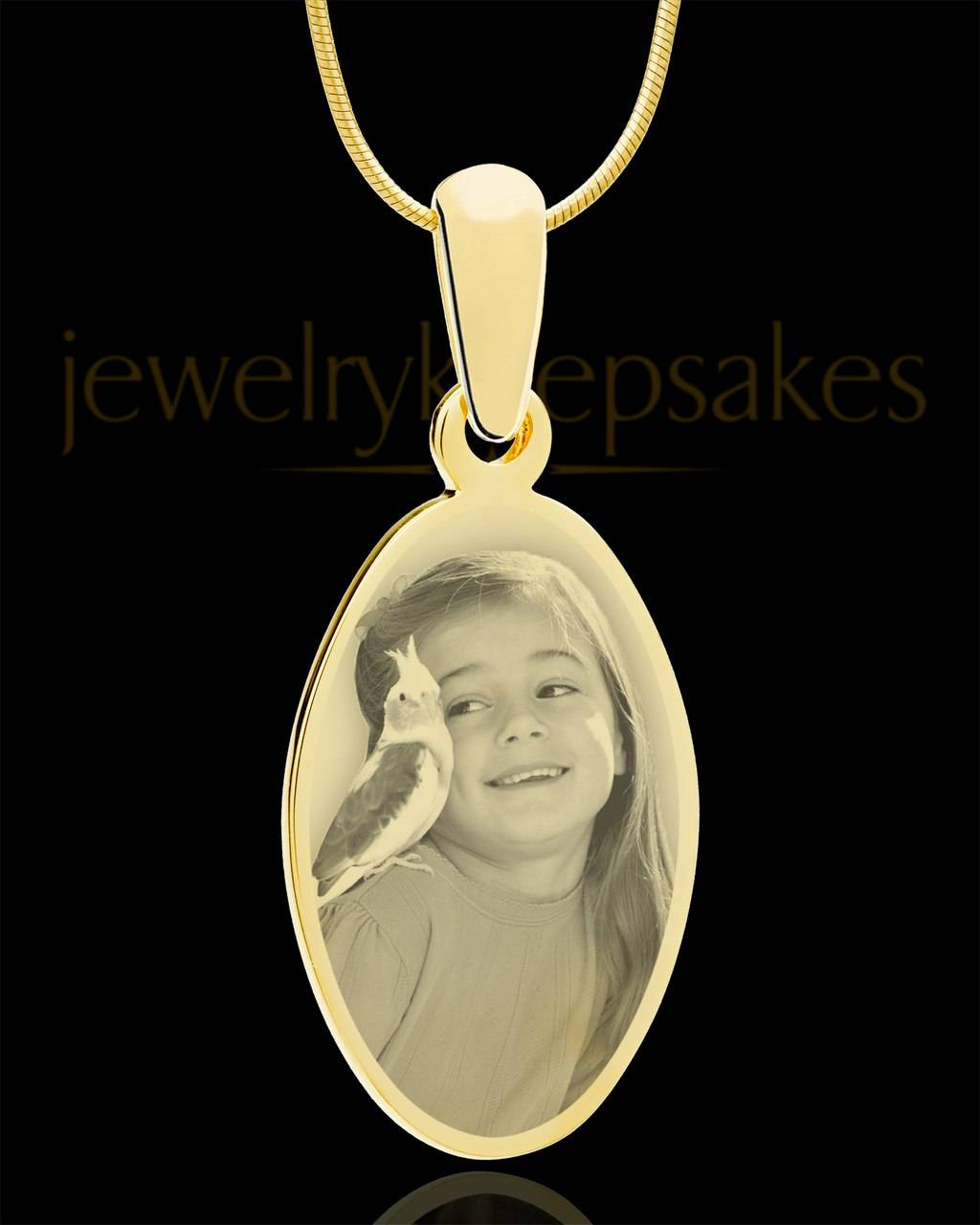 Gold Finish over Stainless Steel creates great contrast with the gold plating and the grayscale finished image.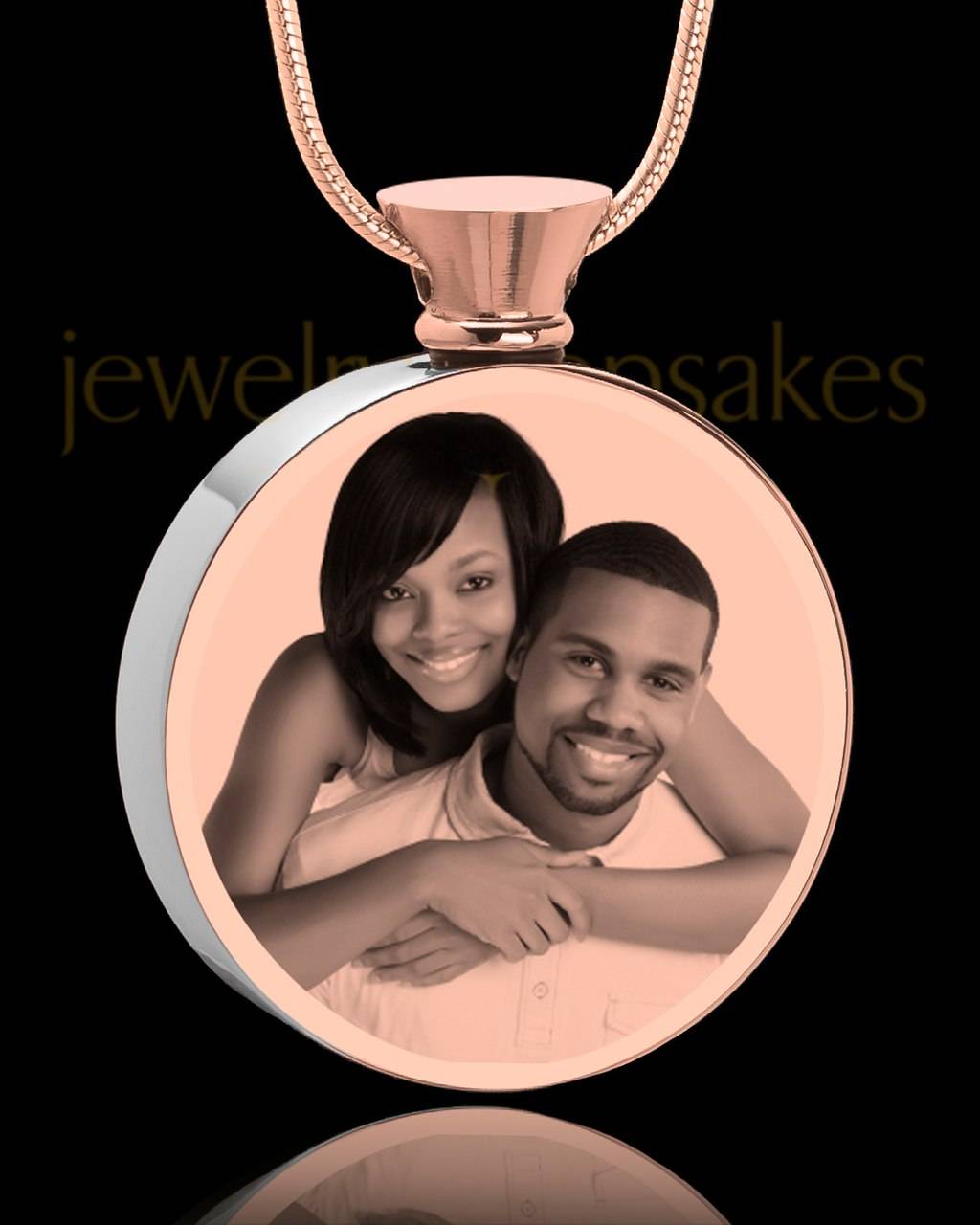 Rose Gold Finish over Stainless Steel is the ideal color combination for those that are looking for something extra-ordinary.
Engraved Photo Pendant Options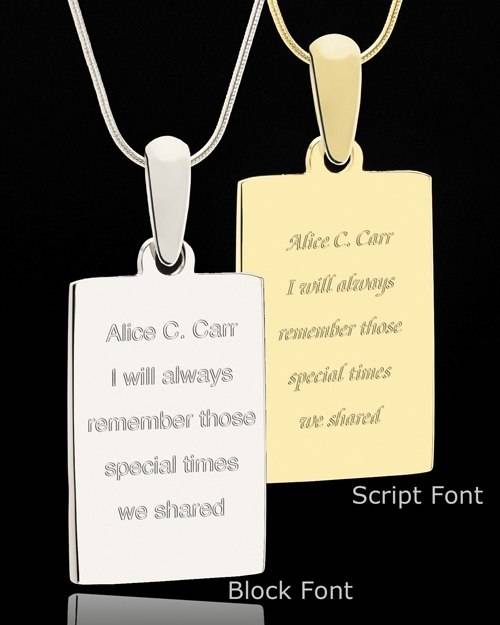 Add engraved text! Most of our photo engraved pendants offer the option of adding anywhere from one to five lines of engraved text on the back of the pendant.
Engrave a Photo on the Back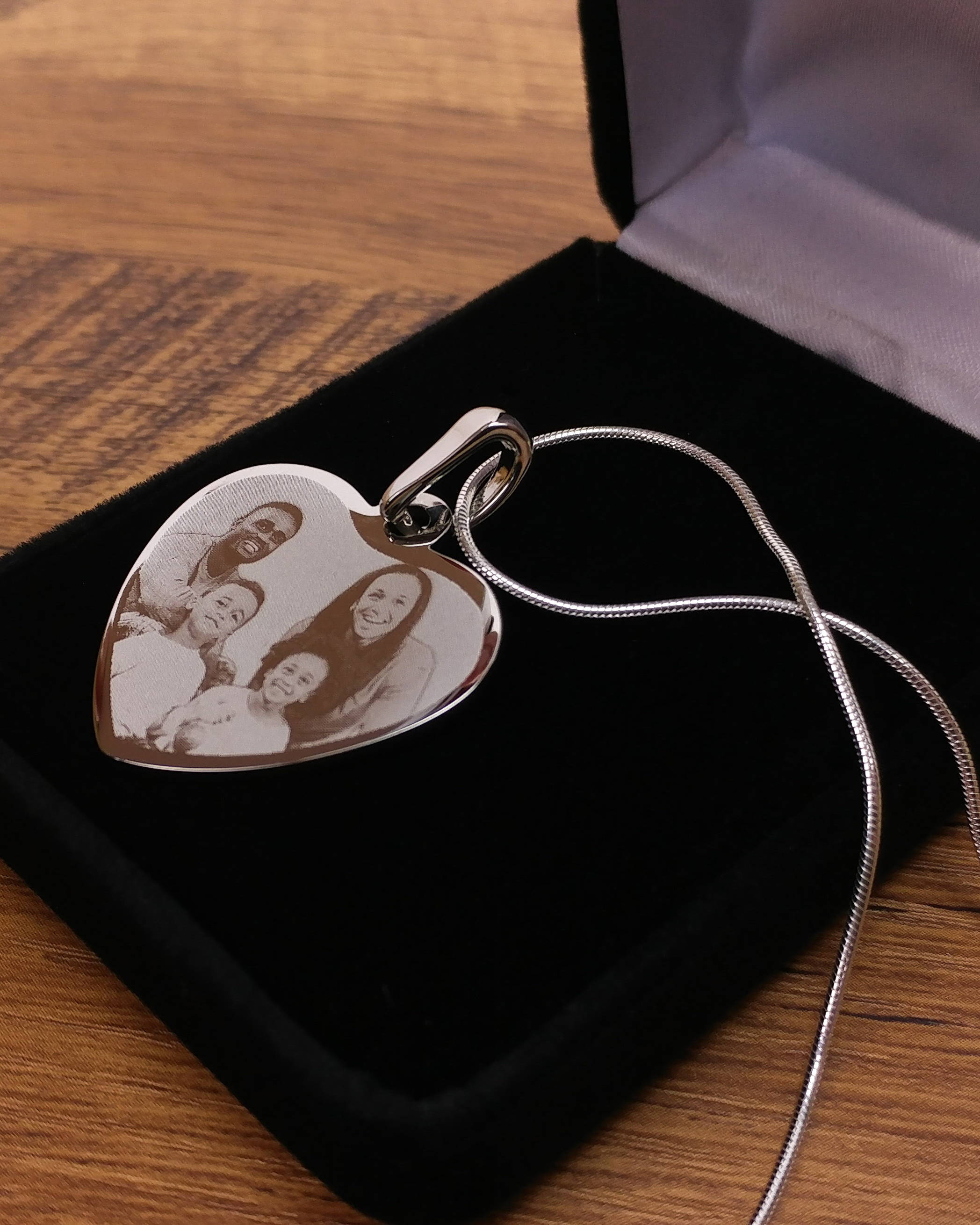 Add another picture! Add another picture you love on the back side of the pendant and gift yourself the option of reversing the pendant for two different engraved picture necklaces.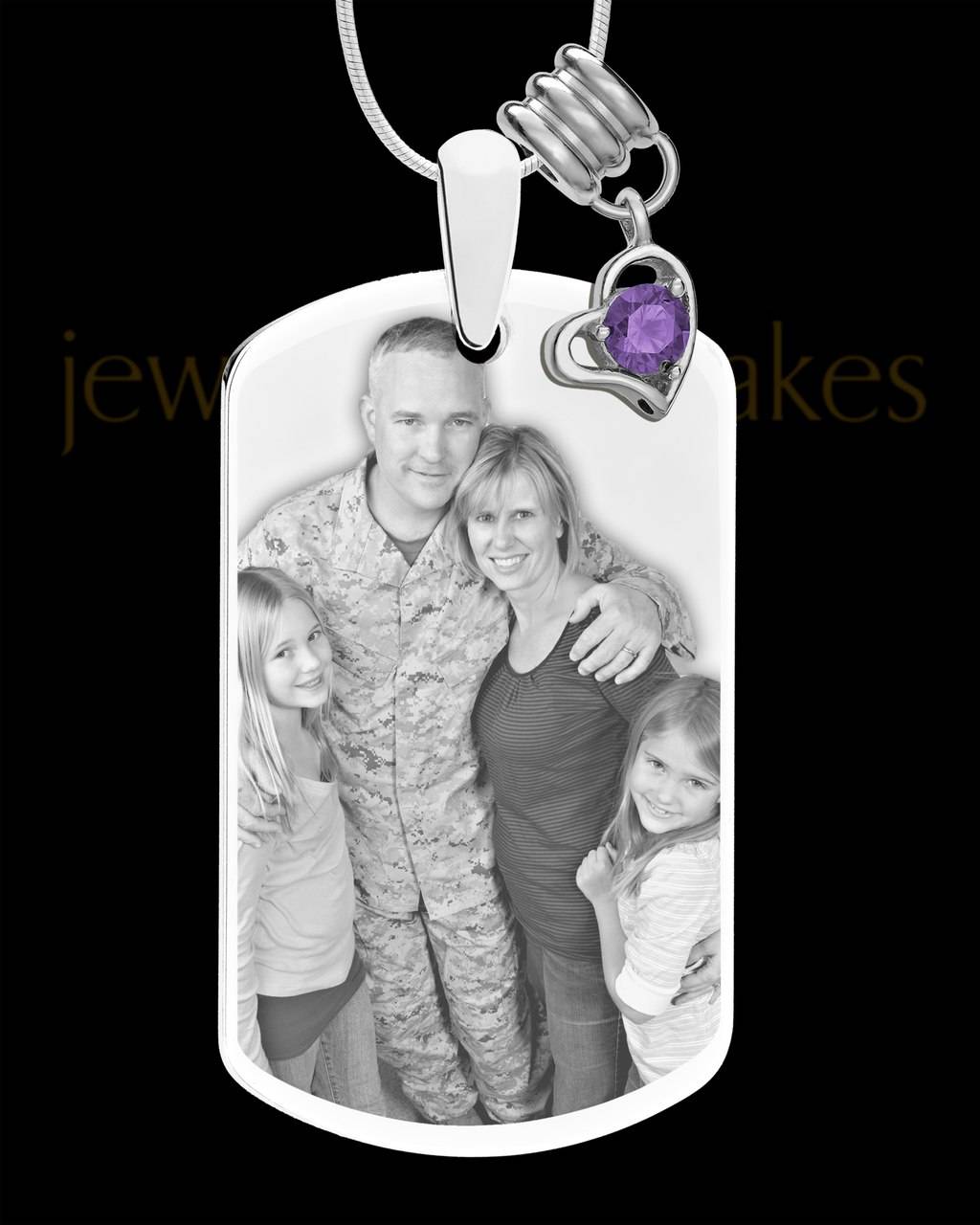 Add a birthstone heart! Up the personal nature of your picture engraved pendant jewelry by adding a small birthstone rider heart to wear with your selection.
---
Engraved Picture Bracelets - A great alternative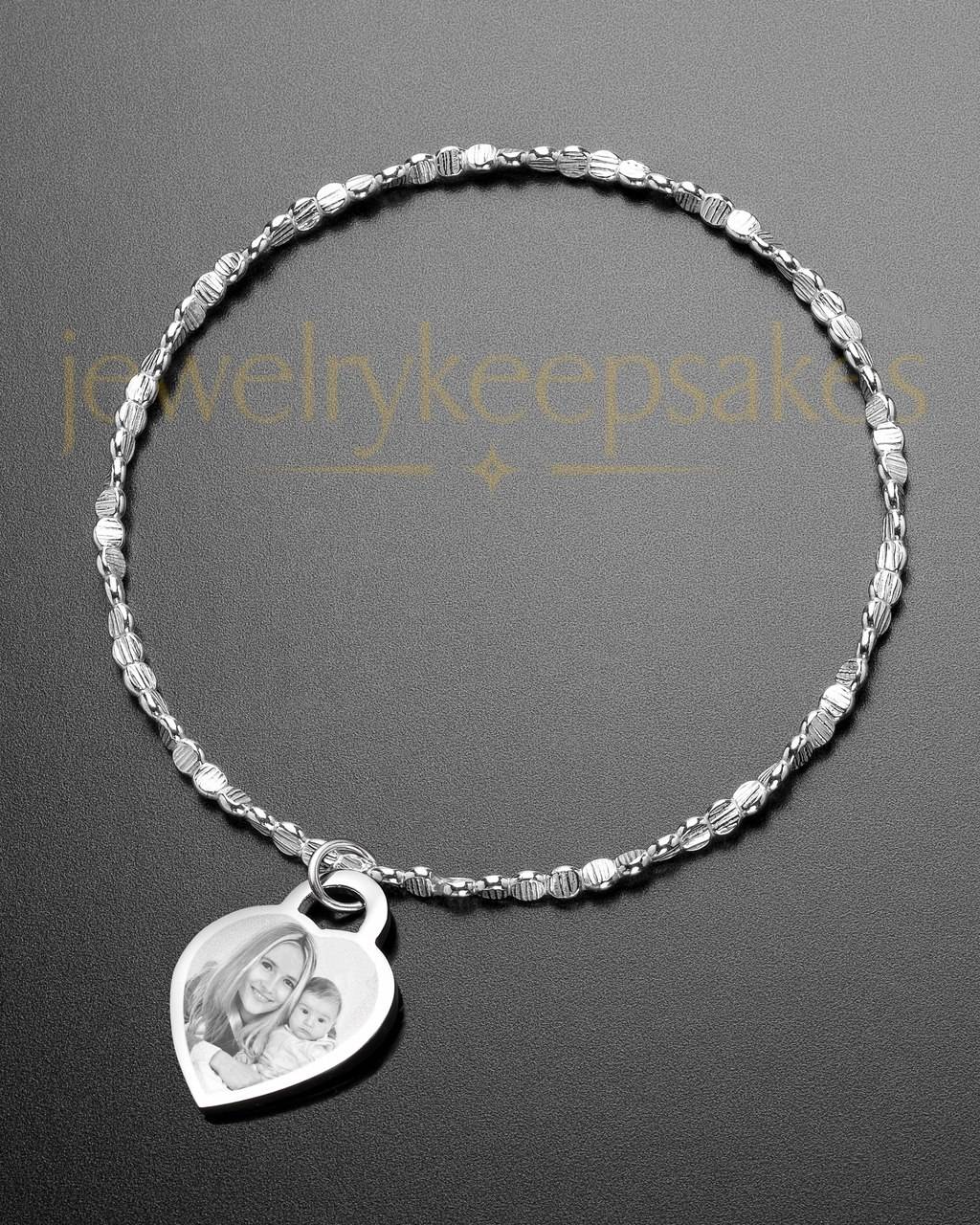 Engraved photo bracelets are a terrific option for those that don't want to wear a necklace. Three different styles means that you can choose which works best for you! Each bracelet includes an engraved photo pendant made from stainless steel.
The design of engraved picture bracelets means that they are easy to put on and remove and will fit a large variety of wrists. Both the bracelets and the pendants are lightweight, creating a combination that is both comfortable to wear and won't get in the way of day to day activities.
Photo bracelet jewelry styles include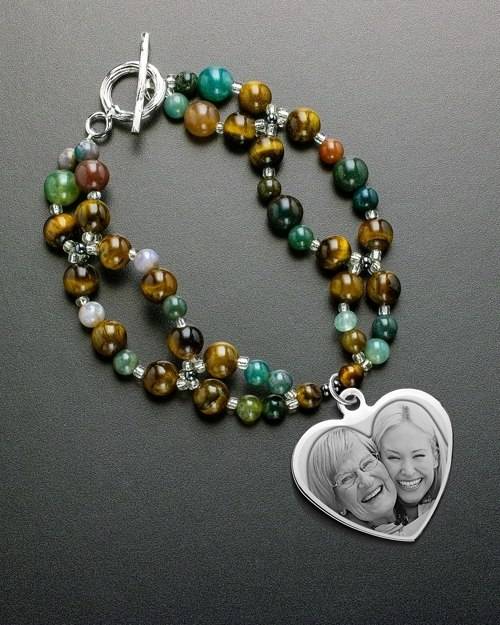 Beaded bracelets have vibrant colored beads and make for a colorful way to display that picture that makes your heart smile.
Sterling Silver Bracelets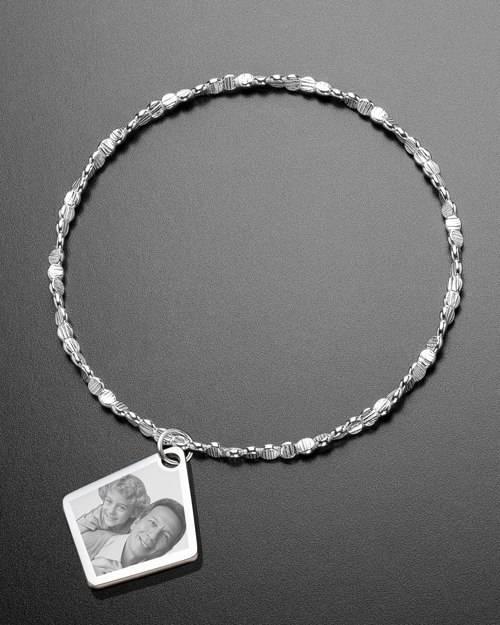 Sterling silver bracelets have beautiful facets and provide additional shimmer and shine to your photo engraved pendant.
Stainless Steel Bracelets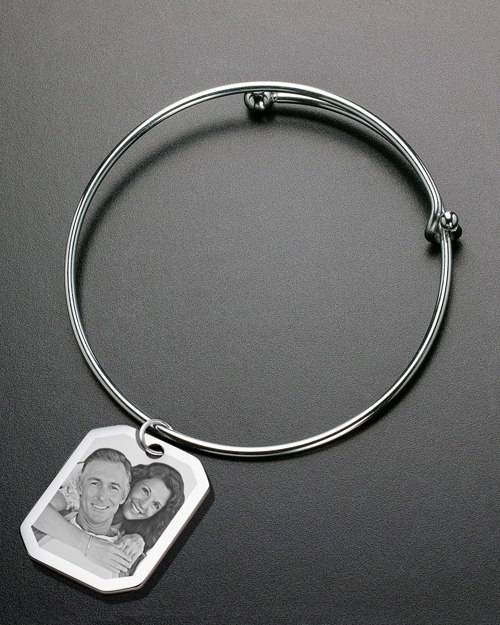 Stainless steel adjustable bracelets are a terrific backdrop for your picture of choice and are adjustable to fit every size wrist.
---
Engraved Picture Keychain - Pictures on the go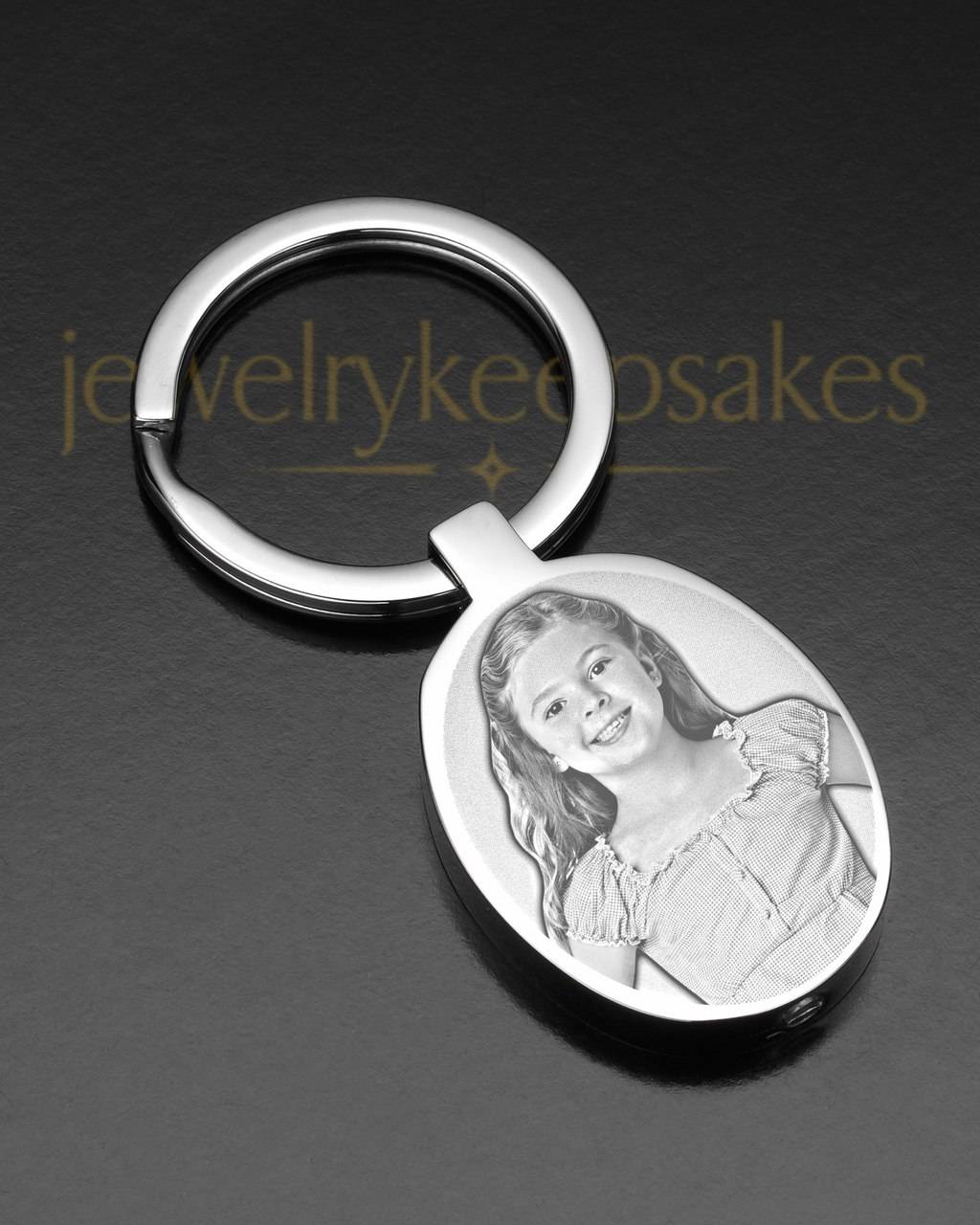 A superior way to gift yourself or anyone in your life a reminder of their favorite photo, engraved picture keychains offer great versatility and are available in several styles. Made from stainless steel, engraved photo keychains are an affordable option for those that want something to take with them on the go but not wear as jewelry.
Engraved picture keychains are also a terrific memorial gift idea! Photo engraved keychains that hold cremains create a memorial that is two fold by not only presenting a picture but also by discreetly carrying a reminder of the loved one inside the body of the keychain.
Benefits to engraved photo keychains
Several shapes to choose from.

Select squares, rectangles, hearts, rounds and more!
Different finishes available.

Silver on stainless steel as well as gold plated over stainless steel keychains can be personalized with your photo of choice.
Add engraved text on the back.

All of our engraved picture keychains can be customized with your choice of text on the back of the keychain.
---
Wallet Cards - Designed to showcase your pride and joy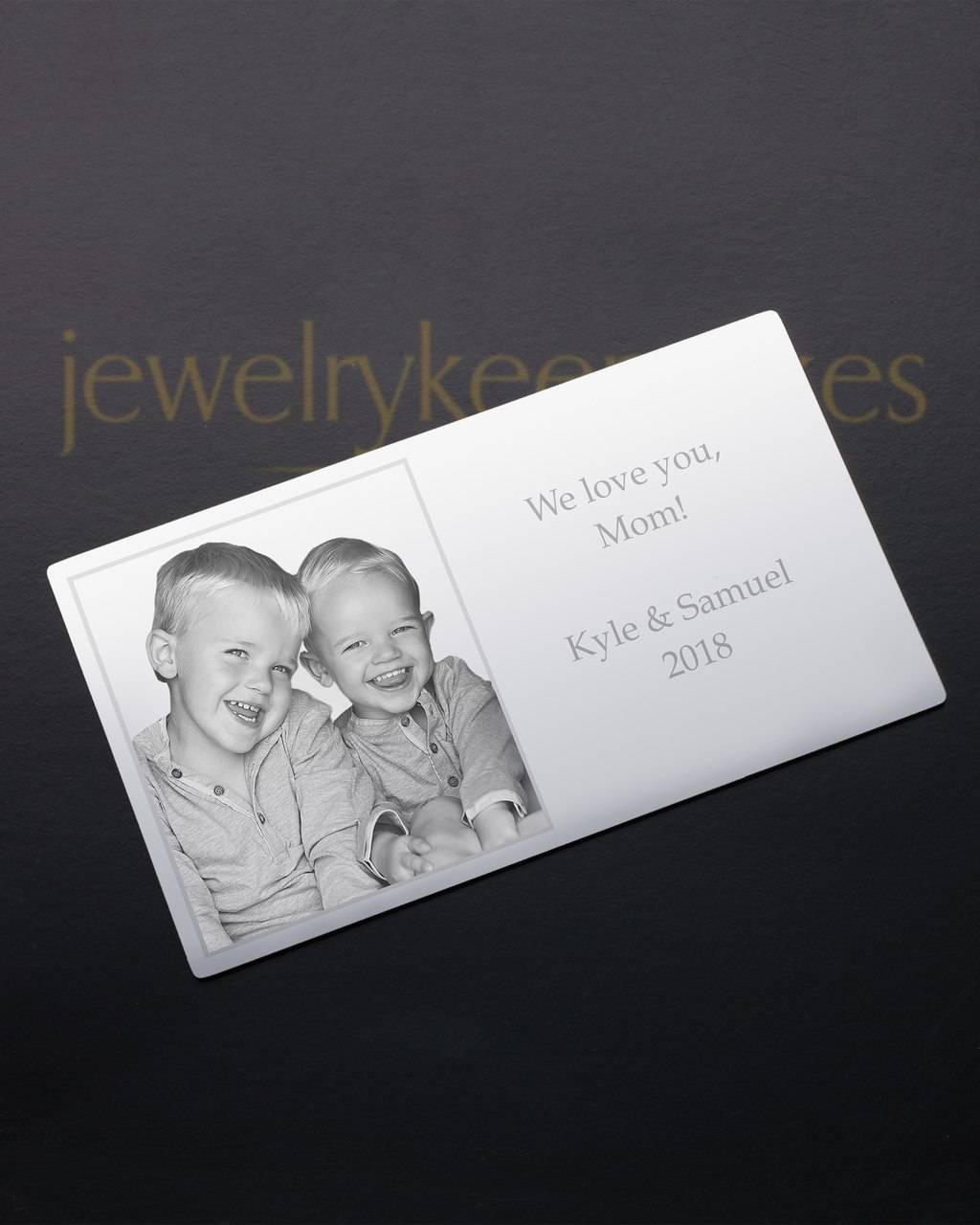 Ideal for those that are looking to have a way to show off their favorite pictures of their children, a spouse or even their pet, wallet cards are made of stainless steel and have a slim design and lightweight design.
Choose wallet cards as a special gift idea too. A great option for those holidays such as Mother's Day, Father's Day or even as a gift for a godparent or grandparent, photo wallet cards are personal and allow you to share a special moment caught in time with the recipient.
What you need to know about our one-of-a-kind wallet cards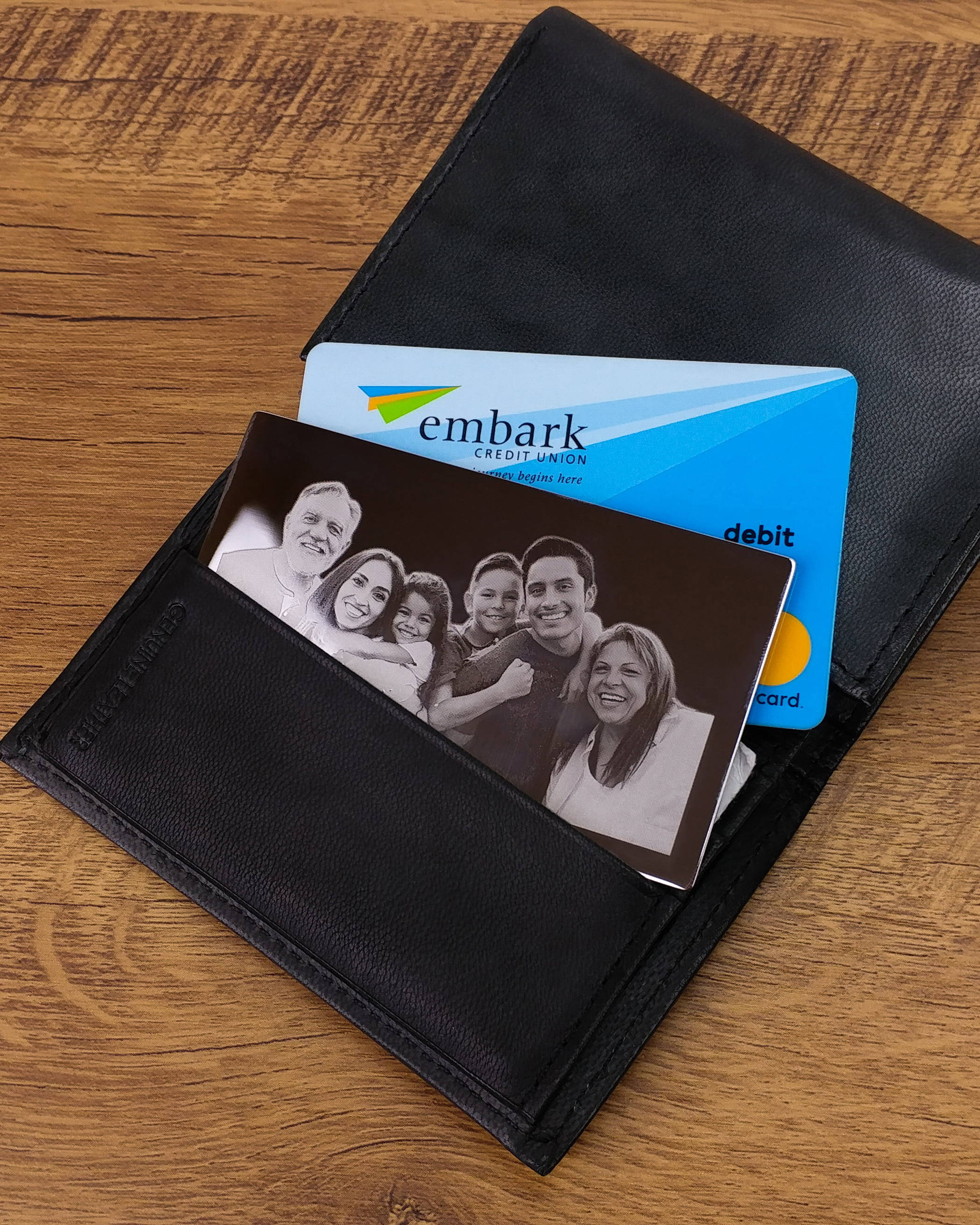 A classy and appealing design that comfortably fits in your pocket! Wallet cards are approximately the same size and thickness of a standard credit card which means they will fit easily in most wallets.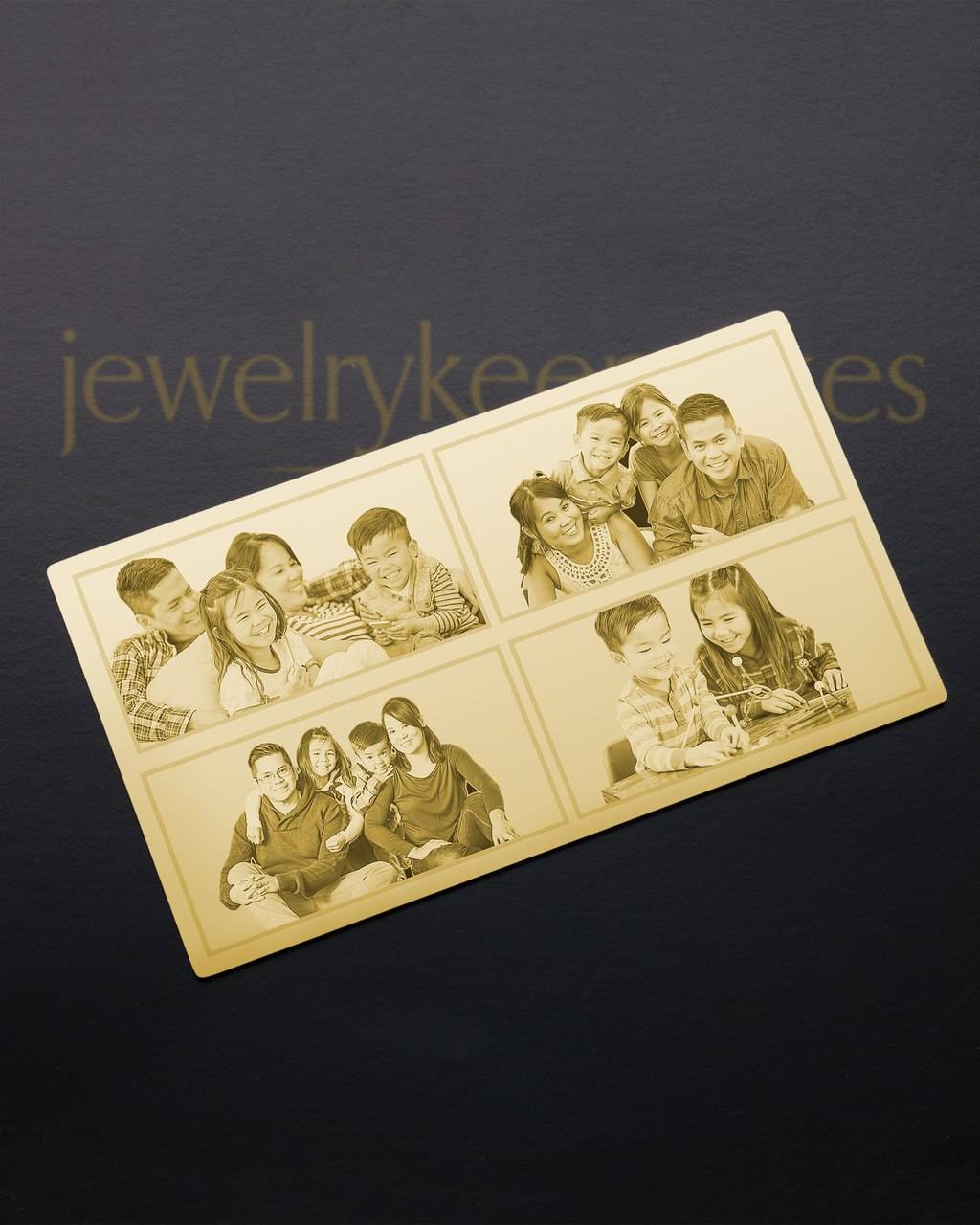 Choose up to four pictures to personalize! Our wallet cards can be customized with anywhere from one to four pictures depending on the style you choose.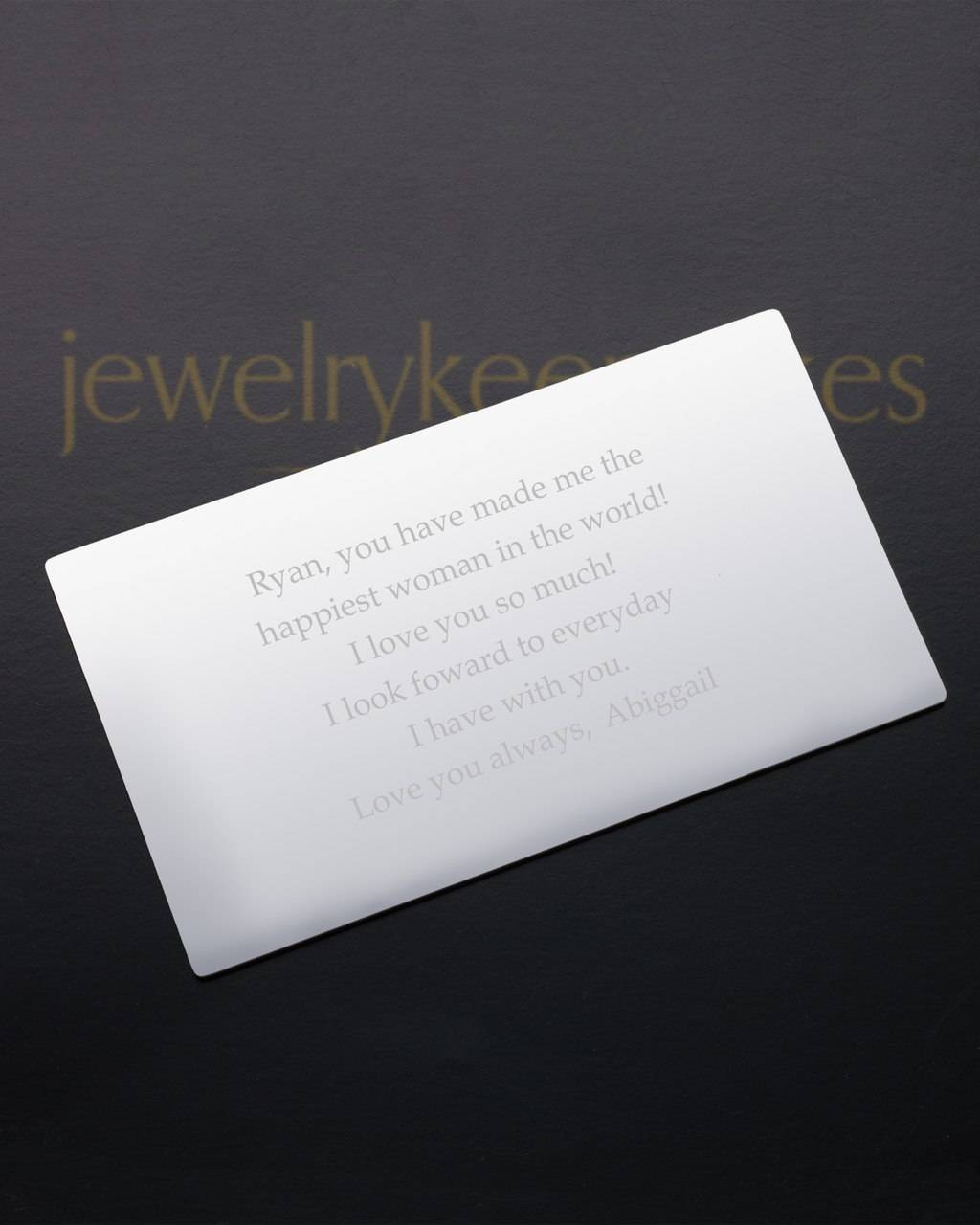 Add personal text! The large amount of space on the back means that you can further the personal nature of the wallet card by adding text that holds special meaning.
---
Rearview Mirror Engraved Photo Jewelry - Memories in Your Car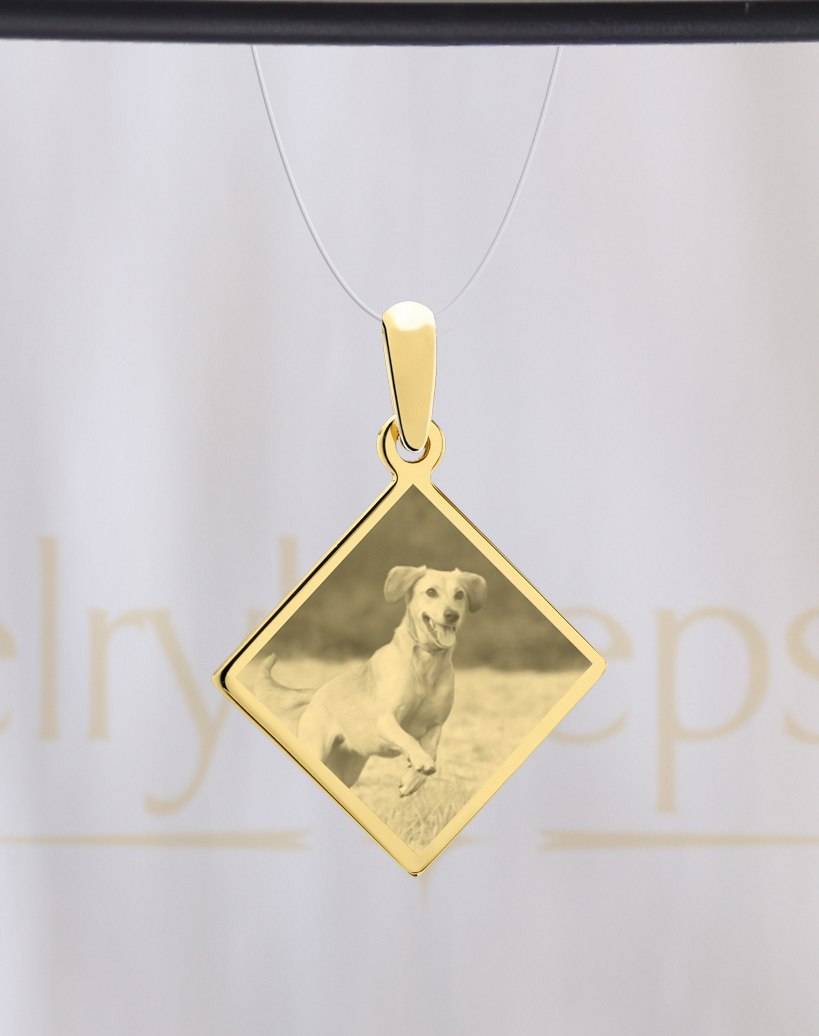 Having those faces you love, that favorite photo within reach of your eyesight is the concept behind rearview mirror engraved picture pendants. Ideal for any vehicle, rearview mirror picture engraved pendants are perfect for those that want to take them memory with them on their travels.
The different finishes and the option to add engraved text means that there are endless ways to personalize rearview mirror photo engraved jewelry your way! And because they are priced under $50, what better gift for a graduate, a teen getting their license or other special occasions.
Crafted of stainless steel, rearview mirror picture engraved jewelry offers these benefits
Clear Filament with Magnetized Clasp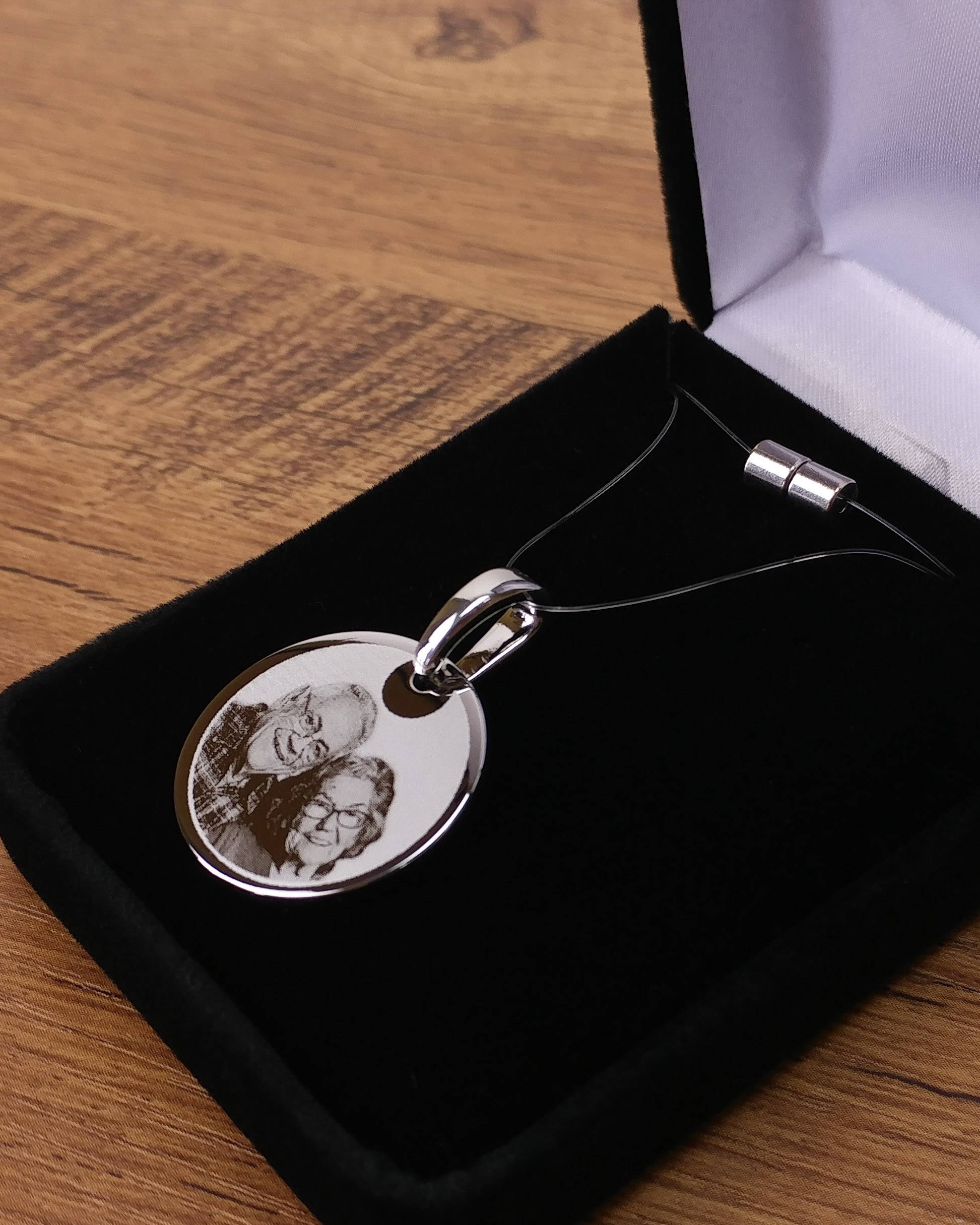 Includes a clear filament with magnetized ends to suspend from the rearview mirror of your car.
High Detail Engraving that highlights features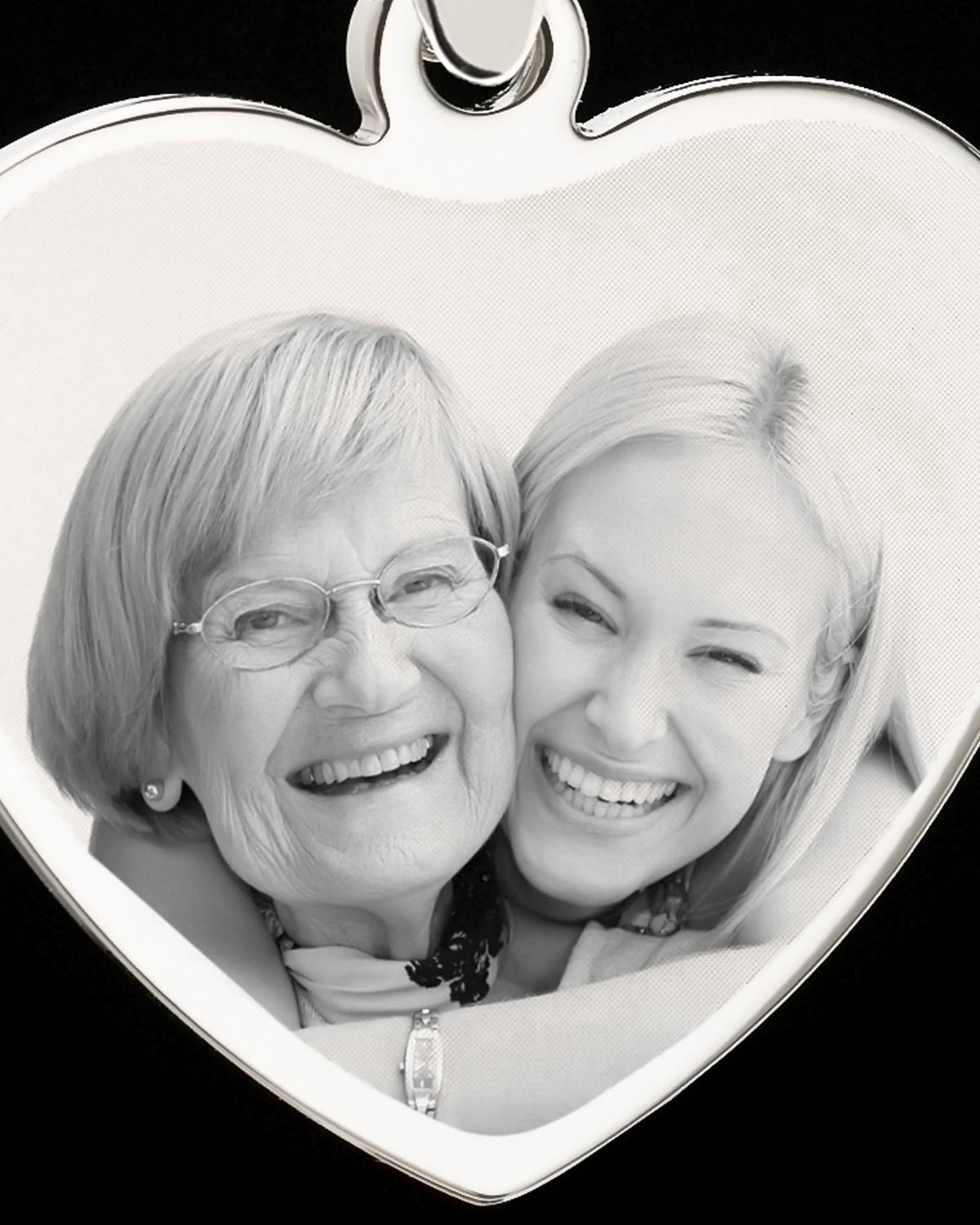 High quality engraving means the image is sharp and crisp, easily seen from any seat in the vehicle.
Hangs just below your mirror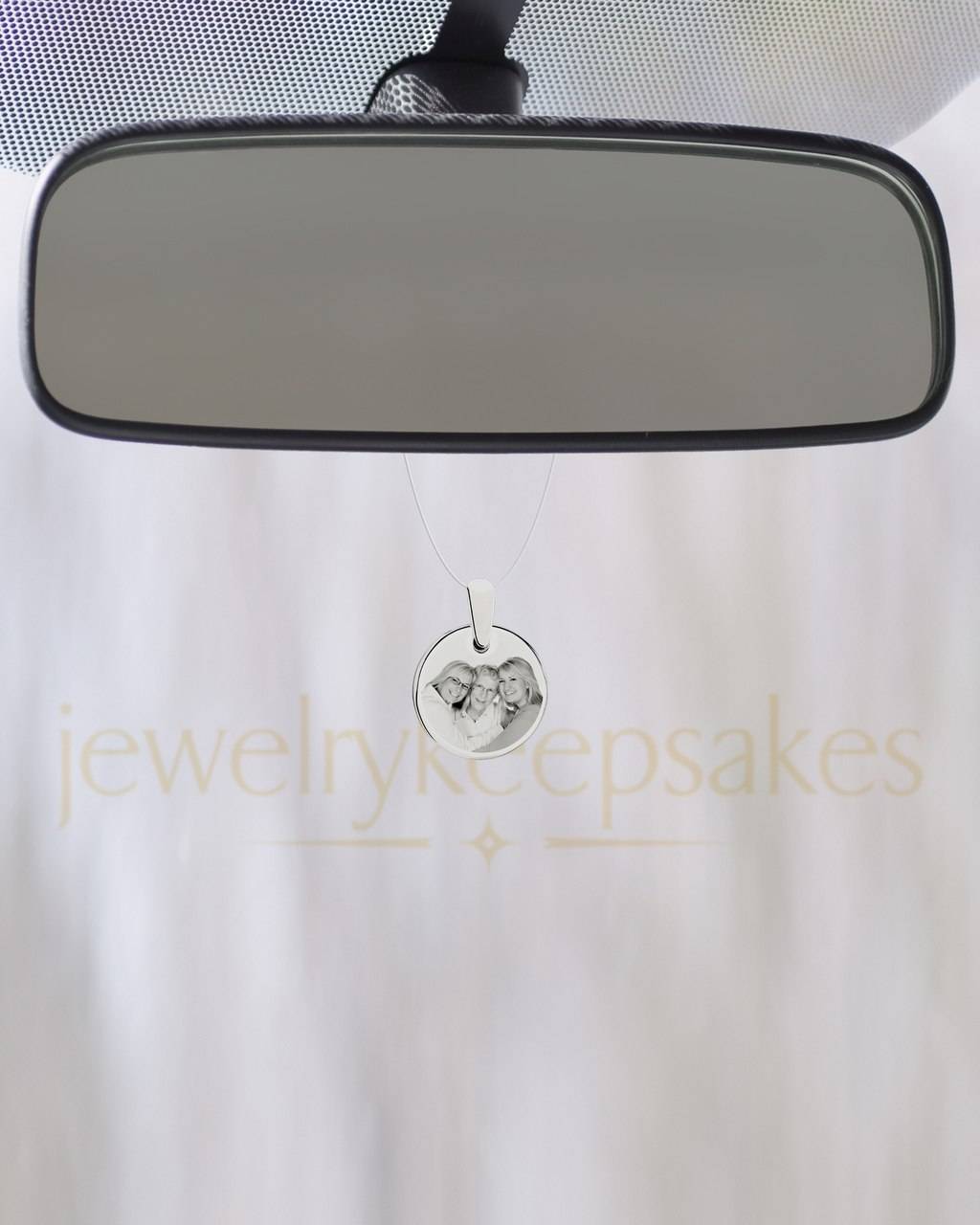 The pendant sits just below the bottom of the mirror which allows for perfect viewing without obstructing your view.
---
Money Clips - Picture engraved accessorizing for him
Ideal for the man who likes something a little different and modern, photo engraved money clips are the way to go. The sleek design means that the picture engraved money clip fits inside the pocket of your jeans or pants comfortably.
Photo engraved money clips are also a personal, durable and superior gift option! Engrave with a picture of his children, gift your husband a money clip with an engagement photo or choose one for each groomsmen in your wedding party.
Why choose photo engraved money clips
Stainless steel construction means that photo engraved money clips are durable and strong, ideal for every man no matter his lifestyle.

Can be personalized with a picture of his children, his significant other or any memory that holds special meaning.

Several different color combinations allows you to fine tune your selection to get exactly what you want.
---
Pet Picture Engraved Jewelry - Because they are members of the family too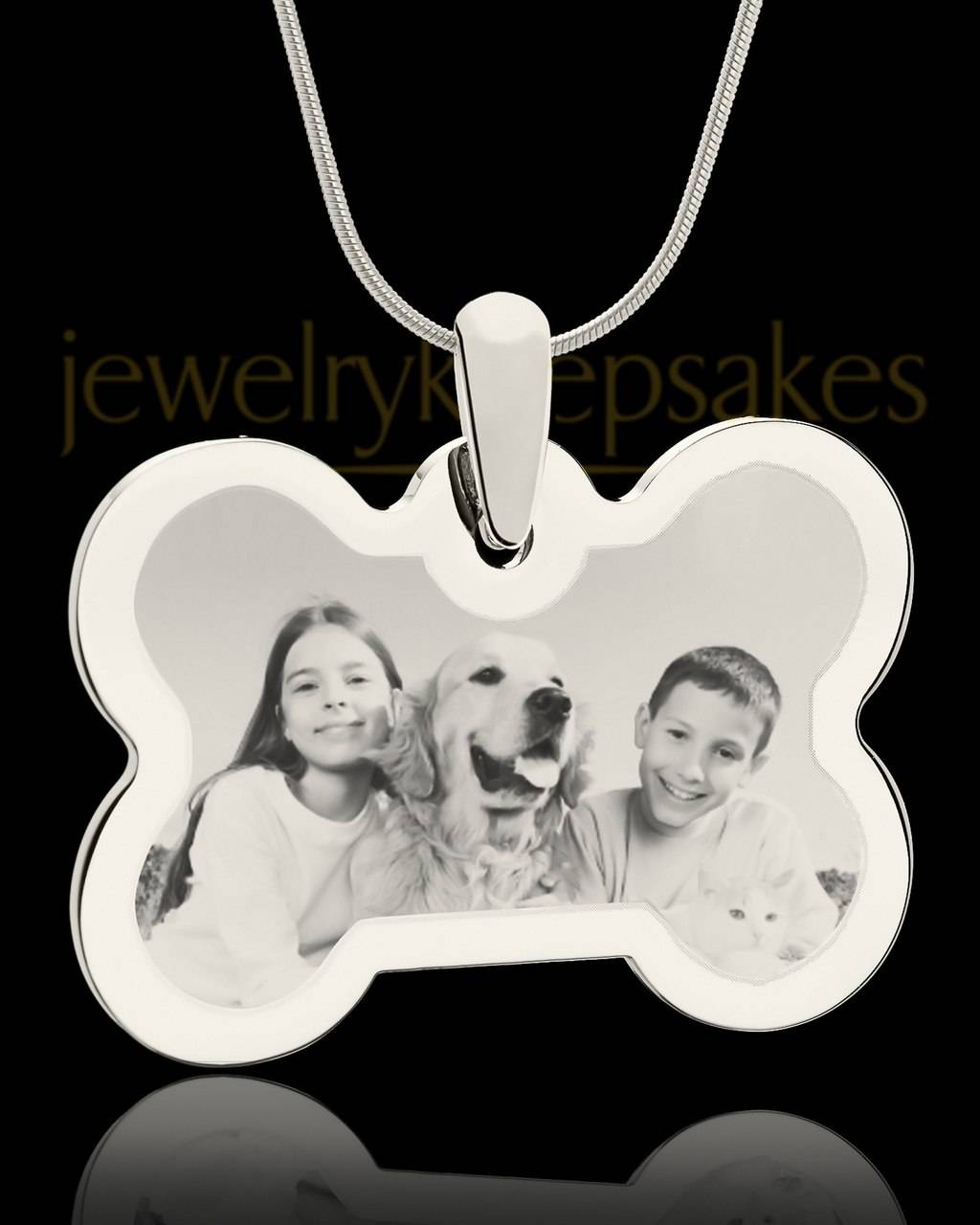 Pets play a major role in many families and who doesn't love to have a picture of their pet with them! Superior construction combined with your favorite photo of your pet and even some personalized text means you have a great way to show them off and bring them with you everywhere.
Pet picture jewelry is also a great gift idea for those that have lost a cherished pet. Pet photo engraved necklaces and keychains are a terrific way to gift a child, a close friend, a neighbor or loved one a unique and personal memento of an animal they cherished.
What to know about pet photo engraved necklaces
Several shapes to pick from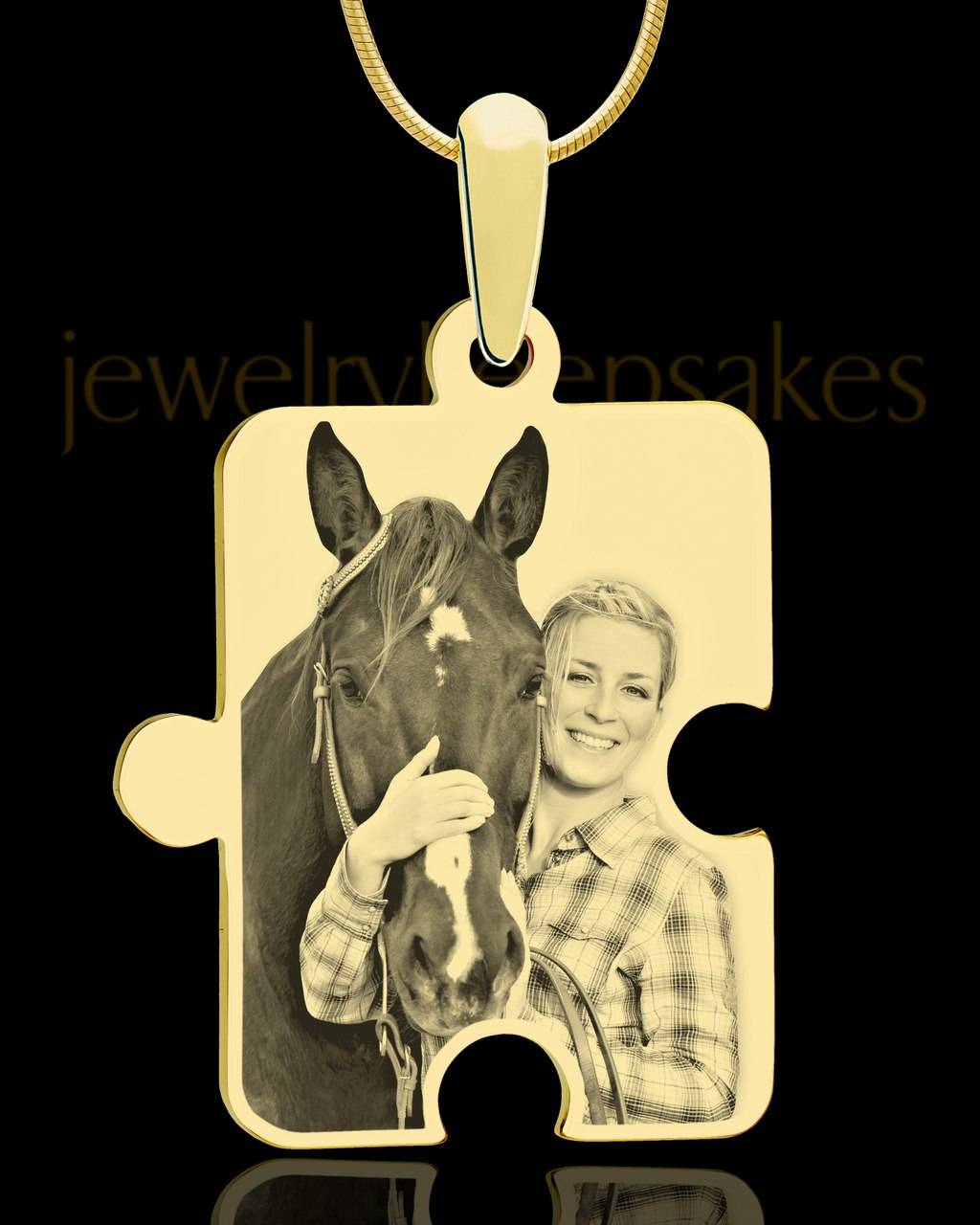 We've got the shapes you're looking for! From dog bone shapes to hearts to puzzle pieces and more, our pet photo engraved jewelry will beautifully display that pet you love so much!
Silver, Gold and Rose gold finishes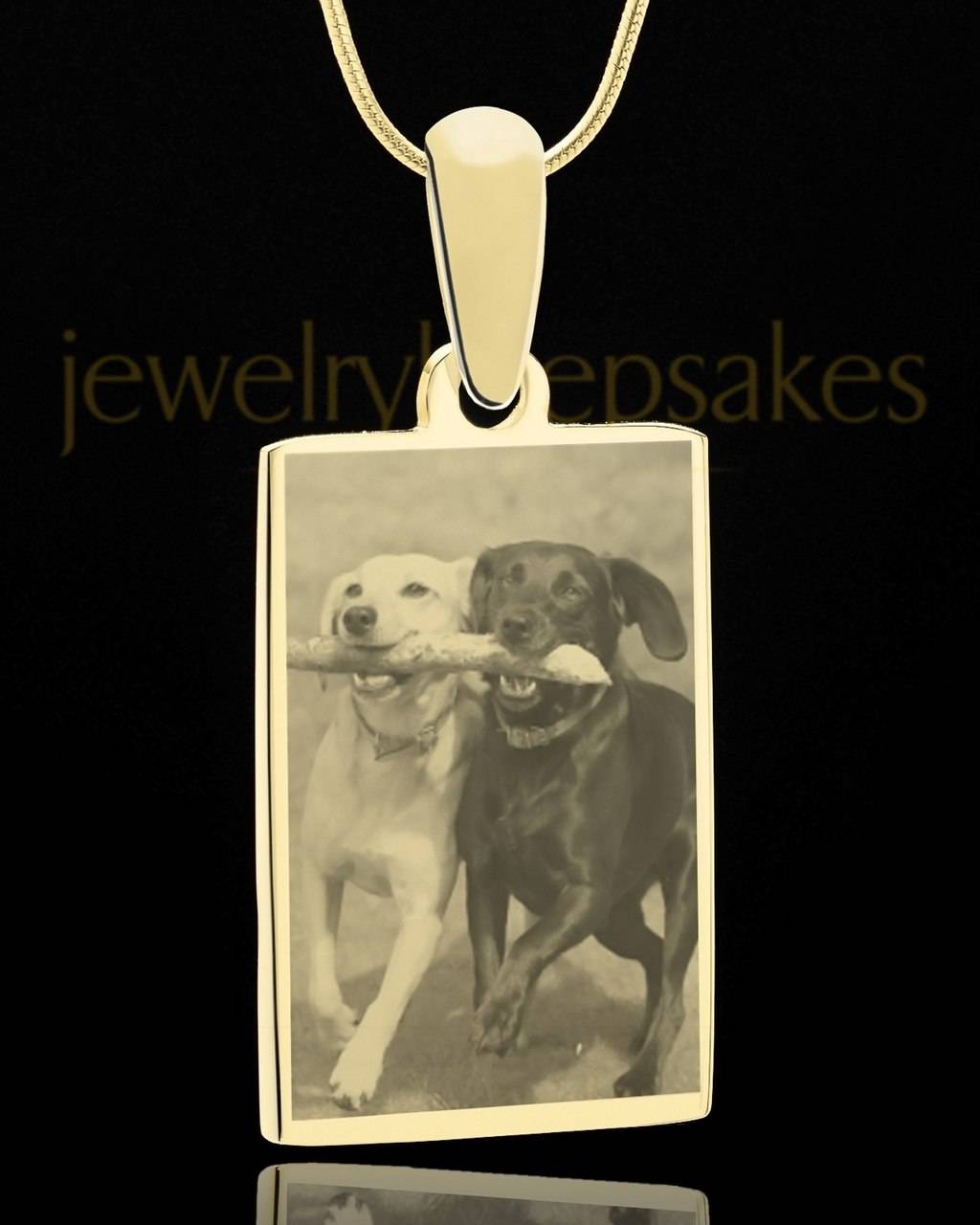 Beautiful finishes and decorative accents for every sense of style! Made from stainless steel and from silver to gold to rose gold finishes as well as styles with gemstone accents, choose the pet photo engraved jewelry that appeals to you most.
Optional Internal Urn to hold Cremains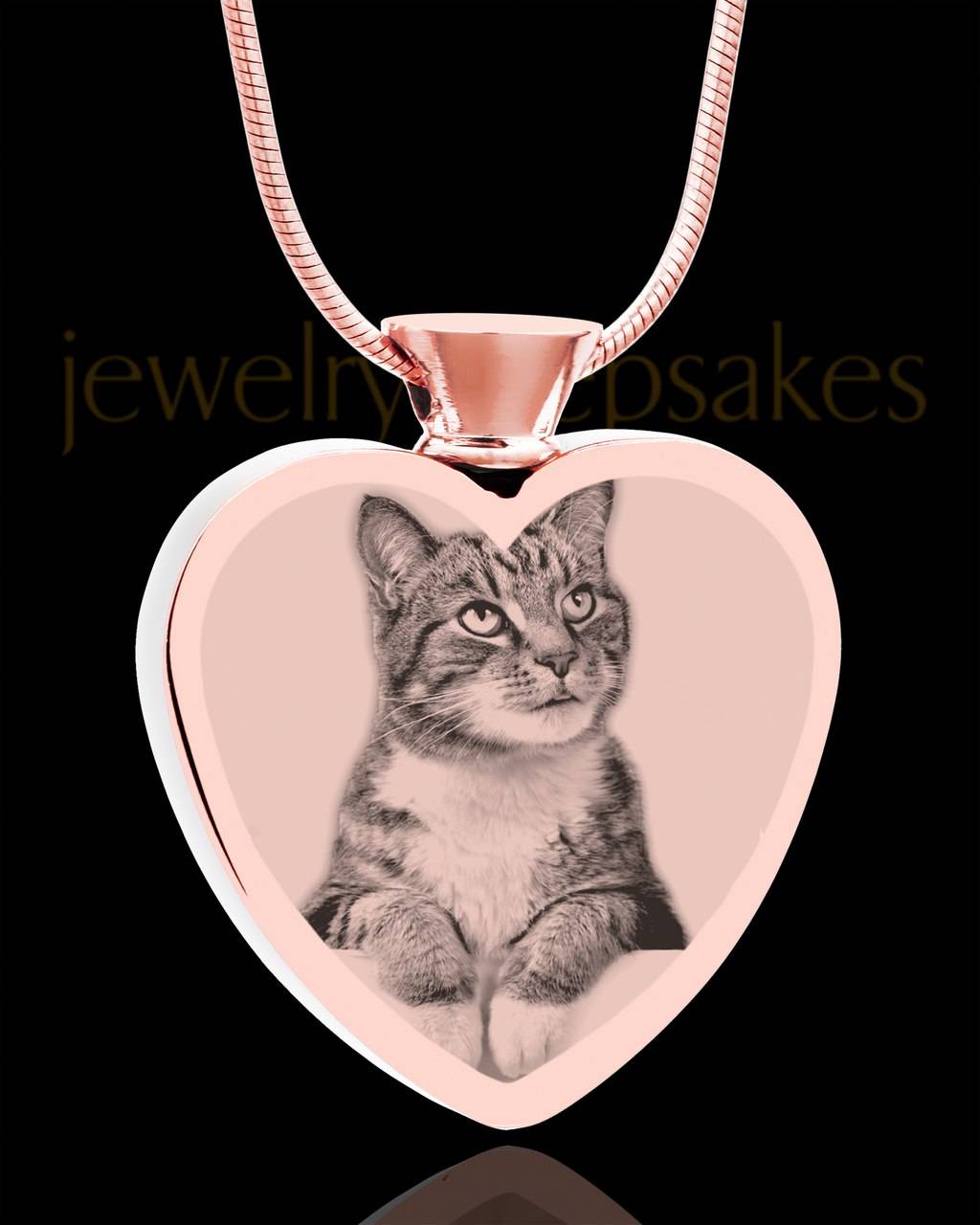 Some styles have an internal urn. We offer pet picture engraved jewelry pendants that have a discreet internal urn that allows for a small amount of cremains or other remembrance to be added.
---
Engraved Photo Necklace - What's included?
Knowing what to expect when you open your engraved photo necklace package is important. We believe you should know exactly what is included with your selection.
Engraved photo jewelry includes
Chain, Gift Box and Presentation Box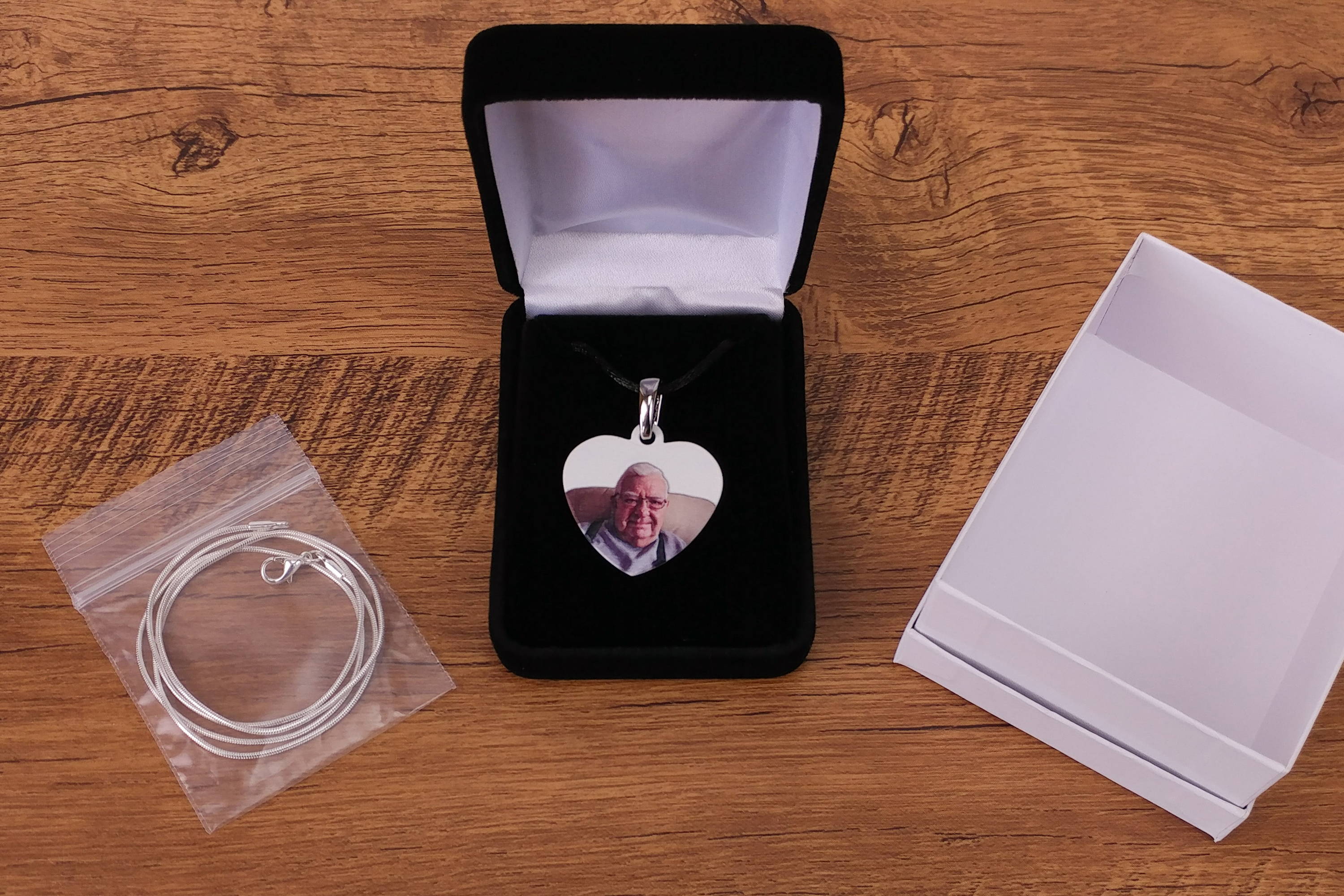 The photo engraved pendant displayed on a velvet platform inside a jeweler's gift box and the velvet gift box is placed inside a white presentation box.
Chain is securely packed under platform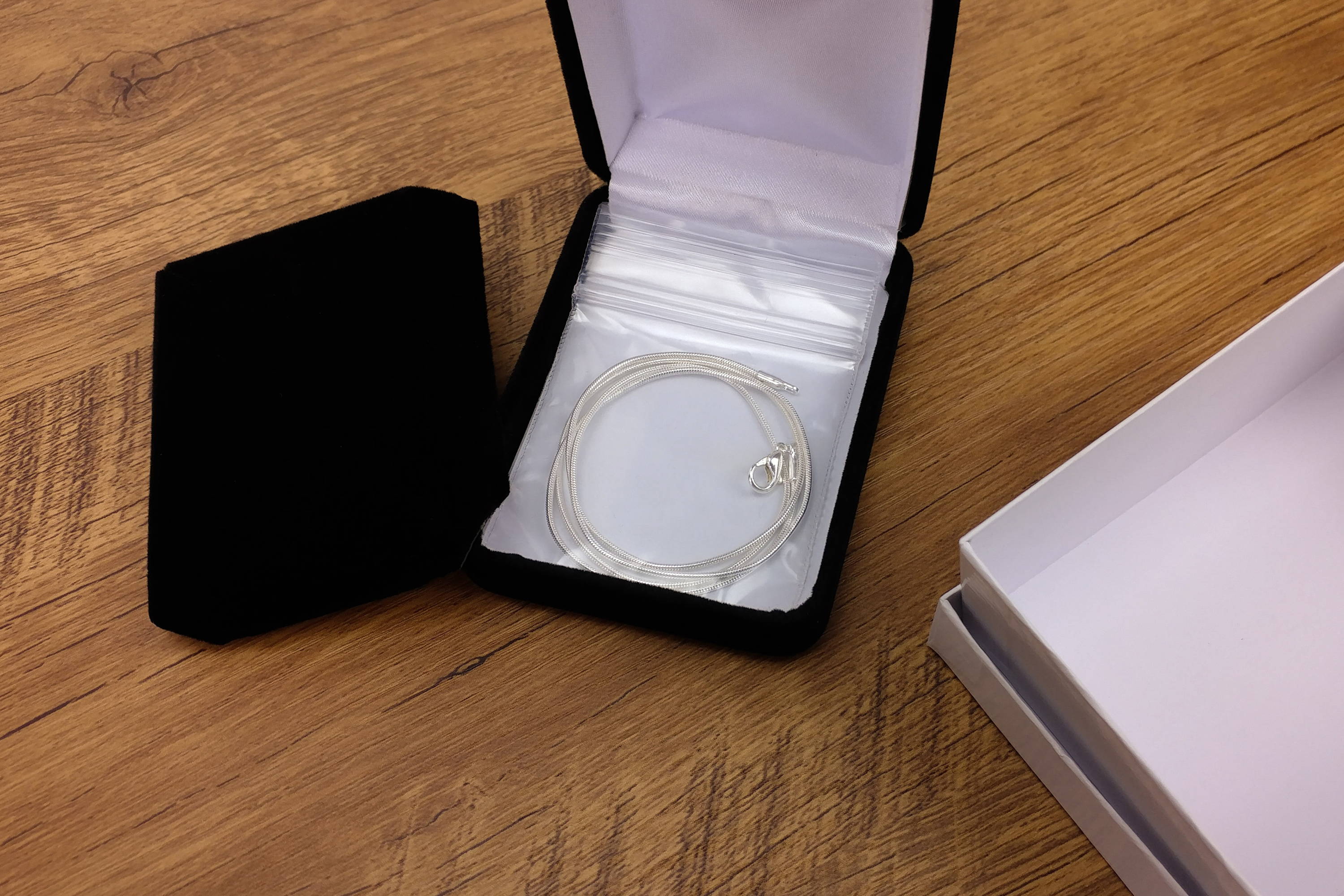 A 20" high quality snake chain tucked underneath the platform.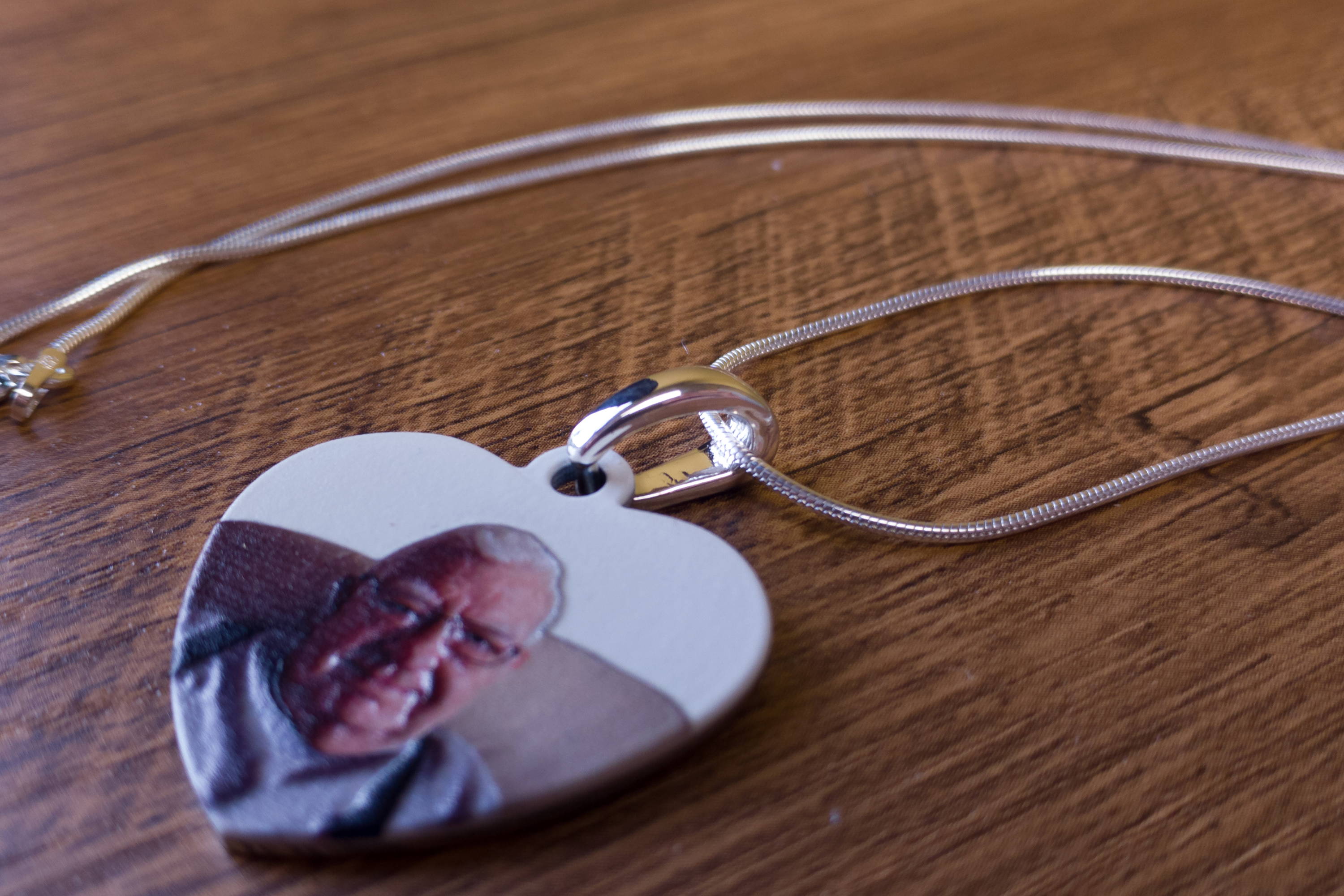 Every pendant has an elongated bail that beautifully displays your photo engraved jewelry.
---
Picture Engraved Jewelry Cleaning - What do I do?
Stainless steel is a highly durable metal, making it a great option for every day wear. These easy to follow steps will hep to ensure that you engraved photo locket looks great for years to come.

---
Our engraved photo jewelry - How are we different?
Take a look at our quick video that compares us to the competition.
We offer even more specifications below on why our Photo Engraved Jewelry is the absolute best.
We use stainless steel which does not tarnish and provides a beautiful backdrop for your picture. Many companies use a base metal such as copper and electroplate a coating onto the surface of the base metal. Over time, this finish can wear off, leaving you with an engraved picture necklace that is not what you expected.
Our engraved portrait necklaces are etched into the stainless steel, resulting in an image that is very sharp and exceptionally detailed. Many companies use a dot by dot engraving method which gives the resulting image a grainy quality.
With our picture engraved necklaces, we remove the background in the photo and engrave your image on a very light background, making the image the center of attention! With other companies, often times photos are engraved onto the surface with a background and you actually lose the picture in the background, making the pendant the star of the show and not the photo.
The bail is the top of the pendant that attaches in some way to the necklace. We use an elongated bail and this not only allows for the pendant to slide with ease on the included chain but also places your engraved picture necklace in the best possible position for display. Many companies place a jump ring at the top of their engraved portrait necklace.
Our pendants include a 20" high quality snake chain and we offer several chain upgrades in a variety of finishes. There may or may not be a chain included with your engraved portrait necklace with other companies and often times you will find that the included chain is a ball chain or link chain.
Your engraved picture locket necklace is placed on a velvet platform inside a jeweler's velvet gift box which allows for great 'wow' factor when you open the jeweler's gift box and displays the pendant beautifully. Competitor's standard packaging includes a cardboard ring box with a cotton platform for cushioning with many retailers.
Knowing what other customers think and what their experience was like is a key factor when buying online. We take great pride in the customer reviews that we have and display those reviews right on the product page. Several companies don't offer many, if any, customer reviews. Take a look at some of our excellent customer reviews.
The BBB has a very strict rating system and getting the stamp of approval from the BBB can go a long way to assuring you that the company you're using to buy your engraved picture necklace from is a quality company. We are proud of our A+ rating from the BBB! You can read about our company, our BBB rating and more here.
All of our engraved picture lockets ship from the USA and we can ship same day, overnight, two day and standard shipping. Most engraved picture necklace are delivered within 5-7 business days after your order is placed - often times sooner. If your shipment is coming from overseas as it is with several other companies, delivery can take anywhere from several days to weeks.
Our phone number is prominently displayed at the top and the bottom of every page. We want you to call us with your questions, your orders, whatever assistance you need! Other companies make the phone number challenging to find or don't place it anywhere on the site, allowing for the only contact to be via email.
---
Engraved Picture Necklace Guarantee, Warranty and Returns
We believe strongly in the quality of our products and want to pass that confidence on to our customers. Our products are made locally with superior materials and ship within 24 - 48 hours in most cases. We stand behind not only the quality of product but also the quality of service and will go the extra mile to make sure you are happy with your purchase. We clearly display our RETURN POLICY on our website as well.

---
Engraved Portrait Necklace Testimonials - What do our customers think?
Getting feedback from our customers is what helps us to produce the high quality of product and exemplary customer service that sets us apart. Real people, real reviews - check out what our customers have to say about their engraved picture locket selection!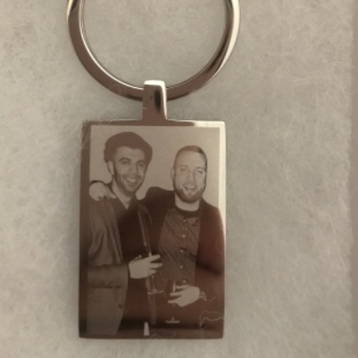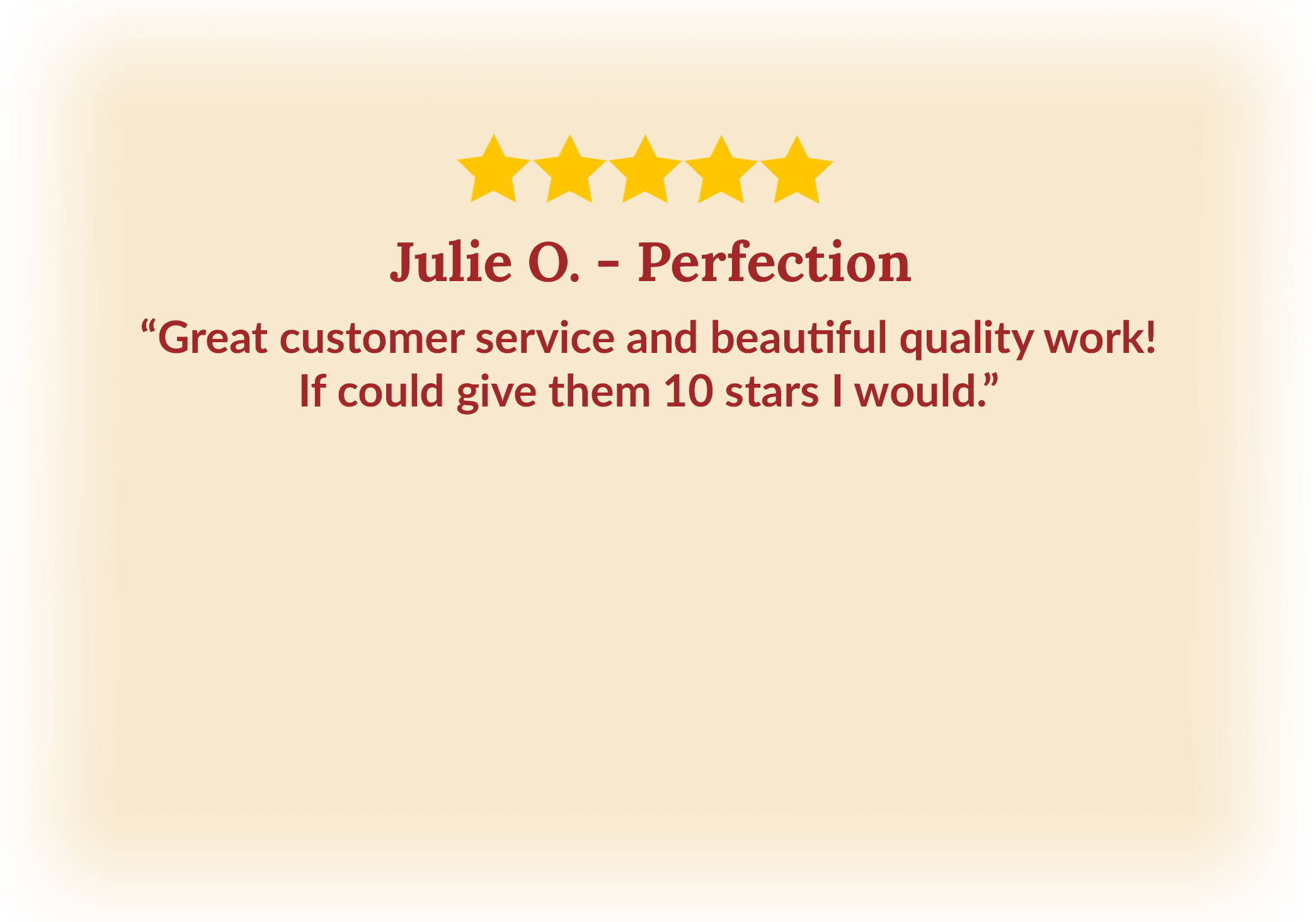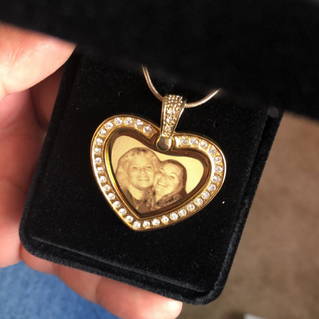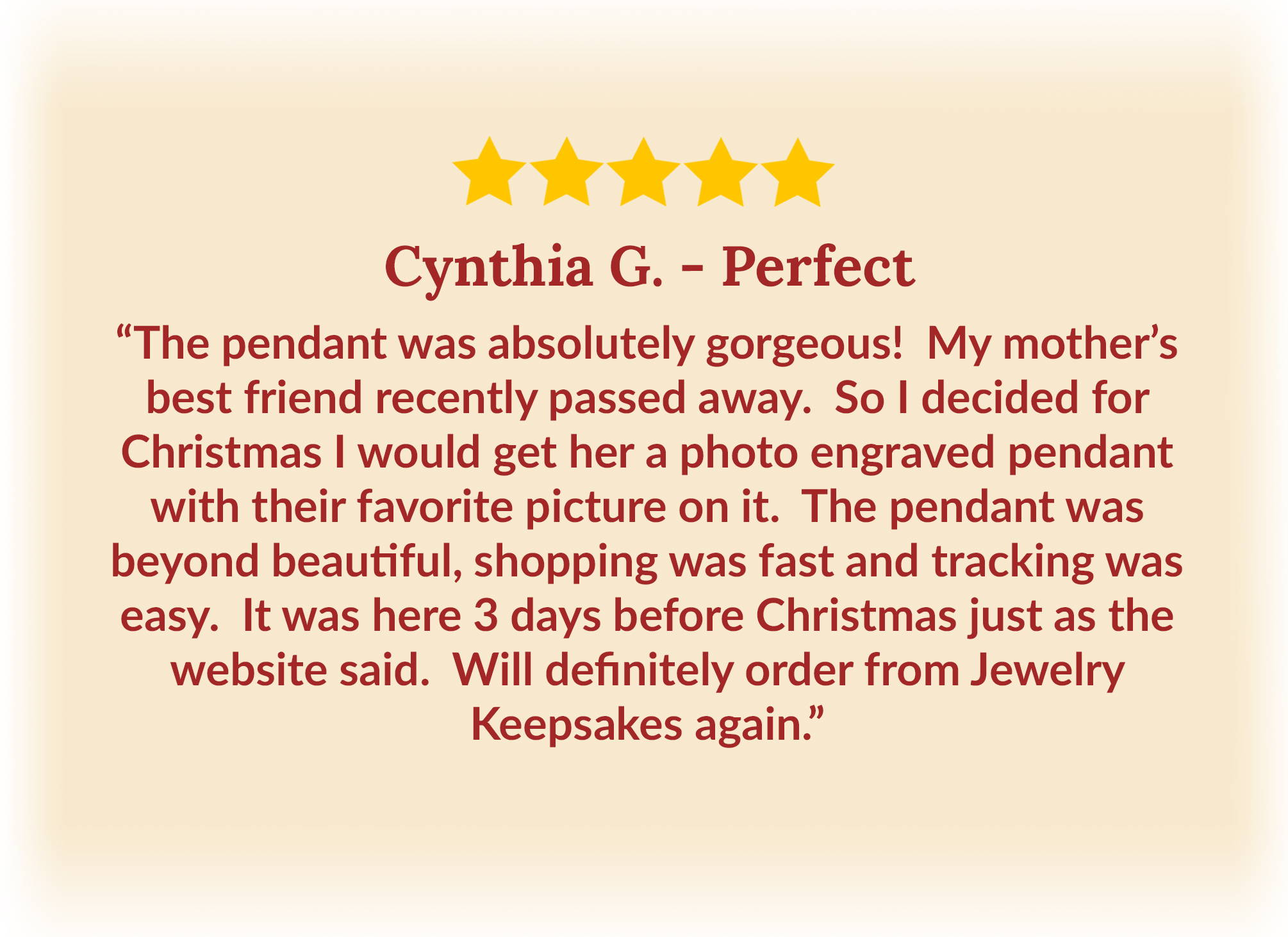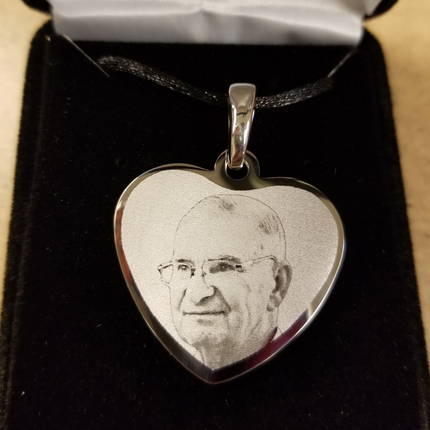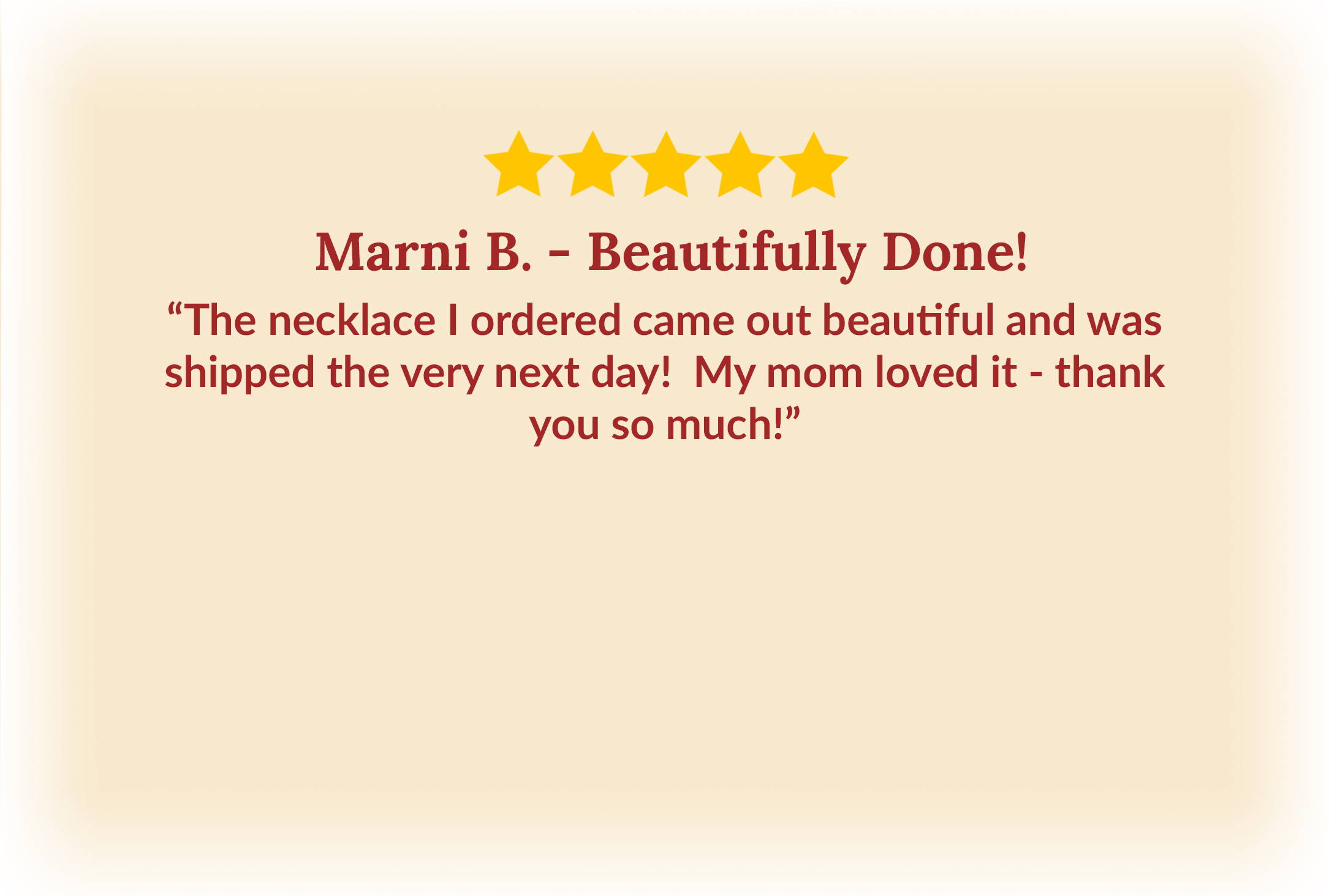 ---
Engraved Picture Necklace FAQ's
How do I send you the picture I want engraved?
You can send us your photo by following the upload instructions on the product page or by emailing us at sales@jewelrykeepsakes.com and reference your order number in the subject line.
How much does it cost for engraving?
The cost of engraving your photo onto the pendant is included in the price. For additional engraving such as personalized text or another photo on the back side, the added cost is $19.99.
Are you able to merge multiple photos into one image?
Absolutely! Include the photos you would like combined as well as cropping instructions in the box provided on the product page.
Can I get photos on both sides of the pendant?
Yes! We can add a photo on both sides of the pendant.
Does my picture engraved jewelry include a necklace?
All photo engraved pendants include a high quality 20" snake chain. We also have a great selection of chain upgrades available and the chains range from 18" in length up to 30" in length.
What is the pendant made of?

All of our picture engraved jewelry is made of high grade stainless steel.
I need this tomorrow. Is that possible?
If your order is placed before 12 noon MST, we can ship overnight in the continental United States with next business day delivery.
Will my picture be in color?

The image on our picture engraved pendants is black and white grayscale regardless of the initial color of the image submitted. We do offer a selection of full color photo engraved pendants and you can find those here.
Can I get a keychain instead of a necklace?

Will my purchase come gift wrapped?

All of our photo engraved jewelry comes packaged in a jeweler's gift box and white presentation box. We do offer free gift wrapping - just request in the order comments when checking out.
Is there a way to see a proof before you engrave it?

Sure! Simply send us an email requesting a proof before engraving or include your request in the order comments. Once the image is ready to be engraved we will send you an email of the proof for you to approve.
Can I get text on both sides rather than a picture?

You bet! Simply add your text in the comments section on the product page when ordering or send us an email with your text at sales@jewelrykeepsakes.com or give us a call at 1-877-723-7229 and we can take your order over the phone.
Will I be able to see my photo on the pendant? I'm worried it will be too small.

We enhance your submitted image to maximize the clarity and remove any background. This allows the faces or the main part of the picture to take up the majority of the face of the pendant.
I'm not sure what shape pendant will work best for my picture. Can you help me?

Absolutely! Send us an email at sales@jewelrykeepsakes.com and include your image and any cropping requests. Our master engravers will email you back with a selection of pendants that will be best suited for your image.
Can you add emoji's or symbols?

There are some symbols we can add for engraved text. Emails us at sales@jewelrykeepsakes.com with your symbol questions and we will let you know if those can be engraved or not.
Do I need to crop the photo or do you do that?

We crop the image for you. Simply add any cropping instructions in the comment box on the product page when ordering and we will take care of the rest!