Posted by H. Schumaker on Nov 16, 2017
With Thanksgiving literally a week away houses are bustling getting ready. I know mine certainly is and as the next seven days progress it will go from a bustle to a full out sprint. Part of the 'joy' of the season. Households are prepping for college kids coming home, extended family coming to visit (oh major joy) and we won't even touch the vast amount of cleaning and prepping for the big bird. From grocery shopping to chopping to buying vast amounts of wine we are bustling, hustling, jostling and all other kinds of words that end in ing. You get the picture. Big meal. Big day. Lots to do.
What I think is one of the best parts of the day and what we maybe lose sight of in the midst of all the bustling is that it is a day that is steeped in tradition. And these family traditions, whether we realize it or not, are a significant and meaningful part of Thanksgiving. Don't get me wrong - I love turkey. Love to cook. Love having my babies home. But when you strip all the packaging away what I am left with is gratitude for the traditions that we have that weekend that bring comfort, bring a sense of community and, hopefully, will inspire them to have traditions with their own familia down the road.
Comfort Traditions
There are certain things that we do in our lives that bring about a sense of comfort. And I don't think you really value and appreciate those things until you are older. Maybe when you first leave for college, move away and then come back to your childhood home, whatever it may be. Those traditions in our lives that inspire comfort, a sense of letting your hair down and just being you, those traditions center us in my opinion. Allow you the luxury of not having to be 'on', just simply be you.
Comfort Traditions as I Know Them
This year I will have kids straggling in throughout the upcoming weekend and early next week. Rooms are getting ready, sheets being washed, cupboards that are bone dry are being stocked. What I have found with my own children is that when they come home they want to just be. Be hungry. Be coddled. Be annoying. It is an opportunity for them to decompress from the rigors of sports, exams, responsibility. Means more work for me but it also means less worrying for me. More laundry. Less worrying. More cooking. Less worrying. More driving them around. Less worrying. We will all be under one roof, everyone picks a side dish and a dessert to be included with the big meal. There is comfort in expecting the expected.
And my brother and his wife - they have their comfort traditions as well. They have taken on Thanksgiving the past several years and entertain beautifully. It's so nice for my parents to go out to their house and be comforted in not having to do all the preparation. It is a blessing for my brother and his wife to take care and comfort those that they cherish. No big surprises, the routine varies little from year to year. Fire will be going, wine will be flowing and family will be together. And, such as with my lifeboat of five, there is a great deal of comfort in that.
Community Traditions
When I speak about a sense of community I mean it from the standpoint of bringing people together for a single purpose. Often times one of the best traditions at Thanksgiving is when you are brought together with others for a like reason. A joint passion, a bond that ties all of you together. This sense of community is of vital importance starting from a young age. From children to adults, we all want to belong to something. A community. Whether it's a community of five or a community of 500, there is peace and gratitude in belonging to something bigger than just yourself.
Community Traditions as I Know Them
This is going to be a new experience for our family this year. Our youngest has his first Thanksgiving Day football game. Not that he will necessarily see the field, but he is part of that team, part of that football community. They will have a team breakfast that morning in addition to a Mass and then will ride the bus to partake in a little pigskin action with their rival. And all of us will be there, rolling purple, supporting the team. Additionally, for the past several years all five of us have rolled out of bed at some ungodly hour to go to the gym on Thanksgiving morning. And this year will be no exception - minus the little who gets to go eat pancakes while we sweat. Not only is it a tradition that we partake in as a family but there are countless other families at the gym doing the exact same thing. And that is an awesome Thanksgiving morning tradition that speaks volumes of our gym community.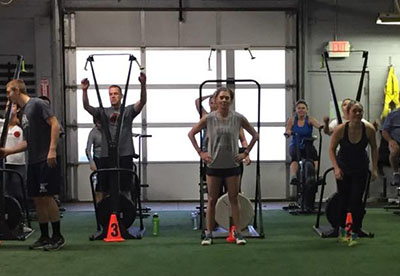 One of the best, if not the best, community tradition that my brother and his wife started several years ago was the circle of thanks. Every Thanksgiving, before dinner is served, whomever is attending at my brother and TanDee's home stands and joins hands, creating a circle. Each person, no matter the age, states what it is they are grateful for. Might be a quick sentence, might be a little more thought provoking but everyone contributes. And what better way way to build, show, give, support a sense of community than by holding hands with someone else and stating what it is you are grateful for. It is humbling for sure.
Passing Down Those Traditions
I am inspired all the time. I see things, hear things, am witness to much where I am inspired to want to be more. Be better. Give more. The best way in which I feel we can make sure those traditions of comfort and community live on is to practice what we preach. Let your children come home and be annoying. Sleep in. Argue over the remote. When we do that, allow them that comfort to be themselves, they know the importance of feeling safe. And loved. And of not having to be 'on'. And when they have children of their own they will most likely revert back to those feelings of comfort and know how valuable of a gift it is. I know that I certainly do.
Pass on your comfort to those that so willingly gave it to you. Take the dishtowel out of Mom's hand (hint hint) and have her go sit while you do the dishes. Serve your dad before yourself, save him the best part of the turkey. Get that favorite bottle of scotch that your uncle loves and do him the honor of sitting him in front of the fire and pouring him the first glass. We do our own hearts so much good when we care, offer comfort to others. And, again, you are setting the example for younger generations about how we treat others.
And community - this is a big one. These are tough times we live in and what better way to combat the negative that is out there than by inspiring a sense of community. Of togetherness. And this starts in the home. Come together in a circle of thanks. Go out and support a local team playing this Thanksgiving. Volunteer in a soup kitchen. Do a turkey trot Thursday morning. Whatever it may be, take the opportunity to come together with others for a single purpose that creates good. Light. Love. You will never be sorry you did so.
To all my friends, my family, my acquaintances, so on and so forth - may your turkey be tasty, your hearts be full and your blessings many this Thanksgiving 2017!