Posted by H. Schumaker on Oct 11, 2018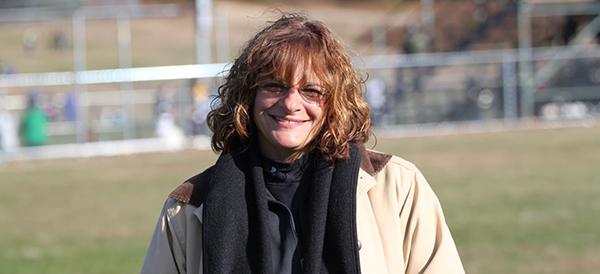 So loving this time of year and it's remarkable to me how much the colors outside have changed from a week ago. This weather has been a little kooky - almost like Mother Nature is going through menopause. Regardless, I am a fall kind of gal, it's my most favorite season and I took full advantage this weekend - wearing jeans and boots on Saturday for football (followed by shorts and a t-shirt on Sunday) and I believe girl/adult child and I made three apple crisps, an apple pie and stuffed pumpkins. Oh and hung out with Tito too. Shaped up to be a fab fall weekend!
That being said, there is no rest for the wicked and I sit today, thinking pink. I love that October is Breast Cancer Awareness month because I think anything that brings awareness, helps to raise funds to further research, etc. to combat that dreaded C word is an awesome thing. I mentioned that breast cancer has tentacles that in some way shape or form reaches out and touches each of us and I myself am not immune to that. Which leads me to my next story.
This woman, she's pretty amazing. A little Greek powerhouse, she's a master in the kitchen, has a laugh that stays with you and a home that she regularly opens as often as she does her heart. Lisa is what I would describe as a giver - regularly gives of herself in service of some sort to others. She has been my friend for almost a decade, is married to one of the best men I've ever met and they treat me and my tribe as one of their own, including us at holidays, special occasions and those random spur of the moment occasions that are some of my happiest memories in the past 10 years. How do you say thank you for something of such magnitude, some generosity of a person and their family?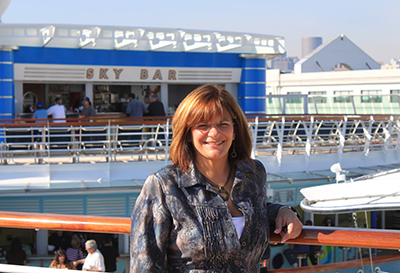 I'm no millionaire. I can't cook real well. But maybe I can tell Lisa's story in a way that hopefully inspires one other woman to go get checked, that does justice to what an inspiration Lisa is and continues to be, that gives her something tangible to remind her that her battle was not in vain. So this one, my dear friend, this one is for you.
A Little Lisa History
I actually knew Lisa's husband, Dan, before Lisa. Dan and I met on the football field of all places. His oldest son, Liam, was the center for the team and my oldest male troll baby was the QB. They were six years old, Dan and I were just simply old. We had an instant rapport and became fast friends as did our boys because we spent 10 hours a week together at the field. Watching the coaches try to fill the leaky buckets. It was pretty awesome.
Fast forward to 2008 and Dan had met a special lady. Her name was Lisa. Dan takes a very subtle approach to introducing his lovely lady into our group of friends by bringing her over on a Friday night after football practice for our weekly hosting of burgers, hot dogs and beverages. A small intimate gathering of about 40 - 60 children and adults depending on the week. Y'all have met me - most of you anyways. I am not exactly a church mouse so imagine like 40 of me mingling around. AND being the new girl. And Lisa, she took it all in stride and fit right in. And over the course of the next couple of years we became fast friends.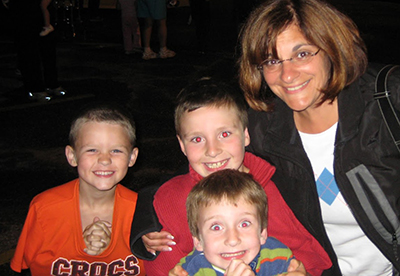 Blending four boys and two families is no easy task for anyone but Lisa and Dan were doing a beautiful job of creating a family unique to the six of them and making it work. Lisa's boys, Chris and John, were 17 and 15 respectively at the time and Dan's boys, Liam and Evan, were 8 and 6. Despite Lisa being far outnumbered in a predominantly male household, she handled the task much the same way she does with all challenges in her life - with faith, love and humor. And the fact that she's a fantastic cook probably helped too.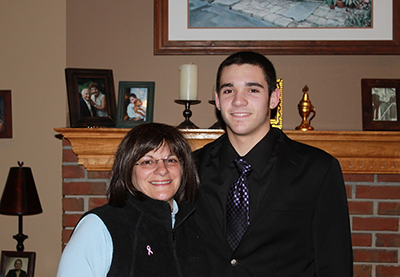 Breast Cancer Diagnosis
Lisa had been going for routine check-ups for a couple of years due to an area they were watching. In early October 2009, that area had changed enough that the doctor felt an ultrasound was needed. After the ultrasound, doctors still weren't satisfied with the results and decided to move forward with a biopsy on the area. The biopsy was scheduled for October 21, 2009 - the day before Dan and Lisa were leaving on a cruise. Lisa went ahead with the biopsy and Bon Voyage on October 22, 2009. Which so happened to be the start of a new chapter as Dan and Lisa got engaged that day.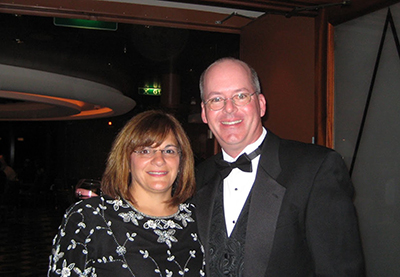 Dan and Lisa returned from the cruise on October 27, 2009. As Dan was getting the car, Lisa called her doctor to get the results of the biopsy. The result was positive - Lisa did in fact have breast cancer. The type of cancer was a combination of DCIS and IDC - basically its in the duct and had spread outside the duct. The area at the time was about 1 cm in diameter, very small and what they believed to be in the beginning stages. The days following the cruise were a blur of appointments, choosing a surgeon, tests, MRI's - you get the idea. The surgery was scheduled for Friday, November 13, 2009. Friday the 13th? Really? Lisa decided then and there that it was going to be a good day…and it was.
Lisa had a lumpectomy and they removed 44 lymph nodes. Of the 44, only 4 tested positive for cancer although Lisa will tell you she likes to think that 40 of the 44 tested negative. No cancer had been found 'en route' to the lymph nodes either which was a good sign.
So here you have a new relationship, a new chapter, a new beginning about to start. A ready-made family, wedding plans to be made. And you are hit with a cancer diagnosis. Cancer is challenging on the most solid of relationships. Without question, not how Lisa imagined starting her new life with her fiancee and their family. Faith. Love. Humor. That's how she coped.
The Battle Begins
Lisa was due to start treatments on December 3, 2009. She had to undergo one chemo treatment every two weeks for a total of eight treatments. She asked the surgeon if she was going to lose her hair and he said, "Yes. But you will still have those beautiful eyes." She would then have a series of radiation treatments followed by Tamoxifen for five years following. As an added bonus, chemo promised to throw her full fledged into menopause. Super.
Treatments unfortunately were postponed until December 16 due to challenges Lisa had with the drain. The chemo treatments could not begin until her drain was removed. She was scared and nervous for her first treatment to put it mildly - who wouldn't be? All went well, side effects were manageable. Lisa had her second chemo treatment on December 30, 2009 and it was after that treatment that when she tugged on her hair as she had since chemo had begun that she knew it was time. She called her hairdresser and that evening, had her head shaved bald. Liam and Evan lightened the mood by creating a Wii character for Lisa that was also bald and Lisa thought it was the funniest thing. As I've said - Humor. Love. Faith.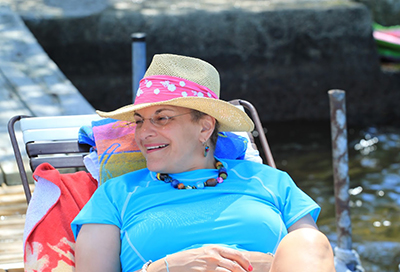 Chemo treatments continued, life continued and Lisa lived it as vigorously as she was able. Lisa walked when she could, she utilized mediation techniques, drank as much water as she could tolerate. She worked throughout her treatment, grateful for the distraction. And let's not forget the wedding plans! In addition to working, having hot flashes, enduring body aches and other side effects of the medication, helping to care for four boys, and - oh yeah - having chemo treatments, Lisa was also planning her wedding. Life was a lot but as always, Lisa took it all in stride and managed.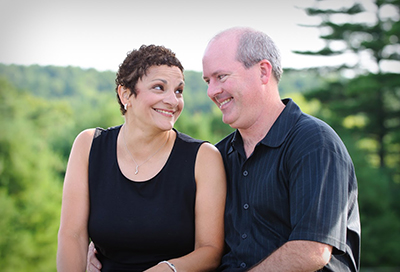 Lisa completed the chemo treatments then started radiation five days a week for five weeks. For the most part, she did very well on the radiation treatment with the exception of a few hiccups along the way. Once finished with the radiation she then began taking Tamoxifen for the next five years. Lisa had reconstructive breast surgery in January 2011 on her left breast as it was larger than the right due to the effects of the radiation. At almost nine years after her initial diagnosis, Lisa remains cancer free.
Faith Inspired
Lisa is Greek Orthodox and has been and continues to be a predominant member of her congregation. She has served as President of the Ladies Organization as well as the Philoptochos Society (Philoptochos means friend of the poor - poor in spirit, health, aged, etc.) and President of the church. She is very grounded in her faith. Before each of her chemo treatments, Father Luke anointed her and it is through her breast cancer journey that Lisa's faith saw significant growth, that the readings, the prayers and the psalms on Holy Wednesday made sense, that she was completely opened to healing. She said that some people resent God for the misfortunes in their life - she thanked Him for all the blessings that came from the misfortune. And I so love that.
Laughter is the Best Medicine
Part of the reason that I think Dan and Lisa sync so well is because of their sense of humor. Finding a way to laugh through the treatments, lighten the mood, find the joy, the light, the LAUGHTER was crucial to Lisa. And having four boys at home made it imperative that the mood be straightforward but also lighthearted. Lisa lost a brother to cancer in 2003 and being honest yet upbeat for her boys was a driving force for her positive can-do, will-beat attitude.
Love Conquers All
I remember talking with Dan a couple years back and he said to me that being the caregiver is hard. You are so busy taking care of the person that is sick that your needs, your frustration, your worry has to be put on hold. I asked him how he did it - running between two houses as they did not move in together until June of 2010, being there for four boys, being there for Lisa, working and so much more that I don't even know about. He said, "It's easy. I love her." Here is a man that never left her side during what was arguably the most challenging personal, physical and emotional battle of Lisa's life. Despite not taking his vows until September of 2010, Dan LIVED vowing to love in sickness and in health - when no piece of paper held him to that.
Life Lessons
As with any challenge, it's hard and we find ourselves questioning, evaluating, examining the way in which we live, whom we are and really what we want out of our life. Lisa - well, let's say she learned a lot.
Strength Comes From the Inside Out. Lisa always associated the word strong with being physically strong, pick things up and put them down, move heavy stuff. What she learned is that true strength comes from within ourselves. It presents itself in the form of determination, positive thinking and the will to continue to march when all you want to do is lie down and give up.
Forgive and Forget. I think with any serious illness, it opens doors that we thought were closed, that we swore were locked up solid with the key thrown away. Lisa had to progress through questioning "why now?" to accepting what is and taking what was presented at face value. Taking it as an opportunity to be at peace.
Gratitude is Essential. Lisa spoke about being at a fundraiser five days after her last chemo treatment. The fundraiser was actually at the location where Dan and Lisa's wedding reception was going to take place. Lisa loves to dance but the aches in her legs as a part of the chemo side effects assured Lisa that she would not be cutting a rug that evening. Lisa watched all the couples dancing and wondered if they realized how lucky they were, knowing she would be dancing again soon. And it served as a reminder of how not to take those little things for granted. Because those 'little things' are big things to some.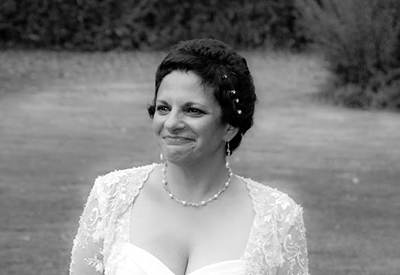 Survival Hurts. In the first few years after treatments, Lisa participated in the Avon walk and other fundraisers, showing support for any kind of cancer benefit. She took a step back, not out of not caring but because it hurt. She was proud of her courage in battling breast cancer, proud of all those that are struggling to deal, cope, live with the cancer monster inside of them. She prays for them, even those she doesn't know. She's lost close friends and family to cancer. Whereas she is so grateful that she is a cancer survivor, it hurts that people that she loves dearly did not survive. It's not "Why ME?" but more so "WHY me?"
Author's Thoughts
I am a 'fair' type of girl. I believe if you work hard, you put in the time, you live your life to the best of your ability - that your reward should be just. Worthy of the work that you put in, the sacrifices you made. Fair. And life - well, life just doesn't always work that way. Sometimes not great things happen to really great people. Like Lisa.
Here's the thing about life though, my peepers. It is going to march on whether we like it or not. The earth is going to keep turning, there are going to be days of glorious sunshine and the storms are going to come. We will have moments of greatness and moments of incredible despair. Instances that challenge our faith and challenges that deepen our love and commitment.
Be grounded in your faith, whatever that faith may be. Let it be your strength on the days when being strong simply isn't an option.
Take every opportunity you can to laugh and find forgiveness. Forgiving doesn't mean you have to be best friends and laughter doesn't mean there will never be any tears. It just means that life is serious enough, people. Lighten your load mentally and emotionally every chance you get.
Be grateful for your haves. If you can't look around you at ten things in your life that you're grateful for than you aren't trying hard enough. Arms to hug a child, legs that let you dance, a cold snout in the palm of your hand greeting you at night. A glass of ice and Tito's in the freezer. Gratitude is the essential ingredient to any recipe in life. Have it. Stock your cupboards full of it. Use it lavishly.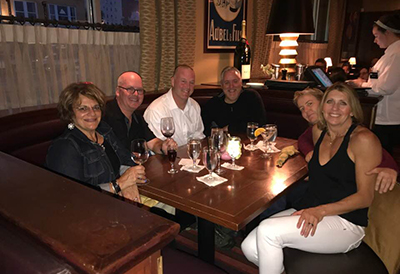 Come from a place of love. When we are coming at others from a place of love, a place of compassion and kindness, it is life altering. Day changing. Start coming at people in your life, strangers that you come across from a place of love and good intent. A simple act of kindness can change a person's entire perspective in a matter of seconds.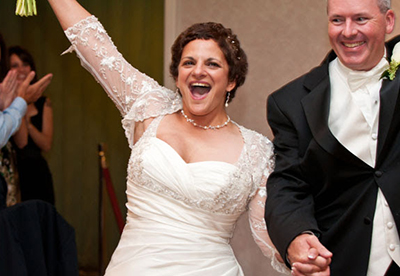 To my dear friend, Lisa, I can't thank you enough for sharing your story. I can't answer your question of "WHY me?" but I can assure you that you do and will continue to make a difference in the lives of many. That your generosity of love and spirit is a bright light for all that cross your path. That your commitment to serving others has altered the course for those that were lost, helping them to find their way. That your love for my family and my children is something that I am so grateful for. And that our friendship is something that I value and cherish dearly. And for that most of all, I thank you.
xo, Hallie