Posted by H. Schumaker on May 03, 2018
She's never pulled anybody from a burning building
She's never rocked central park to a half a million

I gotta be honest - I am so happy that May has finally arrived. Never one to wish days away, April was a tough month and I'm glad that we have crossed that threshold into May with warmer days, sunnier skies (hopefully) and the promise of summer fun around the corner. School is coming to a close, college kids coming home, the grill is ready to go and there is just a lighter brighter feeling to life. YAY!
The month of May is special for other reasons. It is the month of my most favorite holiday of the year… Mother's Day! Call me crazy but it's not just a Hallmark holiday in my eyes. It's that one day a year that the focus is on the women in our lives that are the grounding influence, the nucleus to the family, the go-getters, boo boo kissers, make it happeners and so very much more. I will have a Mother's Day post next week but I thought I'd give y'all some ideas about how you can go about making Mother's Day special for the mom in your life. You've got some time so grab a pen and paper and make some notes.
15 Gift Ideas for Mother's Day
1. Flowers.
This is an easy go to for every person. Hanging baskets, potted plants, flowers she can plant, put flowers on her grave site, a bouquet of flowers - all of them work. But put some effort in. What does she love? What are her favorite colors? Where does she like to sit outside? Put some thought into it and show mom that you know her, that you care about what she likes and what she doesn't.
2. Make her a garden stone.
I have mentioned this before and I have several that my trolls have given me through the years and I treasure them. You can get the kit from any craft store or probably even Walmart and you can buy molds for the stones or use disposable aluminum pie plates. It's personal, it's one of a kind and it's a gift that she can enjoy throughout the course of the spring, summer and fall.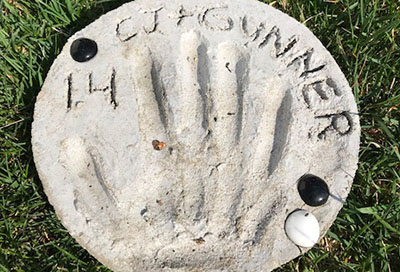 She's never left her footprints on the moon
3. Spa treatment.
If you have a mom that loves to be pampered, get her a spa treatment. A mani/pedi. And not the basic one - get her the spa pedicure. A facial. Most moms I know always put themselves last and really, they are one of the people in our lives that we should put first. Indulge her in a little bit of pampering - she is more than deserving.
4. Fix the newel post.
I chuckle as I write this because every mom has something that she has been asking to have fixed. I don't care if it's the newel post, if it's the batteries in the smoke detectors, the lawn mower ready to go or a myriad of other small tasks that she 'nags' you about. Do them. Quietly. Without fanfare. Without need for recognition. Take the time and do that thing she has been asking to have done without her knowing. She will appreciate it when she realizes.
5. Get along.
Honestly, this is a big one for me. Put aside your petty sibling arguments and disagreements, slap a smile on your face and get along for the day. No insults, no fighting, pretend and play nice. Realize that you are the greatest gift in her life and no mother enjoys listening to her children quibble with each other. Give her the gift of acting like decent little human beings instead of a room full of naughty monkeys - even if you have to fake it.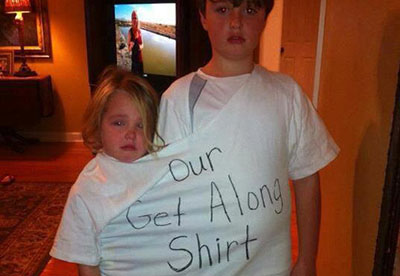 She didn't get a check every week like a nine to fiver
6. Face time.
Your face. Not the top of your head. Get off your phones, put down your screens and give mom that beautiful face. Put aside your social media, don't snap or tweet. You won't die from not sharing your story and no one will be looking at your Instagram because they will be focusing on their own mom. If you can't tear yourself away for the day from your screen then at least do it when she is in the room.
7. Make her coffee.
Again - this is such a key one for me. There are few things that I love more than coming downstairs to a hot pot of coffee. That I didn't have to make. Mind you I could set the coffee pot the night before so that I come down to it every morning but I typically forget. Pull your carcass out of bed and go down early and make the coffee for her. And put in the effort to figure out how to make it. How much coffee goes in the filter. How she likes her coffee. Make sure her favorite cup is clean and start off her day on the right foot.
But she's been a waiter, a cook and taxi driver
8. Make her dinner.
It's funny - a couple years back I was at the 99 Restaurant and Pub and I asked the bartender what their busiest day of the year was, figuring it would be the day before Thanksgiving, something like that. Mother's Day. Jam packed. Make dinner for your mom or take her out to dinner. If you take her out to dinner, take her somewhere that SHE likes. I don't care if she loves ice cream. Then take her out for an ice cream dinner and fend for yourself. But treat her.
9. Write her a letter.
I need to do this and this is something that I wish my own children would do. Put your thoughts on paper. Let her know what she means to you and why she means it to you. Articulate your thoughts. Express a memory. Thank her. All the money in the world won't buy a better gift for her then when she reads a letter from her child that came from the heart. Type it, dictate it, write it - whatever method works.
10. Do something she likes to do.
This one is tricky so let me give you an example. I love flowers and I have pots on my sidewalk, by the garage doors, on the front porch. And every May, I spend about $150 and I buy impatiens, pansies, etc. as well as potting soil, Miracle Gro and I spend a good couple of hours figuring out how I want to arrange the flowers, dividing the flowers and then planting them. And it's so peaceful and just something that I really really enjoy. And I would love to share it with one of my trolls or my Rob. But I don't want to be told that the color combination isn't right, can we hurry up, that doesn't look good, so on and so forth. I want a grunt that will sit back and simply do as they are told. Let me run the show and just enjoy doing something that I enjoy doing. So if you're going to do something she likes to do it is with the expectation that she runs the show. You do it her way. You keep your thoughts and opinions to yourself and just enjoy being with your mom.
Giving all her love to them was her life's ambition
11. Go for a walk with her.
Take the initiative, grab the dogs and ask mom if she'd like to go for a walk. And make it a long walk. And talk and laugh or just walk in silence. Let her ask her questions and answer them. Open up and let her a little more into your life. Or simply just walk with your mom. Don't rush back, don't hurry her along. Some day she won't be there to take those long walks with you.
12. Do the chores she doesn't like to do (and do them right).
Oh I have some of those. I don't like emptying the dishwasher. I don't like folding clothes. I abhor dusting. What I like even less than those three things are when I've asked someone to chip in and do them and after much grumbling they are done - but only halfway. Dirty dishes put back in the cupboard and a sink full of dishes left to be loaded. Clothes haphazardly folded - inside out. All the dusting done but nothing is moved and dusted under. Do what she doesn't like to do and take the time to do it right the first time.
13. Clean her car.
Vacuum it out. Wipe it down. Wash it. Dry it. Detail it. Clean the windows, throw away any trash or debris and make it look like a shiny new penny.
14. Capture her favorite photo.
This I have given and been given on several occasions on Mother's Day. Photo pendants are a beautiful gift idea for mom. A picture of her children, her furbabies, a family picture - any of them can be captured on a photo pendant. She can wear, not wear, tie a ribbon through the bail and hang from her car mirror. There are photo wallet cards so that family picture she loves, a new baby pic - all of that can be taken along with her and she can show off the loves of her life to others.
The keeper of the cheerios
15. Time.
At the end of the day, what I want is my children's time. Time moves so fast and stops for no one so, to me, to give of your time to someone is really the most precious of all gifts. Whether it's an hour, two or even 30 minutes - any time they give me is a gift and what I treasure most.
A couple Do's and Don'ts
I listed a few reminders that might help make Mother's Day a little more successful. Call them nagging tips, whatever you want, but they are worth the quick once over.
Don't make it about yourself. Mother's Day is not about what you want, what you think, what matters to you. It's about mom. Put her first and make it all about her.
Do put in the effort. If you're going to do something for mom, whatever it is - invest yourself in the effort. Because when you don't, she knows and it most likely will end up causing her feelings to be hurt.
Don't hesitate to pick up the phone. Call your mom. Don't shoot her a text - pick up the phone and call her. She will love hearing your voice, it shows effort and thought. Block off some time and call your mom.

Do remember all the moms in your life. Some of us don't have our moms. Some were influenced by women that took on the role of mom at points in our lives. Godmothers, grandmothers, mother-in-laws, sisters, good friends. Remember all the moms in your life as best you can and let them know how much they are loved and appreciated.
Mother's Day My World
I used to say when I was growing up that I never wanted to get married - that I was going to raise a pack of dogs and have a series of affairs. Children were never on my radar. But as life has a way of letting you know whom is in charge, I have a pack of dogs, an incredible man by my side and three little trolls that make me crazy, make me laugh and fill me with so much joy - all in equal measure.
I will have all three of my little Schumakers home that Sunday. I am not sure what the day will bring as we have had many a Mother's Day that was an epic fail. There will be cards that will make me cry, attempts at making my coffee and I'm sure one of the dogs will chew up something and I'll lose my cool most likely by 9:30 am. Troll 2 insulting Troll 3, Troll 1 trying to overcompensate for the brother trolls, Rob sitting them down and telling them in no uncertain terms that they better square themselves away immediately - all the while I'm out on the porch crying in my coffee with GusGus. We will go out for ice cream because they all love ice cream (I do not) and it will all be okay. Idyllic? Not even close. But mine - yes. And I'll take it because all that really matters to me at the end of the day is that we are together.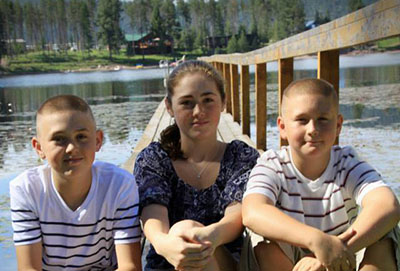 The smile that lets her know

I truly do love Mother's Day. It means so much because I have never felt I was 'just' a mom. There is no just. It is the hardest job I've ever held in my entire life. It is the most rewarding, challenging, life changing, thankless, miserable, gratifying profession I have come across. And there is no cause as worthy as our children. No sacrifice as great as the sacrifices we make for them. So that they will grow into men and women not that WE can be proud of but that they themselves will be proud of. That they see the greatness in themselves that as mothers we see in them, that we know is there.
You have some time. Put some thought into it. It doesn't have to cost a lot, anything really, to let mom know how much she means to you. Whether you get her flowers, take her for a walk or clean out her car or fix that darn newel post - give her some of your time. A part of you. Make a memory with her. No one ever said they wished they'd spent less time with their mom.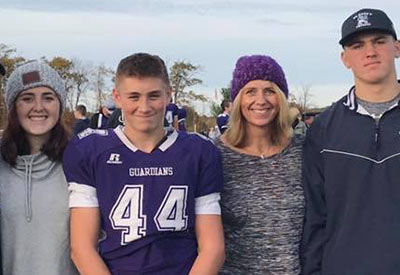 She's somebody's hero